Q: How can I put music on Huawei Watch 2 from Tidal? Listening to music can stimulate motivation when workout outside. So I purchased a Huawei Watch 2. I would like to listen to Tidal workout playlists on my Huawei Watch 2 while running. But I can't seem to figure out how to do so.
Tidal starts to integrate its Tidal app into several wearables, such as Samsung Wearable devices. But the app is still conspicuously available on the Huawei Watch 2. For this reason, you need to draw support from a third-party tool, like AudFree Tidal Music Converter to play Tidal music from Huawei Watch 2's local storage. Let's see the detailed tutorial below.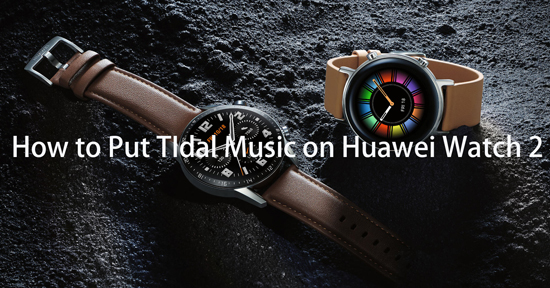 Part 1. Put Music to Huawei Watch 2 from Tidal - Tools Required
Huawei Watch 2 supports users to load music directly from the smartwatch. Users can make full use of the built-in player to play music on the go. But the only app supported to download and listen to music on it is Google Play Music. That's to say, you can store Tidal music on Huawei Watch 2 for listening by virtue of the Google Play Music app.
Before you get started to upload Tidal music to Google Play Music, There is another important step that you must do. You need to download and install AudFree Tidal Music Downloader on your computer to download and convert Tidal music as plain audio files.
Because Tidal Premium and HiFi subscribers can only download Tidal cache files as the entire Tidal files are encrypted. Only by doing this, it's possible to upload Tidal playlists to Google Play Music. And Huawei Watch 2 can be compatible with Tidal music directly.
Part 2. How to Play Tidal Music on Huawei Watch 2
AudFree Tidal Music Converter empowers you to download Tidal music and playlists locally without damaging the original audio files. So you don't need to worry about the listening experience. The following part is the complete steps to get Tidal music on Huawei Watch for offline playback.
Step 1

Import Tidal songs to AudFree Tidal converter

This tool is a desktop app. So please download it on your computer. And also install the Tidal app as AudFree Tidal Music Converter needs to work with it. When you open it from the computer desktop, it provides an easy way to upload Tidal music. You can find the Tidal songs that you'd like to play on Huawei Watch 2 in the opening Tidal app. And then copy and paste the URL of Tidal music to the search bar in the upper center. Click the '+' button, it will automatically detect it and load all Tidal tracks.
Step 2

Customize Tidal output settings for Huawei Watch 2

Huawei Watch 2 support only MP3 or AAC music files. To play Tidal on Huawei Watch 2, you should customize the Tidal output format as MP3 or AAC by clicking the 'Preferences' > 'Convert' > 'Format' option. In the setting window you can see from the above image, you are also able to personalize other audio parameters, like bit rate, sample rate, etc.
Step 3

Download and store Tidal music as local files

When all settings are ready, please hit on the 'Convert' button from the bottom-right corner. All Tidal songs you added before will be downloaded and converted to target audio files, which are playable on Huawei Watch 2. They store in the destination folder on your computer. You can locate them by clicking the 'file' icon or 'history' > 'search' icon.
Step 4

Upload Tidal music to Google Play Music

Google Play Music enables users to upload at up to 50,000 songs for free via the Music Manager or Google Play Music for Chrome. I will show you the easy way here. Please open the Google Play Music web player and sing in your account details. Click the 'Menu' > 'Upload music' icon to convert Tidal playlists to Google Play Music.
Step 5

Play Tidal music on Huawei Watch 2

Launch the Google Play Music app on your Huawei Watch 2. And login to it with your username and passwords. Search for the Tidal music and press and hold on it to download them to Huawei Watch 2. Now, you can play Tidal music on the watch without needing your phone at all.

Part 3. Bottom Line
With the help of AudFree Tidal Music Downloader and Google Play Music, it's able to put Tidal music on Huawei Watch 2. Since there is no Tidal app for Huawei Watch 2 currently, it seems a nice alternative way. It's not difficult to operate. But you can still listen to Tidal on Huawei Watch 2 offline anywhere anytime. By the way, apart from Huawei Watch 2, you can also transfer Tidal songs to any other wearable device for playback.