"I had downloaded some Tidal audio tracks on computers offline with my Tidal subscription. However, when I moved those music files to my Android phone for playing on Poweramp Music Player, I couldn't get it to work. I tried it several times but failed. Is there any step I missed? What's the right way to get Tidal music on Poweramp on my phone? Thanks for your help in advance!"
Poweramp Music Player is one of the oldest music players for Android devices. With it, users can add a track counter, adjust the display theme, reset the rating system, etc. With such powerful features, you could have enjoyed the best listening experience of playing Tidal music on Poweramp. However, there is no Poweramp Tidal integration currently.
But take it easy! You can find a final solution in this post. Here we are about to recommend an easy way to get Tidal music as local files on your computer. And then you can import and play music from Tidal on Poweramp without limitation.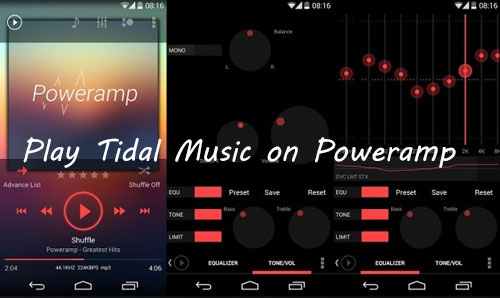 Part 1. Tool Needed for Poweramp Tidal Integration
To get started, we need to learn the reason why the downloaded Tidal music can't be added to Poweramp first. As for Tidal music, they are protected by the right protection, which prevents users to use the music outsides the Tidal app. As a result, you can't get Tidal music on Poweramp. But please don't panic. Here we are going to show you a powerful tool that allows you to access Tidal music on Poweramp. That is AudFree Tidal Music Converter, a professional music converter working with Tidal Free, HiFi, and HiFi Plus plans.
This program can convert Tidal to MP3, AAC, FLAC, and other usual formats supported by Poweramp audio player and save those files in the local folder. You can also customize the audio parameters such as bit rate/depth, sample rate, audio channels, etc. as you like on AudFree Tidable for smooth Tidal Poweramp integration with LOSSLESS audio quality. Moreover, it can batch convert Tidal audio tracks at a faster speed, which is quite time-saving. most importantly, it allows you to stream Tidal music on Poweramp and other devices or players offline forever.
Part 2. Convert and Play Tidal Music on Poweramp
Before guiding you on how to convert Tidal music to the Poweramp app, we would like to note that you need to install AudFree Tidal Music Converter and the Tidal app on your computer first. It is worth mentioning that this software can convert Tidal HiFi, Master, and other types of Tidal music. Now you can step to see how to use the AudFree program to convert Tidal audios for playing on the equalizer.
Download Tidal for Tidal Poweramp Integration
Step 1

Load Tidal music to AudFree Tidal Music Converter

Double-click to open AudFree Tidal Music Converter on your desktop. Then the Tidal app will load at the same time. Go to Tidal to discover the music you want to download for Tidal Poweramp integration. Next, hit on the 'three-dot' icon or right-click on Tidal songs to copy the link of the track and paste it to the search bar of AudFree Tidable. Next, touch on the '+' button to add Tidal audios to the program.
Step 2

Set Tidal output settings as Poweramp-supported formats

To set Tidal output audio settings, please press on the toolbar from the top right corner. Then click on 'Preferences' > 'Convert' to launch the setting window. Here you can select the audio format as MP3, FLAC, WAV, M4B, and AAC that are available on Poweramp equalizer. Besides, you could personalize the channels, audio codec, bit rate, sample rate, and other output audio parameters. To guarantee the original sound quality of Tidal music on Poweramp, you can set the output settings as follows:

| | |
| --- | --- |
| Output Format | Other Parameters |
| MP3 | 320 kbps/48000 Hz |
| AAC | 320 kbps/96000 Hz |
| FLAC | 24 bit/192000 Hz |
| WAV | 32 bit/192000 Hz |
| W4A | 320 kbps/96000 Hz |
Step 3

Convert Tidal music for Poweramp Equalizer

When all the settings are ready, please press the 'Convert' button to begin downloading and converting Tidal music. Then you can see the real-time converting process on the main screen of the tool. Once completes, you can click on the 'Converted' button and then the 'search' option to locate the converted Tidal music files on your computer. Afterward, you can import the converted Tidal music to the Poweramp Android app or other Tidal MP3 players.
Play Tidal Music on Poweramp Music Player
Now you could go ahead to import Tidal music to Poweramp for offline listening. You could follow the Poweramp tutorial below to see how to do that:
Step 1. Connect your Android phone to your computer via the USB cable.
Step 2. Find and locate the folder that stores converted Tidal music tracks on your PC.
Step 3. Copy and paste Tidal music files to your Android device.
Step 4. On the Poweramp Android app, set Poweramp equalizer settings for importing Tidal music in all types of sound qualities such as Hi-res, etc.
Note: You can also import Tidal music downloads to other Tidal equalizers at will apart from Poweramp.
Part 3. More FAQs About Poweramp Equalizer & Tidal
Q1. Does Tidal Work with Poweramp App?
A1: No. Tidal does not support Poweramp currently. So you cannot play Tidal on Poweramp directly. But with the help of a third-party tool like AudFree Tidal Music Converter, you can download Tidal music as local files first. Then upload those files to Poweramp and play the downloaded Tidal music on Poweramp music player.
Q2. Is Poweramp Free for Playing Tidal?
A2: In fact, Poweramp provides a 15-day free version for you to access its all features. Besides, it also offers the paid version for playing Tidal music files without any limit.
Part 4. In Conclusion
In this post, we have taken you through how to make Poweramp Tidal integration and present a powerful gadget-AudFree Tidal Music Converter to stream Tidal through the Poweramp app within simple steps. With it, it makes Poweramp equalizer and Tidal music combination possible and gets more convenient to download Tidal songs or playlists to Poweramp-supported formats locally and enjoy Tidal music on multiple devices and players besides the Poweramp Android music player. So download it and go for a try of it now!