As one of the premium streaming services, Tidal provides users with millions of HiFi quality songs. However, many users are still looking for a good EQ for Tidal. With a Tidal equalizer, you can change the bass, treble, and other audio settings to get a better listening experience. That way, you can listen to full studio-quality music even if you don't have professional headphones.
That's why we've rounded up Tidal's top 7 best equalizers for Android, iOS, Windows, and Mac here. Plus, you'll learn a perfect way to play Tidal freely on any Tidal EQ. Please note that you can skip to Part 4 provided that you don't want to look into those equalizers one by one.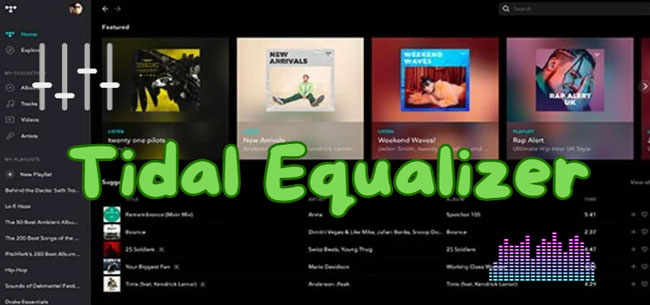 Part 1. Does Tidal Have an Equalizer
No. "Does Tidal have equalizers?" This question is often asked by many users. Unfortunately, Tidal does not currently have a built-in equalizer. It is astonishing that, whether on the desktop app or the mobile app, there is no equalizer feature on Tidal currently. Becase Tidal wants to keep its original sound and thinks that the master quality and the spatial sound effect including Tidal Dolby Atmos and Tidal 360 Reality Audio are enough for customers, even without obvious bass. And it is true that many people don't mind the absence of EQ on Tidal.
Part 2. 2 Best Tidal Equalizers for Windows/Mac
After carefully testing and comparing all the music equalizers on the market, we finally found the top 2 Tidal app equalizers for PC and Mac users. Check them out to select the one you like!
Top 1. Equalizer APO (Windows)
Equalizer APO is an open-source parametric/graphic EQ for Tidal on Windows 10 and 11. Unlike other Windows equalizer applications, Equalizer APO has an easy-to-use design that is also suitable for basic users. Plus, it has many powerful features such as unlimited filters, compatibility with multiple channels, and fast response time. Furthermore, it is very lightweight, not demanding on memory and processor, and uses very few system resources.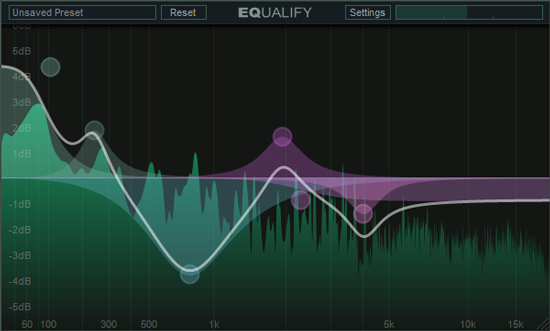 Pros:
Unlimited number of filters
Apply to any number of channels
Easy-to-understand interface
Cons:
No advanced equalizer functions
Top 2. Amarra (Windows/Mac/iOS)
Amarra brings a great sound to your listening room to expand your musical horizons. It offers three products: Amarra sQ+ for Mac, Amarra Play for iOS, and Amarra Luxe for Mac/Win. Among these three products, most consumers would recommend Amarra sQ+ for Mac.
With Amarra Tidal equalizer Mac, you can customize Tidal equalizer settings and your sound for any speaker or headphone. With equalizer presets for different music genres, you can control the sound and bring out the best in all your music. It pays great attention to audio quality and aims to maximize your music experience.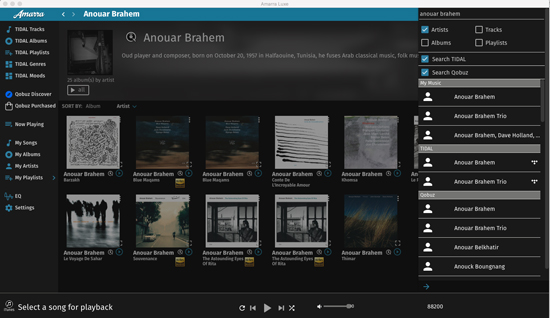 Pros:
Easy-to-follow user interface
Equipped with almost all sound profile presets
4-band full-parameter equalizer with multiple filters
Cons:
Part 3. 5 Best Equalizers for Tidal on Android/iOS
Apart from above 2 Tidal equalizers for Windows and Mac, we also have prepared 5 Tidal Android/iOS equalizer apps for you. Please note that Poweramp, which is mentioned by many people, is popular to EQ music, is not compatible with Tidal. If you want to get Poweramp Tidal equalizer working, please refer to this post: How to Get Tidal and Poweramp Work.
Top 1. Sennheiser CapTune (Android/iOS)
While Tidal doesn't have a built-in equalizer, Sennheiser has a new sound optimization app called CapTune that has Tidal built-in. It's actually a high-quality music player and a powerful tuning app that gives you new standards of fidelity. You can use CapTune to make precise adjustments and find the correct settings for your listening environment.
If running is your passion, you can set up a running playlist with a peppy bass boost. With Sennheiser CapTune, you can enjoy Tidal's lossless music exactly as the artist intended.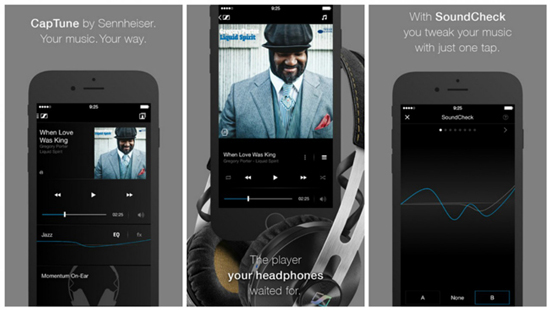 Pros:
Excellent music player and EQ for Tidal
Easy-to-use interface design
Compatible with Tidal's Hi-Fi music
Choose from pre-installed sound profiles to customize music
Cons:
Top 2. 10 Band Equalizer (Android)
10 Band Equalizer is a free app that allows you to adjust 10 different frequencies, as most equalizers are limited to 5 bands. In this case, you can further refine the sound to create the exact sound you want. And this Tidal equalizer app can adjust the frequency from 31Hz to 16kHz, ranging from 10dB to -10dB.
Additionally, the 10-band equalizer has a built-in music player. With the 10-band EQ turned on in a stack, you can manually adjust the frequencies or choose one from the preset options. Importantly, the app does a good job of tuning the sound for a wide range of uses.

Pros:
Adjustable 10-band equalizer available for high customization
Easy-to-use interface
Work with most music apps to control music playback
Cons:
Contain ads
There is no pro version to remove ads
Top 3. Equalizer FX (Android/iOS)
Equalizer FX is a more modern version of equalizer Tidal with a clean interface that makes it especially easy for anyone to use. It also features clever preset auto-detection. This means that it can detect the best matching EQ preset based on the song you're currently listening to. You'll also be surprised to find bass boost, virtualization and loudness booster while using it.
Equalizer FX also works with most music players including Tidal, Spotify, Pandora, Google Play Music and more. It includes a paid version and a free version. The paid version adds some features to the free version and removes ads. It is not completely free to use, which requires $ 1.99 per month.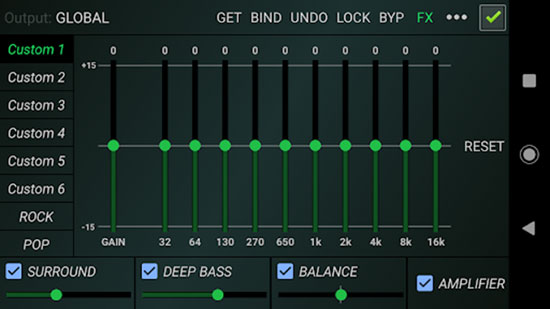 Pros:
Preset auto-detection
Bass boost, surround sound, and sound amplifier
Delete, edit, and rename presets
User-friendly interface
Cons:
It is limited to a 5-band equalizer for Tidal
Need charge of it
Top 4. Music Volume EQ (Android)
Music Volume EQ is also popular graphic Tidal equalizer Android available. This Tidal Android equalizer actually works pretty well, as it has the standard five-band EQ and bass booster. At the same time, you can also perfectly get the bass boost, volume control, loudness boost, and other functions. It is worth mentioning that it is completely free and works with most audio players, allowing you to enjoy high-quality Tidal music streaming.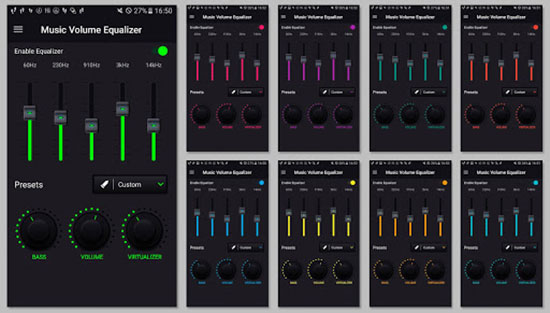 Pros:
Media audio control
Bass booster and 3D virtualizer effects
9 equalizer presets and custom presets
Compatible with most Android music players and video players
Cons:
On-screen banner ads
Less customizable option
Top 5. Boom Bass Booster & Equalizer (Android/iOS)
Boom Bass Booster & Equalizer is a Tidal equalizer available on both iPhone and Android, which is developed for Tidal and Spotify music lovers. It features a customizable 8-band or 16-band equalizer, and 29 hand-crafted equalizer presets like Pop, Dubstep, and more. With patented technology, you can experience stunning 3D surround sound on your headphones.
It has a clean and user-friendly interface that requires no professional skills to handle. By the way, the service of Boom Bass Booster & Equalizer is paid. Although there is a 7-day free trial version, you'd better buy its subscription to get unconditional and unlimited access to all features.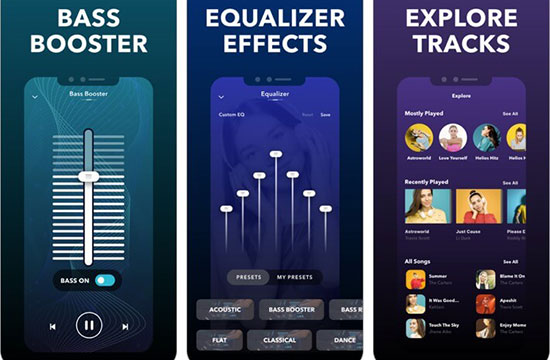 Pros:
3D Surround Sound and Powerful Bass
Stream Tidal and Spotify Music
Use 16-band or 8-band EQs
29 hand-crafted EQ presets
Access music stored on phone, other cloud storage services, etc.
Cons:
Part 4. Comparison of 7 Best Tidal Equalizers
To give you a clear understanding of the above 7 Tidal equalizers, we have made a comparison table of them.
| | Cost | Present Number | Type | Band |
| --- | --- | --- | --- | --- |
| Equalizer APO | Free | n/a | Parametric/Graphic | 5 |
| Amarra | Free | 6-16 | Parametric | 4 |
| Sennheiser CapTune | Free | n/a | Graphic | 7 |
| 10 Band Equalizer | Free | Custom | Graphic | 10 |
| Equalizer FX | $1.99/month | More than 10 | Parametric | 5 |
| Music Volume EQ | Free | 9 | Graphic | 5 |
| Boom Bass Booster & Equalizer | $2.99/month | 29 | Graphic | 16/8 |
Part 5. How to Play Tidal on Any Tidal Music Equalizer
With the above top 7 equalizers for Tidal, you get ready to start a unique Tidal music journey. But sometimes, you may face a situation where certain music equalizers struggle with system updates. After a system update, you will have to uninstall it to get the equalizer to function again. To avoid unnecessary hassles involving equalizer updates, it is suggested that you play Tidal music in other media players with built-in equalizers, like VLC.
How to export music from Tidal to other players with an equalizer? AudFree Tidal Music Converter comes to help you out. With its assistance, you can download Tidal audio tracks to local files with 100% lossless quality, so you will have no difficulty in transferring Tidal music to any other media player with an equalizer for offline playback.
In fact, it is an excellent Tidal music converter specially designed for Tidal addicts. With it, users can convert not only Tidal songs but also playlists and albums to Lossless, MP3, M4A, FLAC, AAC, WAV, and M4B at 5X speed. As a result, you are allowed to save Tidal music forever for offline listening without a subscription.
AudFree Tidal Music Converter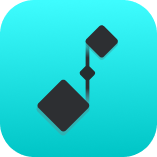 Download Tidal music to MP3, etc. without HiFi/HiFi Plus
Keep Tidal music forever even without a subscription
Play Tidal music on any other devices with an equalizer
Keep 100% original quality, work at 5X faster speed
How to Losslessly Download Music for Any Tidal EQ
Step 1

Add Tidal Music to AudFree Tidable

Open AudFree Tidal Music Converter and the Tidal desktop app will also launch. You can then easily import songs from the Tidal music library by dragging and dropping. Alternatively, you can copy the music's URL and paste it into the top search box of this best Tidal downloader. Then load Tidal music by clicking the "+" icon.
Step 2

Adjust Tidal Music Output Settings for Equalizers

Go to "Preferences", which is listed in the drop-down "menu" of a top-right icon shaped by three horizontal lines here. Then choose "Convert" to open the preferences settings window. Here, you can choose whether to do some customization on formats, channel, bitrate, and sample rate to make your personalized style of music. Or you can just go by default to convert Tidal to MP3 to preserve the original style.
Step 3

Download Tidal Music for Any Tidal Equalizer

Now, click the "Convert" button and it will start downloading Tidal music. After that, you can locate your downloaded Tidal music by clicking the "Converted" icon to navigate to the destination folder where all the downloaded Tidal songs are stored. And then, you are able to play Tidal music on any media player with Tidal EQ.
Part 6. In Conclusion
The above seven different Tidal equalizers allow you to enjoy Tidal music with a better listening experience. You can choose the one that suits you according to your operating system, Android, iOS, Windows, or Mac. By the way, if you want to enjoy more Tidal music offline on any device, AudFree Tidal Music Converter will bring you an unexpected surprise.