Discord is a freeware and digital distribution platform designed for video gaming communities. It allows users to send text, audio, video and image in a chat channel. In addition, it has integrated with some music streaming services like Spotify, Apple Music, etc. to provide music playback and sharing.
However, Tidal is not included in the list. Please don't worry. Inspite of that "Tidal Discord Integration" is not available currently, there is still a way for you to connect Tidal to Discord for music playback. In this way, you might as well find a solution from this post before Tidal officially cooperates with Discord.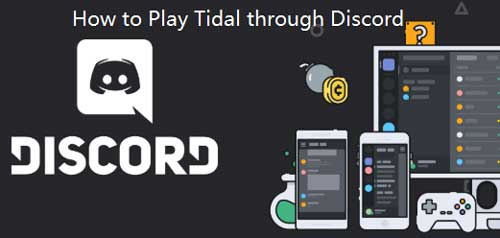 Part 1. Tool for Tidal Discord Integration
As for Tidal, it is not partnered with Discord currently. Besides, though you can download the Tidal music files with the Tidal subscription, the music files you download from Tidal are the cache files, not the real local files on your device. In other words, you couldn't use the Tidal music on other devices or music players, including Discord.
Thus, a tool is needed to convert Tidal music to common audio files and locally save Tidal songs to computer. Here we would like to recommend AudFree Tidal Music Converter for you. This program aims to download and convert all types of Tidal music as local files in forms of MP3, WAV, and other audio formats that Discord can embed.
With it, you can get the downloaded Tidal music with original audio quality and all ID3 tags will be kept. Moreover, this tool allows you to personalize the output audio parameters such as bit rate, sample rate, etc. according to your special requirements for LOSSLESS Tidal audio quality on Discord. In this way, you can use Tidal on Discord and other devices without limits.
Part 2. How to Download and Connect Tidal to Discord
In this part, we will take you through on how to convert Tidal to Discord-supported audio formats and link Tidal to Discord. Before we get started, please make sure that you had prepared the things as below.
Download and install AudFree Tidal Converter on your computer.
Ensure that the Tidal app is not a pre-installed version.
Install the Discord app on the desktop.
Download Tidal for Discord Tidal Integration
Step 1

Add Tidal Music to AudFree Tidable

Please double-click on the AudFree Tidal Music Converter on your computer and the Tidal app will be opened at the same time. Find audio tracks on Tidal, then copy and paste the URL of the tracks from Tidal to the search bar on the top of the converter. Next, press on the '+' button and then Tidal music will be loaded to the converter.
Step 2

Customize Tidal output settings for Discord

For Windows version, please hit on the Menu icon in the top-right of AudFree Tidable. Then select 'Preferences' > 'Convert' option. For Mac version, please go ahead to the 'AudFree Tidal Music Converter' on the menu tab of the Mac. Then in the pop-up window, you could personalize the output format, bit rate, channel, sample rate, etc. To ensure the compatibility of Tidal and Discord, please select the audio output format as MP3 or WAV.
Step 3

Convert Tidal audios as local files for Discord

Now, please hit on the 'Convert' button at the bottom right of AudFree program. Then it will start to convert and download Tidal tracks to plain audio files. Once finished, please click on the 'Converted' button > 'search' icon to locate and check the converted Tidal music files on your computer. Then you can link Tidal to Discord now.
Step 4

How to Connect Tidal to Discord

As there is no Discord Tidal cooperation, here you could transfer Tidal music to Spotify in advance and then transport the Tidal music to Discord through Spotify. Steps are as follows.

1) Open Spotify app and log in to your account;

2) Click the 'Menu' icon and choose 'Settings';

3) Scroll down to 'Local Files' section and enable 'Show Local Files';

4) Touch 'ADD A SOURCE' to access local folder;

5) Select the converted Tidal music file folder to add.

Now, you can play music from Tidal on Discord by connecting Spotify on Discord. And you can easily share Tidal on Discord with your friends without any restriction.
Part 3. How to Play Music from Tidal on Discord for Desktop/iPhone/Android
In the last part, we would like to share practical tips for Discord users to listen to Tidal on Discord app on desktop or mobiles. Please check the brief tutorial below to see how to do.
For computer:
Step 1. Go to https://rythmbot.co in a target web browser you like on your computer;
Step 2. Click 'Invite Rythm' option at the right side of the page you opened on web browser. Then it will navigate you to the Discord login page;
Step 3. Login with your Discord account info and hit on 'Login';
Step 4. Choose a server from the scroll-down menu and click 'Authorize' button;
Step 5. Check and tick the box 'I'm not a robot';
Step 6. Launch Discord app on your computer and click the Discord server on which you installed the Discord Tidal bot;
Step 7. Hit on 'General' voice channel so that you can listen to Tidal on Discord;
Step 8. Type '!Play (song or artist)' and touch on 'Enter' or 'Return'.
For iPhone:
Step 1. On iPhone, please log into your Discord account from https://mee6.xyz/login;
Step 2. Touch the 'Authorize' button to access Discord account;
Step 3. Next, you are required to choose a Discord server that you are prepared to add the Discord bot;
Step 4. On the following screen, go to 'PLUGINS' and then to 'Add';
Step 5. Open Discord app on your iPhone and create a voice channel;
Step 6. Enter '!search (song or artist)' and the added bot is going to show a list of relevant search results;
Step 7. Type the number of Tidal song you want so as to add it to playlist;
Step 8. Lastly, just input '!play' to listen to Tidal music through Discord.
For Android:
Step 1. First of all, visit https://top.gg/ to choose a Discord bot on your Android phone;
Step 2. Then, tap on 'Music' option and click 'View' for more about the Tidal music Discord bot. Locate an 'Invite' button on the bot that you'd like to add;
Step 3. Enter your account to sign in to Discord in the Android browser. You will soon be redirected the website of the added bot, in which you need to set a server for Tidal music playback;
Step 4. After that, it is necessary to authorize and confirm 'I am human' to get the bot installed in your Discord;
Step 5. Now, run Discord app on Android and choose 'Menu' > choose the server to which you add a bot to;
Step 6. Subsequently, head to a voice channel and type the play command to play music through Discord bot.
Part 4. How to Use Tidal Discord Rich Presence
There is no partnership between Tidal and Discord, so there is no official way for Tidal Discord Rich Presence combination. However, we found a Tidal Discord Rich Presence plug-in to play Tidal with the Rich Presence feature of Discord. With it, the currently playing songs of Tidal will be displayed in your Discord Status and profile.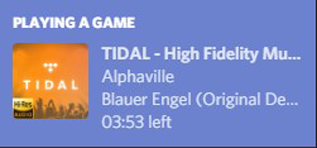 Look into the following instruction if you want to get it:
Step 1. Click here and download the latest plug-in release on your Windows and OSX.
Step 2. Run the binary. Alternatively, for Windows, put the .exe file of the Tidal Discord Rich Presence plug-in into the set-up folder on Windows to start when you make the computer start. For OSX, right-click the app from the taskbar to choose the plug-in.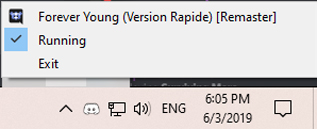 Step 3. Then enable 'Game Activity' on Discord by turning on the 'Display currently running game as a status message' option.

Step 4. Proceed to check if the Tidal-Discord RPC is running. After adding it as a game, it will show as 'TIDAL'.

Part 5. In Conclusion
The above content not only talks about the best way to make playing Tidal on Discord possible but also shares extra knowledge on how to make Tidal Discord Rich Presence usage and share Tidal with Discord bots on computers and mobiles.
After a comprehensive analysis, it is more worthwhile to use AudFree Tidal Music Converter. Without sophisticated steps and different instructions on distinct devices, it helps you download Tidal music locally. You can achieve to play Tidal on multiple devices besides Discord. So give priority to this powerful tool.