Q: I've been using Tidal for about a week now, and I love its high-fidelity music. But I can't find a way to share the playlist with my friends. Can Tidal share playlist with friends?
Tidal allows users to share music with others through its sharing feature. Keep reading and we'll show you how to do that. In addition, Tidal has announced a new feature called 'Profiles'. It makes it easier for you to make your playlists public and share your musical tastes with others. We'll also walk you through how to download Tidal playlists without a subscription and then share Tidal playlists with your friends.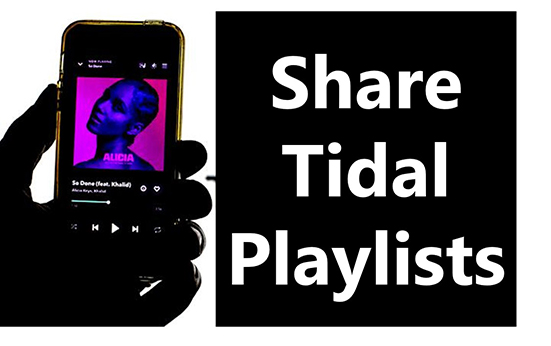 Way 1. How to Share Playlists on Tidal by Copying Tidal Playlists Link
While Tidal lacks the ability to co-edit playlists, it allows you to share music via automatically generated links. You can share your favorite Tidal playlists directly on social platforms, including Facebook and Twitter. You can also copy the link to your playlist and send it to your friends. Your friends can use this link to find your playlists on the Tidal app.
Here is how can you make Tidal share playlists via its sharing feature.
Step 1. Open the Tidal app on your phone or computer.
Step 2. Find the playlist that you would like to share.
Step 3. Tap on the 'three-dots' icon next to the playlist name and then choose 'Share'. (You can also right-click on the playlist name and choose 'Share'.)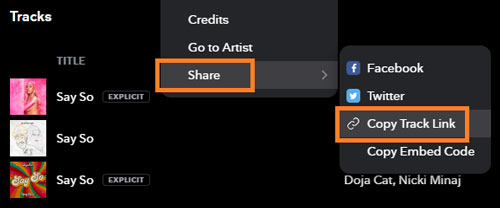 Step 4. You can choose 'Facebook Stories' to share this playlist on your Facebook. You can also select 'Copy Link' to copy this playlist's link and send it to your friends.
Way 2. How to Share Tidal Playlists by Making Playlists Public
The latest enhancement to Tidal introduces a new feature - user profiles. It makes it easier for users to share the playlists they create. Tidal profiles allow users to create a profile name and then publish their playlists. In this way, other Tidal listeners can see and enjoy their track listings. The feature also allows users to follow friends, family, and favorite curators.
Below is how you can publish your playlists and how others can find your public playlists.
How to Make a Public Playlist on Tidal
For Mobile:
Step 1. Open the Tidal app on your phone and tap on the new 'profile' icon at the bottom.
Step 2. Tap on 'Continue' to create your profile name.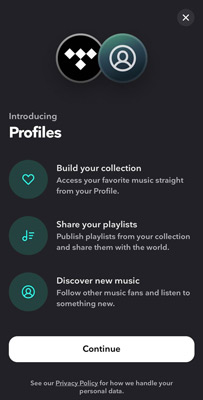 Step 3. Choose 'Playlists' and then locate the playlist that you want to share.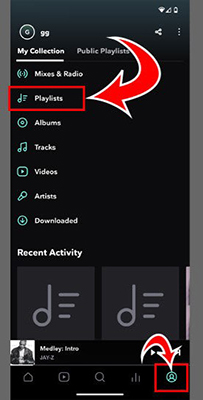 Step 4. Tap on the 'three-dots' icon next to the playlist and select the 'Private' option.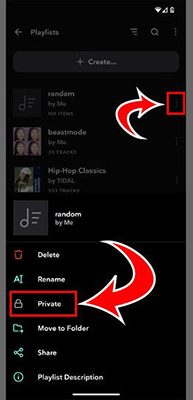 Step 5. Tap on 'Confirm' and your playlist will be published on your profile.
For Desktop:
Step 1. Launch Tidal and click on 'profile' at the top of the left navigation menu.
Step 2. Enter your profile name and then click on 'Publish a Playlist'.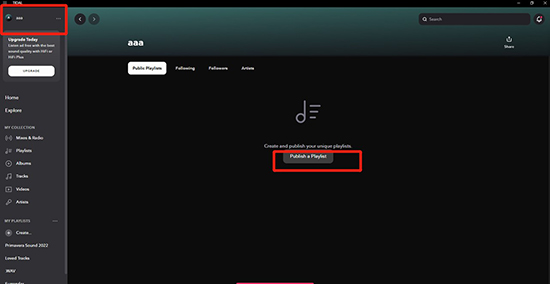 Step 3. Choose the playlists you want to share and click on the 'Publish' button.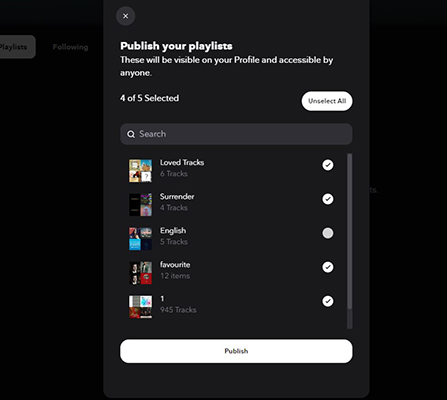 How Others Can Find Your Public Playlists
Step 1. First, you can go to your 'profile' page.
Step 2. Then click on 'Share' to 'Copy Profile Link'.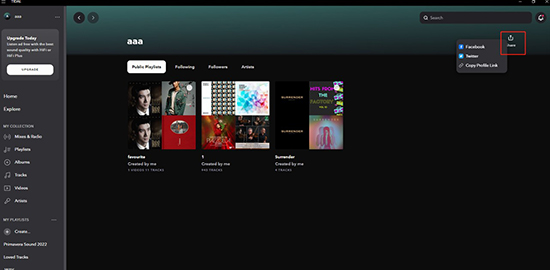 Step 3. Send the copied link to your friends.
Step 4. Your friends can search for this link by tapping on 'Search' at the bottom of the main interface. Once found, they can view all your public playlists.
Note: Your friends can also directly search for your profile name in the 'Search' section. In this way, they can also access all your public Tidal playlists.
Way 3. How to Share Tidal Playlists by Downloading Playlists Locally
With the two ways above, your friends can only access your Tidal shared playlists within the Tidal app. So, we are here to offer you a way to share your playlists with a person who doesn't have the Tidal app.
AudFree Tidal Music Downloader enables you to download music from Tidal even without a Tidal subscription. The downloaded songs are yours and will be stored on your computer locally. You own them so you can easily share the local audio files with others.
This professional Tidal music downloader will keep the original music quality and all the metadata information. So, you can share lossless Tidal music with your friends and they can also enjoy original Tidal music even without the Tidal app.
AudFree Tidal Music Downloader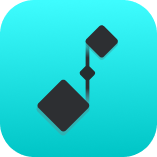 Download Tidal playlists locally without a subscription
Convert Tidal to MP3, FLAC, AAC, M4A, M4B, etc.
Keep complete metadata and lossless music quality
Work at a 5X faster speed, share Tidal playlists anywhere
Download Tidal Playlists Locally and Share them without a Subscription
You can install the AudFree Tidal Downloader on your computer in advance. Then let us show you how to download playlists from Tidal locally without a subscription. Then you can share them with others on any platform you want.
Step 1

Load playlists from Tidal to AudFree

First, discover the playlist that you want to share. Then you can right-click on the playlist and choose 'Share' > 'Copy Playlist Link'. Finally, paste this link into the search box of the AudFree Tidal Converter and click on '+' to load the playlist.
Step 2

Modify Tidal output format for sharing

This software allows you to change the output parameters as you want. Click on the 'menu' icon at the top right and then choose 'Preferences' > 'Convert' to open the settings window. You can modify the output options including format, sample rate, channel, etc.
Step 3

Download Tidal playlists as local files for sharing

Directly hit on the big 'Convert' button at the bottom of the main interface. Then this converter will download your Tidal playlists at a fast 5X speed. Once done, you can find the local Tidal music files in the 'Converted' section or in your computer's local folder.
Now all your favorite Tidal playlists are stored on your computer. You can share them with anyone on any platform simply by sending the Tidal audio files. You can also listen to Tidal offline on desktop without Premium and save these songs forever.
FAQs about Sharing Tidal Playlists
Q1: Can I Share My Tidal Account?
A: Yes. If you subscribe to a Tidal family plan, you can share your account with 5 other people. You can do this by adding a family member in the Tidal family section.
Q2: Can You Share Playlists on Tidal?
A: Yes, you can make public Tidal playlists on your user profile and your friends can view them. You can also hit the 'Share' button on the playlist to share your Tidal playlist. You can also download Tidal playlists without Premium by using AudFree Tidal Downloader, and then share them by sending downloaded audio files.
Q3: Can You Share Tidal Playlists to Spotify?
A: Yes. You can first convert Tidal playlists to MP3 and then upload the converted playlists to Spotify. To convert Tidal to MP3, you can use AudFree Tidal Music Converter. To add local files to Spotify, you can do it from your desktop Spotify app.
Q4: How do I Export My Tidal Playlists?
A: You can use AudFree Tidal Music Converter to export Tidal music. Simply add the playlists from Tidal to it and then change the output format and other parameters you want.