Like many other music streaming apps, Tidal is an entertainment platform, which brings you closer to the artists. You can listen to your favorite artists and enjoy the music with over 70 million music tracks. Listen and enjoy Tidal music anywhere and anytime. That is why Tidal supports hundreds of devices like Amazon Alexa, Desktop App for Windows, Samsung Gear, and much more. But does it  support and allow you to stream Tidal on Philips TV?
There are many additional devices, such as Chromecast, which helps users to stream the Tidal app on your Philips TV. But we will introduce you to the right tool to stream the same amount of tracks with high quality just as the Tidal. You don't have to purchase the extra hardware for streaming and we will explain to you how you can get Tidal on Philips TV.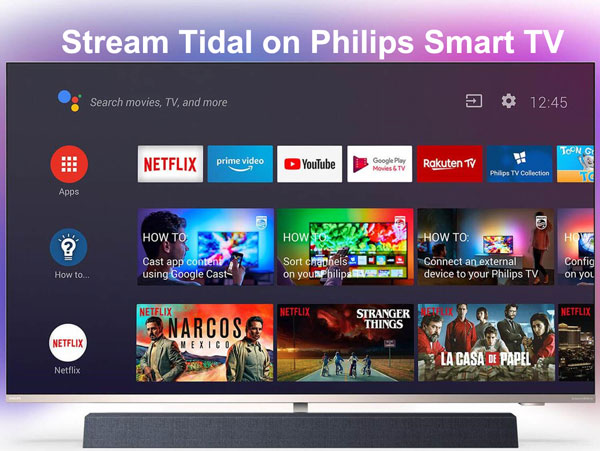 Part 1. Get Tidal on Philips TV - What You Need
Philips TV only supports the importing of local files and then transfer. However, in the case of Tidal, the music can't be downloaded on the desktop client for offline listening. That is why software is needed to break the protection and allow to stream the music easily.
We have chosen the best and all-in-one music converter app, which is specially designed for the Tidal music downloading. AudFree Tidal Music Converter enables its users to download music tracks, playlists, or albums with Tidal Premium or HiFi for offline listening through your Philips TV. Its incredible features make it possible to stand out from all the other music converters.
Have a look at its features for a better understanding of its functions.
Conversion Formats:
You can stream music on Philips smart TV from Tidal with the easiest conversions. AudFree Tidal Music Converter can convert the Tidal music tracks and playlists to your desired high-end format. You can download it in MP3, AAC, WAV, M4A, or M4B while maintaining its output quality.
Keep Tidal Music Forever:
It is a well-designed music downloader for Tidal. AudFree Tidal Music Converter allows you to download various Tidal music files, playlists, etc. The best part is that after conversion, there will be no trouble in playing Tidal music even after you cancel your Tidal membership.
Lossless HiFi Music Quality:
You can easily download Tidal MQA music with your Tidal HiFi account. You can also customize the output audio parameters like sample rate, bit rate, audio channel, or codec to get high music quality.
Offline Availability:
Normally, you can only download Tidal music for offline music on mobile devices, but AudFree Tidal Music Converter has made it possible elsewhere for you. For example, you get to play Tidal music tracks, albums, playlists, etc., to your Philips TV as well as all popular and portable MP3 devices offline.
Easy-to-Use:
Due to its easy interface, it does not require technical installation and usage skills. It enables you to customize the interface language. You can organize the Tidal music library and customize the output settings. AudFree Tidal Music Converter also keeps you upgrade with all the latest Tidal app.
The above features will make you excited to get Tidal on Philips TV in a rush.
Part 2. How to Stream Music on Philips Smart TV from Tidal
AudFree Tidal Music Converter is an extraordinary and innovative music converter for Tidal Premium and HiFi subscribers. Get your Tidal music app on your Philips TV and enjoy the full streaming. Here is a complete user guide to play Tidal on Philips TV.
Step 1

Copy and paste Tidal tracks to AudFree

When you have launched the AudFree Tidal Music Converter, it will automatically load the Tidal Music app. Now, you can search for the desired Tidal music that you'd like to download and convert. Once you have decided, then go to the '...' icon and then 'Share'>'Copy Playlist Link.' The paste the Tidal link to the search bar of AudFree's interface and click the '+' icon to load Tidal tracks.
Step 2

Change format and other parameters for Philips TV

If you are a Mac user, you need to open the system's menu bar on Mac and then tap the AudFree Tidal Music Converter. If you are a Windows user, go to menu icon from the upper-right corner. Choose 'Preferences' and 'Convert.' Now, you can customize the bit rate, sample rate, or codec for high-quality conversion. Choose the format from the drop-down menu as MP3, AAC, WAV, etc.
Step 3

Start to download Tidal to local files for Philips TV

To start the conversion, click the 'Convert' button on the botton-right of the main window. When the conversion is done, choose the 'converted' option. Now you can view the converted list and select the tracks to open the local folder on your computer.
Step 4

Transfer Tidal tracks to Philips Smart TV

Now transfer the downloaded Tidal tracks to a USB drive and then insert it into your Philips TV. Enjoy your favorite Tidal music tracks, playlists, and albums offline.

We have described all the conversion steps for how to play Tidal on Philips TV. You can avail of the best features by using the AudFree Tidal Music Converter and get the free and offline music tracks in high quality. So, you don't have to look for other ways to get Tidal music for Philips TV.