Tidal was launched in 2014 with the integration of music in HiFi and MQA quality. There are 3 ways to access the Tidal streaming service online, one through the Tidal web player, one via the desktop version, and another by the mobile client. Many users prefer to use the web player in Tidal to listen to their favorite Tidal music rather than installing Tidal app.
However, you cannot download songs on Tidal music web player because there is no built-in download button. For your convenience, this article has found an effective way to download music from Tidal web player. Also, here is a guide to its usage and smart tips to make it work smoothly.
View also: How to Download Songs from Spotify Web Player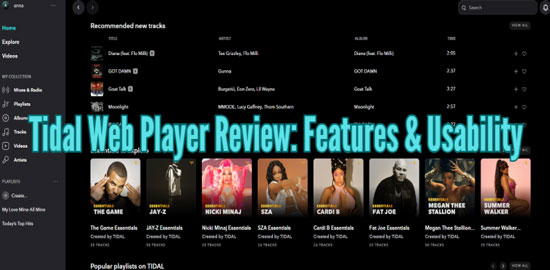 Part 1. Tidal Web Player Overview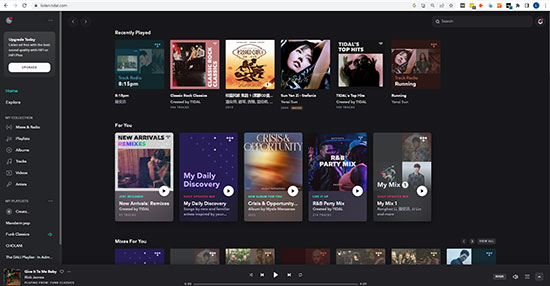 The web player Tidal enjoys a dark theme design with a fixed sidebar that houses all the important sections, making it easy to navigate to the various categories. The browser-based Tidal music web player relies on streaming and peer-to-peer technology, which allows it to work as fast as Tidal app.
The Tidal online player offers millions of Tidal tracks and videos, allowing you to access and listen to your favorite Tidal music, live streams, music videos and more. However, when it comes to music downloads, the Tidal web player does not offer the ability to download Tidal music, even if you are a HiFi and HiFi Plus subscriber.
As for the music quality on the Tidal web player, free users can enjoy normal AAC quality, while HiFi users can play high fidelity Tidal music and HiFi Plus users can enjoy MQA quality music. However, it is important to note that you can't get MQA quality music on the web player via Safari or Microsoft Edge.
Part 2. How to Login and Use Tidal Web Player
In fact, it's simple to login to the web player on Tidal. You can follow the steps below to learn how to use Tidal web player and listen to professionally curated Tidal playlists and original content.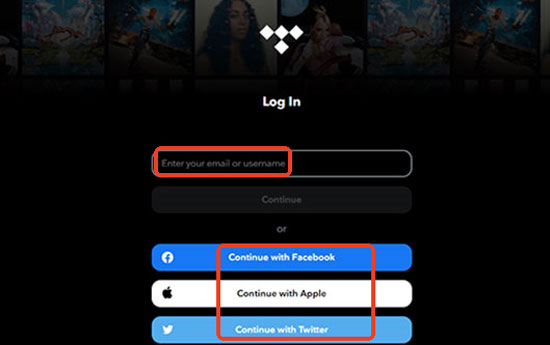 Step 1. Navigate to https://tidal.com/ directly on your computer's web browser. Click on the 'Login' option in the top right corner and select the 'Web Player' option.
Step 2. In the pop-up window, enter your email address and password in the input fields to log in to the Tidal web player.
Step 3. Now, you can select and play any Tidal tracks, podcasts, albums and playlists on the Tidal online player.
Part 3. How to Download Music from Tidal Web Player
Since you can only download Tidal music through the Tidal app, not the Tidal web player. To solve this problem, we have come across AudFree Tidal Music Downloader. It is dedicated to downloading songs, albums, playlists, etc. from Tidal to your computer whether you are using the Tidal web player or the Tidal app.
What's more, it can convert Tidal songs to FLAC, WAV, MP3, AAC, etc. without losing any quality. Afterwards, the downloaded Tidal songs are actually saved on your local device, which also means they are playable even if you cancel your Tidal subscription. You are also allowed to listen to Tidal music offline on any device and player without having to install the Tidal app.
AudFree Tidal Music Converter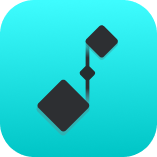 Download Tidal songs and playlists from Tidal web player
Convert Tidal tracks to FLAC, WAV, MP3, etc.
Keep your HiFi and Master music 100% lossless
Run at 5X speed, support to edit output parameters
Step 1

Import Tidal Music into AudFree Tidable

Download and open the AudFree Tidal Music Downloader on your computer. You will need to open the Tidal web player on your browser and select the song you want to download. Next, copy and paste the URL of the track into the search box and press the Add button to the side.
Step 2

Modify Output Configuration for Tidal Music

Click on the Menu icon and the Preferences section. Select the Convert bar in the settings window and you can customize the output format of Tidal Music such as FLAC, WAV, MP3 etc. In addition, it is possible to set other parameters including audio channels, bit rate, sample rate.
Step 3

Download Tidal Music from Tidal Web Player

Now simply tap the 'Convert' button in the bottom right corner to start the download process. When the download is complete, you can hit on the 'Converted' icon to check the downloaded Tidal list. You can also find the Tidal music files in the target folder of your computer directly.
Part 4. Tidal Web Player vs Tidal Desktop App
The Tidal web player and desktop app have a lot in common. In general, music catalogues, ways of discovering music, social features, etc. are all present in them. Therefore, here we focus on the differences between the two.
Quality
Tidal MQA quality (Master quality / Studio quality) is available in the desktop program, but not in some Tidal web player via Safari or Microsoft Edge. To get Tidal MQA music in all Tidal music web player, please refer to this page: How to Get Tidal MQA Download.
Convenience
You can access your Tidal music content through the Tidal web player on any computer, Android phone, iPhone, tablet or other mobile device, without any installation required. Just make sure your device is connected to the internet and has a browser installed. In this way, web player Tidal is more convenient than the Tidal desktop app.
Part 5. How to Fix Tidal Web Player Not Working
If you are experiencing problem with Tidal web player not working, you can refer to the following effective fixes to get Tidal music web player working properly.
Solution 1. Check the Status of the Internet Connection
It is often necessary to check the internet connection. You can open other websites on your web browser and if they don't work either, then you need to restart your router. Afterwards, try reopening the Tidal web player to see if it will play music.
Solution 2. Disable Anti-virus and Firewall Settings
Sometimes, if you enable the anti-virus and firewall settings on your computer, you may find that Tidal web player has various playback problems. Follow these steps to learn how to disable the firewall settings on your Windows computer.
Step 1. Launch the 'Control Panel' window on your Windows computer and select 'System and Security' and 'Windows Defender Firewall' section.
Step 2. Click on 'Turn Windows Defender Firewall on or off' to turn off the firewall settings, after which restart your computer and see if the problem with Tidal web player is resolved.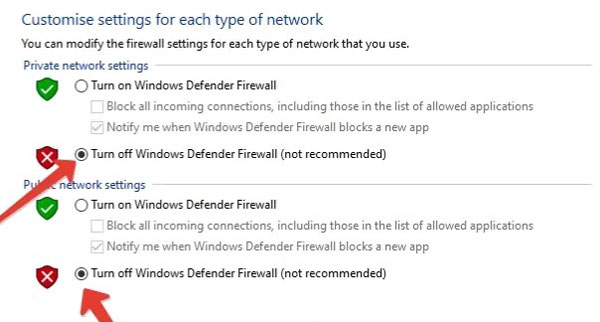 Solution 3. Delete All Cookies from Your Browser
Some information will remain tied to your browser after you have left the page in question. However, these leftovers can cause problems, such as issue with Tidal online player not functioning properly. The necessary steps to clear your browser's cookies vary depending on the platform used. You can try using a browser cleaning tool to clear cookies and cache on your Chrome, Firefox, Opera, Edge, etc.

Part 6. In Conclusion
Now, you should have a better understanding of the features and usage of Tidal web player. Alternatively, if you want to download Tidal music from Tidal online player, AudFree Tidal Music Downloader is the best option. It can effectively download Tidal music to your computer locally for offline playback without Tidal app.
Update: AudFree Tidal Music Downloader has been upgraded to a new method of downloading Tidal music with Tidal desktop app. If you want to download songs from the Tidal web player directly, you will need to downgrade the version of the app.