Can I play Tidal on HomePod? It could be one of the most questions that confused people who own HomePod and subscribe to Tidal music service. If yes, how does Tidal subscription work with HomePod? If not, is there a possible solution to listen to Tidal playlists on HomePod?
As Apple's smart speaker, there is no doubt that HomePod is fully compatible with its own streaming music service, Apple Music and its voice assistant, Siri. It couldn't be easier to ask Siri to play music on HomePod with Apple Music. But things could be different when it comes to streaming Tidal music to HomePod since the HomePod is not integrated with the Tidal app.
Although the HomePod speaker can't play Tidal music over a normal Bluetooth function, fortunately, it's available to play Tidal music on HomePod with AirPlay. As a result, to play Tidal music with Apple HomePod, you either transfer Tidal to iTunes library or use AirPlay. Detailed steps on both of methods are expounded below.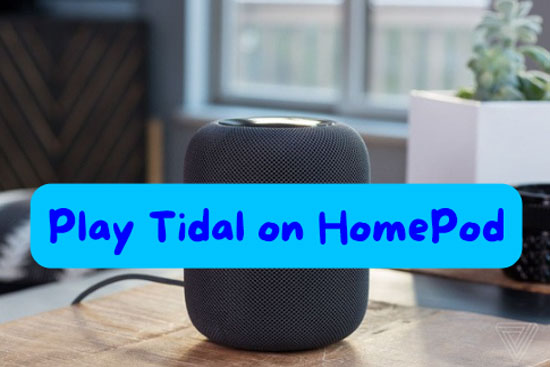 Part 1. How to Play Tidal on HomePod from iTunes Music Library
The first method introduced to stream music to HomePod from Tidal needs you to transfer Tidal music to iTunes library. As thus, all tracks will be synced to the iCloud Music Library with the iTunes Match, so that you can play Tidal music on HomePod from iTunes library.
To meet this goal, it is necessary to get help with AudFree Tidal Converter, which can download Tidal music and playlists as local files at 5X quicker speed, and save them as MP3, FLAC, WAV, AAC, M4A and M4B so as to import Tidal downloads to iTunes library.
No matter you are using Tidal Premium or Tidal HiFi, even using the Tidal 6-month free trial, you can use AudFree to download and convert Tidal music, playlists, albums with original sound quality and ID3 tags for offline playback on any device anywhere. This smart Tidal tool offers users to install it and test its performance before purchasing. You might as well have a shot at its trial version.
You might wonder why there is a need to use an additional Tidal downloader to do this. Doesn't Tidal premium support downloading music from Tidal for offline listening? You know, although Tidal provides premium users with the download option on mobile devices, music you download from Tidal is cache, which can just be used with Tidal app within valid subscription. As a result, to download Tidal songs for playing on HomePod through iTunes library, a professional Tidal music downloader is a must.
These steps will guide you to use AudFree Tidal Music Converter to convert and download music to iTunes for playback on Apple HomePod.
Step 1

Add Tidal music to AudFree Tidal converter

To add Tidal music that you'd like to play on HomePod to the AudFree Tidal Music Converter, please launch this Tidal music converter and then you will see Tidal app is opening at the same time. Just discover the Tidal music, copy the Tidal track link by clicking "..." icon > "Share" > "Copy Tidal Track", and then paste it to the search box of AudFree. Touch the "+" button to load Tidal music automatically.
Note: AudFree Tidal Music Converter needs to work with Tidal desktop app. Please make sure you have downloaded it on your computer in advance. Otherwise, you will get an error message saying "Tidal is not installed".
Step 2

Customize Tidal output settings for HomePod

HomePod can support a wide variety of audio formats, including AAC, MP3 VBR, WAV, FLAC, MP3, AIFF, FLAC, Apple Lossless, protected AAC (from iTunes Store) and HE-AAC (V1). So you can open the setting window by choosing "Preferences" > "Convert" option and then you can customize audio format as one of the HomePod compatible audio formats.
Step 3

Download Tidal music for playing on HomePod

Now, hit on the "Convert" button at the bottom of the main interface and then this software will start to download Tidal music offline and convert Tidal music to HomePod compatible audio files for a while. In general, it works at 5X faster speed to get local Tidal audio tracks. After conversion, you can find all Tidal tracks on destination folder by clicking a "file" icon or "history" > "search" icon.

Step 4

Upload Tidal music to iCloud Music Library

To import Tidal music to iCloud Music Library with iTunes Match, the first thing you need to do is to follow this page to download Tidal music to iTunes library. And then you can start to sync them to your iCloud Music Library by switching "Sync Library" on. Here, we will take iTunes for Windows as example to show you the detailed steps.

Step 1. Launch the iTunes app on your Windows computer;

Step 2. Please click the "Edit" > "Preferences" from the menu bar of iTunes;

Step 3. Turn "Sync Library" on under the "General" option and click the "OK" to confirm it;

Note: Please subscribe to iTunes Match, if not, you won't see the "Sync Library" tab.
Part 2. How to Play Tidal on HomePod with AirPlay
AirPlay is a proprietary protocol suite created by Apple, which lets users share and stream audios, videos, photos, etc. from Apple devices to smart speakers, Apple TV, smart TVs and more for better playback. Once you have activated the AirPlay feature, it's able to send music playing on the iPhone or iPad - whether that's is Tidal, Spotify, or another service to the HomePod AirPlay speaker.
To stream music to the HomePod from Tidal, please make sure you have subscribed to Tidal Premium or HiFi, and the plan is ongoing. And then, switch on the iPhone's Bluetooth as well as Wi-Fi connections. Please make sure that your iOS device and the HomePod are attached with the same Wi-Fi network.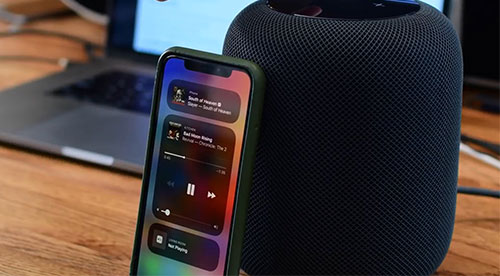 Step 1. Firstly, set up your HomePod and check whether it works properly;
Step 2. Secondly, run the Tidal app on your iOS device and set HomePod as the AirPlay destination;
Step 3. Alternatively, you can open Control Center on your iDevice and tap AirPlay icon to select HomePod under the "Speakers & TVs" section;
Step 4. Now, start to play Tidal songs. Tidal music playing on the iOS device will be streamed to the HomePod. Just listen to your Tidal music over the smart HomePod speaker with ease.
As you know, AirPlay is not only used to stream Tidal music to HomePod on iOS devices, but also available to do the same on a Mac desktop. It's just a different procedure. Here is how to do.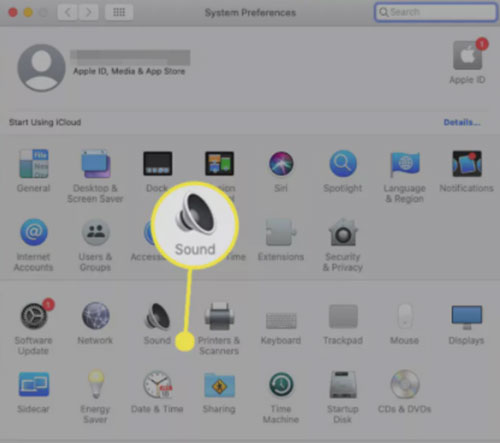 Step 1. On Mac computer, go to the Apple menu and choose "System Preferences" from the drop-down list;
Step 2. In the following interface, please locate "Sound" option and then to "Output";
Step 3. On "Output" panel, select the HomePod that you get ready to play Tidal music;
Step 4. Then, check "Show volume in menu bar" option on the bottom so that you can choose HomePod from the audio control on the menu bar next time;
Step 5. Open Tidal app on your Mac and begin to play music. Music playing on Mac will be streamed through your HomePod.
Part 3. Frequently Asked Questions about HomePod
There is a collection of commonly asked and concerned questions about HomePod by users. We will go through them. Hope you find it useful.
1. Can Apple HomePod be recharged?
No. Apple HomePod doesn't take batteries, so it is not rechargeable. HomePod is equipped with a power cord, which can be used to connect the bottom of HomePod to an electrical outlet to make HomePod work.
2. Is it necessary to get AppleCare+ for HomePod?
AppleCare+ for HomePod is an economical way to protect HomePod. Sometimes, your HomePod inevitably suffers from accidental damage. In such a case, repairing in Apple store will cost you a lot. However, if you have bought AppleCare+ for HomePod with $39, you can enjoy two-year accidental damage protection besides 24/7 technical support and extended warranty for two years.
3. How can I restart my HomePod?
HomePod is not designed with a restart button or a power switch to use. When you need to reboot your HomePod, you can try unplug it from power source and then plug back in to restart it. Alternatively, open HomePod app on your device > connect your device with HomePod through Bluetooth > go to "Settings" > choose and touch "Reset HomePod" option to restart your HomePod.
4. What if blank white screen appears when setting up a new HomePod?
Generally speaking, reason for the white screen during HomePod setup is a simple failure. When the Apple Music app is uninstalled or deleted from your device, this issue happens. To fix it, you just need to re-install Apple Music on your device. After that, start HomePod settings again. If the setup process is interrupted by the message of subscription to Apple Music, you might choose "Not Now" to skip it to continue.
Part 4. Bottom Line
Two solutions to get HomePod Tidal work together are detailed in this piece, which respectively are AudFree Tidal Music Downloader and AirPlay. The first one works by downloading Tidal music to iTunes, so that you are able to sync to iCloud music library via iTunes Match for offline playback on HomePod without limitation. The other one is a simple and quick method, allowing you to stream Tidal music to HomePod on iOS devices, Macs and Apple TVs with an active Tidal subscription.