What will you do after you add transitions, cut video clips, overlaid titles, and others for your iMovie project? One of the most likely answers is adding music to iMovie as background music. To get high-quality music for your video in iMovie, Tidal seems a nice music library. It has over 60 tracks, in which you can discover your favorite 'high quality' and HiFi music.
Is it easy to add music to iMovie from Tidal? Although it's easy to edit your own music in iMovie, for Tidal Music, it is not a simple adding task. Tidal songs are music streams that can't directly take out of the Tidal app to adhere to copyright laws.
It's necessary to get help from AudFree Tidal Music Converter, which can convert Tidal songs to local files. With Tidal local music, it could be easy to get a song off Tidal onto iMovie for editing. Today, let's see how to do that.

Part 1. What's iMovie & Why Can't Add Tidal Music to iMovie
What's iMovie
iMovie is Apple's official free video editing program. It enables users to create and edit a video presentation or a stunning 4K-resolution movie on macOS and iOS devices. It comes with lots of wonderful and amazing features for editing. For example, studio-quality titles, extra-special effects, high-fidelity filters, sound effects, sharing movie projects.
Apart from featuring built-in functions, iMovie also supports adding kinds of files. It supports a wide variety of video formats, audio formats, still-image formats, and container formats. All will aim to create an excellent movie. Here, we will give a detailed introduction to iMovie compatible video and audio formats.
iMovie Supported Video File Formats: MOV, HDV, DV, H.264, MP4G-4, AVCHD, MPEG-2, MP4
iMovie Support Audio File Formats: AAC, AIFF, BWF, CAF, MP3, MP4, RF64, WAV
Why Can't Add Tidal Music to iMovie
Up to now, it's obvious why you can't add music in iMovie from Tidal. There are certain audio formats being compatible with iMovie. But it's not able to support streaming music, including Tidal music. Because streaming files are under protection to comply with music policies. No matter you can subscribing to Tidal Premium or HiFi, you can't upload Tidal music to iMovie for use.
Part 2. How to Get a Song Off Tidal onto iMovie Project
To add background music to iMovie from Tidal, you should get the unprotected Tidal files. And you can locate them on your Mac computer. That's to say, Tidal files should be your own load audio files.
AudFree Tidal Music Converter for Mac is a tool that can meet your needs. It empowers you to download Tidal music, playlists, and albums locally. Besides, it can convert Tidal to supported iMovie audio formats within near 100% lossless audio quality kept. It can also save all ID3 tags in the converted Tidal files well.
How to Get a Song Off Tidal for iMovie
It's easy to download and convert Tidal music to iMovie compatible audio files on Mac and PC. Since iMovie is only available for macOS, here, we will take the Mac version as an example to show you how it works. Please note that you need to purchase the full version to unlock the limited conversion time.
Step 1

Add Tidal music to AudFree Tidal converter

AudFree Tidal Music Converter needs to work well with the Tidal desktop app. Please make sure you have downloaded and installed it on your Mac before getting started. And then you can click the AudFree software icon to launch Tidal Music Converter and Tidal app at the same time. Now, find the Tidal music you'd like to export to iMovie. Please copy and paste the Tidal track link to the search box of AudFree and click the '+' button to load them.
Step 2

Customize Tidal audio format for iMovie

iMovie supports AAC, AIFF, BWF, CAF, MP3, MP4, RF64, and WAV. AudFree Tidal Music Converter can define output format as MP3, FLAC, WAV, AAC, M4A, and M4B. After combining the two, you can choose the output format as AAC, MP3, or WAV. Please click the 'AudFree Tidal Music Converter' from Apple's top-right menu bar. It will show a new window, in which you can select the 'Preferences' and 'Convert' to open the setting window. And then, you can adjust the audio format and other audio parameters as you like.
Step 3

Download and convert Tidal music for iMovie

Now, it's time to convert added Tidal music to iMovie supported audio formats. Click the big 'Convert' button at the bottom-right corner, it will start the conversion process. It will download and convert Tidal files and save them in the local audio folder on your Mac. When the conversion process finishes, you can hit on the 'file' icon to locate them directly.
Part 3. How to Add Music to iMovie from Tidal as Blackground Music
Congratulations! There is no problem to insert Tidal music into your video project in iMovie. It's never been easier to make it possible. Let's see the simple tutorial on how to add and edit Tidal music in iMovie on macOS and iOS devices.
Add Music to iMovie from Tidal on Mac
Launch the iMovie video editing tool on your Mac. And then open the video clips. You can click the 'File' > 'Import' button to browse the local Tidal music folders on your Mac computer. Once found out, please highlight the file and click the 'Open' to add music from Tidal to iMovie.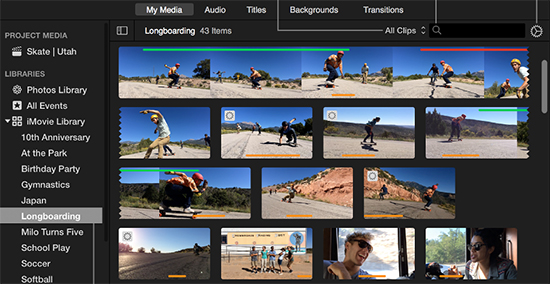 Tips: The other way is to add music to your iMovie video from the iTunes library. Please make sure you have downloaded Tidal music to iTunes library. After that, hit on the 'Audio' button in the top left corner. You can search for the favorite songs and add them from the entire iTunes library.
Add Music to iMovie from Tidal on iOS
Please make sure Tidal songs are saved in the iTunes library. Click the '+' button to select 'Audio' in the iMovie project. And then, please tap the 'Songs' to upload target Tidal music you'd like to use to iMovie. If they are in iCloud Drive, please click the 'iCloud Drive' tab to discover the Tidal music.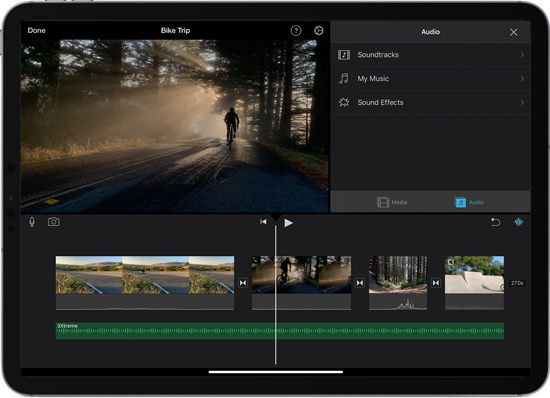 Now, you can start to edit Tidal music in iMovie. When all settings are done, please don't forget to export your exclusive video project.