It is a fact that it has been a popular tradition to play your favorite music or any songs while driving your car. Whether you are on a long trip or going to a nearby area to grab a cup of coffee, the first thing that you would do when you get inside your car is to play music. Well, if you are a fan of Amazon Music, then you will feel happy now that you can play Amazon Music in car.
If you look closely, you will find that rapid development in technology has dramatically impacted the way people used to play music in their vehicles. Such development has provided a lot of choices for listening to your favorite music in the car. However, accessing the music from Amazon Music for your car is a little tricky, but you don't have to worry about it as we bring you perfect solutions. Please keep reading to know about them.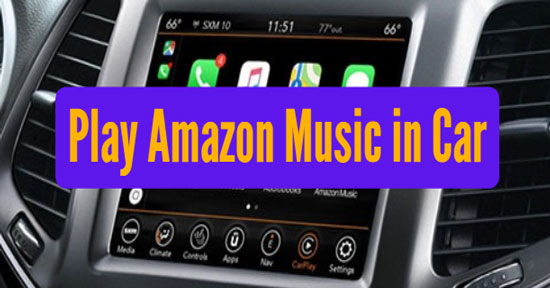 Part 1. How to Play Amazon Music in Car by Bluetooth
Most Amazon Music users wonder how to play Amazon Music in car. Well, there are various ways to reach the goal. However, the simplest way is to use Bluetooth connectivity. How to do it? The connection process may vary from one music system to another, but the necessary steps for enjoying Amazon Music in car are:
Step 1: First of all, turn on your mobile and car stereo's Bluetooth connection;
Step 2: Then, click on the Search for new devices option available on the smartphone. You will see a list of available Bluetooth-enabled devices;
Step 3: Find your car's stereo and click on it to start the pairing process;
Step 4: Once done, you can now open the Amazon Music app and play your favorite music in car through Bluetooth.
Part 2. How to Enjoy Amazon Music in Car through Apple CarPlay
How to listen to amazon prime music in car if you are using an iPhone? Well, for this, you can use Apple CarPlay. Speaking about CarPlay, it is a safer and smarter way to use the iPhones in the car. Using this, you can make calls, get directions, receive and send SMSs, and most importantly, you can listen to your favorite music. This lets you listen to the popular Amazon playlists in your car. But how to use it? Here are the steps.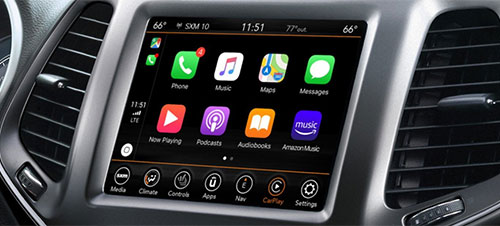 Step 1: First of all, you need to log into your Amazon Music account on your iPhone;
Step 2: Next, connect the phone to the CarPlay stereo through Bluetooth or a USB cable;
Step 3: Open the Settings, then go to the General option and choose the CarPlay option on your iPhone. Then, select the car stereo option;
Step 4: Now, you can use amazon music in car. The best thing is that you can use the command Siri for help.
Part 3. How to Listen to Amazon Music in Car with USB
Even though most of the well-known car manufacturers have partnered with CarPlay, some people prefer to go for a simple way to listen to their favorite music, i.e., with a USB drive. But it is a fact that you can't directly export the songs from Amazon Music to a USB. So, how do I play Amazon Music in my car via USB? Well, here is the solution - AudFree Amazon Music Converter.
AudFree Amazon Music Converter is designed to let Amazon users download any playlist from Amazon Music to local files, so that they can enjoy playing the songs on any device they want without limits. It can convert any Amazon Music to FLAC, WAV, MP3, and more with zero loss of quality and ID3 tags. Developed with professional conversion technique, this top-rated music converted is also for Amazon Music Unlimited as well as Amazon Prime Music users, besides Amazon Music free users.
You just follow the steps listed below to download and transfer Amazon Music to a USB drive, then you get accees to play Amazon Music in car by plugging the USB to your car.
Step 1

Launch AudFree and sign in Amazon

Download, install, and launch AudFree Amazon Music Converter. Then, you need to click on the "Sign In" button to log into your Amazon Music account. AudFree has an in-built Amazon Music online player. You don't need to take the additional step to install the Amazon Music app on your computer.
Step 2

Register to AudFree software

After that, you need to register yourself with AudFree Amazon Music Converter, as the trial version just supports one-minute conversion. To get the full version tool, choose the "Register" option, which can be accessed by clicking on the three-line icon located in the top right corner. In the registration window, enter licensed e-mail and valid code to official register.
Step 3

Adjust Amazon Music output format

Now, go to "Preferences" from the menu option and then to "Advanced" panel. Here, you are entitled to select any output format like Lossless, MP3, M4A, AAC, etc, and customize parameters like sample rate, bit rate, etc. based on your demand. After choosing an output path, touch "OK" to confirm your personal output settings.
Step 4

Copy Amazon Music playlist to AudFree

Choose your favorite Amazon Music songs and add them into your created playlist. Then, open the playlist and click the "+" button to add them to AudFree. Alternatively, directly access an Amazon Music playlist and tap on the "+" icon to upload. In the list of added tracks, you have the right to choose songs that you desire for conversion.
Step 5

Play Amazon Music in Car via USB

Finally, click on the "Convert" option to begin the process. Once conversion process is completed, locate the converted Amazon Music songs on your computer and transfer them to your USB drive. Whereafter, plug the USB drive into your car stereo and enjoy the music.
Part 4. Final Thought
Above, we have listed three methods to listen to Amazon Music in car. The first two ones can achieve online Amazon Music listening in car with ease. But if you don't have an internet connection and prefer offline listening, then it's time to use AudFree Amazon Music Converter, which is committed to converting and downloading Amazon Music tracks for offline playback anytime and anywhere. Go on and enjoy your music from Amazon in car.