Amazon Music has become a favored option among music fans globally. Featuring an extensive collection of tracks and integration into Amazon's ecosystem, it delivers an unmatched musical journey. Nevertheless, for numerous users, the Amazon Music ads can be a slight inconvenience that interrupts the fluidity of their music enjoyment.
If you happen to be among those seeking to remove ads from Amazon Music to enhance your listening experience, you've come to the correct destination. In this article, we will delve into three efficient techniques for blocking ads on Amazon Music.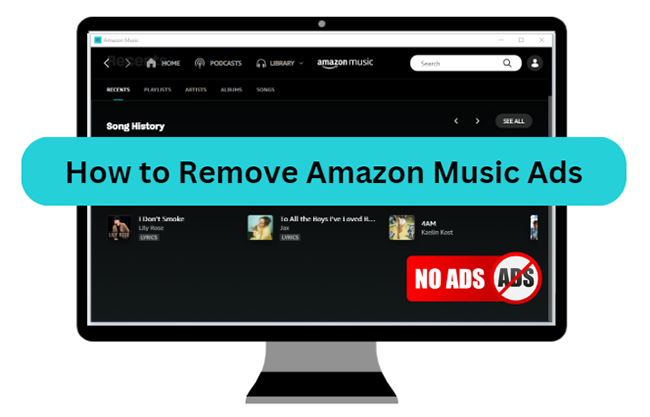 Part 1. Does Amazon Music Have Ads?
We begin with, does Amazon Music have ads? Amazon Music, like many other music streaming platforms, offers users both free and paid subscription options. The presence of ads primarily depends on the type of subscription you have. For different tiers, you can get your answer to whether there are ads on Amazon Music below.
Q1: Is Amazon Music Ad-Free?
A1: Amazon Music, a renowned music streaming platform, offers a diverse range of features to its users. It offers a wide-ranging assortment of songs and playlists. Nevertheless, it's worth mentioning that it does include a form of advertising while you are using an Amazon Music Free plan.
Q2: Is Amazon Music Ad-free with Prime?
A2: For individuals who hold an Amazon Prime membership, there is indeed a perk that removes ads. Amazon Prime, provided by Amazon, is a subscription-based offering primarily recognized for its advantages in the realm of online shopping and access to Amazon Prime Video. Additionally, it encompasses a music streaming service named Amazon Prime Music. With an Amazon Prime membership, users can listen to Amazon Prime Music offline with no ads.
A3: Does Amazon Music Unlimited Have Ads?
In contrast, Amazon Music Unlimited stands as Amazon's premium music streaming service. It delivers an extensive library of songs, including the latest releases, and an ad-free listening experience. Subscribers to Amazon Music Unlimited can enjoy their favorite tracks without disruptions from advertisements.
Q4: Why Am I Getting Ads on Amazon Music?
A4: Amazon Music now has ads? If you're coming across advertisements while using Amazon Music, it's essential to buy a subscription plan against your account. Amazon Music's free-tier users can expect to encounter occasional ads, as this is how the platform generates revenue from the service.
Part 2. How to Disable Ads on Amazon Music on Your Device
The easiest and most direct method for eliminating ads on Amazon Music involves upgrading your subscription. If you're enrolled in Amazon Prime, you're already entitled to an ad-free Amazon Music Prime experience as one of your membership perks. Alternatively, you can choose Amazon Music Unlimited for an ad-free listening experience. To start your Amazon Music subscription, just follow these steps:
Instructions: Use a web browser on your computer or Amazon Music app on your smartphone or computer and log in using your Amazon ID. Click the available package and follow the payment details to subscribe to Amazon Music. Now, you can get rid of Amazon Music ads successfully.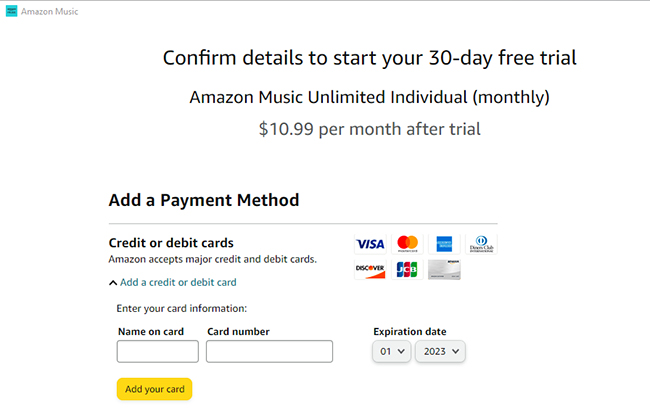 Notes: Amazon provides a 30-day free trial for its Amazon Music Unlimited and Amazon Music Prime plans to attract new users. So, if you haven't already used Amazon Music services, you can get an Amazon Music free trial for 1 month to disable ads from Amazon Music.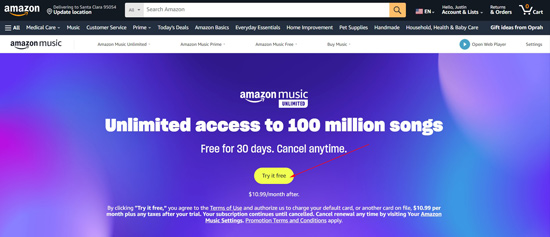 Part 3. How to Block Amazon Music Ads via AdLock
AdLock is a versatile ad-blocking software that can block ads on Amazon Music. It is compatible with across platforms, including Windows, Mac, iOS, and Android devices. Additionally, you can integrate it into your preferred web browser, as AdLock is available as an extension for popular browsers such as Chrome, Firefox, Safari, and Edge. Now, let's see how to turn off Amazon Music ads with its ad blockers.
Step 1: Use the Chrome Web Store to install the AdLock browser extension on your Google Chrome. Once installed, ensure it is active by clicking its icon near the top right corner.
Step 2: Now, access the Amazon Music Web Player and play a track. From now on, you will no longer face any annoying ads.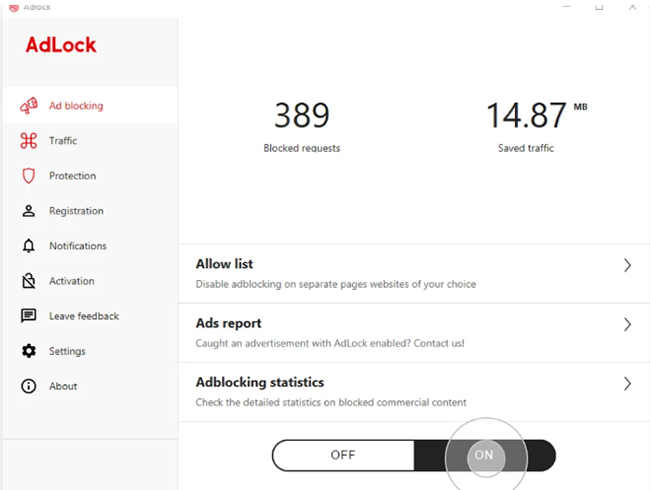 Part 4. How to Remove Ads from Amazon Music via AudFree Amable
While ad-blockers can remove Amazon Music ads, they are not the permanent solution. What you need is a powerful solution that can permanently resolve the ads issue. One tool that comes to mind is the AudFree Amazon Music Converter.
Its robust functionality empowers you to effortlessly acquire and convert Amazon Music tracks, albums and playlists into MP3 files without ads. These files can be stored locally on your computer, enabling you to listen to your cherished Amazon Music offline with no sudden advertising interruptions and share it across various devices.
You have the option to either add a single Amazon Music track directly or import an entire Amazon Music playlist or album for conversion. AudFree Amazon Audio Converter ensures swift downloads of your Amazon Music content, saving you time. It can download songs with 100% lossless techniques and 5 times the normal speed.
Steps to Download Amazon Music via AudFree Amable
Following are the detailed steps to download Amazon Music with no ads via AudFree Amazon Music Converter:
Step 1

Search For the Targeted Tracks

To start, you will need to download the AudFree Amable on your computer and install it. Once it is installed, open it, and the Amazon Music app will automatically open. Move to the Amazon Music app and find the tracks you want to convert and download.
Step 2

Set up the Output Parameters of Amazon Music

After you have found the playlist, use the three dots in front of it to copy the URL link. Come back to the AudFree Amable app and paste the link there. Next, click the menu icon and move to the "Convert" tab. Here, you can change the output format, sample rate, bit rate, and other such parameters.
Step 3

Convert and Download the Selected Amazon Music Tracks

Once you have decided upon the output parameters of Amazon Music and are ready for the conversion process, click "Convert." It is located near the bottom right corner. This Amazon Music ad blocker from AudFree Software will start converting and downloading the playlists you provided. And then, you can enjoy ad-free Amazon Music anywhere.
Part 5. In Conclusion
In this piece, we've looked into multiple approaches for removing Amazon Music ads and elevating your listening enjoyment. You have the option to upgrade your subscription to Amazon Music Prime or Amazon Music Unlimited or employ ad-blocking utilities. However, the recommended option is to leverage the capabilities of AudFree Amazon Music Converter. It helps you achieve your goal, which is to enjoy your music without ad interruptions.