As a massively multiplayer online game platform that debuted in 2006, Roblox empowers users to create their own games or play games created by other users. And now, Roblox remains incredibly popular, especially among younger audiences. Roblox has partnered with some music services such as Spotify Roblox integration. Once integrated, those music services can be given an official presence in the Roblox gaming platform, which offers music lovers a new way to connect with their favorite artists.
However, Apple Music is not on the partnership list with Roblox. That means you cannot listen to Apple Music on Roblox directly. Once you are gaming on Roblox, Apple Music playback will stop automatically. Fortunately, in this post, we will introduce two feasible methods on how to play Apple Music on Roblox on computers and phones. Without further ado, let's get started!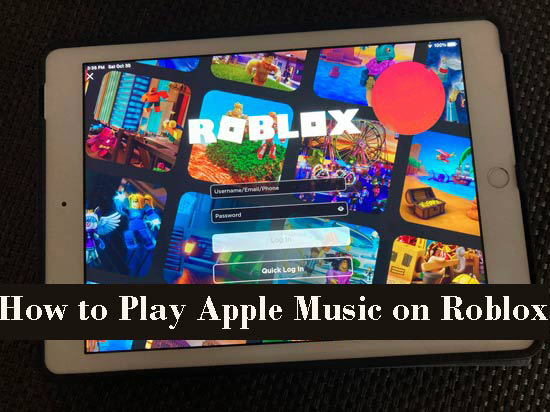 Part 1. How to Listen to Apple Music While Playing Roblox on iPhone/Android
For mobile users, Discord is a great choice to bridge between Apple Music and Roblox games, which allows you to play Apple Music on Roblox through its bots. A Discord bot such as the ProBot serves as an automated code or program that can be added to a Discord server to run particular activities in the Discord channel for gaming activities and interact with other services or APIs such as the Roblox server. In this way, it builds the connection between Discord and Roblox.
On top of that, it works to automate certain tasks, respond to specific commands or events, provide information, or add extra functionality to the server, which is quite practical.
How to Play Apple Music While Playing Roblox on Mobiles via Discord Bots
But how to listen to Apple Music when playing Roblox games on iPhone or Android via Discord bots? If you have no ideas, please look at the following steps:
Step 1. Install the Discord app on your mobile device and create a new Discord server.
Step 2. Select a suitable music bot that supports Apple Music such as ProBot. Navigate to the ProBot website from the Discord bot catalog, select 'Add to Discord' to open a new page.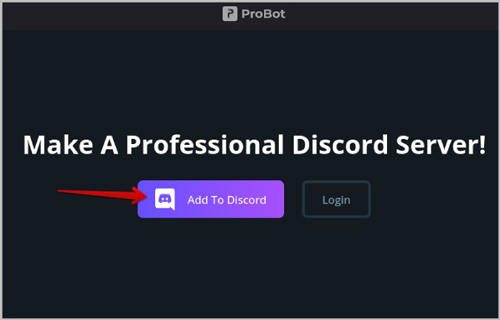 Step 3. From the new window, choose your previously created server to add Discord ProBot. Then click on 'Continue' > 'Authorize' to close the window.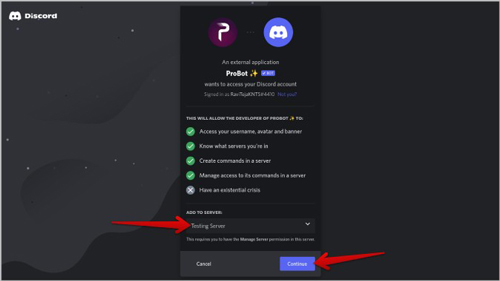 Step 4. Choose 'Music' from the left panel of ProBot Dashboard to enable the music feature.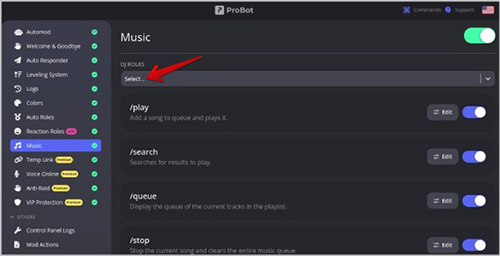 Step 5. Please join the voice chat of the server.
Step 6. Proceed to enter the '/play' command to play Apple Music by adding the name of Apple Music songs after the command. It will play Apple Music songs on Discord automatically.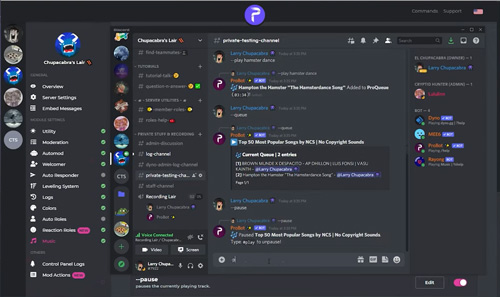 Step 7. You need to keep entering the commands one by one to create a music queue.
Step 8. Then go back to Roblox, at the same time, please turn the gaming volume down/off. Then you can listen to Apple Music in the background while playing Roblox games.
Part 2. How to Play Apple Music on Roblox on Windows/Mac
Since that Apple Music is not natively supported by most music bots and you are required to input commands subsequently, Discord PorBot is a little complicated for average users. And many Apple Music songs are not available on Discord bots. But don't worry! We have also prepared a viable and convenient way to listen to Apple Music while playing Roblox games.
That is to import Apple Music to Roblox after downloading it with a third-party music downloader. When it comes to this, please look no further than AudFree Apple Music Converter, a multi-purpose and all-in-one program for both Windows and Mac. It enables you to batch convert protected Apple Music to universal formats supported by most platforms including Roblox at 30X faster speed.
With original ID3 tags and no audio quality loss, you can enjoy Apple Music on Roblox, which resembles the Apple Music app. Besides, this powerful tool allows you to forever transfer the converted Apple Music files to Roblox and any other device for offline listening. Distinct from Apple Music downloads on iTunes, those converted Apple Music files won't disappear even though the Apple Music subscription is expired. It is worth mentioning that this converter can also be used to convert iTunes music and download Audible AAX to MP3.
How to Play Apple Music on Roblox for Desktops with AudFree Apple Music Converter
Here is a user guide for you. But before that, please install the AudFree Apple Music Converter on your computer and download Apple Music to your iTunes in advance. It is safe and legal for personal use.
Step 1

Put Downloaded Apple Music into AudFree Apple Music Converter

On the converter, please click the bottom-left first 'Load iTunes Library' button. Then a new window will pop up, in which you can select all downloaded Apple Music tracks from your iTunes library. Then click 'Add'. Since the converter supports converting Apple Music songs in batch, you can select multiple files for the converter.
Step 2

Customize Apple Music Output Formats as MP3 for Roblox

Touch in the first 'Format' tab in the bottom right corner of the main interface of the AudFree Apple Music Converter to open the output settings window. For compatibility with Apple Music and Roblox, please set the output format of Apple Music as MP3 since it is supported by Roblox. To keep the original high quality, you can personalize the bit rate, sample rate, channel, etc. Beyond that, you can tap on the 'Edit' and 'Effect' buttons on the right of each item to edit ID3 tags and volume.
Step 3

Convert Tracks for Roblox Apple Music Connect

Proceed to download Apple Music on Windows or Mac. Please hit the bottom-right second 'Convert' button. Then the protected Apple Music will be converted to MP3 files on your computer. Once finished, please click on the bottom 'Converted' bar to find those files. Next, you can transfer them to Roblox.
Step 4

Transfer and Play Apple Music on Roblox

Choose 'Create' from the top of Roblox. Then select 'Audio' and 'Browse' to choose the Apple Music audio you want to upload to Roblox. Then hit the 'Upload' icon. Alternatively, you can turn off the Roblox's volume and play the converted Apple Music in the background. Now, it won't stop automatically.
Part 3. More FAQs about Playing Apple Music on Roblox
Q1: Why can't I play Apple Music while playing Roblox?
Due to the copyright protection of Apple Music, its users cannot stream Apple Music on non-supported devices and platforms. Also, on grounds of the audio settings of Apple Music and Roblox, you cannot play Apple Music while playing Roblox games simultaneously.
The best method to solve such an issue is to use AudFree Apple Music Converter to convert and upload Apple Music songs to Roblox.
Q2: Which music service has partnered with Roblox?
Both Spotify and Sony Music can launch on Roblox. Especially, Spotify becomes the first music streaming service that partnered with Roblox. Our previous article has included more detailed information: How to Play Spotify on Roblox.
Part 4. In Conclusion
After this post, you may have understood how to play Apple Music on Roblox now. Generally speaking, converting Apple Music to MP3 files is the best choice since you can upload them to Roblox without restrictions and play them on any other devices permanently, which deserves a try. So, you can give AudFree Apple Music Converter a shot.