Q: I was able to convert Audible to MP3 for playing Audible audiobooks on my favorite MP3 players. But now, it seems that audiobooks downloaded from the Audible app for mobile are encoded in AAXC files. What's happened? Did I miss any major news about Audible files? Now, I'm looking for a way to convert AAXC to MP3.
It's obvious that you are not alone as there are many people meeting the same situation. By updating to the latest Audible apps for Android and iOS, downloaded Audible books are saved in AAXC format. This is Audible's innovation to their audiobooks.
In this article, we will illustrate what Audible AAXC is, and discuss why Audible adopts its format. Of course, we will introduce a powerful AAXC converter, with which you can easily convert AAXC to MP3.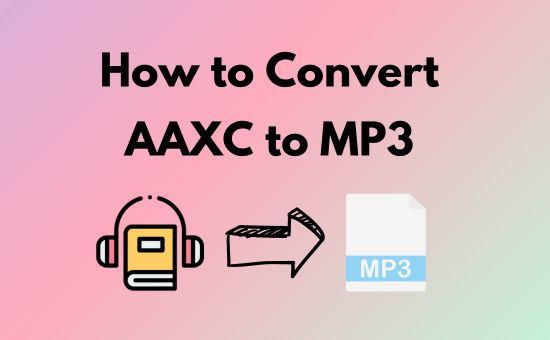 Part 1. What Is AAXC File
What is Audible AAXC? It is a new data file format of the audiobook from the Audible app, applied to Android and iOS since June 20, 2019. Audible AACX is the enhanced format of AAX or AA, which is still protected by DRM technology.
Now, all audiobook files from the mobile Audible app are transferred to AAXC. It has completely replaced the AA/AAX format for downloads. All .aaxc files are compatible with devices that support Audible for Android or iOS only. That's to say, Audible app for mobile is the only AAXC player.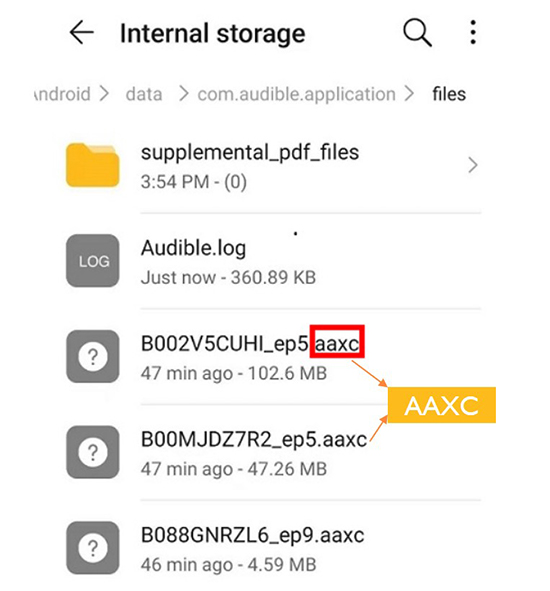 Part 2. Why Does Audible Use AAXC Format for Audiobooks on Mobile
It is beneficial for Audible to protect audiobooks in this new DRM format. It offers extra address protection. It is getting harder to convert AAXC files to MP3 and other files.
Put it another way, it will be a difficult task to download and transfer Audible AAXC files to more devices. Not to mention devices that do not support the Audible app. The only lucky thing is that the new AAXC format will not influence the way you listen to Audible online.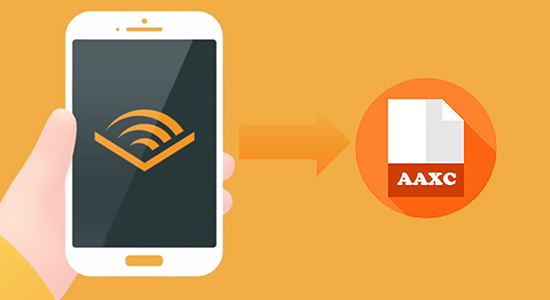 Part 3. How to Convert AAXC to AAX
Can you still download .aax instead of .aaxc audiobooks to get a better playback? If not, how to convert AAXC to AAX? If you have tried to rename the extension from .aaxc to .aax, then you must know that it will not work.
Thankfully, the downloaded audiobooks from the Audible desktop app are still saved in AA/AAX format. Thus, you can direct download Audible audiobooks of the same titles as AAX through the desktop app instead of using the mobile app.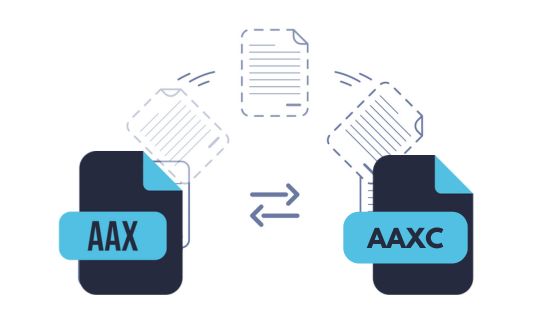 Part 4. How to Convert AAXC to MP3
Speaking of converting AAXC to MP3, it's not an easy task. AAXC is the newest Audible audiobook format on Android and iOS devices. Currently, almost all audiobook converters in the market are not compatible with AAXC.
To convert AAXC to MP3, the best way is to convert AAX to MP3 instead of AAXC files. You can download AA/AAX Audible books with the same titles from the Audible website on a computer. And then, it's able to use any Audible to MP3 converter to do format conversion. After that, you can transfer the downloaded MP3 audiobooks to your phone.
AudFree Audible Converter is the first choice as an Audible AAX converter without a doubt. It is well-designed to unlock protection from Audible AA/AAX. At the same time, it can convert audiobooks to MP3, FLAC, WAV, AAC, M4A, M4B, etc. with 100% high quality and complete ID3 tags.
Adopting the latest technology, it can run at a 30X faster speed during the conversion. There are various built-in features for you to edit your downloaded Audible files. For instance, you can manually adjust audio's volume, speed, and pitch. You can automatically split large Audible audiobooks by chapters.
AudFree Audible Converter
How to Convert Audible AAXC to MP3
It is available to download this powerful tool for a free trial. One-third of each audiobook can be converted via this smart Audible AAXC to MP3 converter. Now let's follow the tutorial to see if it satisfies your needs.
Step 1

Load Audible audiobooks and add them to iTunes library

Download and install AudFree Audible Converter on your computer desktop. Turn on the iTunes library and input Audible books to the "My Audiobooks" section. Then please move your mouse to click "File" > "Library" > "Import Playlist". Please remember to authorize your Audible account on iTunes.
Step 2

Stream Audible audiobooks to AudFree Auditior

Open this .aaxc to MP3 converter and iTunes will be reopened automatically. Then you have two ways to import Audible audiobooks for conversion. The first one to drag and drop audio files from iTunes to this tool. The next one is to hit the first 'Add' icon in the lower-left corner of the main interface to add the Audible files.
Step 3

Redefine Audible output format as MP3

You are allowed to set the output format relying on your requests. Please click on the "audio" icon on the left of the big "Convert" bar. Then, a new settings window will show up. Here, you can customize the output Audible format as MP3, AAC, M4A, WAC, or others displayed on the screen. Furthermore, the audio quality can be reset by changing the codec, channel, sample rate, or bit rate.
Step 4

Convert Audible AAXC to MP3

Once all steps above are done, simply press on the huge 'Convert' button at the lower-right corner. The program will start to convert open-source AAXC files to MP3. The conversion won't last for long. It runs at a 30X faster speed on an ideal occasion. When the conversion is over, please don't forget to locate the target folder to get your Audible files. You just need to go back to the main page and click the "history" icon next to "Convert".
Part 5. FAQs about Converting AAXC to MP3
Q1. How to Convert AAXC to MP3 for Free?
Tthere are many other tools to convert AAXC to MP3 online for free via the same method as above. OpenAudible is one of the open-source tools to convert AAXC files to MP3 for free.
Q2. How do I listen to AAXC files?
The official way to listen to AAXC files is using the Audible app for iOS and Android. But you can also convert AAXC to MP3 tracks via the AAXC converter. In this case, you are able to play AAXC files on more devices offline.
Q3. Can VLC Play AAXC Files?
In general, VLC can't recognize AAXC files. If you would like to listen to AAXC audiobooks via VLC player, it's necessary to convert AAXC to VLC-compatible audio files in advance.
In Conclusion
Now you successfully download and convert AAXC to MP3 via the best AAXC converter for better playback. You can convert Audible MP3 files to mobile devices or other portable players without downloading AAXC audiobooks again. Although it is achieved by using indirect methods, it does work.
What's your way to convert AAXC to MP3? Please share with us in this comment area to enrich the content of the article.