Do you love reading books but just don't have the time? Well, the emergence of audiobooks just got you covered. Initially, audiobooks were available on CDs only in the initial invention years. However, the rapid technological advances have seen audiobooks converted to smaller formats that are easily manageable. You can then store numerous audiobooks on a single device like your smartphones, notebooks, or even MP3 players, among other devices.
But how do you know Audible compatible MP3 players? Several features determine which MP3 suits your needs. This article gives you the best choices of MP3 players in the market and how to download and play audiobooks on your MP3 player.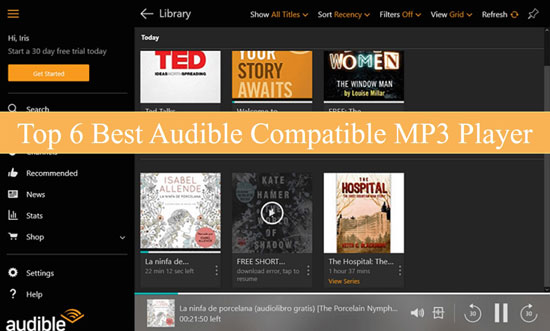 Part 1. What Is Audible - Complete Introduction
Audible is a renowned Amazon company that sells narrated audio content. It offers an array of content ranging from TV programs, audiobooks, podcasts, among others. Audible was first founded in 1995, with an internal storage memory of 4MB. This could only store about 2 hours of audio content. Amazon company continued to upgrade it and in 2003, they became the top provider of audiobooks to iTunes. It is currently the best place for online audiobooks.
Part 2. How to Choose Audible Compatible MP3 Player
Certain factors determine the best MP3 player with Audible. Here are what to look out for when choosing MP3 players.
1. Storage Space
The storage capacity is paramount when settling on an MP3 player. Remember your Audible will keep on growing and wide storage space will allow you to store and access more content.
2. Playback Quality
The audio playback quality matters as the main aim is to get quality output. You wouldn't want to settle for an MP3 player that doesn't give you an enjoyable audio feeling.
3. Compatible Formats
Some output formats are not highly compatible with certain MP3 players. Settle for a player that will support many file formats to avoid limitations.
4. Battery Life
Being that MP3 players are portable, you need one that can take you for many hours without worrying about the recharge.
Part 3. Best MP3 Player for Audible Audiobooks - Top 6
Let's now check out the best MP3 players that work with Audible.
1. Apple iPod Touch
Apple iPod Touch is the first audible MP3 player on our list. It is flashy and comes with both front and back cameras. This player is available in 256, 128, and 32 GB storage capacity versions. The battery life is good enough, lasting up to 40 hours. More so, it supports Bluetooth 4.1 and WiFi connection. And when it comes to sound quality, you do not doubt with Apple iPod Touch. It offers you hi-res sound quality for better listening.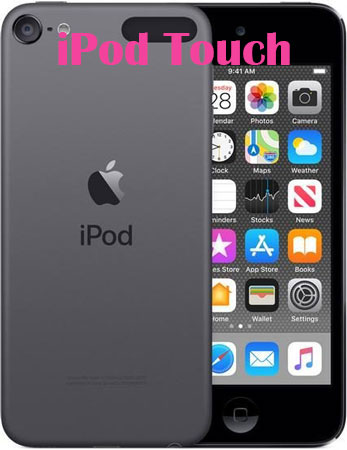 2. Supereye M3 MP3 Player
If your take is a smaller device, then Supereye is the MP3 player to look out for. It weighs only 1.7 oz, with a storage capacity of 16GB. You can also increase the storage space with an SD card of a maximum of 64GB. What makes this player stand out is the built-in FM radio which lets you record audio. Additionally, it supports various output formats like OGG, WAV, APE, among others.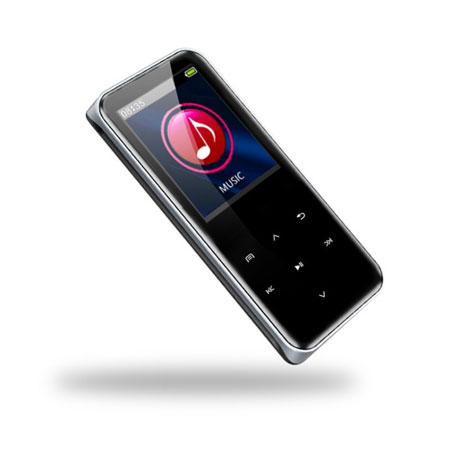 3. Apple iPod Nano
This Audible MP3 player offers a storage space of up to 16GB and a lasting battery life of 30 hours. It is perfect for accompanying you for fitness activities as it comes with a built-in pedometer for health monitoring. It also comprises the FM radio feature for audio recording.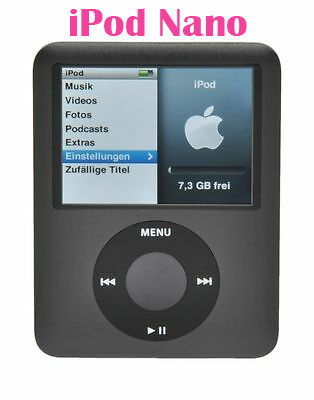 4. Soulcker D16 16GB MP3 Player
Its Bluetooth 4.0 technology ensures you get consistent transmission as it connects wireless headphones and speakers effortlessly. Soulcker D16 also has superb speed and good sound quality, making it a perfect option to listen to audiobooks.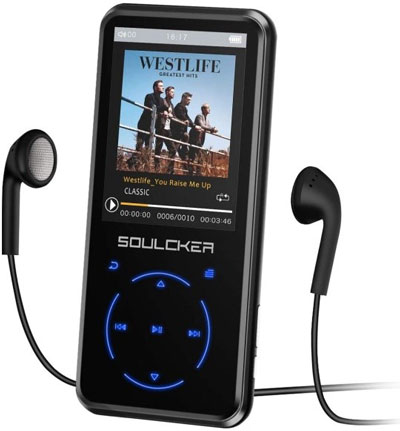 5. Akamate FX100 MP3 Player
Apart from being user-friendly, Akamate also has a large screen of 2.4 inches and sensitive touch buttons for prompt navigation. It also puts security measures in place with its one-button lock that prohibits accidental pressing of screen buttons. Additionally, easily build your preferred playlists with this player and add your audiobooks to the built-in default playlists.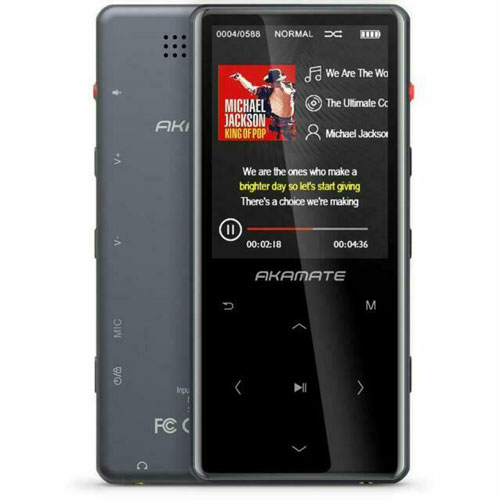 6. SanDisk Clip Jam MP3 Player
Though not much talked of, SanDisk Clip Jam finds its way among the best MP3 Player for audible books. Weighing only 22 grams, Clip Jam is easily portable, featuring a firm clip to fasten securely. The OLED screen display is visible from any angle. Even though it lacks the "Bookmarking" feature, you can still pause your last bit of audiobook and the player will remember it when you bounce back.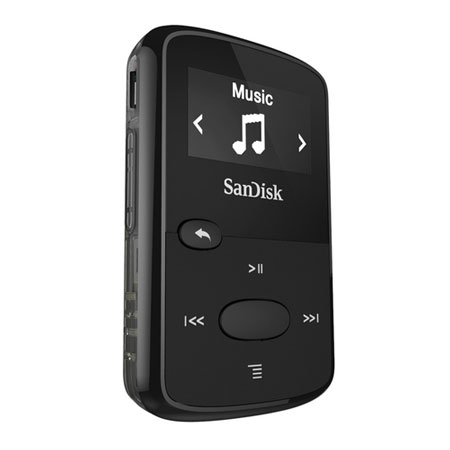 Part 4. Download and Play Audible Books on All MP3 Players
Apart from these MP3 players compatible with Audible, you can also stream your music on other non-compatible MP3 players. So, worry less if your MP3player isn't among the aforementioned. Use the best audio converter - AudFree Audible Converter - to convert your Audible books to common audio tracks. It supports FLAC, WAV, AAC, among others to support playing on all MP3 players and devices.
Get 100% lossless audio quality as the app retains the ID3 tags of output audios like artist, genre, and title. You can also personalize your output audio quality like sample rate, codec, speed, volume, among others. The AudFree app also helps you to manage large files by splitting them via the built-in splitter feature. The speed is top-notch, enabling up to 30X faster speed to convert your Audible and iTunes books.
A Step-by-step Guide to Using AudFree Auditior to Convert Audible Books to MP3
AudFree Auditior is a smart tool to help you download and play Audible books on MP3 player. It is compatible with both Windows and Mac operating system devices. Follow these steps.
Step 1

Launch and register AudFree Auditior

Download the PC or Mac version on your device. Then install and launch the software. Next, register the app by clicking the "Menu" bar > "Register" option and input your license key to get a full version.
Step 2

Import audiobooks to AudFree

Once AudFree Auditior loads, begin to import the audiobooks that you wish to convert and drag them to the conversion window. Likewise, you can use the "Add" button to import your audio.
Step 3

Customize audio output format as MP3

With your files added into AudFree Auditior, you can begin to customize the output format and parameters. Click on the "Format" button and select MP3 as the output format. Next, define the audio properties like channel, sample rate, codec, etc. Next, click the "Effects" icon and be redirected to the window where to edit the ID3 tags. Also, split the larger audiobooks at this step.
Step 4

Convert your audiobooks for Audible compatible MP3 player

Just hit the "Convert" button and AudFree Auditior will start to convert your Audible to MP3. Finally, get the converted audiobooks from the "History" folder. You can now freely play Audible books on any MP3 player of choice.
Part 5. Conlcusion
MP3 players offer the best opportunity for users to listen to audiobooks while on the go. The best MP3 players for audible books are finally here. You can stream your audible books on them or even convert your audio books to play on any other MP3 player. Engage the best converter, AudFree Auditior, for lossless audio quality at a faster speed.