Can I transfer Audible books to SD card? I would like to listen to audiobooks I purchased and downloaded from Audible in my car via SD card slot when driving a long distance. But I don't know whether I can move Audible files to SD card. If yes, how can I save Audible files to SD card for playback?
There are some reasons for Audible fans to transfer Audible audio books to SD cards, such as better playback as the above described one, insufficient space to download other media files, etc. The good news is that you can directly move audiobooks to an SD card on your Android to get more space, but the disadvantage is that you can't play them on other devices due to the compatible issue.
But please don't worry. To make audiobooks lovers enjoy Audible files better, in this article, we will introduce a professional way to import Audible books to SD card for playback on any compatible and incompatible device by Audible.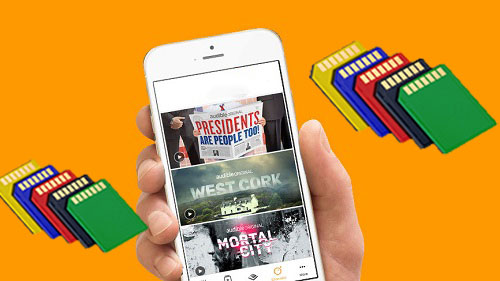 Part 1. Save Audible Books to SD Card on Android via Audible App
When your phone keeps prompting that 'insufficient space, please delete some unnecessary items', it's time for you to clean up your phone's memory. Fortunately, instead of deleting previous favorite Audible audiobooks, Audible offers an official way to extend internal memory o your Android by setting Audible app to download books to a removable SD card.
Note: This way is only available for Audible users who are running out of space of phone. Audible files in SD card are unable to be playable on other devices that have SD card slots, such as music players, car audio system, etc. as auidobooks from Audible are encoded in AA/AAX file format with built-in DRM protection. As a result, they can be played on Audible compatible players and devices.
Now, let's start to change Audible books to SD card on Android by following the below steps.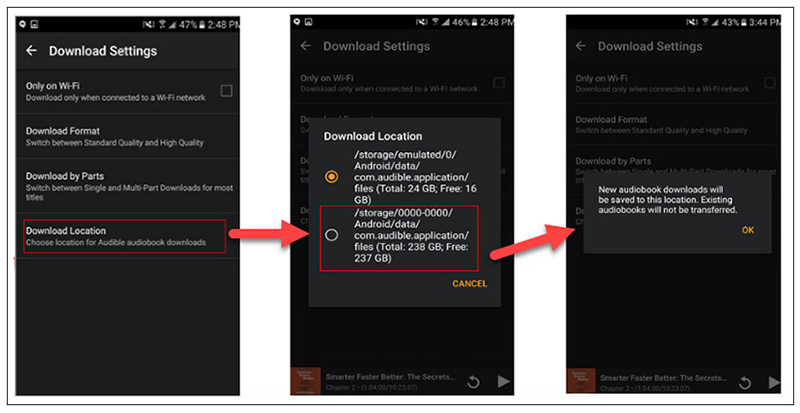 Step 1. Please insert an SD card to the mobile device. And then you can launch Audible app on your phone.
Step 2. Tap the hamburger menu at the top corner of the Audible app's main screen and choose Settings option.
Step 3.Please touch Download Settings button to open a new setting window, in which you need to select Download Location tab.
Step 4. Now, please set the downloaded location as the target SD card and simply click OK to confirm this setting.
Note: If your audiobooks are longer than 80 minutes, iTunes will require a second CD to complete the burning process. So you'd better prepare more discs in advance.
When the above steps have done, Audible AA/AAX audiobooks will be downloaded to SD card. If you would like to transfer existing audiobooks to SD card, please delete previously downloaded book files from the older location and then download them again, in which you can move all Audible books to SD card successfully.
Part 2. Move Audible Files to SD Card for Playback via Alternative Way
From what we discussed above, you must have a full knowledge that the way using Audible app doesn't work for audiobook lovers who aim to play Audible books on other devices via SD card due to special file type and DRM protection. So here, we will show you alternative way to convert Audible to SD card so that everyone can listen to them on any device with SD card slots.
As a matter of fact, it's not a difficult task to transfer Audible books to the SD card. To make it possible, the only tool you need is a third-party software, such as AudFree Audible Audiobook Converter for Mac, which can not only remove DRM from Audible audiobooks but also convert them to other common audio formats, such as MP3, FLAC, WAV, AAC. Thanks to this smart Audible solution, you will be easily to get Audible books on SD card for playback on other devices without problem.
AudFree Audible Audiobook Converter
Step 1

Install, launch and register the AudFree converter

Download the app and install on your devices (either Windows or Mac) by clicking on the install button and following the prompts to complete the installation. Then launch the app and enter the key to register the app and open the full version. A trial version online removes the DRM from a third of your audiobooks, for this reason you should consider getting the full version so as to unlock all your books and use all the features of the app fully.
Step 2

Import protected Audible books into AudFree

When you launch the AudFree software, your iTunes app will also be loaded automatically at the same time. Now select all the audiobook that you would like to move to SD card and drag them to the AudFree Audible Converter's conversion window. Alternatively, use the "Add" button to import audiobooks from Audible library into the converter. It converts songs in batches and therefore you can add as many as you like.
Step 3

Set output format and other parameters

Before removing the DRM from selected songs, it is important that you check the settings and make sure that the converter will produce the right output. To do this click on the "Format" button and select the right output format that you want. The options you have include AAC, FLAC, MP3, M4B and WAV. You can also choose other preferences such as bit rate, audio codec, lossless quality, and the output folder among others.
Step 4

Convert the selected Audible books

Once you have selected the output format, now click on the "Convert" button to start the conversion. The AudFree Audible Audiobook Converter will now remove the DRM from your Audible audiobooks and convert them to a format compatible with any media player.
Step 5

Move DRM-free Audible files to SD card

Congratulations! Now, Audible books are saved as unprotected common audio files and you can locate them on the destination folder. Please connect the SD card to your computer via SD card reader and then you can copy and paste converted Audible files to SD card with ease.
Part 3. In Conclusion
Although the above two ways can help you move Audible AA/AAX books to SD cards, they are available for users who have totally different intentions.
If you only want to release the internal memory and you are using Android phone, the better way is following the official way provided by Audible, since it doesn't require to download any third-party software and it's totally free.
But playing Audible audiobooks on other devices via SD card is the final purpose, AudFree Audible Audiobook Converter is your only choice to achieve this goal. It can not only save Audible files as SD card but also convert them to common audio formats with better compatibility. Then you will listen to audio books on all devices coming with SD card slots.