Nowadays, Spotify is compatible with most devices, such as smart TVs, smart speakers, game consoles, car audio systems, and more. Have you ever tried to get Spotify Music to play on a big TV screen? It would be a great experience to control what's playing with a TV remote or the Spotify app on your phone or computer.
The icing on the cake is multiple ways to make "Spotify on TV" work. To save energy and choose the most effective method, this article lists the top 6 ways about how to stream Spotify to TV for your reference.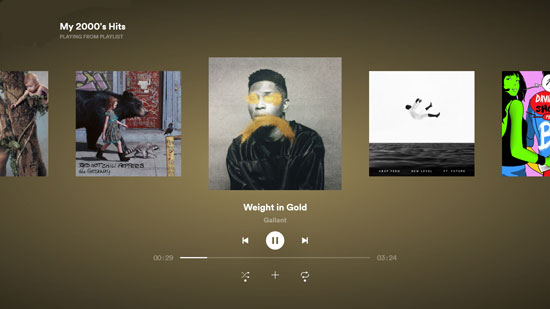 Part 1. How to Play Spotify on TV without App
First and foremost, not all Smart TVs are compatible with the Spotify app. When you can't get the Spotify app for TV, you can try this perfect way to make Spotify available on any TV. That is to download Spotify music to a USB drive. Since almost all smart TVs have a USB port for playing media files, you can stream Spotify to TV via a USB stick.
To get permanent local downloads of Spotify songs, you have to resort to the professional AudFree Spotify Music Downloader to break Spotify's format lock, which is available on both Windows and Mac. This tool is designed to download and convert Spotify content to MP3, and other common formats like WAV, FLAC, etc. at 5X faster speed for smooth recognition by your TV and any other device. This way, you can play Spotify on smart TVs without installing Spotify TV app or even can transfer Spotify to other desired devices for offline playback.
And with zero quality reduction and complete metadata information such as ID3 tags, this reliable tool enables you to download Spotify content as local files without Spotify Premium anymore and play Spotify tracks on TV with an excellent music experience just like on the Spotify app.
How to Put Spotify on TV without App
Step 1

Import Spotify Tracks to AudFree SpoDable

Find the Spotify songs, playlists, albums, podcasts, and even audiobooks you want to play on your Smart TV in the Spotify app, then drag and drop it to the blank space in the main screen of AudFree SpoDable. Also, you can copy and paste the track links into the search box in the header, then click the "+" icon.
Step 2

Adjust Output Format to Play Spotify on TV

Click the "menu" icon in the top right sidebar to open the "Preferences" and "Convert" sections. In the pop-up settings window, you can select Spotify output audio format as MP3 to be compatible with most TVs. Likewise, you can choose FLAC, WAV, AAC, M4A, and M4B as the output format, which is also supported by most devices and players. In addition, to make high-quality audio without sound loss, please edit other settings such as codec, audio channel, sample rate, bit rate, etc. according to your needs.
Step 3

Download and Convert Music from Spotify for TV

Click the "Convert" button and the downloader will download Spotify music to computer without Premium locally at 5X faster speed. When it is done, all the selected Spotify audio will be automatically saved to the target folder on your computer. Then you can hit on the "Converted" icon to view the Spotify music downloads.
Step 4

Add Spotify to TV via USB Stick

Now, transfer Spotify Music to a USB drive from your computer and insert it into the USB port of your TV. This way, you can use the built-in media player to play Spotify on Smart TV without any difficulty.
Video Demo

Download Spotify music/playlists for TVs
Part 2. How to Connect Spotify to TV via Spotify Connect
Spotify Connect is a privilege for subscribers by the official Spotify team. With it, users can listen to Spotify music on TVs, speakers, and other devices by using a phone, tablet, or just desktop as a remote control.
Just download the latest Spotify app on your device and then make your device and smart TV connected to the same WiFi network. Since different devices come with different steps to connect TV and Spotify, here we'll share how to put Spotify on TV from your computer and phone.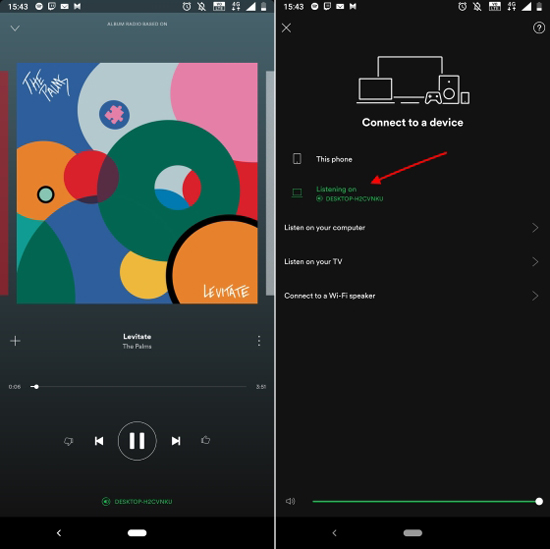 From PC
Step 1. Open the Spotify app on your desktop and play your favorite music, playlists, albums, or anything else.
Step 2. Look at the right side on the "Now Playing" bar, you will find a "Connect to a device" icon. Please click on this icon, then a list of available devices will appear.
Step 3. If you see your Smart TV listed among the available devices, please select it directly to output Spotify audio.
From Mobile
Step 1. Launch the Spotify app on your phone or tablet to play preferred Spotify songs.
Step 2. Tap the "Now Playing" bar at the bottom of the screen and touch the "Available Devices" icon to view available devices.
Step 3. Please choose your Smart TV as the target device. After that, you can use your phone as a remote to control the playback of Spotify on TV.
Part 3. How to Get Spotify on TV with Spotify TV App
There are so many smart TVs compatible with the Spotify app, especially Android TVs, like Sony Bravia TV, Sharp Aquos TV, and Hisense TV. In addition, LG Smart TVs running LG's WebOS, or Samsung TVs with the Tizen platform also support the Spotify app for TV. If your Smart TV belongs to the above list, you can refer to the tutorial below to learn how to download Spotify on the TV directly.
How to Install Spotify on TV
Step 1. Navigate to the app store on your TV and search for Spotify to install the Spotify app on TV.
Step 2. On TV, navigate to https//spotify.com/pair on TV and enter your account details. Then choose the "Login with PIN" option.
Step 3. Launch your Spotify app on your smart TV to discover and play the music that you preferred on TV.
Part 4. How to Cast Spotify to TV via Google Chromecast
The standout feature of Chromecast is its ability to cast Spotify to your TV via phone or tablet as a remote control. It is important to note that your TV needs to have an HDMI port. Put another way, your Smart TV can support Chromecast devices. Here are the simple steps to cast Spotify to Chromecast, which is similar to the user guide of Spotify Connect as mentioned above.
How to Use Spotify on TV with Chromecast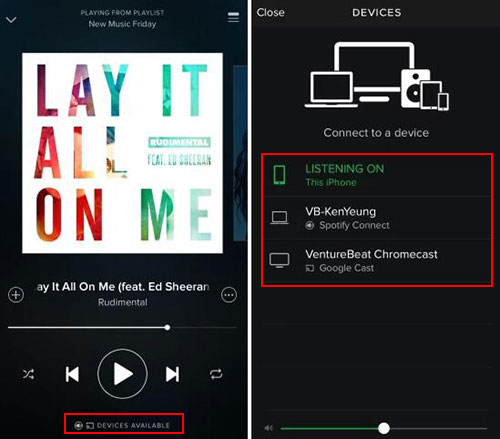 Step 1. Plug your Chromecast into the HDMI port of your Smart TV and set up your Chromecast well.
Step 2. Open the Spotify app on your mobile device and make sure the phone is connected to the same WiFi as your Chromecast.
Step 3. Play a Spotify song to tap the 'Now playing' bar. Then click on the 'Available Devices' section to select your Smart TV with Chromecast.
Step 4. Now, you can control the Spotify music playback with Chromecast on a big TV screen.
Part 5. How to Connect Spotify to Smart TV with AirPlay
In fact, the Spotify TV app is available on Apple TV 4th generation and later, but not on the 1st through 3rd generation of Apple TV. Fortunately, AirPlay can deliver Spotify audio and video content to Apple TV through virtually any Apple device. If you'd like to learn more about Spotify Apple TV integration, please refer to this helpful source page: How to Play Spotify on Apple TV.
How to Listen to Spotify on TV via AirPlay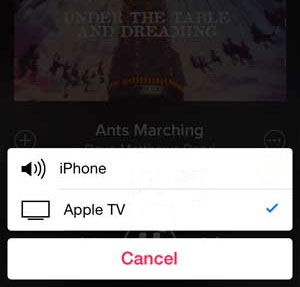 Step 1. Make sure your iPhone or iPad and Apple TV are connected to the same Wi-Fi network, then sign in to your Spotify account on your iOS device.
Step 2. Play your favorite Spotify tracks, followed by clicking the "Available Devices" and "More Devices" icons at the bottom.
Step 3. Select Apple TV as the target device in the device list, then you can airplay Spotify to TV without any problem.
Part 6. How to Put Spotify on TV from Games Console
Listening to music is an indispensable part of playing games. To let you enjoy music while gaming, Spotify allows you to play Spotify with your PlayStation, Xbox One, or Nvidia Shield. What's more, it also enables users to stream Spotify to TV through their games console. Here, we'll take the PS4 as an example and show you how it works.
How to Connect Spotify to TV from PS4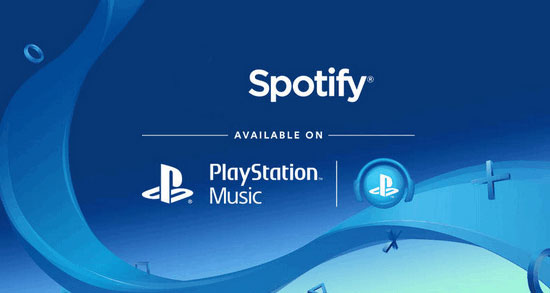 Step 1. Please pair your PS4 with the TV well through the HDMI port directly. On your PlayStation 4, please go to the "PlayStation Store" to search for "Spotify" to download the app.
Step 2. Click the "Log in" button to enter your Spotify account details, and then select "Link Accounts".
Step 3. Press and hold the PS button on your controller and it will bring up the quick menu. After that, tap "Music" > "Spotify" to control the music playback on your TV with your console.
Part 7. Fix Spotify Not Playing on TV Issue
It may come to several possible factors such as the outdated version of the Spotify TV app, bad network connection, incompatibility with Spotify Connect, etc. To resolve this problem, please try the following methods:
1) Reboot Wi-Fi and connect to a different network.
2) Upadte the Spotify app on TV and the TV system to the latest version.
3) Check if your smart TV supports Spotify Connect.
4) Restart the Spotify app on the TV or the TV.
5) Delete the Spotify app and reinstall it on your TV.
If those channels are to no avail, we recommend you use AudFree Spotify Music Converter to download Spotify content to commonly used formats and transfer the downloads to your TV, which can avoid almost all hassles.
Part 8. More FAQs about Spotify on TV
Q1: Is Spotify Free on TV?
It is free to listen to ad-supported music on the Spotify app on TV but it requires Spotify Premium accounts to download songs from the app.
Q2: Does Smart TV Have Spotify?
Many TVs offer the Spotify TV app, such as Hisense Smart TV, Samsung TV, LG Smart TV, Philips Smart TV, and more. If you are unsure if your Smart TV supports Spotify, you can check the app shop on your TV or set-top box to search for Spotify.
Q3: Does Spotify Have a TV App?
Yes, Spotify has a TV app. It allows you to access your Spotify account and music library on your TV directly.
Q4: How to Connect Spotify to TV from iPhone
There are two methods to turn Spotify to TV mode from iPhone, one is to use the Airplay as we described above, and the other is to use Screen Mirror from the Control Center of iPhone.
See also for detailed steps: How to Connect Spotify to Samsung TV
Part 9. In Conclusion
In short, here are 6 effective approaches to turn Spotify into TV mode for you to choose from. Just pick the method that suits you best to start your Spotify TV journey. Then try out the wonders of Spotify on the big screen. Generally speaking, AudFree Spotify Music Converter is the best shot since it can download Spotify content as permanent local files and play Spotify on all smart TVs and other devices for free at any time, which deserves a try.