Q: "How can I play my Spotify playlists on Serato DJ software? I really like the music on Spotify but don't know how to connect Spotify to Serato DJ. Waiting for your help. Thanks. "
With millions of tracks available on Spotify, it is perfect for DJs to mix tunes and play unique music for their listeners. However, do you know of a way to get Spotify music onto a Serato DJ program? Although Serato DJ and Spotify are not integrated, we've found a way for you to do so. This article will give you the complete steps to easily use Spotify on Serato DJ Pro/Lite for mixing.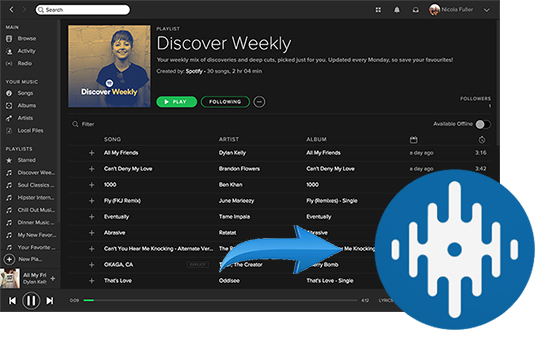 Part 1. Does Serato Work with Spotify
Does Serato DJ Pro work with Spotify? As far as we know, Serato DJ supports Beatsource LINK, Beatport LINK, SoundCloud and TIDAL, but so far not Spotify. Whether you are a user of Serato DJ Pro or Serato DJ Lite, you can access the catalogs of these streaming music platforms directly. But there is no direct way to use Spotify on Serato DJ.
For some Serato DJ users who also have a Spotify subscription, you may want to add some Spotify songs to Serato DJ. But it will soon become apparent that all your attempts to import Spotify songs into Serato DJ are futile. Why?
Actually, it's because Spotify songs are protected. This makes it impossible for users to import Spotify tracks into Serato DJ software. In this case, to use Spotify with Serato DJ software, you need a Spotify music conversion tool to help you get rid of the protection and download Spotify songs.
Part 2. How to Connect Spotify to Serato DJ Pro/Lite
It is worth mentioning that Serato DJ does not support any protected music. Therefore, to import Spotify music into Serato DJ, you must first remove the Spotify protection. In addition, you need to convert Spotify music to a format supported by Serato DJ. File types are supported in Serato DJ as shown in the table below:
| | |
| --- | --- |
| Serato DJ for Windows | MP3, OGG, and ALAC |
| Serato DJ for Mac | MP3, OGG, ALAC, FLAC, AIFF, WAV, WL, M4A, and AAC |
As for the best Spotify to Serato DJ converter, you can try AudFree Spotify Music Downloader. It does a great job of removing all the protections that allow you to download Spotify music locally. Besides, it can convert Spotify music to plain audio files, like MP3, FLAC, WAV, AAC, M4A, and M4B.
AudFree Spotify Downloader is available for all Spotify users, including free Spotify users. You can use it to download Spotify files without touching the original audio quality. Let's see how it converts Spotify music for use in Serato DJ software.
AudFree Spotify to Serato DJ Converter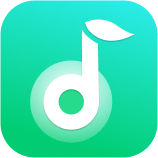 Remove protetion from Spotify songs/playlists/albums
Download and convert Spotify music to MP3, AAC, etc. for Serato
Use Spotify with Serato DJ software, Virtual DJ, iMovie, etc.
Work at 5X faster speed, edit music quality and parameters
How to Convert Spotify Music for Using with Serato DJ
You can download and install AudFree Spotify Downloader on your computer via the "Download" button above. Then, you can refer to the following tutorial to download Spotify music to Serato DJ-compatible audio files. After that, it's easy to get Spotify on Serato DJ for mixing.
Step 1

Add music from Spotify to AudFree SpoDable

There are two ways for you to add Spotify tracks to AudFree Spotify Downloader for conversion. You can directly drag and drop songs to its conversion window. Or, you can copy and paste the Spotify URL into the search box and click the '+' button to load Spotify playlists.
Step 2

Set Spotify output audio parameters for Serato DJ

Please click the AudFree Spotify Music Converter from the top menu bar and enter the 'Preferences' to 'Convert' option and then you will see a setting window pop up. To enable Serato DJ Spotify, you can set Spotify output format as MP3, FLAC, WAV, AAC and other Serato DJ compatible audio formats. You can also define output quality (bit rate as 320 kbps, 256 kbps, 160 kbps, etc.) and change the destination folder as you prefer.
Step 3

Download Spotify music for Serato DJ

When the customization is finished completely, please click the 'Convert' button at the bottom-right corner to start the converting process. This smart software will download Spotify songs for free and convert them to compatible audio files with Serato DJ. Until now, you are all ready to import Spotify songs to Serato DJ software.
Part 3. How to Import Songs from Spotify to Serato DJ Lite/Pro
After conversion, it could be easy to use Spotify on Serato DJ. You can just import the downloaded Spotify songs to Serato DJ software from the destination folder on your computer library. If you are a newbie, you can follow the tutorial below to use Spotify with Serato DJ.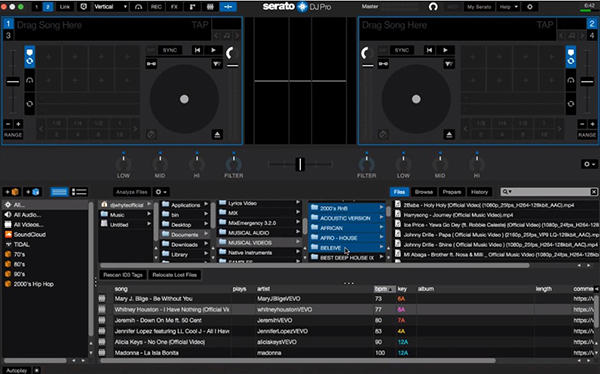 Step 1. Launch Serato DJ Pro or Serato DJ Lite on your computer and touch the 'Files' option to open the files panel.
Step 2. On the left panel, please navigate to the folder location where you save the converted Spotify audio files.
Step 3. Drag and drop the target folder or Spotify files you'd like to mix on Serato DJ software to the purple 'All…' icon.
Step 4. Just wait for a while, all Spotify tracks will be imported to Serato DJ software from your local drive. Then you can use Spotify with Serato DJ for mixing new masterpieces.
Part 4. FAQs about Serato DJ and Spotify
Q1: What Are Serato DJ Pro and Serato DJ Lite?
A: Serato is a company dedicated to creating and providing software for digital music mixing and DJ mixing. Serato DJ is a set of digital tools for DJ music mixing. It is made up of Serato DJ Pro and Serato DJ Lite. The former was formerly known as Serato DJ and the latter as Serato DJ Intro.
Serato DJ Lite is a free version of Serato DJ Pro with basic features for beginners. On the contrary, Serato DJ Pro comes with many powerful extensions for professionals. Both are available for Mac and Windows operating systems.
Q2: What DJ Software Work with Spotify?
A: As of July 2020, Spotify no longer supports third-party DJ apps. This means that users cannot use any DJ software to DJ with Spotify. In this case, you can only seek the help of AudFree Spotify Downloader to use Spotify with a DJ app. It allows you to download music from Spotify and then import the downloaded music into your DJ app.
Q3: How to Add Music to Serato DJ?
A: 1. Buy music. There are many online digital music stores where you can purchase complete music and albums. All purchased files can be added to your DJ library. You can purchase music from iTunes, Beatport, Amazon Music, Traxsource, Boomkat and Juno Download and use it directly in Serato.
2. Free music. There are 2 online music sites where you can get music for free, SoundCloud and Bandcamp. You can find songs you like and add them to Serato DJ for mixing QR codes.
3. Streaming music. Subscribe to a Serato DJ-compatible streaming music service. Then you can access the corresponding music library in Serato DJ.
Part 5. In Conclusion
Can you use Spotify on Serato DJ Lite or Serato DJ Pro? Unluckily, there is no integration of Serato DJ and Spotify. But you can also use Spotify with Serato DJ software with the help of AudFree Spotify Music Downloader. It allows you to easily download and convert Spotify music to a format compatible with Serato DJ software. Then you can start creating your favorite tunes with your favorite Spotify music. What's more, you can transfer these downloaded Spotify songs to your device for playback anywhere, anytime.