Algoriddim released the new updates on the djay app 2 months ago, combining both Tidal and SoundCloud integration on its desktop and mobile clients. These two streaming services give full play to their advantages: The HIFI sound quality from Tidal and the massive music library from SoundCloud. Djay Pro users now can get a 3-month free trial of Tidal and utilize a series of free tracks from SoundCloud in the latest djay app, even without logging in.
No doubt that the new integration of djay will make people get started with Djing easier than ever. To further help the djay beginners, in this post, I am going to list more details about the how to mix Tidal music with djay app. Besides, there is a special trick waiting for you to discover, which can use Tidal music with djay with no Tidal subscription required.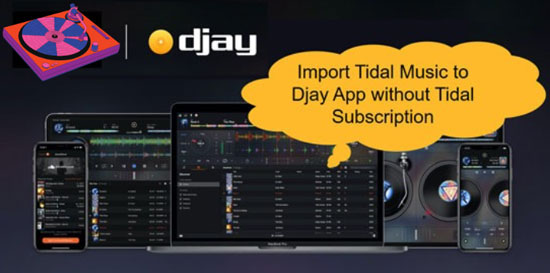 Part 1. Mix Tidal Music with Djay via Tidal Free Trial
As what we mentioned before, djay Pro users can get 3 months free trial of Tidal service. Now let's see how to activate the Tidal trial step by step.
Step 1. Upgrade to djay Pro to unlock the advanced features.
Step 2. Go to https://www.algoriddim.com/streaming-migration/tidal
Step 3. Input your email address and sign up for a new Tidal account.
Step 4. Start to mix Tidal music with djay.
Part 2. Add Tidal Music to Djay App without Tidal Subscription
After the Tidal free trial expires, it is possible to continue mixing Tidal music with djay. What you need is an additional tool calls AudFree Tidal Music Converter. This smart tool is specialized in converting Tidal music to MP3, AAC, FLAC, WAV, M4A, M4B, and other universal audio formats. Due to the latest converting techniques, the converted audios will keep 100% original HIFI quality and 100% raw metadata.
After the conversion, all of your favorite Tidal songs will save in the local computer forever, whenever your Tidal subscription expires. In this way, it is simple and easy to import Tidal music to djay app for djing.
Now let's take a quick look at how to stream Tidal music to djay via using AudFree Tidal Music Converter.
Step 1

Sync Tidal playlists to AudFree

After you download and open AudFree Tidal Music Converter on the computer, please click the menu icon from the top title bar. Then hit 'Register' to access the professional features. The Tidal desktop app will open automatically. Find your favorite Tidal playlists and hit the '...' icon beside. Copy and paste the link of the playlist to the search bar in AudFree's main window. Tap the '+" button to load Tidal tracks into AudFree.
Step 2

Select Tidal sound settings for djay app

Open the menu bar on the Windows version of AudFree. Or, open the default menu of Mac > 'AudFree Tidal Music Converter' on the Mac computer. On the drop-down menu, choose 'Preferences' then go to 'Convert'. Now you can reset the output parameters as you like.
Tips: The best settings for Tidal HIFI: FLAC, 16bit, 44100Hz. The best settings for Tidal Master: FLAC, 24 bit, 96000Hz.
Step 3

Start to convert Tidal playlists for djay app

Click the 'Convert' button from the bottom right place of AudFree's interface. The conversion will start and end automatically. Once you get the result, please press the 'History' icon with a red stick. Then you will be led to the 'Converted' folder to check all converted Tidal files.
Step 4

Transfer Tidal tracks to djay app

Open the djay app and go to the music library browser. Find the Files tab. On the upper left corner, check the "+" button to locate the 'Converted' catalog. Then click "Done" to load Tidal music into djay. Now you can start djing your favorite Tidal tracks with the djay app.
Read More: How to Live Mix Tidal Music with Djay App - FAQs
Here are some FAQs about how to live mix Tidal song with djay Pro app. Check them before starting djing Tidal music with djay app.
1. Which Tidal subscription?
You have to choose the Tidal Premium or Tidal HiFi plan. Both of them support streaming Tidal HIFI audios and videos to djay.
2. Which djay version?
Update to the latest version of djay to get Tidal integration. If you want to access Tidal video in djay, upgrade your account to djay Pro.
3. How to migrate playlists to Tidal?
Currently, you can transfer Spotify music to Tidal or sync Apple Music to Tidal. These two ways work for all situations, even if the tracks are not available in the Tidal app.