Spotify songs can be streamed to a variety of environments, such as desktop, mobile devices, web browsers, etc. We've talked about Spotify web player vs desktop before, but what's the difference between Spotify mobile and desktop app? This article will discuss Spotify PC vs mobile from different aspects. Then you can get ready to start the fun journey by choosing the Spotify app that works best for you. Let's get right to the meat of the post.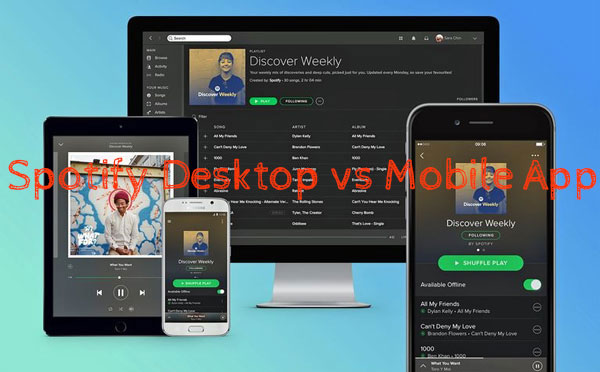 Part 1. Spotify PC vs Mobile App: Overview
Spotify is the streaming music application that plays in a customized space to provide the best experience to the users. The desktop app has exclusive hidden features to personalize playlist covers, folders, etc. The mobile app is an equivalent app that is effectively compatible with the latest mobile models.
There are some differences between Spotify on computer vs phone based on customization options. However, the basic features and controls are the same for both apps. Some custom parameters may be lost, but it does not affect the quality of the songs. For easy access, Spotify has released the mobile compatible app that provides great comfort for users to access Spotify tracks easily.
Part 2. Key Features of Spotify Desktop vs Mobile App
Users are more concerned about Spotify mobile vs desktop about free features. Then let's take a look at the unique features of Spotify on laptop vs phone.
💡 Edit the Cover Image
Generally speaking, Spotify picks the cover image for you when you are listening to a specific playlist. If you want to edit and set the cover image to your liking, you can easily do so on the Spotify desktop and mobile apps.
See Also: How to See, Make, and Change Spotify Album Cover
💡 Share Favorite Playlists
Whether it's the Spotify mobile or desktop app, you can share playlists or any of your favorite albums via the drag-and-drop method. Simply choose to use email or messenger and pick a recipient, after which your friends will receive a link to the specific track.
See Also: How to Share Spotify Playlists with Friends
💡 Listening History Preview
As far as viewing song history, Spotify mobile vs desktop usage is slightly different. You can view a list of all the singles you just played in the Spotify desktop app, while you can only get playlists and albums played in the mobile version.
See Also: How to See and Delete Spotify History
💡 Lyrics View
Spotify lets users browse the lyrics of the track being played, and the lyrics view is supported on both mobile and desktop. This way, you can sing the lyrics yourself while listening to the selected song.
See Also: How to See Spotify Lyrics
💡 Private Session
There is a 'Private Session' option to tune in a private listening mode. In this mode, you can hear secret songs easily and hide your acticity on Spotify. This feature is available on both mobile and PC app.
See Also: How to Start a Private Session on Spotify
💡 Good Audio Quality
When it comes to Spotify free bitrate mobile vs desktop, you can stream at 160kbps on both mobile and desktop apps. And Spotify premium accesses tracks at 320kbps on PC and phone.
💡 Create Playlists
Spotify allows you to create your own playlists and flood them with your lovely tracks in an organized way. The created playlists can also be accessed in the mobile app.
💡 Offline Listening
As for listening to Spotify on desktop and mobile app in offline mode, Spotify Premium subscribers can easily do so. That's because Spotify subscribers have the privilege of downloading songs for offline playback.
Part 3. Differences between Spotify Mobile vs Desktop App
We have listed above some of the similar features of Spotify free desktop vs mobile. The main differences in Spotify PC vs phone versions are as follows.
🎯 Spotify Equalizer
You can adjust the audio settings to listen to high definition songs and use the Spotify equalizer to get better audio results. But you can only find Spotify equalizer from the mobile version quickly. And the Spotify desktop client doesn't seem to have a Spotify equalizer for PC and Mac.
🎯 Voice Assistant
Nowadays, the Spotify app has a built-in voice assistant so you can control what's playing on Spotify with basic voice commands. You can trigger the assistant by long pressing the "Search" button and saying "Hey, Spotify". Please note that this feature is currently only available on the Spotify mobile app.
🎯 Car Streaming
Spotify mobile vs desktop streams in car is different. Thanks to the car streaming feature, you can connect Spotify to Google Maps or other third-party apps on your mobile device instead of the computer. In turn, you can play your favorite music in the car and control your journey and listening.
🎯 Friend Activity
The Friend Activity feature can only be activated in the Spotify desktop application. With it, you can see what playlists and music your friends are playing. Of course, you can also hide Friend Activity on Spotify if you find this feature to be annoying.
🎯 Create Playlist Folder
Some users may have created extensive Spotify playlists, which can be difficult to manage. Therefore, you can simply create folders and name them as you wish to organize your playlists. But this can only be done on the desktop version.
🎯 Spotify Group Session
It is a brilliant feature that allows Spotify premium members to listen to music with friends on their mobile devices and tablets. And participants can control what plays on their speakers, invite and delete friends. But you can't use this feature on the Spotify desktop app
Part 4. Comparison Table of Spotify PC vs Mobile
By now, you should have a comprehensive understanding of Spotify free PC vs phone. For your convenience, we've put together a comparison table to systematically see the differences between Spotify mobile and desktop.
| | Spotify Desktop App | Spotify Mobile App |
| --- | --- | --- |
| Spotify Equalizer | ❌ | ✔️ |
| Voice Assistant | ❌ | ✔️ |
| Car Streaming | ❌ | ✔️ |
| Friend Activity | ✔️ | ❌ |
| Create Playlist Folder | ✔️ | ❌ |
| Spotify Group Session | ❌ | ✔️ |
Part 5. How to Download Music from Spotify Desktop and Mobile with Premium
Sometimes, a few songs on Spotify can quickly overwhelm you. You will immediately think of downloading the song for offline listening provided you have a premium account. Since the process of downloading Spotify songs on the mobile app is similar to the desktop app, we won't explain them separately. Please check the steps below.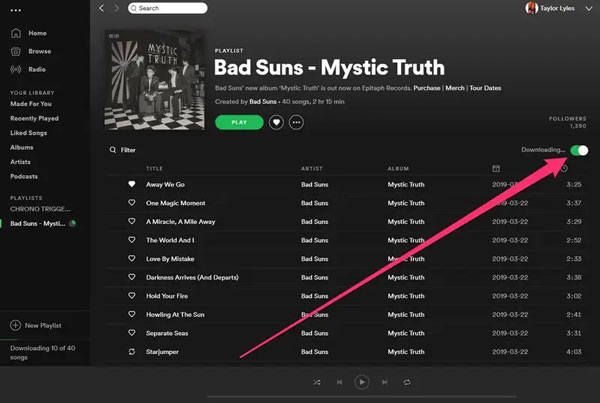 Step 1. Sign in to your Premium account of Spotify in your desktop or mobile app.
Step 2. Find your favorite playlist that you want to download.
Step 3. Turn on the "Download" toggle switch at the top right of the screen. The songs in the playlist will be saved automatically without any interference.
Part 6. How to Download Spotify Music from Desktop App for Free
The above approach works just for Spotify Premium users. So is it possible for free users to download Spotify music for offline playback? Luckily, there are many desktop software which allows us to do so, and AudFree Spotify Music Downloader is one of them. It is a professional tool specialized in downloading Spotify songs, playlists, albums, podcast, audiobooks on Mac or Windows computer for both free and Premium users.
Moreover, it can also convert and store Spotify songs as MP3, FLAC, WAV and other common audio formats on your computer's local folder directly. With the help of AudFree Spotify Music Converter, you can truly possess Spotify music files and listen to them on any device anytime. Now, let's see how to download Spotify songs to computer within 3 steps.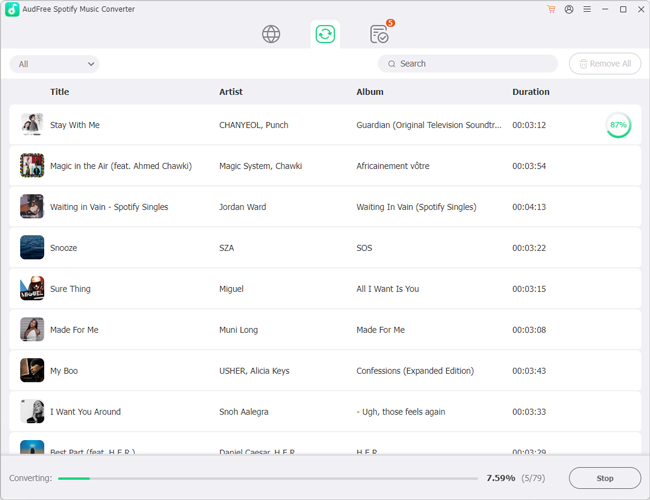 Step 1. Find the Spotify tracks, albums, playlists you want to download and drag them to the main interface of the downloader.
Step 2. Tap the "Preferences" and "Convert" button in the upper right corner to set the output parameters of Spotify music.
Step 3. Click "Convert" button to start downloading Spotify songs to your desktop for free at 5X speed with original sound quality.
Part 7. Conclusion
This article shows the different aspects of Spotify PC vs mobile and it is the right time to make a choice according to your requirements. Both the applications are equivalently effective and differ with fewer features. Just decide which Spotify edition well for best experiences depending on your individual needs.