Listening to music is one of the easiest way to take away the fatigue and weariness while the long-distance driving. Music can keep the brain active so that you can let your eyes and attention on the road. Whether you are bored of the music channels in your car radio? If yes, how about playing music streaming services, like Spotify, Pandora and Apple Music in the car?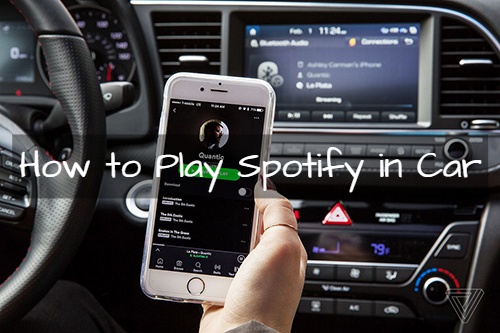 As the world's largest streaming service, most of you might have subscribed Spotify free or premium plan to enjoy music online or offline. Under such circumstances, if you'd like to listen to music streams in the long-distance driving, I will take Spotify as example and shows the top 5 professional ways to play Spotify in the car, no matter you are having a newer or older car.
Method 1: Connect Spotify to Car Stereo via Aux-In Cable
It could be by far the easiest way to listen to Spotify music tracks in the car by connecting your mobile or tablet to your car, only if your car comes with an Aux-In or USB port and you have an Aux or USB cable nearby. As a matter of fact, almost all car audio system can support Aux line-in connection. You just need to make sure you have the correct cable compatible with your car.
When you connect your device to the car via USB port, it enables you to use the car stereo's control panel to adjust the track selection. As for connecting via Aux-In port, it might only let you control the volume via the control panel. If you would like to forward or back the music, you need to turn to your smartphone to achieve it.
Step 1. Connect your mobile device that supports Spotify app to the car via Aux cable.
Step 2. Turn the Aux-In channel on in the car stereo.
Step 3. Start to play songs, playlists or albums from Spotify on your connected devices.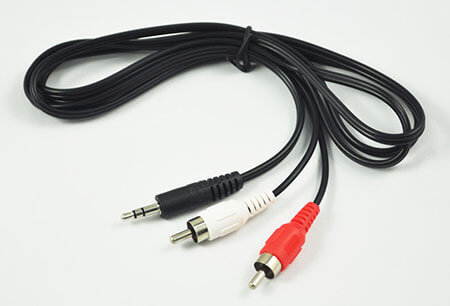 Method 2: Listen to Spotify Music in the Car through Bluetooth
If there is no USB or Aux-In cable at your side, what should you do? Fortunately, some car stereos have the built-in Bluetooth functionality. And you must be familiar with Bluetooth connection, since it is the classic way to stream your listening between your mobile devices and the car.
With the purpose to listen to Spotify songs in the car audio system, it could be as easy as pairing your phone or tablet with the car through Bluetooth. Besides, the other advantage of using Bluetooth functionality is that it doesn't require the Internet network. Now, you can refer to the following simple ways to pair devices compatible with Spotify app to the car stereo via Bluetooth.
Step 1. Activate the function of Bluetooth on your mobile device and the car stereo respectively.
Step 2. Enter to the Bluetooth setting on your mobile device and search the available device to select the car stereo as the target device.
Step 3. Launch Spotify app on your device and start to play favorite Spotify playlists, and the playing audio tracks will be streamed to the car's audio system.
Please be well noted that different car stereos have different ways to pair with a Bluetooth device, you can check the car stereo's user manual to find out the related guide so that you can use Spotify in the car through Bluetooth.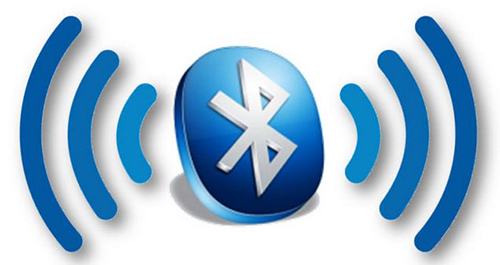 Method 3: Play Spotify in the Car via Apple CarPlay or Android Auto
If you have the latest aftermarket car stereo, there is a safer way provided by Google and Apple to listen to Spotify playlists in the car. You can send your Spotify music from your smartphone to your car with Spotify and Android Auto or CarPlay.
Android Auto and CarPlay both are mobile apps that allows users to mirror features from mobile devices to a car's compatible in-dash information and entertainment head unit. They both can support a wide variety of apps, including GPS mapping, music playback, telephone, web search, etc. By using this way to stream Spotify to the car, you should keep in mind that Android Auto can support Lollipop or above systems while CarPlay is compatible with iPhone 5 and later.
Spotify in the Car via Apple CarPlay
Step 1. Open your Spotify app on your iPhone.
Step 2. Connect your iPhone to the supported aftermarket car radio system via USB cable.
Step 3. You will see Spotify app shows up in the stereo display, and you can start to play and enjoy Spotify music on the car.
Spotify in the Car via Android Auto
Step 1. Launch Spotify app on your Android phone and login your registered Spotify account.
Step 2. Connect your Android phone to the car stereo system compatible with Android Auto.
Step 3. Start to play Spotify songs or playlists on your stereo display for listening.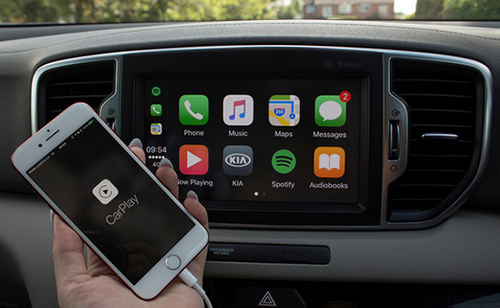 Method 4: Transfer Spotify Music to USB Drive for Playback in Car
Up to now, we have listed three possible way to listen to Spotify songs on the car. No matter which way you choose to play Spotify music in the car, you must be in the Internet network, even using Bluetooth functionality. Unless you have subscribed Spotify Premium plan, you can get the rights to download Spotify playlists for offline listening. What if you are a free Spotify user and would like to listen to Spotify songs in the car without Internet connection?
As result, I will introduce the fourth approach to let Spotify free users enjoy music from Spotify in the car. That is to play Spotify songs in the car via USB flash drive. To transfer Spotify music files to USB drive, we need to fall back on AudFree Spotify Playlist Downloader that is designed to download and convert songs or playlists from Spotify as MP3 and other audio formats for both free and premium users on Spotify. For the tutorial on how this software works to download Spotify tracks, please visit this detailed guide: How to Download Spotify Music without Premium.
Play Spotify Downloads in the Car through USB Drive
Step 1. Transfer downloaded Spotify MP3 files to USB drive flash via copying&pasting action.
Step 2. Insert the USB drive including Spotify tracks to the USB port in the car stereo system.
Step 3. Open target music player and browse the uploaded Spotify music files and start to play them in the car.
View Also: How to Transfer Spotify Music to USB Drive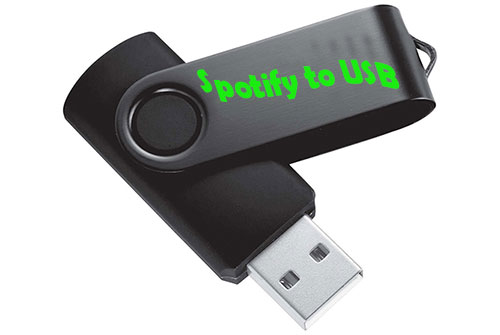 Method 5: Burn Spotify to CD to Play in the Car
It couldn't be denied that CDs still play a very important role in enjoy music entertainment for music addicts. Although there is no direct way or option provided by Spotify to burn Spotify music to CD, we can use iTunes to help us to burn a CD from Spotify. With the help of AudFree Spotify Music Converter mentioned above, we can remove DRM from Spotify songs, playlists or albums and convert Spotify to MP3, M4A and other iTunes compatible audio formats.
Once you got the unprotected Spotify music tracks, you can transfer Spotify music to iTunes library, and then follow the step-by-step guide to burn Spotify to CD and play Spotify music in the car as below. Please make sure you have prepared a blank CD disc.
Step 1. Insert the blank physical CD disc into the CD-ROM on your computer.
Step 2. Simply click the imported Spotify playlist and choose 'Burn Playlist to Disc' option in iTunes. And then click the 'Burn' to confirm this burning process.
Step 3. Insert the CD contained Spotify tracks in the car CD system.
Step 4. Open the music player and start to listen to songs from the CD.
View Also: How to Burn A CD from Spotify Playlist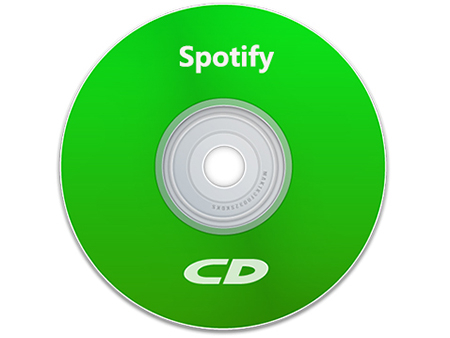 Sum Up: Which Is the Best Way to Enjoy Spotify in the Car
In fact, which way to choose depends on the different features existing in your car stereo. Before you choose the way to play Spotify in the car, you should clearly know your car stereo supports which features, including Aux, Bluetooth, Apple CarPlay, Android Auto, CD, USB, etc.
In short, if you would like to stream music streams from a mobile device to your car system, you can choose to listen to Spotify songs via Bluetooth, CarPlay, Android or Aux. But if you don't have Internet connect, you'd better to transfer Spotify music to USB flash drive or burn them to CD for listen to music in the car.
Do you have any other ways to play Spotify music files in the car? If yes, you are free to share with us in the common area.