If you're a music lover, you're no stranger to Numark, which offers revolutionary products specifically for DJ. Whether it's a versatile DJ controller or a DJ mixer, Numark is able to customize it for every level of DJ. It highlights the combination of a classic feel with advanced performance to deliver the perfect DJ mixing experience.
DJ and music lovers make use of Numark to play and mix their favorite songs with ease. Meanwhile, with the advent of the Tidal Numark DJ program, it's possible to control, blend and create amazing Tidal Music on Numark. Therefore, in this guide, we'll show you the detailed steps to play Tidal on Numark online/offline. Follow the sections below to get started.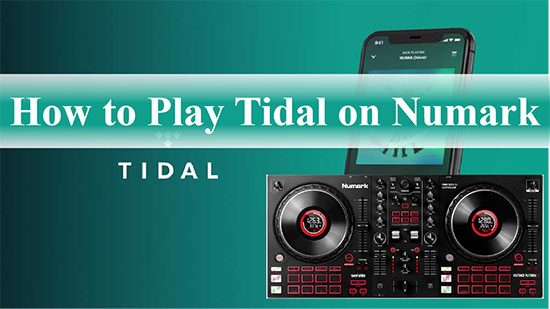 Part 1. Can You Get Tidal on Numark
As you probably know, Numark DJ device gives you access to all the basic DJ features that make your mixes more professional. For example, dedicated buttons for the most popular DJ effects, professional toggle paddles, and other features make Numark fun to use. It is worth mentioning that Tidal Numark integration becomes a reality, and you're able to stream songs from Tidal to Numark via a Tidal subscription.
What's more, Tidal and Numark have joined forces to offer a limited-time benefit, which is 3 months of free Tidal HiFi when you purchase Mixtrack Pro FX and Mixtrack Platinum FX. In this case, you're free to play millions of carefully curated Tidal Music, playlists, albums on Numark.
Part 2. How to Use Tidal Music for Numark Officially
As mentioned above, one specific feature that makes Numark stand out is the ability to stream Tidal songs. In fact, currently, you can play Tidal, Soundcloud and Dropbox, etc. on Numark. If you want to use Tidal Music for Numark, please follow the instructions below.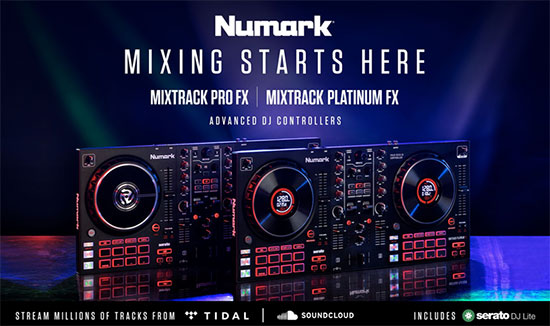 Step 1. Press the gear button on the Numark, then tap the WIFI option on the touchscreen. Select the network you want to connect to, enter the Wi-Fi password, and click Connect.
Step 2. Navigate to the browse window, press the source option, and select the Tidal platform you want to stream from.
Step 3. Follow the on-screen instructions to connect the Numark DJ controller to your Tidal account.
Step 4. Search for the Tidal song you want to play, double-click or swipe on the first song you want to load, and select its target deck. After putting Tidal on Numark, start playing.
Part 3. How to Play Tidal on Numark Offline
Much to our regret, Numark hardware does not support offline mode for now, which implies that when you get Tidal on Numark officially, you need to make sure you are always online. It is obvious that the limitations imposed by the official solution are disturbing, and it would be nice to play Tidal on Numark offline. Fortunately, Numark supports music streaming from a USB drive or SD card, in this event, downloading music from Tidal is definitely the best solution.
To tell you the truth, if you want to download protected Tidal Music without any restrictions, a professional third-party tool is necessary. Here, AudFree Tidal Music Downloader is perfectly suited for your needs, it is carefully designed for Tidal users to get better access to Tidal Music downloads on PC and Mac. Moreover, it can help you convert Tidal Music to MP3, FLAC, WAV and other common formats for offline playback on Numark, whether you have a Tidal Music subscription or not.
With the aid of this best Tidal Music downloader, you can download Tidal Music to your computer locally and keep the metadata information and ID3 tags. Moreover, you can also personalize the output Tidal audio parameters, such as bit rate, sample rate, codec, etc. Therefore, you don't need to worry about any quality problems when downloading Tidal Music for Numark.
How to Play Tidal on Numark Offline
Step 1

Customize Tidal Music Output Format for Numark

Make sure AudFree Tidable and the Tidal app are downloaded on your computer, run AudFree Tidable and click on the menu bar in the upper right corner to select the "Preferences" option. In the settings window that pops up, click on the "Convert" section to define the Tidal Music output format and other parameters. After that, click on "Archive output tracks" to export Tidal songs by album or artist.
Step 2

Add Tidal Music to AudFree Tidable

Drag and drop your favorite Tidal Music onto the main screen of AudFree Tidable. Or copy and paste the Tidal Music link into the search box at the top, then click the '+' button next to it.
Step 3

Download Tidal Music for Numark

Press the "Convert" button and AudFree Tidable will start the download process. When it's done, visit the target folder on your computer directly to view the local Tidal Music. Then it's time to use Tidal Music for Numark offline.
Step 4

Play Tidal on Numark Offline

Import the Tidal Music from your computer to your USB drive and plug it into your Numark device. Then you can easily browse and play all Tidal Music and playlists on Numark offline, and in turn mix and create new music the way you want.
Part 4. Conclusion
This article provides online and offline solutions to assist you in mixing Tidal Music on Numark. After reading the above, you will be surprised to find that playing Tidal on Numark is not as hard as you think. Go ahead and let your creativity run wild on Numark as you please.