As music streaming continues to gain popularity, DJs are looking for ways to incorporate streaming services into their workflow. One such service is Tidal, which offers high-quality audio and a vast library of songs. Denon DJ, a leading manufacturer of professional DJ equipment, has recently added support for Tidal to its DJ system. So in this article, we'll explore how to use Tidal on Denon DJ online and offline to enhance the DJ experience for professionals and enthusiasts alike.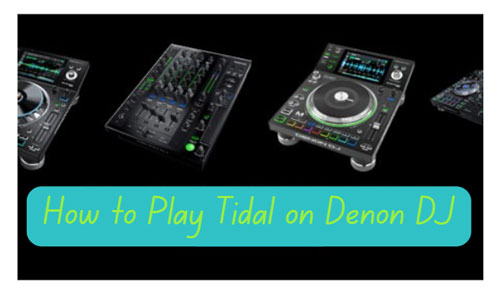 Part 1. More about Denon DJ Tidal
Does Denon DJ Support Tidal?
Denon DJ has partnered with Tidal, a high-fidelity music streaming service, to provide DJs with access to over 100 million songs and thousands of expertly curated playlists at the highest audio quality available.
Can I Use Tidal Music with Denon DJ Offline?
Tidal itself doesn't provide an offline mode in any DJ software, including Denon DJ. However, with the help of a third-party tool called AudFree Tidal Music Downloader, you can download Tidal music locally and play it offline on your Denon DJ equipment. We'll explore this in more detail in Part 3.
Part 2. How to Stream Tidal on Denon Prime 4 Online
The integration of Tidal Denon DJ allows DJs to access, stream, and mix from Tidal's massive catalog of superior quality audio tracks and music videos online. Additionally, Tidal can be used with Denon DJ Engine OS ecosystem devices, such as the Prime Go, SC6000, SC5000(m), Prime 4, X1800, and MCX8000. To DJ with Tidal and make Tidal Denon Prime 4 work, you'll need to have a Tidal subscription and a stable internet connection. Here's how to get started.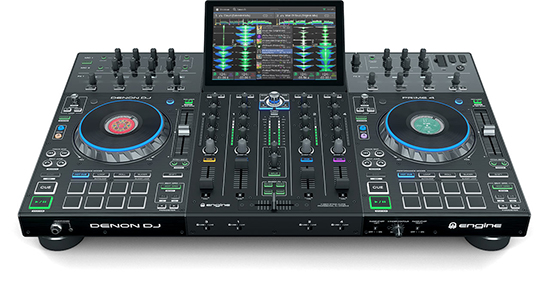 Step 1. Please update your Denon DJ to firmware version 1.4 or later before linking Tidal.
Step 2. Connect your Denon DJ Prime 4 to the internet using Wi-Fi or an Ethernet cable.
Step 3. Open the library collection view and tap the media device icon in the top left of the library window.
Step 4. Follow the on-screen instructions to link Tidal with your Denon DJ device.
Step 5. Once connected, you should have access to all your Tidal tracks on your Denon Prime 4.
Part 3. How to Play Tidal Dolby Atmos on Denon DJ Offline
The official method above requires you to get Tidal Denon connect online, which is inconvenient for some users. Fortunately, for Denon DJ, it has a built-in USB port that allows importing local music files to it for use. So all you need to do is put the Tidal music as local files on your computer and transfer them to Denon DJ for mixing.
However, due to copyright protection, Tidal music cannot be used on other platforms. To achieve the above process, you need to use AudFree Tidal Music Downloader first. The programme is designed to rip protection from Tidal music and save Tidal audio to your computer locally. It can convert Tidal Atmos music to FLAC, MP3, WAV, AAC, M4A and many other common audio formats. After that you can easily upload Tidal songs to Denon DJ for offline use.
By using the innovative and advanced technology, this professional tool converts Tidal music tracks without touching the original audio quality. The downloaded Tidal music are in high audio quality and with all metadata kept. Moreover, it supports to batch convert at least 100 Tidal tracks at a faster speed for Denon DJ.
Tutorial to Convert Tidal Music for Denon DJ
Step 1

Load Tidal tracks to AudFree Tidable

Please download and install the AudFree Tidal Music Converter and the Tidal app on your computer first. Once done, please open the AudFree program and then the Tidal app will launch simultaneously. Then find the songs you like to download on Tidal app. Next, copy the link of the track and then paste it to the search bar in AudFree. Then, hit on the '+' icon and wait for the loading of Tidal track to AudFree.
Step 2

Customize Tidal output settings for Denon DJ

AudFree Tidal Music Converter allows you to set the output audio format as you like. Please click on the 'Menu' icon at the main screen. Then tap on the 'Preferences' > 'Convert' option, and you will see the setting window. Now you can customize the output audio format, adjust the bit rate, sample rate, audio channel, etc.
Step 3

Convert Tidal songs for Denon DJ

Now, please press on the big 'Convert' button and AudFree program will work at a faster speed to download and convert Tidal music for you generally. After conversion, you will see a red spot with a number of songs will be shown on the 'Converted' button. You could click on this button to check the converted Tidal audios on your computer.
Step 4

Use Tidal on Denon DJ offline

As you had converted and saved Tidal music as local files on your computer, now you can transfer your local Tidal music files to your Denon DJ device for offline use.

Step 1. Transfer Tidal music to USB from your computer and connect it to your Denon DJ device.

Step 2. Power on your Denon DJ device and navigate to the music library.

Step 3. Select the "Import" option and choose "USB" as the source.

Step 4. Select the Tidal music files you want to import from the USB drive and choose "Import".

Step 5. Your Tidal MQA songs should now be available for offline playback on your Denon DJ.
Part 4. How to Get 3-Month Tidal Free Trial with Denon DJ
Denon DJ has partnered with Tidal to offer a 3-month Tidal HiFi Plus free trial for Denon DJ users. This offer is available to both beta group members and current Prime Series users who register their product at denondj.com. After successfully redeeming the voucher, you will have access to Tidal's HiFi Plus subscription, which includes high-quality audio streaming, Dolby Atmos, Sony 360 Reality Audio, and more. To avail this offer, you need to follow these steps:

Step 1. Register your Denon DJ product at denondj.com and you will receive a voucher code provided by Denon DJ.
Step 2. Once you have the voucher code, you can create a new Tidal account using the following link: https://offer.tidal.com/voucher.
Step 3. Enter the voucher code on that page and complete the sign-up process.
Step 4. Create a new Tidal account and get Tidal free for 3 months.
Part 5. In Conclusion
The collaboration between Denon DJ and Tidal is a game-changer for DJs who want to incorporate streaming music into their sets. Whether it's streaming music online or using it offline with AudFree Tidal Music Downloader, DJs can easily find and play the songs they need to keep the party going. It's time to create exceptional performances with Tidal on Denon DJ.