Q: "I am using a Rekordbox DDJ 400 and have a Tidal HiFi subscription, but I cannot find the Tidal option on this Pioneer DJ. Is there a Rekordbox Tidal integration? Any advice would be greatly appreciated."
As a professional DJ platform, Rekordbox provides a seamless DJ experience across multiple devices. It also integrates with some global music streaming and entertainment platforms. So, does Tidal work with Rekordbox? Yes! With the latest update to version 6.1.1, Rekordbox brings Tidal support to the party. Keep reading and learn how to connect Tidal to Rekordbox online and offline.

Part 1. FAQs about Rekordbox Tidal
Q1: Can You Use Tidal with Rekordbox?
A: Yes. Once you have a Tidal subscription, you can directly link Tidal to Rekordbox. You can connect your Tidal account to Rekordbox online and then access over 100 million tracks.
Q2: Can You Get Tidal on Rekordbox Offline?
A: Due to the limitation of Tidal, it's impossible to get Tidal offline on Rekordbox. But you can use AudFree Tidal Music Converter to download Tidal songs as local files, then you can import them to Rekordbox for offline use. You can navigate to Part 3 directly for detailed steps.
Q3: What Streaming Services Work with Rekordbox?
A: Rekordbox is compatible with Beatsource, Beatport Streaming, SoundCloud Go+, and Tidal. With Tidal Rekordbox streaming, you can get 320kbps - 1411kbps and up to 24-bit/192kHz master quality. It is the highest audio quality among all these streaming services.
Part 2. How to Connect Tidal to Rekordbox Online
With the latest Rekordbox Tidal integration, over 100 million songs are available for you to DJ with Tidal. The only premise is that you have a Tidal HiFi or HiFi Plus subscription.
Step 1. Launch the Pioneer DJ Rekordbox software, and you will see a bunch of dropdowns on the left column.
Step 2. Select "TIDAL", click the "Log in" button, and log in with your Tidal account. It will link Tidal to Rekordbox for you automatically.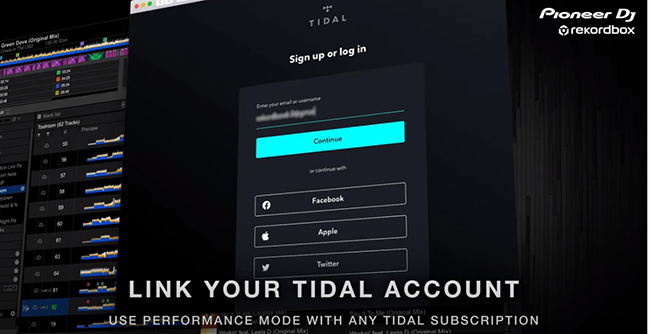 Step 3. Once logged in, you can browse "My Collection" - including playlists, albums, and tracks saved in your Tidal account - from inside Rekordbox. Unfortunately, you don't have control of them in Rekordbox, such as adding or deleting tracks to a certain playlist.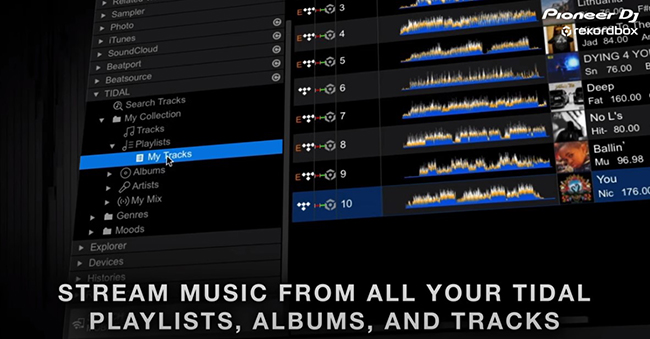 Step 4. You can also find inspiration in playlists compiled by Tidal and search the platform's robust music catalog.
Step 5. Afterwards, you can mix it with files stored in your Rekordbox library. You can even choose whether to play Tidal songs in AAC format or the higher quality FLAC format.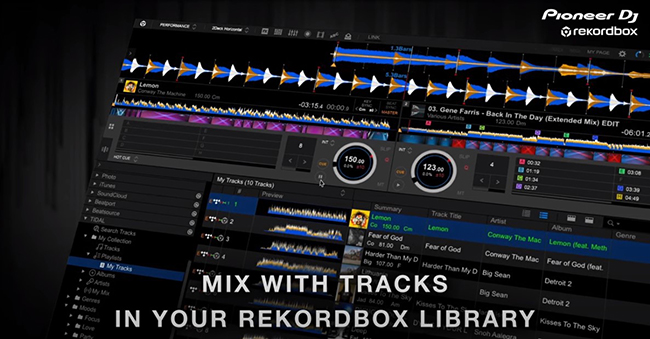 📌 Note: Due to Tidal restrictions, you cannot make Tidal Rekordbox offline. Moreover, music distributed by TIDAL can only be used in Rekordbox's Performance mode, but not the Export mode or Link Export mode. And the recording and Capture features are unavailable when tracks from Tidal are playing.
Part 3. How to Add Tidal to Rekordbox Offline
Although Rekordbox does not support Tidal offline, it allows users to import local music files from their computer. So, there is a way to use Tidal and Rekordbox offline as long as the Tidal songs are local files. However, Tidal only allows users to download songs as cache files, and not as local files. To make matters worse, there is no download option on the desktop. So, you need a professional tool - AudFree Tidal Music Converter.
It is professional software specially designed to download and convert Tidal songs, playlists, and albums to popular audio formats on Mac or Windows computer. You can choose to store Tidal as FLAC, MP3, AAC, WAV, Lossless, WAV and more. After conversion, all Tidal audio files can be added to Rekordbox for offline streaming and mixing. The best part is that you even don't need a Tidal HiFi or HiFi Plus subscription.
With advanced technology, AudFree Tidable is intelligent enough to keep the original quality. It can detect and preserve all ID3 tag information, such as artist, title, genre, and album art. What's even better, you can personalize audio parameters for output Tidal music.
AudFree Tidal Music Converter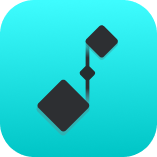 Losslessly download and convert Tidal music
Import Tidal music to Rekordbox for offline use
Convert Tidal to FLAC, MP3, AAC, M4A, etc.
Work at 5X speed & keep the original audio quality
How to Use Tidal with Rekordbox Offline
Before getting started, you can install the AudFree Tidal Music Converter free version via the 'Download' button above. Now, you can start with us to see how to DJ with Tidal in Rekordbox offline.
Step 1

Load Tidal music to AudFree Tidable

Launch AudFree Tidable and the Tidal app will open automatically. Go to Tidal to find the track, album, playlist you wish to play in Rekordbox DJ offline. Once found, please copy and paste the music URL into this converter's top search box. After that, touch the "+" icon to add Tidal music to AudFree Tidable. Or you can simply drag and drop songs from Tidal to this software's main interface.
Step 2

Adjust Tidal output parameters for Rekordbox

Please head to "Menu" from the upper-right corner, and then select the "Preferences" > "Convert" option. Here, you are able to customize the audio format and other audio parameters for Rekordbox. For your information, most Rekordbox versions support MP3, AAC, and WAV. Finally, click "OK" to apply all settings.
Step 3

Download Tidal music locally for Rekordbox

In this step, you can click the "Convert" button at the bottom-right on the main interface. Then AudFree Tidal Music Converter will download Tidal music at a 5X speed. When it finishes, you could hit on the "Converted" button to locate and check the downloaded Tidal music files on your computer. You can use Tidal in Rekordbox together offline now.
Step 4

How to Connect Tidal to Rekordbox Offline

#1. Open Rekordbox and click on 'File' at the top left and select 'Import' > 'Import Folder'.

#2. Select the folder on your computer where the converted Tidal music is stored.

Alternatively, you can drag and drop the converted Tidal files to the track window at the bottom of Rekordbox interface.

#3. Then Rekordbox will analyze these local music files. When the analysis finishes, you can mix Tidal music on Rekordbox Pioneer DJ with ease.
Video Tutorial: How to Download Tidal Music Locally via AudFree Tidal Music Converter
Part 4. How to Mix Tidal Music on Rekordbox DJ
Mixing music on Rekordbox DJ is a powerful and versatile process that allows DJs to create seamless transitions between tracks. After importing Tidal music to Rekordbox, you can start mixing them within the application and seamlessly integrate Tidal music into your Rekordbox DJ sets. In this part, we will explore some essential tips and techniques to help you DJ Tidal music on Rekordbox effectively.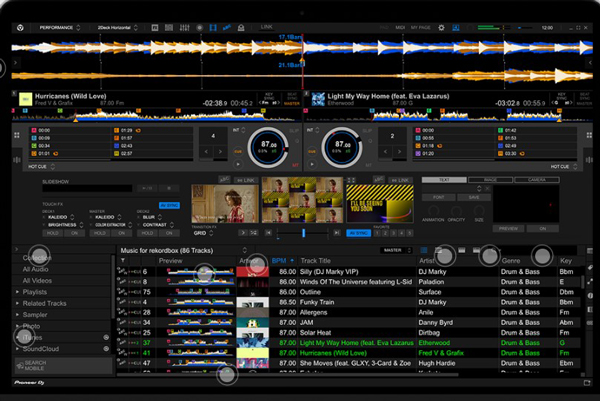 Step 1. Find Tidal tracks on Rekordbox library and right-click on them, then select "Analyze Files".
Step 2. Set cue points, hot cues, and grids for each Tidal track to mark important sections and ensure accurate beatmatching.
Step 3. Drag and drop the desired Tidal song from your library onto the decks in Rekordbox DJ.
Step 4. Use the pitch faders or sync function to match the BPM (beats per minute) of the tracks.
Step 5. Use the headphones and cue buttons to preview and align the beats of the incoming track with the playing track.
Step 6. Adjust the crossfade to make Tidal crossfade or use volume faders to smoothly transition between tracks.
Part 5. How to Fix Rekordbox Tidal Not Showing
If you're experiencing issues with Tidal not showing up in Rekordbox DJ, there are a few troubleshooting steps you can try to resolve the problem. Here are some possible solutions.
🔹 Check your internet connection: Ensure that you have a stable internet connection as Tidal requires an online connection to work with Rekordbox.
🔹 Update Rekordbox and Tidal: Make sure you are using the latest versions of both Rekordbox and Tidal, as outdated versions may have compatibility issues.
🔹 Check Rekordbox settings: Go to the "Preferences" or "Settings" section in Rekordbox and verify that Tidal is selected as an available service.
🔹 Restart Rekordbox: Sometimes, simply restarting the application can resolve minor glitches or connectivity issues.
🔹 Contact Rekordbox Customer Service: If these steps don't solve the problem, you may need to reach out to the Rekordbox support team or consult the official documentation for further assistance.
Part 6. In Conclusion
With the Rekordbox Tidal integration, you can easily connect your Tidal account to Rekordbox. But you can only use Tidal on Rekordbox online. Thankfully, we also found a way for you to use Tidal on Rekordbox offline. You just need a professional tool called AudFree Tidal Music Converter, which allows you to download Tidal music as local files. Then you can easily import the offline Tidal tracks to Rekordbox, Traktor, and more DJ software for mixing.