What is Volumio? According to its official website, it is a free and open-source Hi-Fi digital music player for audiophiles. It's well-designed to support high-quality music playback. And it can make your music with bit-perfect audio quality in one place. It perfectly runs on Volumio Primo and most embedded devices such as Raspberry Pi, Odroid, Sparky, Tinkerboard, and PC (X86/X64).
Speaking of Hi-Fi or Hi-Res music streaming, Tidal is the first in this industry. It presents the world with high-quality music. If you have a Tidal subscription and would like to play Tidal on Volumio, you are looking in the right direction.
In this article, I will share 3 ways to stream Tidal via Volumio. One is free without using the Volumio Tidal plugin. One requires a subscription to MyVolumio. Another is using the new Volumio Tidal Connect feature. Don't miss it!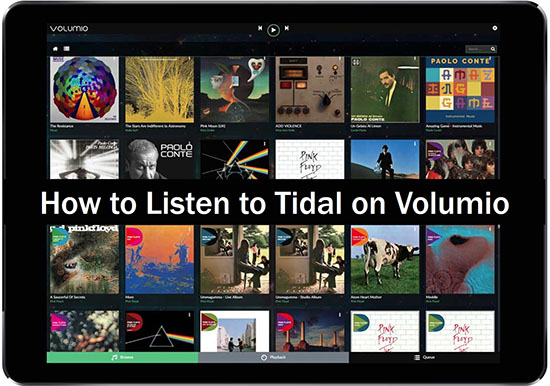 Part 1. How to Get Tidal on Volumio for Free
Volumio has given users the possibility to stream Tidal to Raspberry Pi. Because it supports importing local music for offline playback. So, if it is possible to download Tidal music as local music files, it is then free to add and play Tidal on Volumio. Let's get started with the first method that doesn't require a MyVolumio subscription.
First thing first, you'll need a powerful tool named AudFree Tidal Music Downloader.Proficient in downloading Tidal music, this versatile tool ranks NO.1 in this field. It is capable of converting any Tidal track/playlist/album to MP3, FLAC, WAV, AAC, M4A, and M4B. It will keep original sound quality, even MQA quality.
Metadata such as artist, album, title, etc. are encapsulated and well stored in the output music files. Thus, you can get your Tidal music well organized when imported to Volumio.
Moreover, AudFree Tidal Music Downloader is great at music editing. Users are able to modify music output parameters, including output format, bitrate, sample rate, and channel. It can download Tidal music at 5X fast speed thanks to the advanced processing feature.
Adopting this software, you can successfully add and play Tidal on Volumio for free without MyVolumio. AudFree Tidal Music Downloader provides a free trial for both Mac and Windows users, so it's absolutely worth a try.
How to Stream Tidal via Volumio for Free
Please check the prerequisites as follows before the conversion.
Download and install AudFree Tidal Downloader on your Mac or Windows computer.
Please make sure your Tidal subscription hasn't expired.
Step 1

Set audio parameters of Tidal music for Volumio

For Windows users, please click the menu icon from the top-right corner. Mac users need to find the "AudFree Tidal Music Converter" on the menu bar of Apple. Then select "Preferences" > "Convert" button. Here you get to customize the output Tidal audio parameters for Volumio including format, bit rate, sample rate, and channel. For your information, FLAC, WAV, MP3, AAC, etc. are supported by Volumio.
Step 2

Input songs from Tidal to AudFree Tidable

Launch the AudFree Tidal Downloader, and the built-in Tidal Web Player will open automatically. Log in with your Tidal account and find the Tidal track/album/playlist you wish to play on Volumio. Right-click on the Tidal playlist, you will see there is a highlight '+' button. Please click it to add and select Tidal songs into AudFree Tidable.
Step 3

Download Tidal tracks to local for Volumio

Tap on the big 'Convert' button to start the downloading and conversion. Once complete, click the 'converted' button with a red number prompt-up to access the history list. You can then locate the downloaded Tidal music files in the target folder.
Step 4

Add Tidal music downloads to Volumio

You've completed most of the work now. NAS drive shares (CIFS & NFS) are easily mounted and scanned by Volumio for audio content. You can add USB hard drives, USB sticks, or SD cards for extra or mobile storage. So the final step is to transfer the downloaded Tidal music to SD card to play Tidal on Volumio mobile app. Or you can transfer Tidal music to USB and then stream Tidal via Volumio OS devices via USB port.
Part 2. How to Play Tidal Master on Volumio via MyVolumio
MyVolumio is the premium feature of Volumio which includes two subscription plans: MyVolumio Virtuoso and MyVolumio Superstar. Once upgraded, you can enjoy native Volumio Tidal integration as well as Qobuz.
No Tidal Volumio plugin is needed. That is to say, just subscribe to one of the plans, Virtuoso (€2.99/month and €28.99/year) or Superstar (€6.99/month and €66.99/year) with a 15-day free trial, and you can enjoy Volumio streaming services with their Hi-Fi and Hi-Res quality in MyVolumio.
How to Stream Tidal via MyVolumio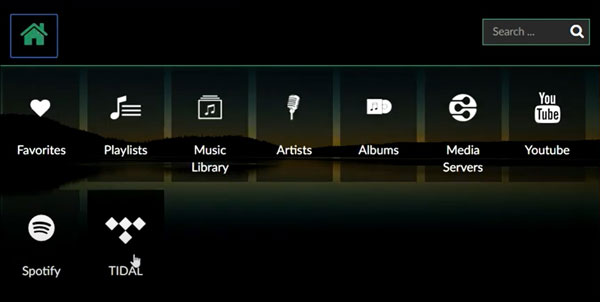 Step 1. Download and install MyVolumio. Or just update your Volumio app to version 2.501 onwards.
Step 2. Sign in to a new MyVolumio account. Or you can create it on myvolumio.org or from the app's interface.
Step 3. On the profile page, please choose "Upgrade your Plan" and select one subscription plan: Virtuoso or Superstar.
Step 4. Sign in or register an account on the ickStream Music Website.
Step 5. Click on 'Browse' from the bottom-left on Volumio and hit the 'Home' icon, you'll see Tidal or Qobuz available here. Please choose Tidal as the target one.
Step 6. Start enjoy all the premium functions on MyVolumio now, such as remote control of playing Tidal on Volumio, automatic backup and sync, and so forth.
Part 3. How to Stream Tidal on Volumio via Tidal Connect
To offer HiFi quality in a more convenient and easier use approach, Volumio and Tidal finally cooperate together. Tidal Connect is now on Volumio for all MyVolumio Virtuoso and Superstar users. With the release of this feature, it's able to manage Tidal songs via the Tidal app or the Volumio UI.
Sounds wonderful to listen to HiFi and MQA music from the comfort of the Tidal app. It will give a seamless listening experience with more options.
Tidal Connect allows users to stream Tidal music from its app to all supported third-party devices. That's to say, you are able to play Tidal music on your all Volumio devices due to this feature. You can also use Tidal connect on Raspberry Pi and other Volumio OS devices.
No matter you have Volumio Primo, or other Volumio OS devices, let's see how to get started with Tidal Connect on MyVolumio.
How to Use Tidal Connect on Volumio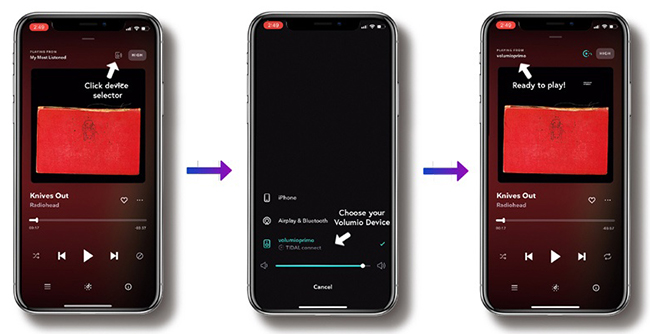 Step 1. Please update your Volumio music player to the latest version v2.878 and update the Tidal app version. And please check whether your devices are under the same network.
Step 2. Log into your MyVolumio Virtuoso or Superstar account on the Volumio UI. Open the Tidal app from your device and sign in to your account details.
Step 3. Play one song and go to the 'Now Playing' page. Select the 'Sound Output' icon to choose the compatible Volumio device. Then, Tidal MQA music will be broadcast from your device.
Part 4. Final Verdict
Here are 3 effective ways to play Tidal on Volumio. Based on this situation, you will have more options to choose a HiFi player device. Just install the Volumio on your HiFi device, you can enjoy HiFi and MQA music without a problem. Relax while listening to the Tidal music collection on your Volumio devices.