As you may know, Volumio is a free and open source Hi-Fi digital music player for audiophiles. Meanwhile, when it comes to Hi-Fi or Hi-Res music streaming, Tidal is undoubtedly the first in this industry as it presents the world with high-quality music. Do you have any idea about playing Tidal on Volumio?
If you are looking for ways to make Volumio Tidal a reality, then you've come to the right place. In this post, we'll share the best ways to stream Tidal to Volumio. One is free without using the Volumio Tidal plugin, one requires a subscription to MyVolumio, and another is using the new Volumio Tidal Connect feature. It's definitely worth a look, don't miss it!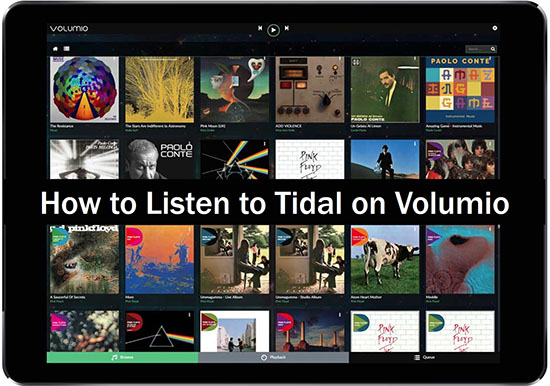 Part 1. How to Stream Tidal to Volumio for Free
In fact, Volumio works perfectly on Volumio Primo and most embedded devices such as Raspberry Pi, which offers users the possibility to stream Tidal to Raspberry Pi. In addition, since Volumio supports importing local music for offline playback, it is free to add and stream Tidal on Volumio if you can download Tidal Music as local music files.
In this case, first and foremost, you need a powerful tool called AudFree Tidal Music Downloader to get Tidal Music local downloads. Actually, this versatile tool ranks NO.1 in the field of Tidal downloader and it's able to convert any Tidal track/playlist/album to MP3, FLAC, WAV, AAC formats supported by Volumio.
What's more, it will maintain original sound quality, even MQA quality of Tidal. Metadata such as artist, album, title, etc. are encapsulated and well stored in the output music files. As a result, Volumio Tidal MQA becomes possible and you can import and play Tidal on Volumio for free offline without MyVolumio.
How to Stream Tidal to Volumio for Free without MyVolumio
Please check the prerequisites as follows before the conversion.
Download and install AudFree Tidable on your Mac or Windows computer.
Please make sure you have a Tidal account, either free or Premium.
Step 1

Set Audio Parameters of Tidal Music for Volumio

Run AudFree Tidal Music Converter and click the Menu icon in the upper right corner, then select the Preferences > Convert button. Here, you can customize the output Tidal audio parameters for Volumio, including format, bit rate, sample rate and channels. Just for your reference, Volumio supports FLAC, WAV, MP3, AAC, etc.
Step 2

Import Songs from Tidal to AudFree Tidable

When you launch AudFree Tidal Downloader, the Tidal app will open automatically at the same time. Log in to your Tidal account and find the Tidal track/album/playlist you wish to play on Volumio. You can drag and drop Tidal songs into the conversion window of AudFree Tidable directly.
Step 3

Download Tidal Tracks Locally for Volumio

Tap on the big 'Convert' button to start the download and conversion process. When finished, click on the 'Converted' button with the red number alert to access the history list. You can then locate the downloaded Tidal Music files in the target folder.
Step 4

Stream Tidal to Volumio for Free

NAS drive shares (CIFS and NFS) are easily mounted and scanned by Volumio for audio content. Then you can add USB hard drives, USB sticks, or SD cards for extra or mobile storage. So it's time to save Tidal Music to SD card to play Tidal on the Volumio mobile app. Or you can transfer Tidal Music to USB and then stream Tidal via Volumio OS devices.
Part 2. How to Play Tidal on Volumio via Volumio Tidal Plugin - MyVolumio
MyVolumio is the premium feature of Volumio that includes two subscription plans: MyVolumio Virtuoso and MyVolumio Superstar. Once upgraded, you can enjoy native Volumio Tidal integration as well as Qobuz.
In other words, just subscribe to one of the plans, Virtuoso (€2.99/month and €28.99/year) or Superstar (€6.99/month and €66.99/year) with a 15-day free trial, you can set up the Tidal Volumio plugin and enjoy Tidal streaming service with their Hi-Fi and Hi-Res quality in Volumio.
How to Stream Tidal on Volumio via MyVolumio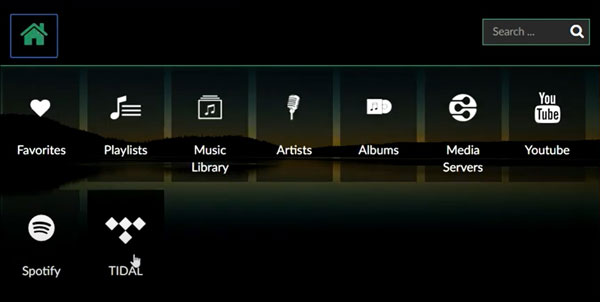 Step 1. Download and install MyVolumio or simply update your Volumio application to version 2.501 or higher.
Step 2. SLog in to a new MyVolumio account. Or you can create it on myvolumio.org or from the application's interface.
Step 3. On the profile page, please choose "Upgrade your plan" and select a subscription plan: Virtuoso or Superstar.
Step 4. Sign in or register an account on the ickStream Music website.
Step 5. Click on "Browse" at the bottom left of Volumio and hit the "Home" icon. You will see Tidal or Qobuz available here, please select Tidal as the target one.
Step 6. Now start enjoying all the premium functions on MyVolumio, such as remote control to play Tidal on Volumio, automatic backup and sync, and so forth.
Part 3. How to Use Tidal on Volumio via Tidal Connect
To offer Tidal Music in a more convenient and easier to use approach, Volumio and Tidal finally cooperate together to provide the new Tidal Connect Volumio feature. Besides, Tidal Connect is now available on Volumio for all MyVolumio Virtuoso and Superstar users.
In reality, Tidal Connect allows users to stream Tidal Music from its app to all supported third-party devices. That's to say, no matter you have Volumio Primo, or other Volumio OS devices, you'll be able to use Tidal Connect on Raspberry Pi and play Tidal Music on all Volumio devices. Let's see how to get started with Tidal Connect on Volumio.
How to Use Tidal Connect on Volumio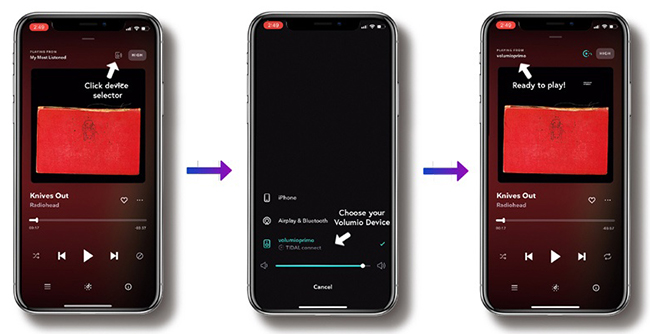 Step 1. Please update your Volumio music player to the latest version v2.878 and update the Tidal app version. Please check whether your devices are under the same network.
Step 2. Log into your MyVolumio Virtuoso or Superstar account on the Volumio UI. Open the Tidal app from your device and sign in to your account details.
Step 3. Play one song and go to the 'Now Playing' page. Select the 'Sound Output' icon to choose the compatible Volumio device. Then, Tidal MQA music will be broadcast from your device without any limitations.
Part 4. FAQs about Volumio Tidal
Q: What is Volumio?
A: Volumio is an audiophile music player well-designed to support high-quality music playback, like Audirvana and Roon. And it can make your music with bit-perfect audio quality in one place. Also, Volumio runs on most embedded devices such as Raspberry Pi, Odroid, Sparky, Tinkerboard and PC (X86/X64).
Q: What Are the Benefits of Volumio Tidal Connect?
A: Since all Volumio devices support Tidal Connect, you'll be able to cast all your Tidal Music content to your Volumio device and control playback from the Tidal app directly. In addition, it allows you to stream all your Tidal HiFi music in lossless quality with gapless playback.
Q: Does Volumio Work with Tidal?
A: The answer is certainly yes, and here are three effective ways to play Tidal on Volumio for you to choose from. On the whole, you'd better make use of AudFree Tidal Music Downloader to stream Tidal on Volumio for free without hassle.
Part 5. Final Verdict
In a word, this article contains the best ways to play Tidal on Volumio for your consideration. Based on this situation, you will have more options to choose a HiFi player device. Just install Volumio on your HiFi device and you can enjoy Tidal HiFi and MQA music without any problem. Start and enjoy your Tidal Volumio journey from now on.