Have you been exposed to Amazon Music or Volumio? Amazon Music is a commonly-used music streaming service ranked Top 3 following Spotify, Apple Music, etc., offering over 100 million tracks for its listeners. With three plans, it empowers its users to access Amazon Prime and Unlimited Music in HD and Ultra HD uqality alongside spatial audio. Volumio serves as an application and music player designed for audiophiles to play music from streaming services such as Amazon Music, Spotify, etc. with the highest possible audio quality on Raspberry, mobile, PC, and other small computers.
Have you imagined connecting Amazon Music with the music streaming server? Actually, this player supports Amazon Music. But many users don't know how to stream Amazon Music on Volumio. And this is what we will talk about in this post. You will find four methods to integrate Amazon Music with Volumio. Please never miss it!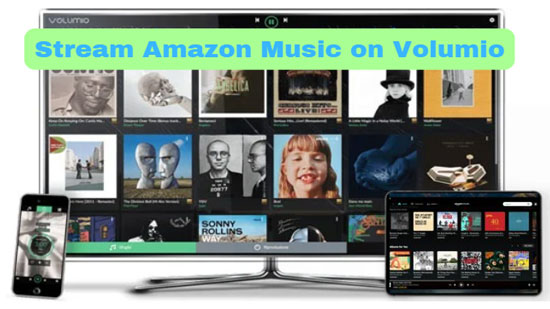 Part 1. Stream Amazon Music HD/Prime/Unlimited Audio on Volumio Free
Volumio is easy to use and can run on a web or mobile program. This multipurpose music server supports various formats such as FLAC, MP3, AAC, ALAC, WAV, and DSD. So, you can download Amazon Music as those Volumio-supported formats and then upload the local files to this music streaming server. To make it, you need to get assistance from a third-party converter: AudFree Amazon Music Converter.
AudFree Amazon Music Converter is an all-in-one solution to download Amazon Prime, Unlimited tracks in HD and Ultra HD quality as permanent local files and convert them to multiple MP3, FLAC, AAC, WAV, and more formats compatible with Volumio. With excellent conversion and decoding technology, this tool won't damage Amazon Music's original audio quality and will preserve full ID3 tags. So, you can enjoy the original title, artist, cover, album, year, etc. of each track after transferring local Amazon Music audio files to Volumio.
Beyond that, this powerful tool empowers you to customize Amazon Music output quality by changing its bit rate and sample rate according to your needs, which is friendly for Volumio audiophiles. Then you can play Amazon Music with lossless high-quality audio on Volumio or any device you want at any time for free.
How to Download Amazon Music for Volumio
You can install AudFree Amable on your PC or Mac. Then please refer to the following user guide to get Amazon Music HD or Ultra HD quality songs for Volumio.
Step 1

Drag and Drop Amazon Music Track to AudFree Amable

Open the AudFree Amable, and the Amazon Music app will launch in sync. Please drag songs, playlists, albums, etc. Directly from the Amazon Music app and drop them into the window of the gadget. Also, you can opt to copy the URL links of songs, paste them to the search box of the tool, and then click the '+' tab to add Amazon Music audio files.
Step 2

Reset Amazon Music Output Settings as Volumio-enabled Formats

For compatibility with Volumio, please head over to the upper-right toolbar to drop down the setting menu. From it, select 'Preferences' and then 'Convert' which allows you to customize the output format of Amazon Music to MP3, AAC, WAV, FLAC, and more formats that are supported by Volumio. Furthermore, you can choose the bit rate/depth sample rate, and other output parameters for exporting Amazon Music losslessly. Setting the output settings as FLAC or WAV is recommended since you can stream Amazon Music at 24 or 32-bit/192kHz quality on Volumio, which is higher than Amazon Music Ultra HD quality.
Step 3

Start to Convert Amazon Music for Volumio

Hit the bottom-right 'Convert' button. Then the AudFree Amable will start to export Amazon Music songs losslessly and save them to the local folder of your computer. Once finished, you can touch 'Converted' at the bottom of the tool to access the Amazon Music downloads.
Step 4

Upload Amazon Music Audio Files to Volumio

Now, you can add local Amazon Music audio to Volumio. Please transfer Amazon Music songs to an SD card or move Amazon Music to a USB. Then on the home screen of Volumio, tap on the 'Browse' option at the bottom. Then select 'Music Library' and you can see the 'INTERNAL' or 'USB' option. Click on it and you will find the Amazon Music downloads. Or directly hit the 'Add New Drive'. The Volumio will automatically scan your hard drive to add music to the player.
Part 2. Play Amazon Music HD on Volumio with Volumio 2 Plugin
Since Amazon Music works with Volumio, you can get a Volumio Amazon Music Plugin called 'Volumio2 plugin music services' and stream Amazon Music on Volumio directly. Here are detailed steps:
Step 1. On Volumio, touch on the cog icon to pull down a menu and select 'PLUGINS' from it.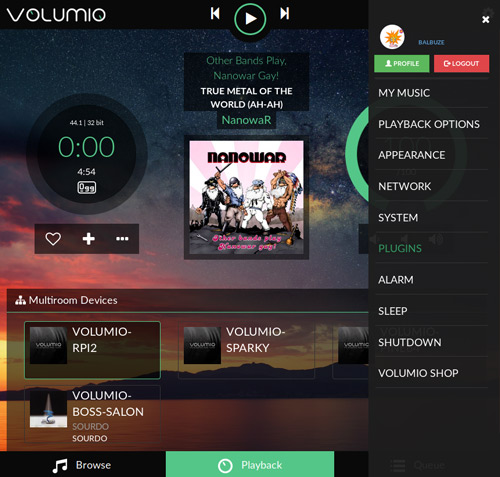 Step 2. Search for 'Volumio2 plugin music services' and hit the right 'Install' bubble to get Amazon Music.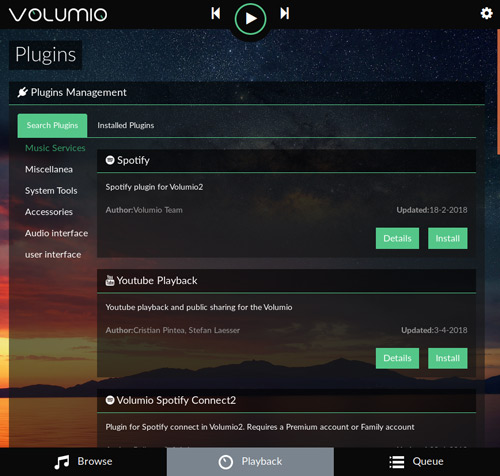 Step 3. Click on 'Installed Plugins' and the toggle button of Amazon Music on to activate it.
Step 4. Click the green 'Settings' button and enter your 'Amazon Music Username' and 'Amazon Music Password' to log into your Amazon Music account. And the Amazon Music Volumio plugin will show on the home screen of the player.
Part 3. Control Amazon Music on Volumio via AlexaPi
Apart from the Volumio2 Amazon Prime Music plugin, AlexaPi can also help you to cast Amazon Music to Volumio. But it requires you to work on a Raspberry Pi device and get an Alexa one. And the process needs some technical requirements, which is a little complicated. Just follow the steps as follows:
Step 1. Click here on the AlexaPi GitHub page to follow the instructions to install AlexaPi on a Raspberry Pi device that has Volumio.
Step 2. Tap on here to set up your Amazon developer account and register a new Alexa device.
Step 3. Follow the instructions on the AlexaPi GitHub page Configure AlexaPi to use your Amazon developer account credentials.
Step 4. Once finished, you can use voice commands to play Amazon Music Unlimited on Volumio. For instance, please say "Alexa, play a song on Volumio" and Alexa will start playing the music on your Volumio device.
Note: Connecting Amazon Music with Volumio by AlexaPi will violate Amazon's Terms of Use, which is perilous.
Part 4. Stream Amazon Music on Volumio via DLNA
Surprisingly, by using DLNA, you can also connect Amazon Music with Volumio. Before that, you need a Volumio device such as Volumio Rivo or Volumio Primo. And you need to subscribe to Amazon Music Prime or Unlimited. Then please follow these steps:
Step 1. Connect your Volumio device and the Amazon Music app to the same network.
Step 2. Open the Amazon Music app on your smartphone or computer and select the song or playlist you want to play.
Step 3. Choose to 'Cast' or 'Stream' the audio to a DLNA-enabled device such as your PC. You may find the option located in a menu or as an icon within the Amazon Music app.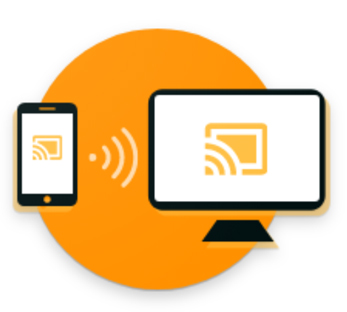 Step 4. Pick your Volumio device from the list of available DLNA devices. The audio should now come out from your Volumio device. You can use the Amazon Music app or the Volumio web interface to control music playback.
Part 5. More FAQs about Amazon Music Volumio
Q1: What is Volumio?
As we state at the beginning, Volumio works as an open-source audiophile music player that can be used on a set of cheap, small computers like Raspberry Pi and some embedded devices. It is designed to be easy to use and supports a wide range of audio formats.
The easy-to-use software can be controlled through a web interface or various mobile apps. It has its official streamer Volumio Primio. Supporting a wide range of audio formats and plugins, Volumio can integrate with various third-party services such as Amazon Music, Tidal, and Spotify. Besides, users also use it to make DIY music streaming devices or as dedicated music player for audiophiles.
Q2: Does Amazon Music work with Volumio?
Yes. Amazon Music does work with Volumio. You can adopt the above 4 channels to play Amazon Music songs on Volumio.
Part 6. In Conclusion
4 methods to stream Amazon Music on Volumio have been presented above. Obviously, the latter three ways are complicated and need technical requirements. Therefore, using AudFree Amazon Music Converter is the best choice. Just install the app on your computer with several clicks. It is secure and legal for personal use. Then download and add Amazon Music to Volumio simply, which is quite easy to use. Apart from Volumio, this cnverter supports play Amazon Music on multiple devices. So, give it a shot!