Audiobooks have changed reading habits and the way information is accessed with their unique advantages. And Audible has long been the king of audiobooks, bringing great reading convenience. However, some users have reported problem with Audible book not playing sound.
If you are also experiencing Audible no sound, don't panic, read on to find out the solution. This article will cover common causes and 7 fixes to the issue of Audible not playing sound. Let's move on to making Audible audiobooks available.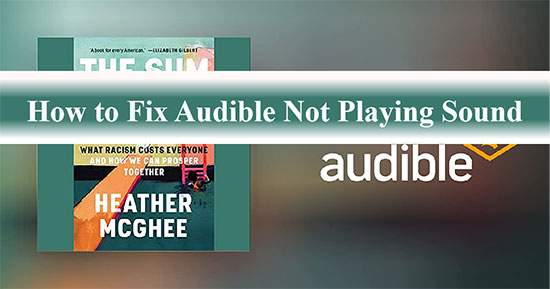 Part 1. Why You Can't Hear Audible Book
It is not pleasant if Audible audiobooks do not have sound when you try to listen to them. There are various reasons why Audible book voice is not audible.
Faulty playback device.
Poor network connection.
The Audible application is not running correctly.
Download errors or poor Audible audio quality.
Audio stops suddenly, skipping audio or background noise.
Part 2. How to Solve Audible No Sound Issue
For the above reasons, we have compiled some general solutions to fix Audible audiobook no sound. Just read below to listen to your favorite Audible books again.
Solution 1. Check Network Connection
If you encounter something with Audible app no sound, the first thing to look at is the internet connection, make sure your Wi-Fi or mobile data connection is working. Audible needs a stable internet connection to play audible books properly. You can try restarting your internet connection or resetting your router to see if the Audible books will play with sound.
Solution 2. Check the Volume of Device
Sometimes, we may forget to unmute the sound. The necessary step is to check the default option i.e. the volume of your device. If the device volume is 0, you can increase the volume to avoid the Audible book no sound situation. You can simply press the volume up button on the side of your phone. Or adjust the volume on your laptop by clicking on the speaker icon in the bottom right corner of the taskbar.
Solution 3. Delete and Re-Download Audible Titles
You may also find Audible playback problems if the downloaded Audible book is incomplete or corrupted. Fortunately, as an Audible user, you have full control of your library to add, remove, and even scrub titles to your liking. Follow the steps below to remove an unplayable Audible book from your device, then download the book again.
Step 1. Go to the 'My Library' section of the Audible app.
Step 2. Search for and tap on the audiobooks you want to delete.
Step 3. Delete downloaded Audible books by pressing the red Minus sign next to each book or the bin icon marked "Delete".
Step 4. It will bring up the 'Delete from device' option, just click on it.
Step 5. Hit on the search bar on the home page to search for the Audible title and click on the Download button to download it.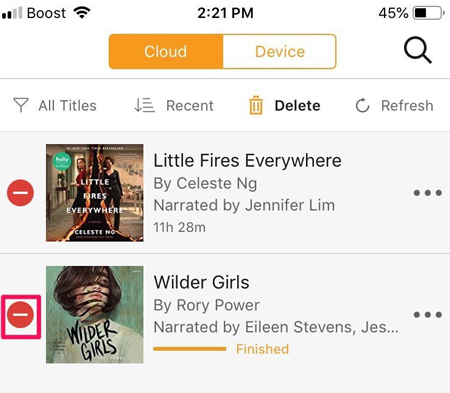 Solution 4. Force Stop and Reopen Audible App
Re-running the Audible application is an easy way to resolve Audible no sound issue. This is because many Audible problems can be caused by errors in running the app. Simply stop and re-open the Audible app to see if you can listen to Audible books properly.
On Android
Step 1. Go to the Settings section of the Audible app.
Step 2. Click on Apps & Notifications > All Apps > Audible.
Step 3. Tap the Force Stop option at the bottom of the screen to close the app.
Step 4. Re-open the Audible application and see if the problem has been resolved.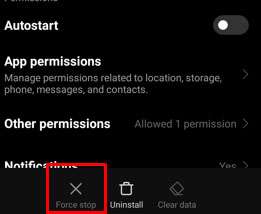 On iOS
Step 1. Tap the Home button twice on your iOS device, or swipe up from the bottom of the screen to see a preview of all the apps.
Step 2. Pause in the Audible app's preview and swipe up to force it to close.
Step 3. Wait a few minutes and reopen the Audible app.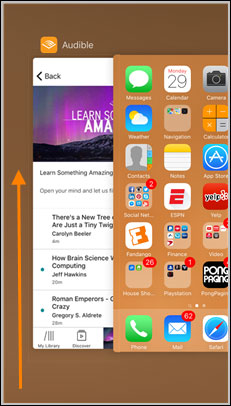 Solution 5. Clear Audible App Cache
Sometimes, the version of data cached by the Audible app may not match the latest data, which prevents the application from functioning properly. An incorrect application will cause your Audible audiobooks to play without sound. You'll find out how to clear the Audible cache on Android and iOS below.
On Android
Step 1. Select your phone's Settings app.
Step 2. Tap Apps or All Apps and search for Audible.
Step 3. Select Storage and Clear Data from the options given.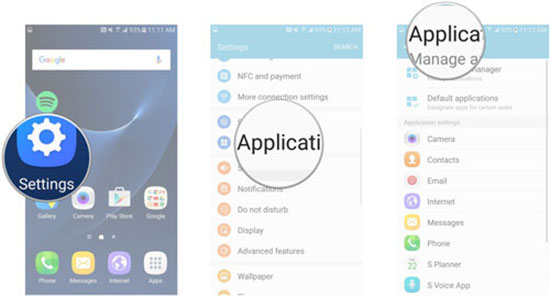 On iOS
Step 1. Open the Settings app on your iOS device.
Step 2. Tap General, then select iPhone Storage.
Step 3. Search for and tap Audible in the list of apps.
Step 4. Hit on Offload App to clear the data stored on Audible.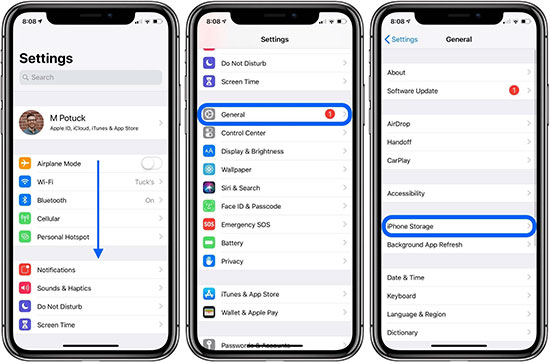 Solution 6. Reinstall Audible App
Problems with the Audible app itself can also cause Audible not playing sound. Reinstalling the Audible app can often fix a misbehaving app. Please uninstall the Audible app from your device first, then download and install it from the app store. Then see if the Audible audiobooks play smoothly.
Solution 7. Play Audible Books on Other Devices
If the above methods does not work, you need to consider that there is an error on the device itself. The best solution is to play Audible audiobooks on other devices. Audible books can only be played on officially licensed devices due to copyright management protection. To lift this restriction, we have found the ultimate way to convert Audible audiobooks to common formats for offline playback anytime.
You can rely on the professional AudFree Audible Converter to convert Audible to many popular audio formats such as MP3, AAC, WAV and more. The converted Audible books have no loss of audio quality and ID3 tags. Afterwards, you can keep the original Audible books on your computer locally. In turn, it couldn't be easier to transfer Audible books to any desired device and player for smooth playback.
AudFree Audible Converter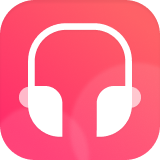 Convert Audible audiobooks to MP3, FLAC, M4A, AAC
Split Audible audiobooks into segments by time or chapter
Back up Audible books for offline playback on any device
Keep Audible with lossless audio quality and ID3 tags
How to Play Audible Books on Other Devices
Step 1

Add Audible Books to AudFree Auditor

Launch AudFree Audible Converter, click the first "Add Files" icon to select the target Audible audiobooks. You can also drag and drop Audible files to the main interface of AudFree Auditor directly.
Step 2

Set Audible Audio Output Format

Just click the Format button on the bottom left and it will bring up a format window. Here, you can set the Audible output format to MP3. And you can adjust channel, codec, bitrate, etc. for better Audible output quality.
Step 3

Edit Audible Audiobooks

Click the Edit icon to the right of each Audible track, and you can split large audiobooks by chapters or duration. It also allows you to change ID3 tags including title, album, artist, etc. To change the pitch, speed and volume of your Audible books, click the Effect button.
Step 4

Convert and Download Audible Books

Click the Convert button on the bottom right corner to start converting Audible audiobooks to common formats. After a few minutes, click the "Converted" button to find all Audible files in the history folder. After that, you can save Audible books forever and listen to Audible offline on any devices and players.
Part 3. In Conclusion
In brief, that's the whole solutions to fix Audible book not playing sound. Each method is simple enough to get your audiobooks back on track. If you are eager to avoid any Audible problems once and for all, it is recommended that you use AudFree Audible Converter to backup your favorite Audible books forever. Hope you have a great experience listening to audiobooks on Audible.