Audible has grown to become one of the largest audiobook services in the world with an extensive collection of over 200,000 books, including bestsellers, exclusive material, and unique series. But most of the time, Audible users usually encounter problems with Audible autoplay on iPhone, Android, and even in the car.
If you're looking for information on how to stop Audible from playing automatically, this article is for you. We will discuss the possible causes and 6 practical solutions to prevent Audible playing automatically. Read on to find out more details to play Audible as you wish.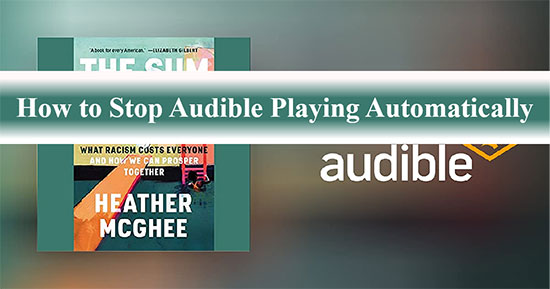 Part 1. Why Does Audible Keeps Opening on Its Own
Why does Audible start automatically? It is most likely caused by a fault in the Audible app itself. Because the settings menu allows users to manage their preferences within the Audible app, incorrect settings may also cause Audible to play automatically. Alternatively, once the Bluetooth headset is paired with the phone, the Audible app will automatically launch to play audiobook.
Part 2. How to Stop Audible Playing Automatically on Android/iPhone
How do I stop Audible from opening automatically? As for solving the Audible autoplay issue coming on mobile devices, you need to troubleshoot if there is a problem with the Audible app itself first. You can try a few simple solutions regarding Audible app aspect.
1. Restart your iOS/Android phone.
2. Force stop the Audible app, then restart it.
3. Uninstall and reinstall the Audible app to the latest version.
4. Update your Android/iOS system.
If the Audible application does not have any errors, then you need to fix the incorrect settings to stop Audible playing automatically Android. Please refer to the following two workarounds.
Solution 1. Turn Off Seamless Multipart Play
Once you have enabled the Seamless Multipart Play feature in Audible, it will automatically start playing the next downloaded clip of the multipart audiobook. In order to prevent Audible from playing automatically, you need to disable this feature.
Step 1. Open the Audible app on your Android or iPhone.
Step 2. Click the "Profile" icon at the bottom right.
Step 3. Tap the "Gear" at the top right to enter the "Settings" window.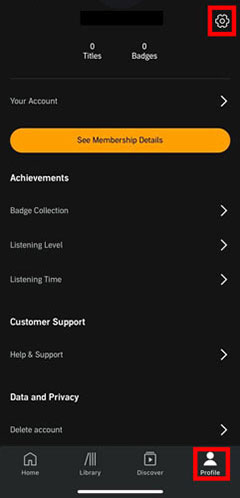 Step 4. Find Seamless Multipart Play and switch the button next to it to gray to turn it off.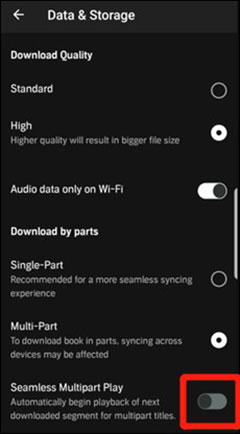 Solution 2. Disable Automatically Resume Media
Sometimes, audio from other applications can interrupt the audio book being played in the Audible application. Audiobooks cannot start automatically, but the Auto Resume Media feature will resume playback. In order to stop Audible playing automatically, you need to turn off this setting as follows.
Step 1. Launch the Audible application and navigate to "Settings".
Step 2. Scroll down and select the Headset & Lockscreen Settings section.
Step 3. Turn off the Resume playback feature, i.e. don't check the box next to it.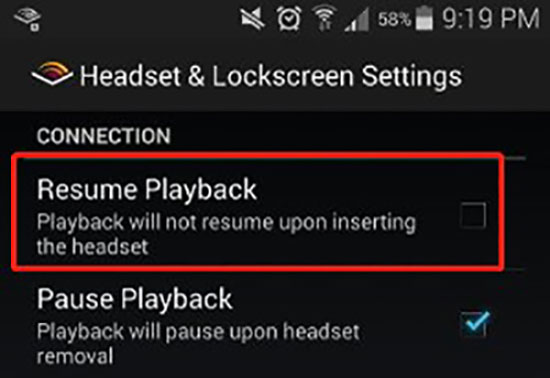 Part 3. How to Stop Audible from Playing Automatically in Car
Audible autoplay is also a drawback in your car as this happens often to many users. Imagine getting into your car and turning on the ignition, it suddenly starts playing Audible books automatically, which is usually annoying. Here are some strategies to stop Audible autoplay in car.
Solution 1. Turn Off CarPlay
If you turn on the CarPlay feature, Audible may automatically play the audiobook without turning it on. You can turn off CarPlay to prevent Audible playing automatically in your vehicle. Here's how to do it.
Step 1. Open the Settings app on your iPhone.
Step 2. Tap Screen Time > Content & Privacy Restrictions.
Step 3. Scroll down to select the Allowed Apps.
Step 4. Toggle the button next to CarPlay to gray to turn it off.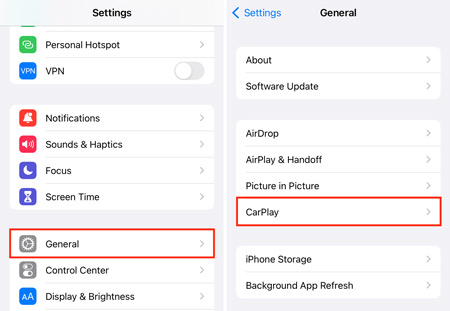 Solution 2. Disable CarPlay While Locked
When you first allow the CarPlay system to connect to your iPhone, CarPlay will gain permanent access to your device, even when your device is locked. Therefore, you need to disable the "Allow CarPlay when locked" switch to stop Audible autoplay.
Step 1. On your iPhone, open Settings > General > CarPlay.
Step 2. Tap the name of your car or infotainment system in the My Car section.
Step 3. Turn off "Allow CarPlay While locked".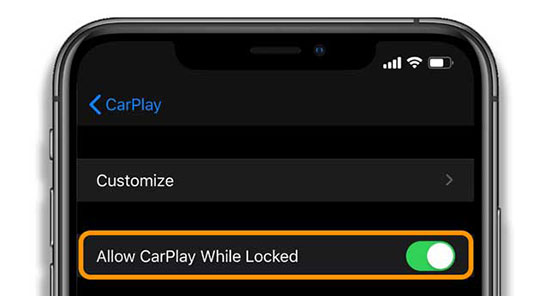 Solution 3. Turn Off Autoplay in the Car
The AutoPlay feature is convenient for accessing navigation or audio controls while driving, but it will likely cause Audible playing automatically. Disabling this feature is simple, you just need to check the settings of your car's infotainment device and turn off "Infotainment system that starts playing automatically when a device is connected".
Part 4. Best Way to Control Audible Playback Freely Anywhere
If the above methods still can't stop Audible from playing automatically, you can't miss this once and for all solution to solve the Audible problem. You just need to download Audible and transfer it to another music player for offline playback without Audible app. In turn, you can listen to Audible books normally without worrying about any autoplay problem.
To backup Audible on other devices, you need to remove Audible format restriction first. At this point, AudFree Audible Converter comes into play. It can download Audible books and convert them to FLAC, WAV, AAC, etc. with the original sound quality maintained. After that, it is a simple process to transfer Audible on any device and media player. No need to use Audible app, you have complete freedom to control the playback of your favorite Audible books anytime and anywhere.
Key Features of AudFree Audible Converter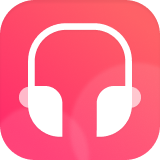 Convert Audible to MP3, FLAC, WAV, etc. locally
Play Audible book without Audible app
Transfer Audible to any device and media player for free playback
Retain original audio quality, ID3 tags and metedata for Audible
How to Control Audible Playback Freely Anywhere
Step 1. Launch AudFree Audible Converter on your computer. Load the Audible library and select the audiobooks you want to download from it. Click the second Add button in the bottom left corner of the converter to add Audible files.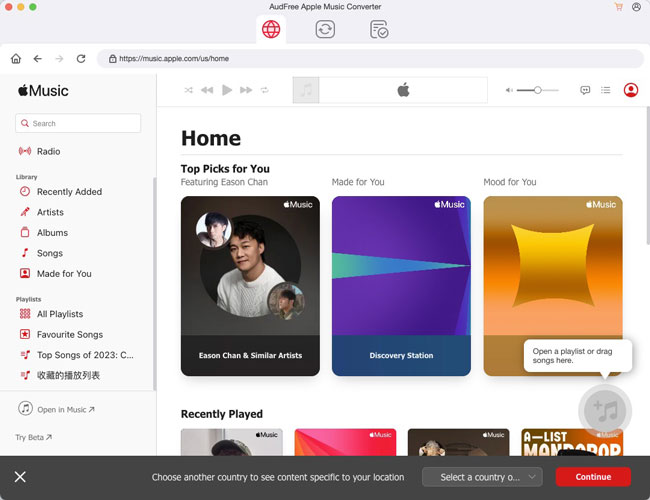 Step 2. Click the "Format" button in the lower right corner and select Audible output format. If you don't have an idea, you can select MP3 so that Audible will play on any media player. Also, adjust the codec, channel, bit rate, sample rate, etc. to suit your needs.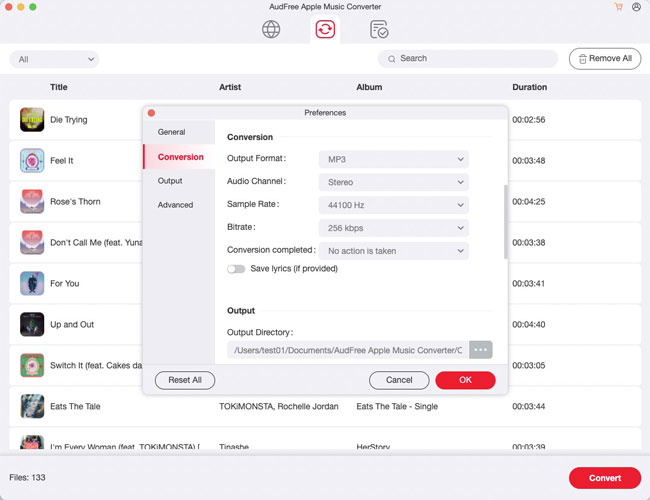 Step 3. Click the Convert button at the bottom right corner to start downloading and converting Audible to MP3. After the conversion is done, click the Converted button to view all Audible books locally on your computer. Then you can transfer them to any device and player for free playback without any problem.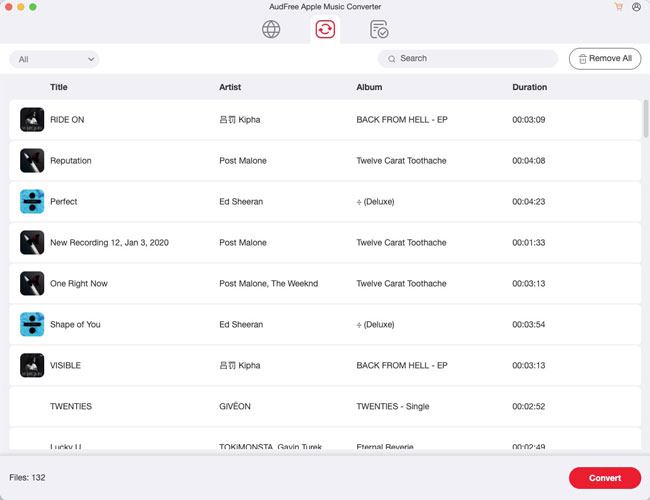 Part 5. Conclusion
You can try the above solutions one by one to stop Audible from playing automatically on your phone and car. If you want to save time and effort, you can just download unprotected Audible books locally with AudFree Audible Converter. In turn, you can enjoy an extremely free Audible listening tour on your favorite device.