Whether it's day or night, Samsung Galaxy Watch is a great help to people's lives. This smartwatch covers multiple models. It includes Galaxy Watch 3, Galaxy Watch 4, Samsung Galaxy Watch 5/5 Pro, Galaxy Gear S3, Galaxy Watch Active 2, and also newly released Galaxy Watch 6. It reflects people's health condition, acts as a phone and GPS tool, tracks six activities while you exercise, and so forth.
It also streams music online so that you don't have to carry your phone with you when jogging. Whereas someone may like to listen to Audible audiobooks besides music while sleeping or running. So how to play Audible on Galaxy Watch? You'll find the detailed answer in this post.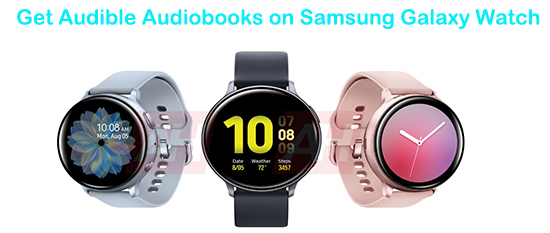 Part 1. Can You Use Audible on Galaxy Watch
Here is some good news: Recently, Audible announced a compatible Wear OS app for the Samsung Galaxy Watch 4, 5, & 6 series as well as the Google Pixel Watch. That means Audible users can install an Audible app for Galaxy Watch 4/5/6 from the Google Play Store on the smartwatch. This way, you can stream and download Audible audiobooks on Galaxy Watches directly with an Audible subscription.
Now, come with us to nail down several working ways to play Audible on Galaxy Watch 4, 5, 6, and other models.
Part 2. Official Way to Play Audible on Samsung Watch 4/5/6
An Audible Wear OS app for the Samsung Galaxy Watch 4, 5, and 6 series makes it more convenient to stream and download titles from your watch directly. In this part, we will take you through the detailed steps to install the Audible app and control book playback on the Samsung Watch.
Note:
Connect Samsung Galaxy Watch to data or WiFi.
The Audible app is only available on Samsung Galaxy 4/5/6.
Update your Galaxy Watch to the latest Wear OS 4 version.
How to Install Audible App for Samsung Watch
Step 1. Launch the Google Play Store on your Samsung Watch.
Step 2. A 'New for Wear OS' section will appear once the Play Store is opened. You can see the Audible app there. If not, please search for 'Audible' from the store.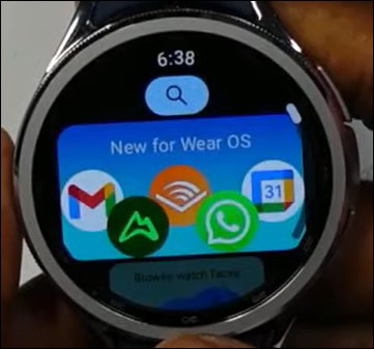 Step 3. Tap on the Audible app and then hit the 'Install' button to download and install it on your Galaxy Wearable.
How to Control Audible on Galaxy Watch
Ready to experience the freedom of listening to Audible on your smartwatch? Once completed, you can play Audible through the Galaxy Watch's built-in speaker and enable a few simple media controls below.
1) Stream & Download Audible Books: On the Audible app for Galaxy Watch, go to Library. Pick the 'Download' button on titles to get offline audiobooks while tapping on the title outside the button to listen to it.
2) Volume Control: You can click on this button to change the playback volume of your Audible audiobook.
3) Next Track: This button is used to switch to the next audio.
4) Previous Track or Restart: Tap this button when you want to go back to the previous audiobook track or restart the current track.
5) Play or Pause: This button is dedicated to starting or pausing an Audible book that is playing.
Extension: Play Audible Audiobooks on Galaxy Watch via Samsung Internet Browser
Also, there is a way that a minority of people adopt. That is, you can access the Audible official website on Samsung Galaxy Watch via its Samsung Internet Browser. Here is a step-by-step instruction that enables you to refer to more details.
Step 1. Go to the Play Store on your Galaxy smartwatch.
Step 2. Search and install the Samsung Internet Browser app from the Play Store.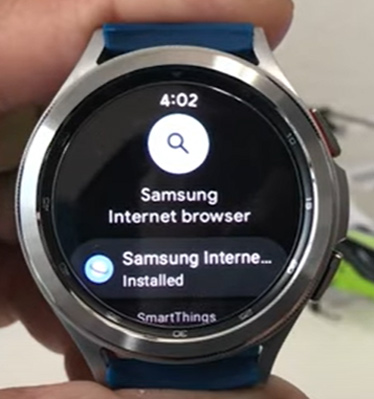 Step 3. Launch the Samsung Internet app, and then visit the Audible official website.
Step 4. Log in with your Audible account credentials and listen to audiobooks from it.
Note: It is not smooth to play audiobooks from the Audible web page on Galaxy Wearable.
Part 3. Advanced Way to Use Audible for Galaxy Watch 3/4/5/6/Active 2
As we have described, the Audible app is only available for Samsung Galaxy Watch 4/5/6 with requirements for Audible memberships. And with the Audible official website, you cannot enjoy a smooth process and may encounter some unknown bugs. To listen to audiobooks from Audible on Samsung Wearable 3, Active 2, Gear S series, and any other models, you need to convert Audible books to unprotected files with a third-party tool.
Fortunately, we offer you a powerful tool to solve the above dilemma, namely the AudFree Audible Converter. It is specially designed to convert Audible-protected files to MP3, M4A, M4B, WAV, FLAC, etc. with zero quality loss. You can even use it to convert audio from Apple Music and iTunes or common audio to various formats for offline listening forever.
| | |
| --- | --- |
| Galaxy Watch-supported Audio Formats | MP3, M4A, OGA, WAV, WMA, 3GA, AAC, OGG, AMR and AWB |
| Format that Audible Use | Specific protected AA or AAX |
| AudFree Audible Convert-support Formats | MP3, M4A, WAV, AAC, FLAC, M4B |
Moreover, it allows you to edit ID3 tags and split Audible audiobooks by chapter or time. Then you don't have to wait a long time to put the converted Audible books as it works at 30X faster speed. Afterward, you can play the converted Audible Audiobooks on Galaxy Watch and other devices at any time.
AudFree Audible Converter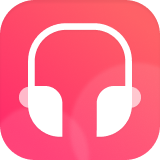 Convert Audiobooks to MP3, AAC, etc. for Samsung Galaxy Watch
Split Audible audiobooks by chapters as you like
Work at 30X faster speed without quality loss
Play Audible on Galaxy Watch, Garmin Watch
How to Download Audible Books for Samsung Galaxy Watch
Now, follow the steps below to you can upload them to your Samsung Galaxy Watch for offline listening. Please download the audiobooks you intend to play on your Samsung Wear OS with your current Audible account in advance. Then transfer audiobooks to iTunes.
Step 1. Launch the AudFree Audible Book Converter. Next, drag downloaded or purchased AA/AAX Audible books from the iTunes library to the conversion window. Or click the first 'Load iTunes Library' button from the bottom left corner to upload one or more Audible books. You can try to hover over a track and click on the 'Edit' icon on the right. This way, you can choose to split Audible audiobooks by chapters, edit ID3 tags, and fix time intervals of audiobooks.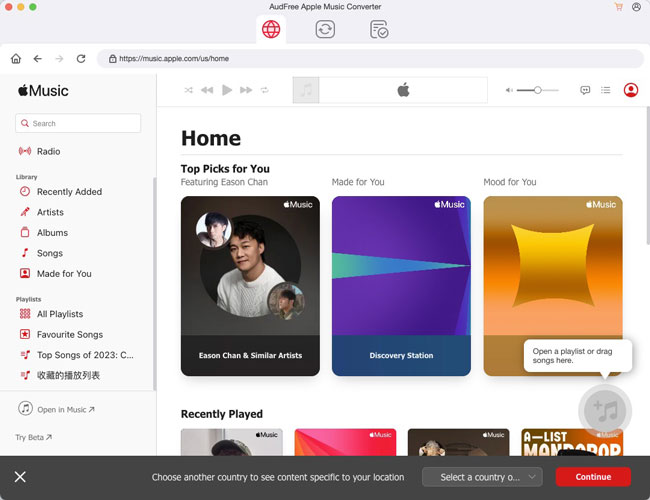 Step 2. Click on the lower-right 'Format' button which looks like a speaker icon to personalize the output settings for added Audible books. It includes output format, codec, channel, sample rate and bit rate. There, you can opt to download Audible books to MP3 or other Samsung Galaxy Watch-supported formats.
Or, you can directly tick the bottom 'Keep lossless quality (AA, AAX)' box from the bottom of the window to keep the original sound quality. But after choosing this option, the AA Audible files will be converted automatically to MP3 while the AAX files will be converted to M4A format.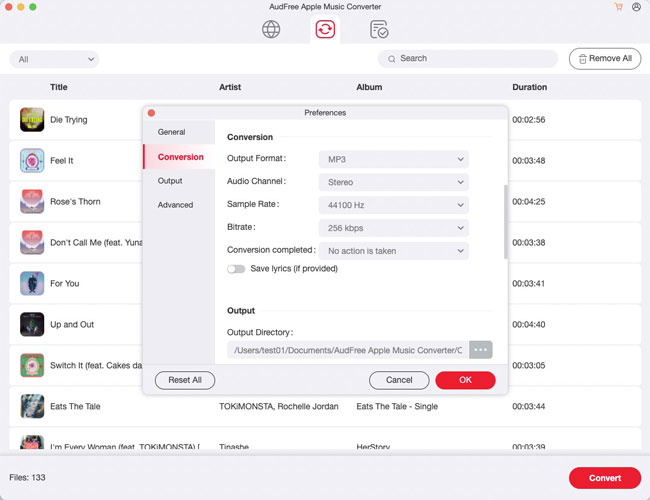 Step 3. Once done, you just need to click the lower-right 'Convert' button to start the conversion. All the Audible tracks will be converted in batches with a little time taken. Finally, you will get the transferred audiobooks in your computer's local folder.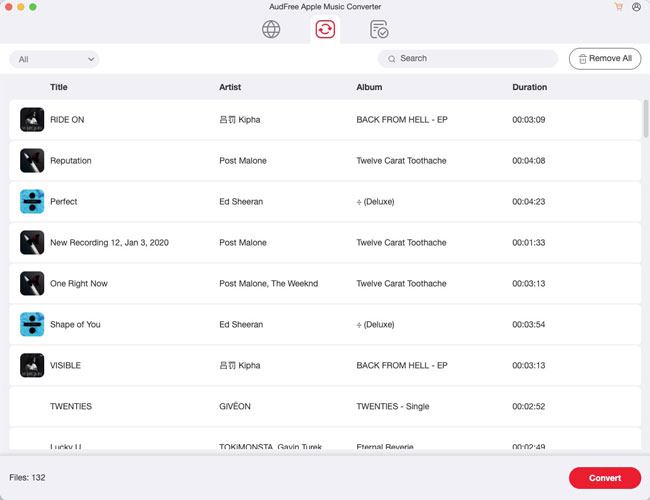 Part 4. Add and Play Audible Audiobooks on Galaxy Watch 3/4/5/6/Active 2
To add the converted Audible audiobooks to your Galaxy Watch, you can refer to the following two methods respectively for Android and iOS devices. We will take the Galaxy Watch 4 for example.
Method 1. Via Galaxy Wearable App [On Android]
Step 1. Connect your Android phone to your computer using USB and transfer the converted audiobook file from your computer to your phone.
Step 2. Open the Galaxy Wearable App on your mobile device and click on 'Watch Settings' > 'Manage Content' or 'Add content to your watch'.
Step 3. Tap 'Add tracks' and pick the Audible files you want to add to your Galaxy Wear OS. You can touch on the upper-left 'All' option.
Step 4. Hit on the 'Done' icon and pair Galaxy Buds with your watch.
Step 5. Now, the audiobook file will be successfully sent to your watch. You can visit the 'Music' app on your watch and enjoy Audible on Galaxy Watch 4 smoothly.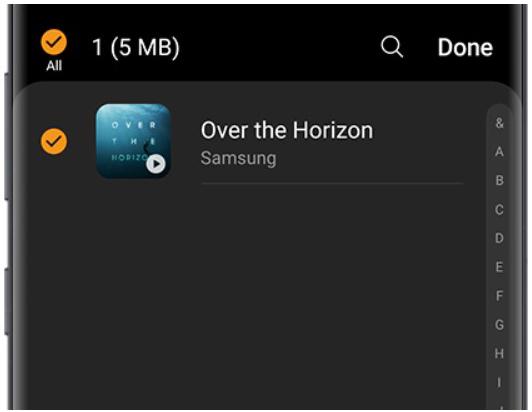 Method 2. Via Gear Music Manager [On iOS]
Make sure your iOS version is iOS 12 or higher. After that, you can use Gear Music Manager to transfer Audible files to your Galaxy Watch from the computer directly.
Step 1. Make sure your computer and Galaxy Watch are connected to the same Wi-Fi network.
Step 2. Proceed to press the 'Power key' (also called Home key) on your smartwatch. Then launch the 'Music' app on your watch and tap the 'Phone' button, switch the music source to your watch.
Step 3. Reach the 'Now Playing' screen, and click on the 'Music Manager' icon in your library. Next, select 'Start' on your watch.
Step 4. Open a web browser on your computer and go to the IP address displayed on your watch.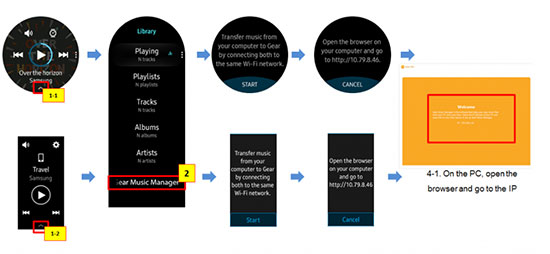 Step 5. Confirm your computer's connection to your watch and then you can manage your watch's music library on the web.
Step 6. Tap the Add New Tracks option and select the audiobook you intend to add to your Galaxy watch, then tap the Open button.
Step 7. Once done, tap OK on the browser and select DISCONNECT on the watch. Then you can start playing Audible books on Samsung Galaxy Watch with ease.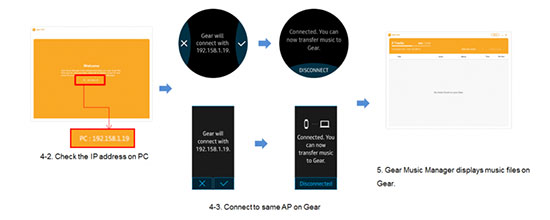 Part 5. FAQs about Audible Galaxy Watch Integration
Q1: What Is the Best Smartwatch for Audiobooks from Audible?
Samsung Watch and Google Pixel Watch are the 2 best smartwatches to stream Audible books. Because Audible now has a Wear OS app for Samsung Watch 4/5/6 and also Google Pixel Watch 1 & 2.
Q2: How to Delete Audible Books from Samsung Galaxy Watch?
Generally speaking, an Audible book can be so large that it takes up a lot of storage space on your Galaxy watch. It is necessary to delete the finished audiobooks to free up some space for new files. Now, follow the steps below to delete unnecessary audiobooks or music on your Samsung Galaxy Watch.
Delete Audiobooks Downloaded from the Official Way:
Step 1. Go to Audible's Library > Manage Library > Manage Downloads
Step 2. Tap on the 'Delete' tab next to the title. Or choose 'Remove Downloads' to delete audiobooks from Galaxy Wearable but keep them in the Audible Library.
Delete Audiobooks Downloaded from the Advanced Way:
Step 1. Launch the Music Player app on your Galaxy Watch.
Step 2. Scroll down and select the 'Tracks' icon.
Step 3. Find the track or audiobook you need to delete, tap and hold it.
Step 4. Tap the 'Delete' icon and select the 'Tick' button to confirm the deletion action.
Q3: Does Samsung Galaxy Watch Have Audible?
Yes. Samsung Watch 4, 5, and 6 series now comes with an Audible Wear OS app.
Part 6. In Conclusion
After reading this post, you have known an official way and an advanced way to use Audible on Galaxy Watch. Compared the official way, you will find that AudFree Audible Converter can also satify all your needs. It can get lossless Audible audiobooks working with Samsung Galaxy Watch very well. Also, you can also transfer these converted Audible books to any smartwatch, smart TV and devices without any restrictions. Just control Audible from Galaxy Watch now for endless enjoyment!