Whether it's day or night, Samsung Galaxy Watch is a great help to people's lives. It reflects people's health condition, acts as a phone and GPS tool, tracks six activities while you exercise and so forth. It also streams music online so that you don't have to carry your phone with you when jogging. Whereas someone may like to listen to Audible audiobooks besides music. So how to play Audible on Galaxy Watch? You'll find the detailed answer in this post.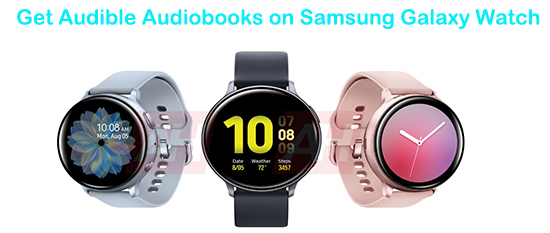 Part 1. Play Audible on Galaxy Watch - Tool Required
Actually, there is no Audible app for Samsung Galaxy Watch. In addition, the downloaded Audible books are encoded in special AA/AAX format that can only be used within the Audible app. In this case, you cannot access and recognize Audible audiobooks on Samsung Watch directly because of the format incompatibility.
Fortunately, we offer you a powerful tool to solve the above dilemma, namely AudFree Audible Converter. It is specially designed to convert Audible AA/AAX to MP3, M4A, M4B, WAV, FLAC, etc. with zero quality loss. Moreover, it allows you to edit ID3 tags and split Audible audiobooks by chapter or time. Then you don't have to wait a long time to put the converted Audible books on Galaxy Watch as it works at 30X faster speed.
AudFree Audible Converter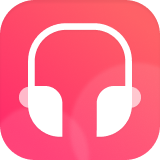 How to Download Audible Books for Samsung Galaxy Watch
Now, follow the steps below to download Audible books so you can upload them to your Samsung Galaxy Watch for offline listening.
Step 1. Launch the AudFree Audible Book Converter. Next, make your choice on which audiobooks you intend to convert and drag them to the conversion window. Or click the second Add button at the bottom to upload one or more Audible books.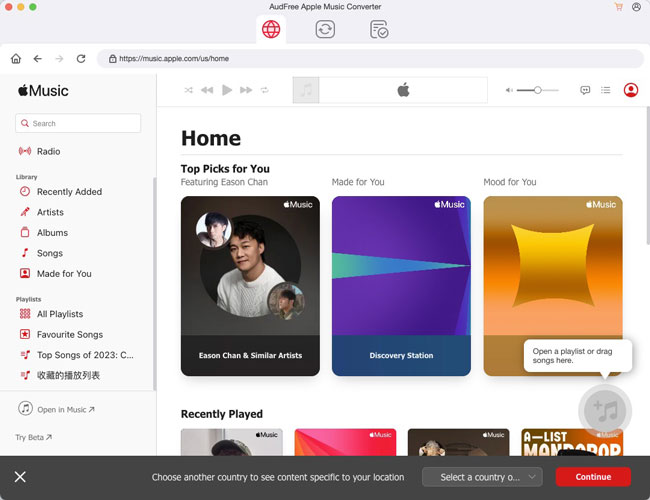 Step 2. Click on the Format button to personalize the relevant settings, including output format, codec, channel, sample rate and bit rate. Hover over a track and click on the 'Edit' icon on the right, you can choose to split Audible by chapter and edit ID3 tags such as title, album, artist, composer, etc.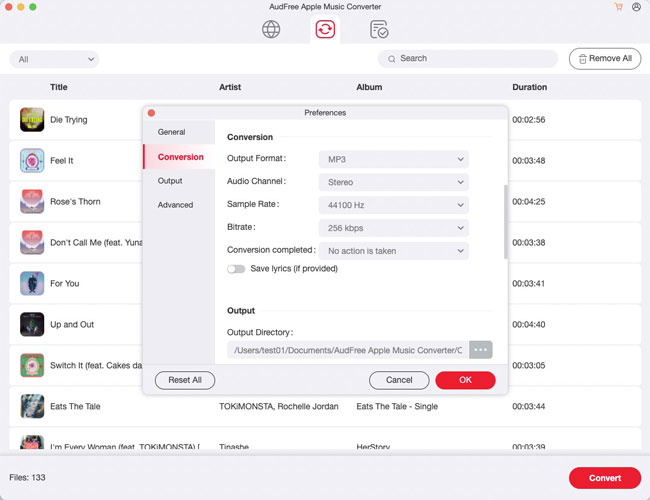 Step 3. Having done the above, you just need to click the 'Convert' button to start the conversion. All the Audible tracks will be converted all together with a little time taken. Finally, you will get the transferred audiobooks on your computer's local folder.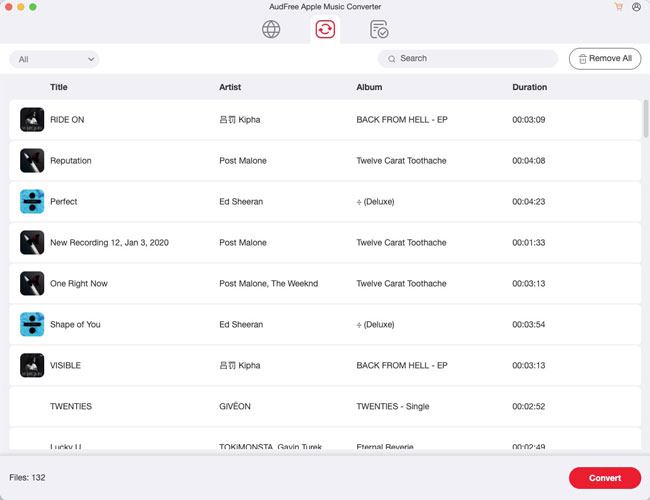 Part 2. How to Upload and Stream Audible for Galaxy Watch
As for uploading the converted Audible audiobooks to your Galaxy Watch, you can refer to the following two methods to play Audible on Samsung Galaxy Watch 4 for Android and iOS devices.
Method 1. Use Audible on Galaxy Watch with USB on Android
Step 1. Connect your Android phone to your computer using USB and transfer the converted audiobook file to your phone.
Step 2. Open your Samsung Galaxy Watch and click on 'Galaxy Wearable' > 'Add content to your watch'.
Step 3. Tap 'Add tracks' and select the Audible file you want to add to your Galaxy Watch.
Step 4. Hit on the 'Done' icon and pair Galaxy Buds with your watch.
Step 5. Now, the audiobook file will be successfully sent to your watch. You can enjoy Audible on Galaxy Watch 4 smoothly.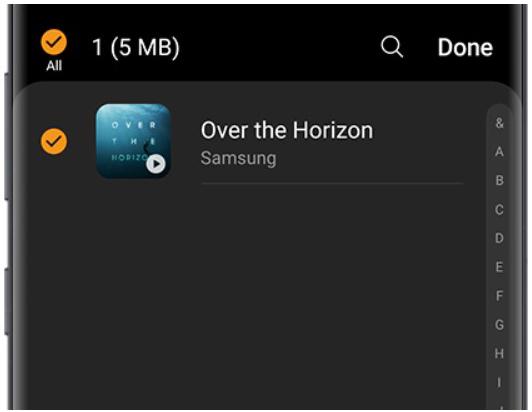 Method 2. Export Audible with Gear Music Manager on iOS
Make sure your iOS version is iOS 12 or higher, after which you can use Gear Music Manager to transfer Audible files to your Galaxy Watch from the computer directly.
Step 1. Make sure your computer and Galaxy Watch are connected to the same Wi-Fi network.
Step 2. Launch the 'Music' app on your watch and tap the 'Phone' button, switch the music source to your watch.
Step 3. Reach the 'Now Playing' screen, click on the 'Music Manager' icon in your library and select 'Start' on your watch.
Step 4. Open a web browser on your computer and go to the IP address on your watch directly.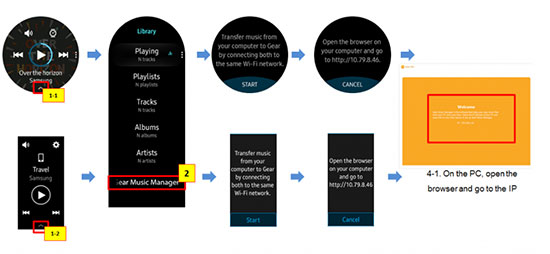 Step 5. Confirm your computer's connection to your watch and then you can manage your watch's music library on the web.
Step 6. Tap the Add New Tracks option and select the audiobook you intend to add to your Galaxy watch, then tap the Open button.
Step 7. Once done, tap OK on the browser and select DISCONNECT on the watch. Then you can start playing Audible books on Samsung Galaxy Watch with ease.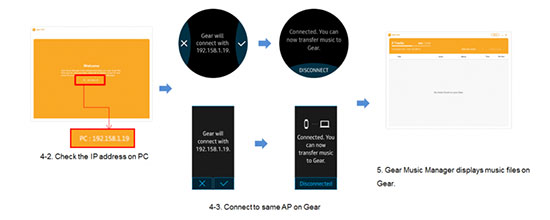 Part 3. More about Audible on Galaxy Watch
How to Control Audible Playback from Galaxy Watch
Ready to experience the freedom of listening to Audible on your smartwatch? Once you've completed the above process, you can play Audible through the Galaxy Watch's built-in speaker and enable a few simple media controls below.
Volume Control: You can click on this button to change the playback volume of your Audible audiobook.
Next Track: This button is used to switch to the next audio.
Previous Track or Restart: Tap this button when you want to go back to the previous audiobook track or restart the current track.
Play or Pause: This button is dedicated to starting or pausing an Audible book that is playing.
How to Delete Audible Books from Samsung Galaxy Watch
Generally speaking, an Audible book can be so large that it takes up a lot of storage space on your Galaxy watch. It is necessary to delete the finished audiobooks to free up some space for new files. Now, follow the steps below to delete unnecessary audiobook or music on Samsung Galaxy Watch.
Step 1. Launch the Music Player app on your Galaxy Watch.
Step 2. Scroll down and select the "Tracks" icon.
Step 3. Find the track or audiobook you need to delete, tap and hold it.
Step 4. Tap the "Delete" icon and select the "Tick" button to confirm the deletion action.
Part 4. In Conclusion
After reading the above, you will find that AudFree Audible Converter can help you get lossless Audible audiobooks compatible with Samsung Galaxy Watch very well. What's more, you can also transfer these converted Audible books to any smartwatch, smart TV and devices without any restrictions. Just control Audible from Galaxy Watch now for endless enjoyment.