Q: Is there any way to make it possible of listening to Audible on Garmin Watch, no matter for Garmin Fenix, Forerunner, or Vivoactive? I took it for granted that I could easily get Garmin Audible connected, but surprisingly there is no Audible app for Garmin Watch, which left me a little overwhelmed.
In reality, Garmin Watches have a built-in player allowing users to enjoy audiobooks and music. However, there are still some necessary things you need to do while playing Audible on Garmin. Here, this article will share effective ways to make Garmin Audible work well for your reference so that you can put Audible books on Garmin Watch with ease.

Part 1. How to Listen to Audible on Garmin Watch - Tool Required
First and foremost, as mentioned above, Garmin Watches come with a built-in music player that supports several common audio formats such as MP3, M4A, M4B, AAC, WAV, etc., whereas Audible audiobooks are encoded in AA and AAX audio formats. In this case, AA/AAX Audible books and Garmin Watches are not compatible. Therefore, to make Garmin Audible integration, you urgently need the help of a professional Audible converter.
After searching and comparing the various Audible converters on the market, we handpicked the powerful AudFree Audible Book Converter, which is at the top of the list. In fact, it has the ability to download and Audible AA/AAX to MP3, WAV, M4A, M4B and other formats supported by Garmin Watch. As a result, you can add Audible books to all your Garmin Watches for offline playback.
What's more, this powerful tool maintains lossless quality while getting Audible downloads on your computer. With the excellent built-in editor, you are allowed to customize the ID3 tags of the output Audible books, including title, cover, artist, genre and more. It is worth mentioning that you can split large audiobooks into smaller sections by chapter or fixed time periods in an ideal way. Thus, with the aid of this comprehensive converter, Audible Garmin becomes the perfect reality.
AudFree Audible to Garmin Converter
How to Download and Convert Audible for Garmin Watch
Step 1

Add Audible Books to AudFree Auditior

Hit on the first 'Add Files' button from the bottom-left corner of the AudFree Auditior's main interface. It will pop up a window, in which you can select audiobooks from iTunes library. And then, selected Audible files will be loaded to the main interface automatically. Besides, you can directly drag and drop Audible files from your computer to AudFree Auditior.
Step 2

Define Audible Output Parameters for Garmin Watch

Please click the Format icon to customize basic audio parameters according to Garmin's requirements. It's able to change the output format, bit rate, sample rate, audio codec, channel for better playback. If you'd like to keep or split audiobooks by chapters, you'd better choose M4A as the output format.
Step 3

Convert Audible Books for Garmin Watch

Now, you can tap the 'Convert' button to convert added Audible files for Garmin Watch. All AA/AAX audiobooks will be converted to common audio files so that it's able to download Audible books to Garmin without limit. In general, the conversion time depends on how many audiobooks you have added.
Part 2. How to Listen to Audible on Garmin Watch
Now that you've got the Audible files for the Garmin Venu, Forerunner, Fenix, Vivoactive and all other Garmin Watches, it's time to listen to Audible books on Garmin Watch via SD card or Garmin Express.
How to Play Audible on Garmin Watch via SD Card
Actually, Garmin supports lots of SD cards, from 4GB to 16GB with SD Adapter, so it couldn't be easier to save Audible books to SD card and then connect Audible to Garmin Watch from SD card.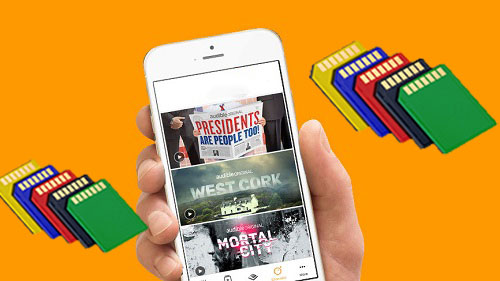 Step 1. Connect the SD card to your computer via the SD card reader.
Step 2. Click on the "File" icon on your computer to find the Audible book in the target folder, copy and move the file to a new folder on your SD card.
Step 3. Once you have moved Audible book to SD card, insert the SD card into your Garmin Watch and you will be able to sync Audible for Garmin Watch without any problems.
How to Connect Audible to Garmin Watch via Garmin Express
To tell you the truth, the converted Audible books also work with the Garmin Express app, then you can transfer audiobooks to Garmin Express and play them well on Garmin. Here, we will take Forerunner 645 Music as an example to show you how to listen to Audible on Garmin Watch via the Express app.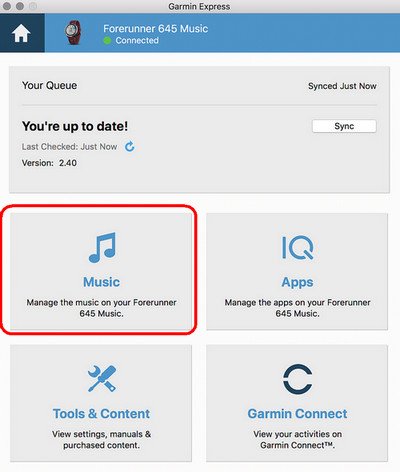 Step 1. Install and launch the Garmin Express app on your computer running Mac or Windows operating system.
Step 2. Please connect your Garmin Forerunner Music device to your computer via USB cable.
Step 3. Once paired well, the Garmin Express app will detect the Forerunner Music watch automatically.
Step 4. Please click the 'Music' on Windows computer. Please click 'iTunes' on Mac. Browse your local audio folder and locate the common Audible audiobook folder.
Step 5. When found out, please check the mark in the front of audio files. Please select 'Send to Devices' to import Audible books to a Garmin Forerunner 645 Music. And then you can listen to Audible on Garmin as you like.
Tips: For other Garmin Watches, such as Venu, Fenix 6, Forerunner 945 and Vivoactive 4 watches, the above steps also apply to them.
Part 3. How to Use Audible on Garmin Watch via Audible Manager
Although the Audible software is not available on Garmin Watch, with the Audible Manager Garmin tool, you can load Audible audiobooks onto your Garmin device or any other player as often as you like. Without further ado, let's see how to do it in the guide below.

Step 1. Navigate to the official Audible website, download and install the Audible Manager application on your computer.
Step 2. Connect your Garmin Watch to your computer via the USB cable and launch the Audible Manager app.
Step 3. Click on the Device > Add New Device option and select your Garmin device in the pop-up window to add your Garmin Watch to Audible Manager software.
Step 4. Click the OK button, after that go to your Garmin Watch and click the Activate button, then just log into your Audible account.
Step 5. Now you can transfer your Audible books to Garmin Watch. Simply select the Audible book you like and click the Add to device button. Wait a moment and you'll be able to play Audible books on Garmin Watch smoothly.
Part 4. FAQs about Garmin Audible
Q: Is the Audible Compatible with the Garmin?
A: In fact, when you search the 'what devices are compatible with Audible' online, you will be disappointed to discover that Garmin devices are not on the shortlist. Just take a look at the list of Audible-enabled devices listed below.
Q: Can You Listen to Audible on Garmin?
A: If you're a premium user of Audible, you'd better try Audible Manager to transfer Audible book you've purchased to Garmin and other devices where Audible app cannot be installed, in turn, you can play Audible on Garmin whenever you want.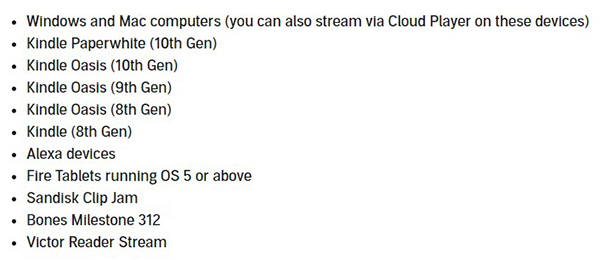 Q: Can I Download Audible Books to Garmin?
A: As long as you use the AudFree Audible Book Converter properly, you can remove the Audible Book's restrictions and download them as local files. After that, it's convenient to sync Audible to Garmin without hassle.
Part 5. In Conclusion
Although Garmin Audible app is not available, there are still valid alternatives to listening to Audible on Garmin Watch as described above. To be fair, thanks to the AudFree Audible Converter you can play Audible on not only your Garmin Watch but also all other portable watches. Take action to make the Audible Garmin work perfectly.