Since Audible gives a 30-day free trial for each account, many customers apply for several Audible accounts to get free Audible credits for playing audiobooks. Also, Audible users may prefer to share loved books with their friends. Thus, the demand for solutions on how to transfer Audible Books to another account comes out amid such situations.
This post introduces 5 methods to transfer Audible Books to another Audible account. Besides, a feature-rich Audible converter will be presented for you to download audiobooks from Audible.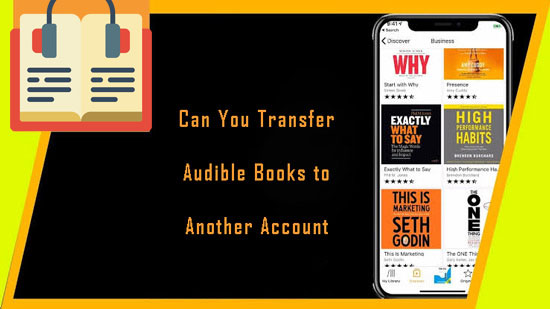 Part 1. Can You Transfer Audible Books to Another Account
The answer is yes. With a third-party platform such as Amazon Household, you can move your audiobooks from one Audible account to another one. Yet, the premise is that both accounts need to work with an Audible subscription. Otherwise, you will fail to access Audible library with those accounts. This way, you can share Audible audiobooks with family and friends.
Part 2. Transfer Audible Books to Another Account via Amazon Household
The straightest way to transfer books among Audible accounts is Family Library Sharing, which is a feature on Amazon Household. With an Amazon Family Library plan, you can access the audible library owned by other people who are included in this Family plan. If you don't know how to make it, please refer to the following step-by-step instructions.
Step 1. Go to the website of Amazon Household.
Step 2. Log in with your Amazon account credentials and choose from the 'Add Adult', 'Add Teen', and 'Add a Child' options.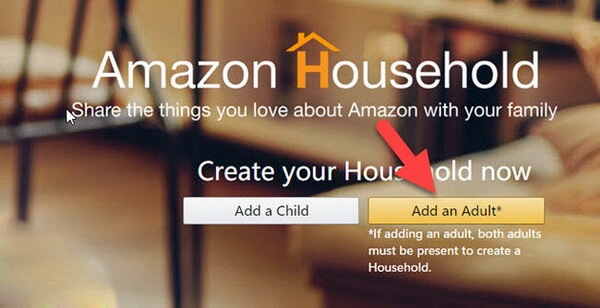 Step 3. On the new web page, enter the name and email address of the people you want to transfer Audible Books. Then tap on the 'Continue' button.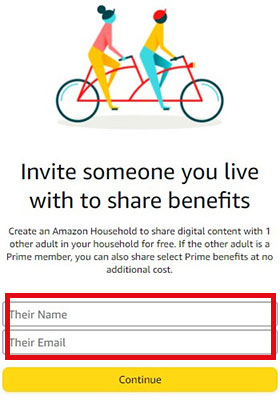 Step 4. Proceed to click on 'Agree and continue'. Please pick what items you want to transfer to another Audible account.
Step 5. Then touch on the 'Send Invite' button. The recipient needs to accept this invite within 14 days. Once accepted, you can get access and get to the digital content owned by another in-plan account.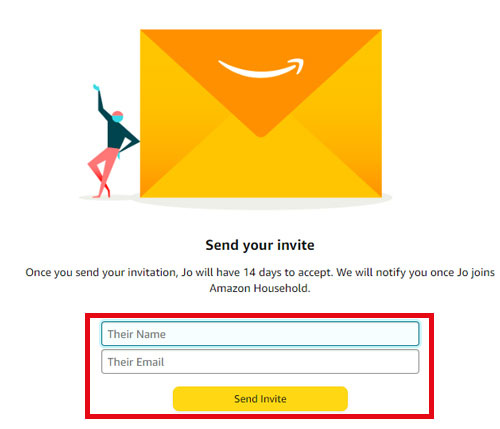 💡 Note: To transfer Audible digital content between two accounts via the Family Library Sharing feature, please take the below works done in advance.
1) The titles that are covered in the Audible Plus plan cannot be transferred to the Amazon Household.
2) All people included in the Family Plan should have their own Audible accounts and content.
3) The joined members should be in the same country or region.
4) The Family Plan members will be limited to 2 adults, 4 teens, and 4 children, among which teens cannot access the shared Audible content.
Part 3. Move Audible Books to Another Account via Merging Audible Accounts
Thanks to Amazon's Customer support service, we have the opportunity to combine two Audible accounts into one. The staff will check if those Audible accounts have the eligibility to merge. This way, their Audible benefits will be included in the combined account. If you have no idea about how to merge Audible accounts, please look into the how-to guide below:
Step 1. Navigate to this website to contact Amazon's customer support service.
Step 2. You can enter your demands of merging accounts into the search bar and find posted answers from Amazon's help library.
Step 3. If you fail to find the relevant answer, please click on 'Digital Services and Device Support' at the top.
Step 4. You will be taken to a new web page. Scroll down to the bottom and tap on 'Contact Us' under the 'Start a Chat Now' section to kick off a conversation with Amazon's staff.
💡 Note: Before contacting, please ensure that you meet the following requirements.
1) The two Audible accounts are in the same country or region.
2) Please contact Amazon support instead of Audible.
Part 4. Transfer Audible Books from One Account to Another via Send This Book
Resemble a music app, Audible also has a sharing feature called 'Send This Book'. It allows you to send a copy of books you own in your Audible library to others via text message or email. The recipient will receive a link to download shared books and listen to them from the Audible app with their Audible account. That means this feature helps you move items between different Audible accounts. Please have a look at the details below:
Step 1. On the Audible app, click on 'My Library' from the bottom.
Step 2. Open a digital book you intend to move, and then touch on the right three dots on the title.
Step 3. From the pull-up menu. Select 'Sent This Book'.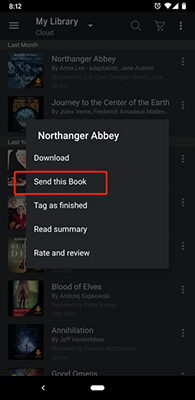 Step 4. Choose 'Mail', 'Message', or 'WhatsApp' to send your Audible books.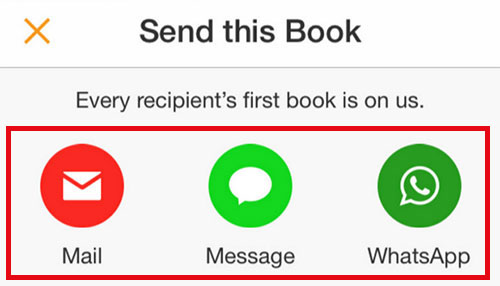 Part 5. Transfer Audible to Another Account via Gifting Books
Apart from the above workarounds, you can also opt to gift an Audible book to others via the 'Give as a gift' option. It allows you to purchase an audiobook and send it as a gift to someone else. You can choose from a wide selection of audiobooks and personalize your gift with a message. The recipient will receive an email with instructions on how to redeem the gift and access the audiobook.
Step 1. Visit audible.com or launch the Audible app. Then sign in with your Audible or Amazon account credentials.
Step 2. Find the audiobook you want to buy as a gift.
Step 3. Click on 'More options' and then 'Give as a gift'.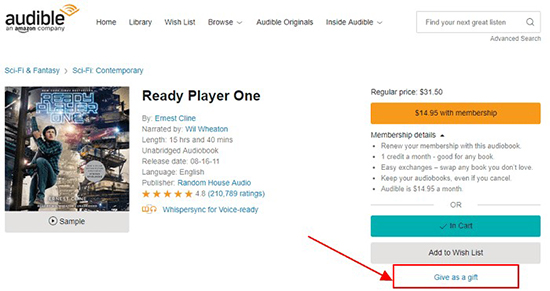 Step 4. Choose a way to gift: via email or print it out with a redemption code.
Step 5. Select a payment method: use your credit card or your Audible credits.
Step 6. 'Confirm Purchase' to complete your purchase. Once done, the recipient will receive an email with instructions on how to redeem their gift.
💡 Note: The following items cannot be applied to pay for gifts.
1) Coupons
2) Credits from a book return
3) Promotional credits and "Bonus" from various offers that are not purchased
4) Credits you get as a Gift membership
Part 6. Send Audible Books to Another Account via Credits
There is also a way that a minority of people will use. That is to transfer Audible credits to another account via gifting credits as a membership. With the membership, you can buy books from Audible. Can you transfer Audible credits to another account? Absolutely, yes. Here are specific instructions:
Step 1. Go to the 'Gift Center' from the Audible website.
Step 2. Choose one membership type you want to gift.
Step 3. Select the membership duration, such as 1, 3, 6, or 12 months.

Step 4. Add a personal note and select a delivery date for your gift.
Step 5. Type the recipient's email address and click 'Continue'.
Step 6. Review your order and click 'Buy Now for £X.XX' to complete the payment. The recipient will receive an email with instructions on how to redeem their gift membership.
Part 7. More Tips: Download and Keep Audible Books Locally Forever
All methods above require you to subscribe to Audible membership for moving books from one Audible account to another. Once you end the Audible membership of the two accounts, you cannot move and access the Audible books with those accounts.
Fortunately, AudFree Audible Audiobook Converter, an all-in-one gadget, allows you to download Audible books as permanent local files with lossless audio quality and original ID3 tags. With expert technology, it works to convert Audible AA/AAX files to MP3, AAC, FLAC, and more common formats for offline listening. With this powerful tool, you can listen to Audible audiobooks on any device at any time.
On top of that, with many extra features, it empowers you to edit the Audible conversions and the ID3 tags. For example, it enables you to split Audible conversions into small segments by chapters.
How to Download Audible Books Locally
You can install AudFree Audible Converter on both Windows and Mac computers. Please note that it is completely secure and legal to use for individuals and education. Just follow the user guide to download and convert Audible Books to MP3 or other plain output formats. Please download the books you want for offline playback with your existing Audible account in advance.
Step 1

Add Audible Books to AudFree Auditior

Please upload the downloaded audiobooks to the iTunes library beforehand. Then on the converter, tap on the first 'Load iTunes Library' button in the bottom left corner. Choose the Audible books you download or buy to add to the converter. Or drag the Audible files from the iTunes library and drop them into the converter's window. Furthermore, hover over an added item, and click on the 'Edit' icon. Then you can change the ID3 tags, split large audiobook files into small segments by chapters, etc.
Step 2

Configure Output Settings for Audible Books

Click on the first 'Format' button from the lower right corner of the Audible downloader to set the output settings. You can opt to convert the protected AA/AAX files to MP3, FLAC, AAC, WAV, M4A, and M4B. Moreover, other parameters like codecs, bitrate, sample rate, and audio channels can also be changed to make high-quality audio.
Alternatively, you can also tick the 'Keep lossless quality (AA, AAX)' option directly. This way, this tool will automatically export the Audible AA files to MP3 while the AAX will be converted to M4A with lossless quality.
Step 3

Export Audible Books Locally and Losslessly

Hit the second 'Convert' button towards the lower right corner of the AudFree software to commence the converting process. This all-around program will work at 30X speed and convert the added Audible files in bulk. By tapping on the third bottom-right 'Converted' icon, you can access the Audible conversions on your computer. Afterward, you can listen to Audible content offline.
Part 8. Verdict
All in all, 5 workable ways to transfer Audible books to another account have been displayed in this post. You can choose a suitable one according to your needs. Most importantly, you have known the sought-after AudFree Audible Converter. With it, you can keep your favorite audiobooks from Audible locally forever and listen to them on multiple devices anytime.