The internet has made a lot of things easier in both accessibility and accomplishment. Among the things, that have been made so easy to access and to enjoy is music. The internet has really impacted the access of music across all genres and timelines and made the easy and cheaper to get compared to the time we had to go across various streets and shops just to buy a vinyl which at times would have been sold out.
Music access is a piece of cake courtesy of two notable sites in Amazon music and Spotify. These sites contain a very vast catalog of music joints from various artists, genres and eras as well as being endowed with many albums. The sites are so similar to a point of begging the question, Spotify vs amazon music, which is the better music streaming service? Here we will scrutinize both to put an end to this debate.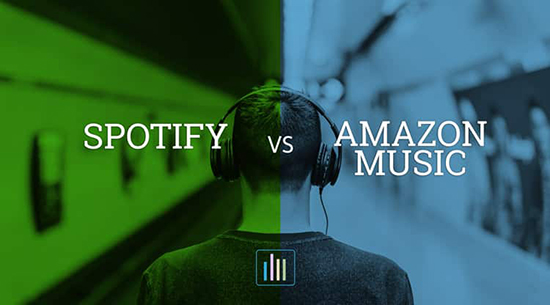 Part 1. Comparisons Between Spotify and Amazon Music
The comparisons and contrasts between these two platforms will be checked on with a fine-toothed comb on following parameters such as price, features, and availability among others.
Price
In relation to the price, we will look at it on the perspective of amazon music unlimited vs Spotify which are their respective subscription packages.
Amazon music unlimited will cost you $9.99 a month as a membership fee. For Amazon unlimited prime members, the cost is $7.99 per month or $79 a year. There also plan to introduce the family plan that will accommodate up to six individuals and will cost $14.99 a month or $149 for a year's subscription. If you own an Amazon echo device, the cost per month will be at $3.99 for a month but the membership is only restricted to a single device and cannot be transferred to other devices.
Spotify, on the other hand, has a membership that will cost you $9.99 a month for the premium subscription package with features like ad-free, shuffle play, unlimited skips and also you can play your music while offline. Also, you have vast options of tracks to play with the best audio quality that you can come across. Spotify also has a family subscription plan that costs $14.99 a month and will be available for up to five accounts. Students who signed up for Spotify services through Unidays or NUS extra are entitled to a discounted price of $4.99 a month for their membership subscription.
Both of these platforms offer a 30-day free trial period that you can only use once. That is you can try a free subscription where you will get to enjoy the services that subscribed members are entitled to. On amazon prime music vs Spotify, we can see that Spotify has an impressive package while Amazon has a more versatile package.
Music Library
Spotify premium vs Amazon Music unlimited bring us to this parameter in comparison of the two platforms. Spotify, courtesy of being around for such a long period of time, it prides itself in having among the biggest music collection in its library. It quotes its figures as standing at almost 35 million songs. This is 5 million less than what Amazon music claims which is at almost 40 million joints. However, the access to this music depends on your region and also if your device is compatible with the respective platforms.
Availability
Spotify is available in almost 65 territories with plans to extend to more. This is restrictive as there are residents of certain regions that cannot access their services at all. This, however, is a big feat if you were to compare it to its counterpart, Amazon Music which works on a few selected regions. Both have plans to expand to other territories and offer their services internationally which will be a great achievement to music lovers.
Device Compatibility
The Spotify platform is compatible with and works perfectly on Windows, Mac, Linux and Android operated systems. With this range of compatible platforms, you can access the platform using most devices as this is the major operating systems found on most devices. The platform is constantly upgraded so as to accommodate the update of operating systems.
Amazon Music, just like its counterpart is also compatible with Android, Windows, iOS, MacOS, Fire OS, and its very own Amazon Alexa. This will translate to its proper functioning with many of the devices that run on different operating systems. Make songs on Amazon Music more compatible, it's a nice choice by recording Amazon Music as MP3 offline.
Connectivity
Amazon can play on a vast range of devices with the best connection that you can wish for and will allow you to stream music nonstop as part of you enjoying their offered services. Spotify, on the other hand, comes with the deal-breaking feature in form of the Spotify Connect that enables you to connect to other audio devices and use the Spotify app as a remote control. This provides you with the best audio quality, ability to switch devices without any interruption and also saves on your device's battery.
Amazon not to be left behind in the race has Alexa on its side. Alexa enables control of your music playlist on compatible devices such as the Amazon Echo. This is a very exquisite feature that will help in maintaining a constant stream of music without interruptions even while picking a call.
Audio Quality
Going on to the feature that will draw a battle on Amazon Prime music quality vs Spotify, we are going to face a hurdle as both platforms offer very quality music with a bit rate of 320kb/s on both platforms.
Part 2. Additional Features: Spotify vs Amazon Music
Amazon Music vs Spotify 2018 debate is far from over without checking the other additional features that come with this respective music players. Among the features include:
Offline Playback
Both Spotify and Amazon music unlimited offer the offline playback feature. It is a standard feature on Amazon Music but you will need to download songs under the Spotify premium package.
Online Radio
Both platforms offer a personalized radio feature that will allow you access to a personalized radio station set according to your tastes in relation to artists and music genre.
Audfree Spotify Music Converter
The Audfree Spotify Music Converter is a software or a tool that will allow you to convert Spotify to other formats by stripping the Spotify format of its protective DRM feature. This will help in sharing your playlists to other platforms such as Amazon music.
Part 3. In Conclusion
The Amazon music vs Spotify comparison has led us to view their best shots in features and qualities in the determination of the best platform. While Amazon holds its head high in having a vast music collection, Spotify takes the price in worldwide presence. Both are superb platforms that will give you an awesome music listening experience. I would say it's a tie in determining the better of the two in this fierce battle.