To many Americans, they must have heard of Napster, or formerly known as Rhapsody before 2016. After being rebranded as Napster, this Seattle-based company focuses on delivering music streaming ever since. In August 2020, Napster is sold to MelodyVR - a VR concert company, at $70 million, and they claimed to work together to bring great innovations and a wider range of content for music lovers and creators.
What a long and winding road Napster, or Rhapsody has gone so far, but Napster still owns a certain amount of subscribers because of its great streaming music service. In this article, we are going to compare Napster to its biggest rivalry - Spotify and give a comprehensive comparison of Napster vs Spotify from many aspects.

1. Price
Price may be the first thing that most people concern about when it comes to comparing different streaming services. Napster currently offers two subscription plans, which are unRadio and Premier.
The unRadio plan costs $4.99 per month with a 14-day free trial and gives users access to high-quality and ad-free audio content, unlimited skips when playing music, and personalized radio based on user's music taste. The Premier plan costs $9.99 per month. Besides the three features of unRadio plan, the Premier includes downloading for offline playback, unlimited and on-demand access to music playback, and support with home audio devices.
Additionally, the family plan is available for the Premier subscription only. Users can invite up to 5 accounts on a family plan to discover and share music with each other.
Spotify basically offers two subscription plans, Spotify free and Spotify Premium. Spotify Free gives users access to all music in the catalog, but with advertisements between every 3 to 5 songs. Free users on mobile devices can only shuffle play Spotify music with only 6 skips in an hour. As for the individual plan for Premium at the price tag of $9.99/month, subscribers can listen to music ad-free, play on-demand, and download all content for offline listening.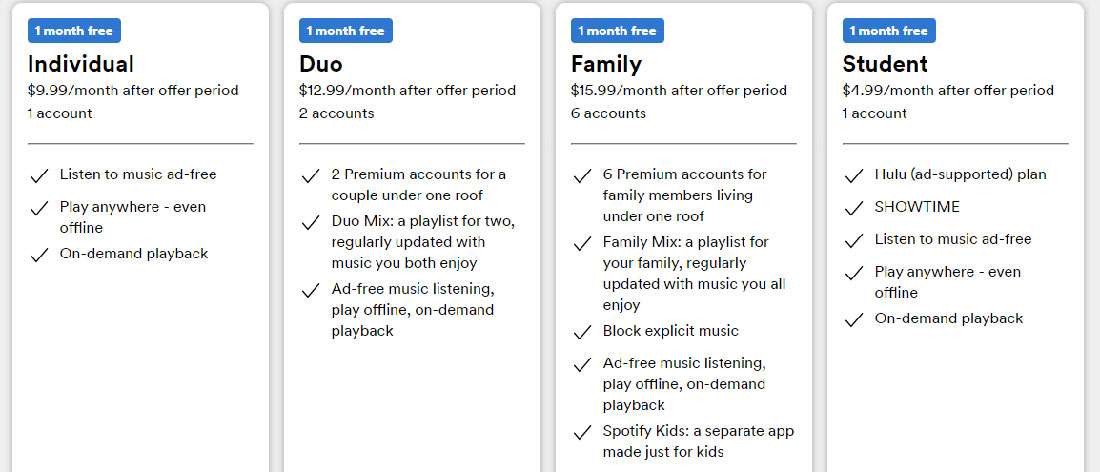 As you can see from the picture above, Spotify later developed other combinations of subscription plans to meet different groups' needs. Spotify Duo is the newest plan launched in July 2020, and contains two Spotify Premium accounts by two people living at the same address. A Spotify Family plan can accommodate 6 accounts in total at $14.99/month. If you are a college student, you can get a Spotify student discount at $4.99/month after verification.
Each Spotify subscription plan introduced above offers a one-month free trial if you are a newly registered Spotify user. If you don't have a Spotify Premium subscription yet but still like to download Spotify music and playlists for offline listening, you can borrow some help from AudFree Spotify Music Converter, which enables free Spotify users to download and enjoy ad-free Spotify music offline anywhere.
2. Audio Quality
The second aspect we are going to make on the Spotify Napster comparison is their streaming audio quality. Spotify free users can stream music on desktop, mobile, or tablet at 160kbit/s maximum. Once you upgrade to Premium, you are given the option to enjoy music high up to 320kbit/s.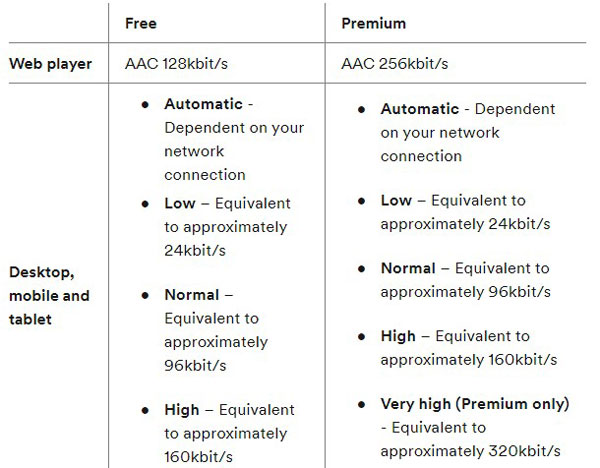 According to Napster, they try to deliver high audio quality as efficiently as possible. The Napster mobile apps have the option of streaming Good (AAC+ 64 kbit/s), Better (AAC 192 kbit/s), and Best (AAC 320 kbit/s).
3. Music Catalog
As of 2020, Spotify has over 60 million tracks in its music catalog and there is no doubt that the number is still growing, considering the fact that Spotify is the largest music streaming service in the world now. Besides music, Spotify offers numerous great podcasts, radio stations, and even audiobooks
Napster has a catalog of 40 million songs. It has worked with iHeartRadio to provide more content in a new music streaming service. Spotify is clearly winning in its large music catalog.
4. Capabilities
Napster is available for Android and iOS devices, so you can directly download the Napster app from App Store or Google Play store. With a web player, you can have Napster music from a web browser on Mac or Windows, but Napster also develops the PC App for Windows 10. One great feature of Napster is it integration with some home audio devices. Users can fill every room in their home with music by playing Napster music directly from the Sonos app, or connect to your home audio device using AirPlay or Chromecast.
Similarly, Spotify is available on Android/iOS devices and has a web player. But Spotify offers the desktop app for both Mac and Windows OS and Spotify free users can play music on demand when listening on the Spotify desktop app. Greatly subjected to market availability, users can also have Spotify on games consoles, speakers, TVs, smart watches, in the car, and on many more other devices. With Spotify Connect or Bluetooth, we can switch Spotify music between devices at ease.
5. Highlight Features
Spotify
• Spotify free users can have access to all content without having to subscribe.
• A collaborative playlist allows users to add songs to a playlist together by sharing links.
• Spotify group session enables Premium users to share control of their listening playlist or podcast simultaneously from separate places.
• The user-friendly Spotify Connect can let users switch music between devices easily.
Napster
• Napster Kids gives children a fun, safe, and easy music experience by turning them in a DJ and play the newest and most popular kids music.
• Better integration with Sonos over Spotify and multiple streams possible.
• Hundreds of excellent music channels available, ranging from Hip-hop to 60s classics.
In Conclusion: Spotify vs Napster
After reading this detailed comparison, do you have an answer in your mind of which is better now, Napster or Spotify? Though Spotify might be winning in most of the aspects, there are still people switching from Spotify to Napster. With Napster's transaction to MelodyVR, Napster is expected to deliver a better music experience.