Music streaming platforms are the second great revolution of the music industry. The first was digital music (MP3s!) that changed music stores and music formats forever, and this is the second one: the success of an artist or their albums is no more calculated through CDs sales, but streams.
For us music listeners, music streaming platforms are just heaven: one app on our smartphones and we can listen to any song we can think of. There are a lot of different platforms available: some are more popular like Spotify, some are less popular like SiriusXM but just as powerful. In this article, we'll offer a SiriusXM VS Spotify comparison: is popularity a synonym for higher quality? Let's find out.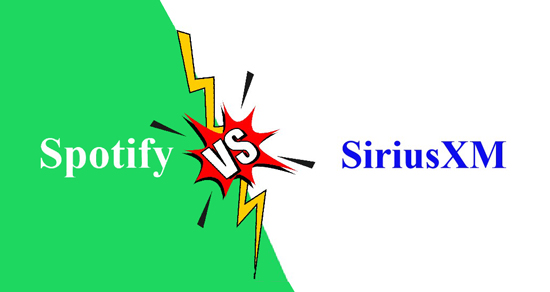 Part 1. What Is Spotify vs What Is Siriusxm
What Is Spotify
Spotify has been one of the first music streaming apps appearing on app stores for both Apple and Android. A lot has changed since the beginning of this company, so let's try to discuss what is Spotify today.
Today, Spotify is more than a simple music streaming app. Other than music, it also offers a lot of podcasts, some of which are even exclusive. Spotify is available for both Android and iOS phones, and there is also a desktop version to be installed on your Windows PC or Mac.
There is a Free and a Premium version. The Free version has limits. First of all, everyone in a while the music playing is interrupted by promo and ads. This doesn't happen very often when you've just started using the app, but as days go by, it becomes more and more annoying and people would like to block ads from Spotify. Second, with the Free version, you only have some skips per hour, you can't search for an album and listen to the tracks one by one (there is a sort of shuffle play).
The Premium version costs $10 per month and it unlocks Spotify's full potential: no more ads, illimited skips, and you can listen to whatever you want whenever you want.
What Is SiriusXM
SiriusXM is less like a music streaming platform and more like the good old radio. It is, in fact, a satellite radio that provides radio broadcasting in North America. However, the offer is wide richer than classic radio stations. Jjust like with Spotify, with SiriusXM you can listen to every music and song you can think of. This feature is available with a paid subscription.
Other than music, SiriusXM offers a lot of radio programs, Live Sports matches, podcasts, and more…
Now that we know what they are, let's move on to discuss Spotify vs SiriusXM and compare their main features.
Part 2. Siriusxm vs Spotify Premium: Plans & Prices
Spotify has only two plans: the free and the premium one. However, there are some different solution when it comes to the Spotify Premium subscription:
| | |
| --- | --- |
| Standard | Spotify Premium costs $10 per month |
| Premium Student | If you are a student, you can have a 50% discount |
| Premium Family | You can have 6 Spotify accounts for $15 per month |
| Premium Duo | Two people can use Spotify Premium for $10 per month |
SiriusXM has more complex plans because it can be installed in your car to listen to their content while you're driving. The streaming + car versions are very expensive, and here we'll focus on only the streaming plans:
| | |
| --- | --- |
| Music Showcase | $4.99 per month (to only streaming music) |
| Music And Entertainment | $7.99 per month (to stream music and listen to recorded programs and podcasts) |
| Platinum | $11 per month (to stream music, listen to recorded and live programs) |
Part 3. Spotify Premium vs SiriusXM Sound Quality
Both Spotify and SiriusXM provide quite a good listening experience as long as you have a good internet or satellite connection. SiriusXM works better in remote places, while Spotify does not have any problems depending on the water or the height of the building around.
Part 4. Siriusxm vs Spotify: Availability & Devices Limitations
You can use both platforms on smartphones, tablets, and computers. SiriusXM has a version for cars (that you need to pay for) that Spotify doesn't have.
What about other devices? Or what about if you don't want to pay for the SiriusXM car version or want to listen to Spotify in your car?
In this case, both platforms have limitations, but there is an easier solution available for Spotify: using a third-party tool. It's called AudFree Spotify Music Converter. It is a software tool that allows you to download, save, and play Spotify music on any device you like. It supports different formats like FLAC, MP3, WAV, and more so that the downloaded music files can be compatible with any device. How does it work?
Step 1. Create a Spotify playlist of songs you want to download by dragging and dropping them in the provided space on AudFree.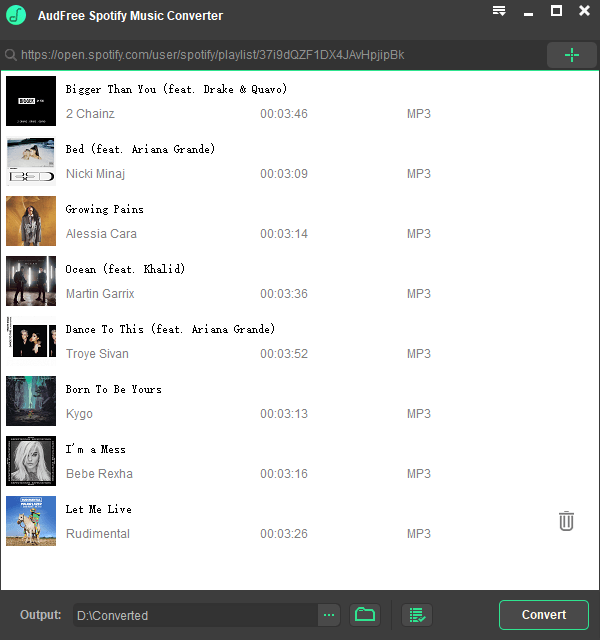 Step 2. Set up the output format and quality features like sample rate and bit rate of Spotify files.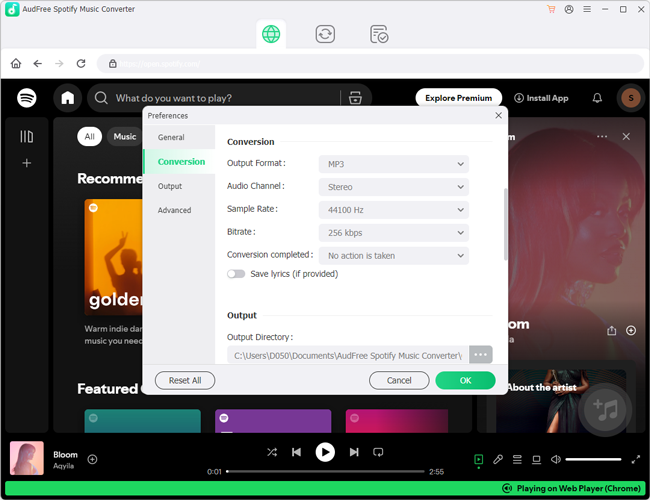 Step 3. Click convert and then download Spotify songs without Premium on your computer.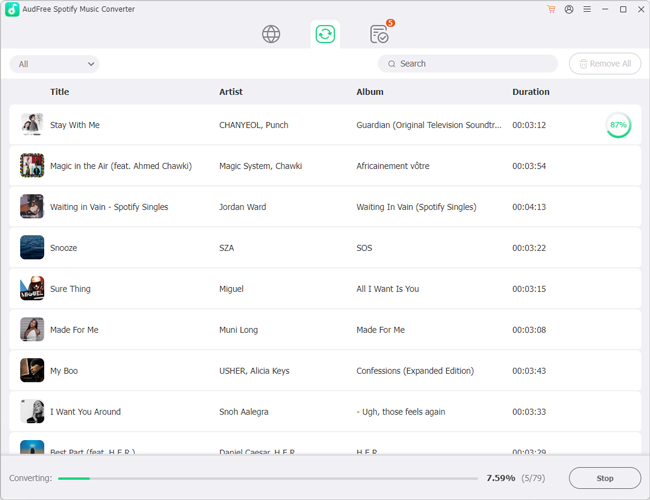 Now you can move your music files to any player you like.
Part 5. SiriusXM Streaming vs Spotify: Music Library
When it comes to music libraries, Spotify and SiriusXM are equal. Spotify, however, may have an easier interface that allows you to have a better user experience when browsing through the music library.
Part 6. Pros and Cons of Siriusxm Streaming vs Spotify
Pros & Cons of Spotify
Pros:
User-friendly interface
All the music you like
Podcasts available
Compatible with AudFree Spotify Music Converter, so that you can download and listen to your Spotify music wherever you are whenever you want.
Cons:
It doesn't offer live programs
Pros & Cons of SiriusXM
Pros:
Tons of music
Tons of recorded programs
Tons of live programs
If you are only interested in music streaming, SiriusXM is cheaper than Spotify Premium
Cons:
It isn't compatible with AudFree Spotify Music Converter. So there is no way of downloading SiriusXM radio files, storing them, or playing from other devices different from the ones that are supported.
Part 7. In Conclusion
Here is a detailed comparison between Spotify and SiriusXM, including prices, plans, music library, sound quality, availability & devices limitations, pros, and cons. It's believed that you will find the answer to the question of which is better, SiriusXM vs Spotify. And you can choose the right streaming music service to explore your streaming music world now!