Music streaming platforms are the second great revolution of the music industry. The first was digital music (MP3s) that changed music stores and music formats forever, and this is the second one: the success of an artist or their album is no more calculated through CD sales, but streams.
For us music listeners, music streaming platforms are just heaven: one app on our smartphones and we can listen to any song we can think of. There are a lot of different platforms available: some are more popular like Spotify, some are less popular like SiriusXM but just as powerful. In this article, we'll offer a SiriusXM VS Spotify comparison: is popularity a synonym for higher quality? Let's find out.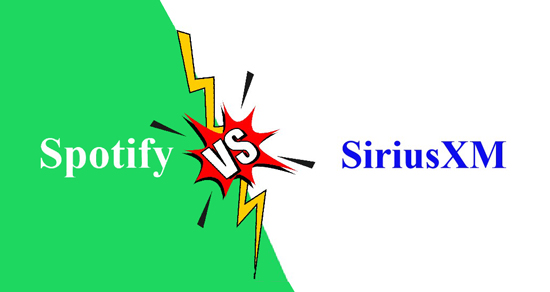 Part 1. Spotify vs SiriusXM: Overview
What Is Spotify
Spotify is a digital music, podcast and video service that gives you access to millions of songs and other content from creators around the world. It was created in 2006 and has become the largest music streaming service in the world. As of 2022, Spotify has 456 million listeners in 183 markets, of which 188 million are premium subscribers.
Spotify is available on a range of devices, including computers, phones, tablets, speakers, TVs and cars. On the one hand, Spotify has a free, ad-supported version that anyone can use. The service also has a premium level that adds additional benefits such as ad-free listening, offline downloads, unlimited skips and more.
What Is SiriusXM
SiriusXM is less like a music streaming platform and more like good old-fashioned radio. In fact, it is a satellite radio service covering the United States and Canada, founded in 2008 after the merger of Sirius and XM. However, it offers a much richer service than classic radio, including hundreds of channels, like music, comedy, sports, talk shows, on-demand programming and more.
Now that we know what they are, let's move on to discuss the differences between Spotify and SiriusXM from the following aspects.
Part 2. SiriusXM vs Spotify: Content
Spotify offers a huge library of online music and podcasts, including over 80 million songs and 4.7 million podcasts. There are millions of songs from all genres and artists: obscure indie rock, pop, film soundtracks and classical music, to name but a few. Over the years, Spotify has been diversifying its content library to become the ultimate audio streaming app.
SiriusXM has a wide variety of programming with over 350 channels including comedy, music and even sports. These music channels are categorized by genre, era, hits and new releases so you can find specific types of music and artists. You can listen to exclusive SiriusXM content on your car's satellite radio as well as on the SXM app.
Part 3. Sirius XM vs Spotify: Plans & Prices
Spotify has only two plans: the free and the premium one. However, there are some different solution when it comes to the Spotify Premium subscription:
See Also: Spotify Free vs Premium Plan
| | |
| --- | --- |
| Standard | Spotify Premium costs $9.99 per month |
| Premium Student | If you are a student, you can have a 50% discount |
| Premium Family | You can have 6 Spotify accounts for $15.99 per month |
| Premium Duo | Two people can use Spotify Premium for $12.99 per month |
SiriusXM has more complex plans because it can be installed in your car to listen to their content while you're driving. The streaming + car versions are very expensive, and here we'll focus on only the streaming plans:
| | |
| --- | --- |
| Music Showcase | $12.99 per month (to only streaming music) |
| Music And Entertainment | $17.99 per month (to stream music and listen to recorded programs and podcasts) |
| Platinum | $22.99 per month (to stream music, listen to recorded and live programs) |
Part 4. Spotify vs Sirius XM: Sound Quality
Spotify's free tier caps sound quality at 128kbps on the web player and around 160kbps on desktop and mobile. Spotify Premium supports the compressed, lossy OGG Vorbis audio format and streams at 320kbps on very high settings.
The sound quality of SiriusXM is average, mainly due to the heavily compressed satellite transmission format. The satellite has to use low bit rates and high compression rates to save bandwidth, thus limiting the sound quality to 48/64Kbps.
Part 5. SiriusXM vs Spotify: Availability & Devices Limitations
You can use both platforms on smartphones, tablets and computers. SiriusXM has a version for cars (which you need to pay for), while Spotify does not have this version. What about other devices? Or what if you don't want to pay for the car version of SiriusXM, or want to listen to Spotify in your car?
In this case, both platforms have limitations, but there is a simpler solution for Spotify: using a third-party tool. It is called AudFree Spotify Music Converter, which allows you to download Spotify music to various common formats such as FLAC, MP3, WAV, etc. The downloaded Spotify music files can be compatible with any device and platform for offline playback at any time.
AudFree Spotify Music Converter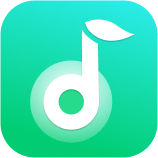 Download songs/playlists/albums from Spotify locally
Convert Spotify songs to MP3, WAV, M4A, AAC, FLAC, etc.
Play Spotify music on any device offline
Retain metadata information and ID3 tags for Spotify music
How to Play Spotify Music on Any Device Offline
Step 1. Select the song you like on the Spotify app, then drag and drop it into the conversion window of AudFree SpoDable directly.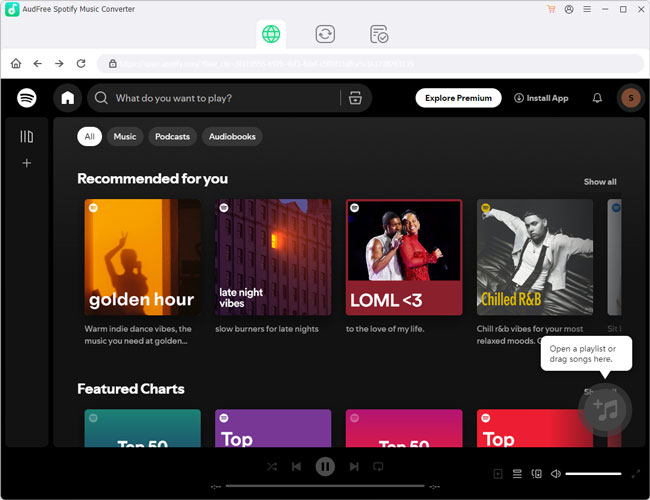 Step 2. Click on the Menu icon in the top right corner and select the Preferences and Convert section to set the output parameters for Spotify music, such as format, channel, sample rate, bit rate, etc.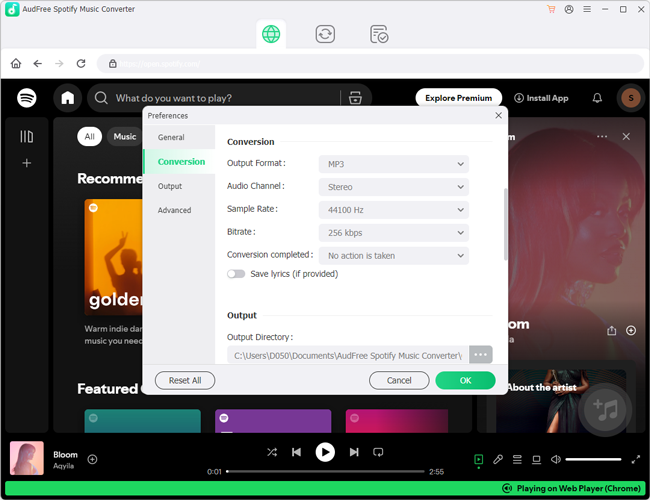 Step 3. Click on the Convert button to download Spotify songs without Premium on your computer. Then you can transfer Spotify music to any device and player for offline enjoyment.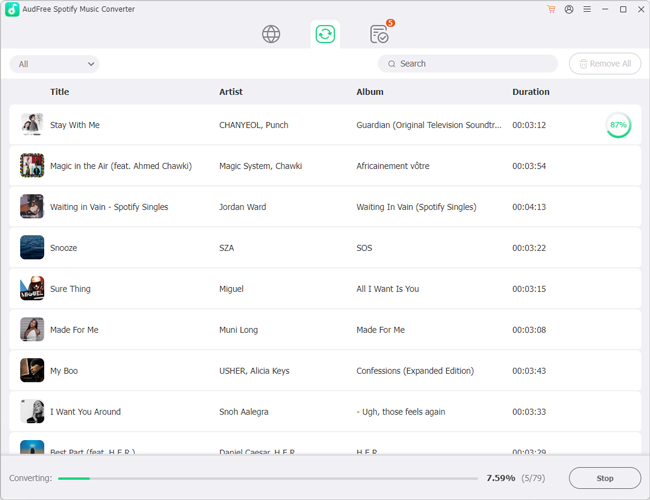 Part 6. Pros and Cons of Siriusxm Streaming vs Spotify
Pros & Cons of Spotify
Pros:
Huge library of popular songs and podcasts
High compatibility with computers, mobile devices, smart TVs, PlayStation
Free tier available to listen to music
Available in many countries worldwide
Cons:
It doesn't offer live programs
Pros & Cons of SiriusXM
Pros:
A wide variety of programs on over 165 channels
Live sports broadcasts of matches and events
Available almost everywhere
Offer some exclusive content
Cons:
Available in the USA only
Part 7. Spotify vs SiriusXM: Comparison Table
Now, please refer to the comparison table below for a systematic look at SiriusXM and Spotify, after which you will be able to make the right choice, Spotify or Sirius XM.
| | | |
| --- | --- | --- |
| | Spotify | SiriusXM |
| Overview | Music streaming service | Radio broadcasting service |
| Availability | Available worldwide | Available in the US |
| Content | Millions of songs, podcasts, videos and more | Over 350 channels, including comedy, music, sports and more |
| Sound Quality | Up to 320kbps | 48/64Kbps |
| Client base | People who like to listen to music on a variety of devices | People who like terrestrial radio stations |
Part 8. In Conclusion
Here is a detailed comparison between Spotify and SiriusXM, including prices, plans, content, sound quality, availability & devices limitations, pros and cons. It's believed that you will find the answer to the question of which is better, Sirius XM vs Spotify. And you can choose the right streaming music service to explore your streaming music world now.