Music streaming services are increasingly dominating the music industry. Among all these online streaming platforms, I bet you are no strange to Spotify or SoundCloud. Most people have used one of them or even both. So here comes the question: Which is the better choice in 2020?
For some people, they have the answers in mind right away. But you are new to streaming music, or you are considering to switch platforms between these two choices. Then you can't miss this article today which we are going to present a side-by-side comparison: SoundCloud vs. Spotify, from the aspects of price, subscription plans, audio quality, etc.

Part 1. SoundCloud vs. Spotify: A Side-by-Side Comparison
Key Figures Overview
SoundCloud
Spotify
Founded
2008
2006
Monthly Users

76 million

(by March 2019)

286 million

(by April 2020)

Library
200 million+ songs
50 million+ songs, 700,000 podcasts
Free Plan
Yes
Yes
Price

SoundCloud Go
$4.99/month
SoundCloud Go+
Individual: $9.99/month

Student: $4.99/month

Spotify Premium
Individual: $9.99/month
Family: $14.99/month
Student: $4.99/month

Duo: $12.99/month
Subscription Free Trial

7 days for SoundCloud Go

30 days for SoundCloud Go+

3 months for new users

30 days for Spotify Premium
Audio Quality
128kbit/s
Up to 320kbit/s
Price: SoundCloud Go vs Spotify Premium
Price is one of the key factors that most customers concern about. As you can see from the above form, both SoundCloud and Spotify offer free listening plans. With SoundCloud free version, users can access a massive amount of music with ads, but not full SoundCloud library. If you are visiting the SoundCloud website, you can listen to music without logging in or even signing up for an account.
Then SoundCloud offers two tiers of subscription plans: SoundCloud Go for $4.99/month and SoundCloud Go+ for $9.99/month. Both plans offer ad-free streaming and offline listening, while SoundCloud Go+ has more tracks with high-quality than Go plan.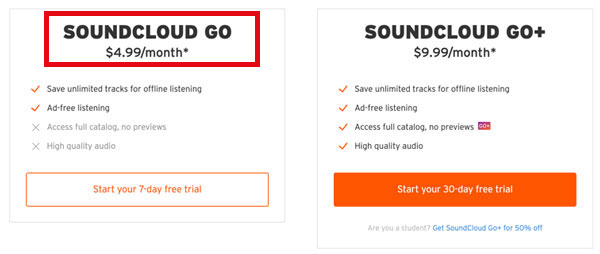 In addition, SoundCloud is known as an audio discovery platform for artists, podcasters, and labels to share music with their audience. So SoundCloud launches two plans for the group accordingly: SoundCloud Basic for free and SoundCloud Pro Unlimited for $16/month. Subscribing to Pro Unlimited, artists can upload unlimited time of any type of audio, schedule releases, and so many more features.
As for Spotify, its free plan gives users access to all music but with interruptive audio or visual advertisements between 3 to 5 songs. If you are using Spotify mobile app, you are only allowed to skip 6 songs per hour, and can only shuffle play most playlists.
Spotify Premium costs $9.99/month for individuals and students can get a discount at $4.99/month after verification, With Spotify Premium family plan, users can add up to 6 accounts to the group.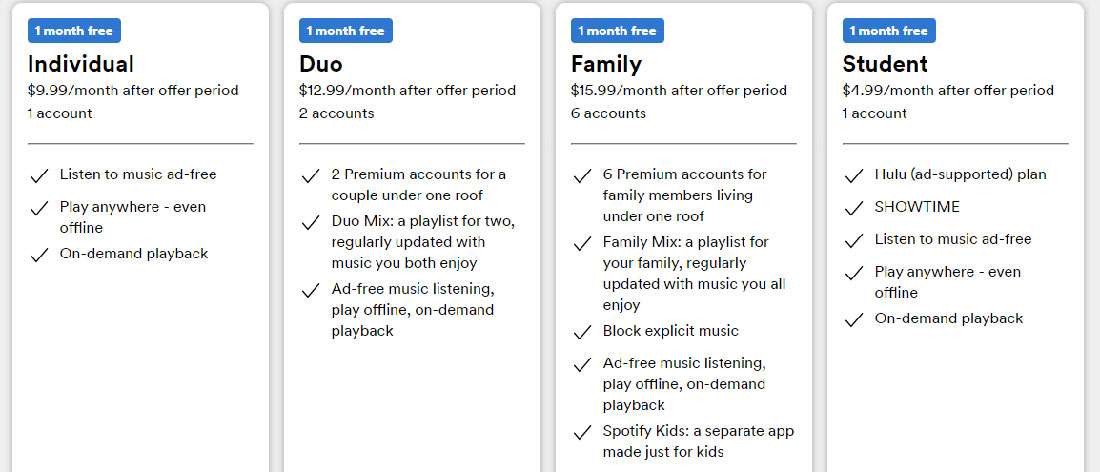 View Also: Spotify Free vs Premium
It is worth mentioning that, on July 1, 2020, Spotify launched a new subscription plan called "Spotify Premium Duo" with a 30-day free trial, which allows couples or two friends under one roof to get this benefit with $6.5/month for each person. Spotify Premium Duo offers a special playlist named "Duo Mix", similar to the collaborative playlist.
Popularity
According to some researches, there are 286 million monthly active users on Spotify by April 2020, and 130 million of them are paying users. SoundCloud has 76 million monthly users by March 2019. So clearly, Spotify is the winner in this aspect of comparison.
Audio Quality
Spotify has given detailed information on its audio quality in the table below. Generally speaking, Spotify free users are limited at 96kbit/s on mobile and 160kbit/s on Desktop, while Premium users can stream up to 320kbit/s.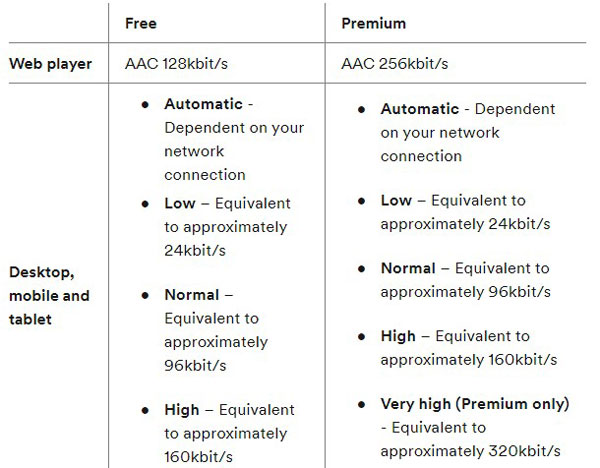 Audio quality is mediocre when it comes to SoundCloud since they offer maximum streaming quality for tracks at 128kbit/s for a quite long time. And later, SoundCloud has brought High-Quality streaming to Go+ subscribers with audio format encoded in 256kbit/s AAC.
Music Discovery
If you are a big fan of Indie music, SoundCloud is the perfect platform for you, because they rely heavily on users to upload and share tracks onto their platform, no matter original tracks or cover. Thus, SoundCloud attracts a very large catalog of music that may not be available elsewhere. You can definitely discover some talented independent artists here.
Both SoundCloud and Spotify can generate recommendations for users, which isn't anything new. According to the user's listening habits, Spotify generates a few customized algorithm-based playlists like "Daily Mix" and "Weekly Discover". And at the end of a year, Spotify will give users a "Spotify Wrapped", which is a "year in review" feature, giving you a deep and personalized look into your listening trends and habits in the past year.
Part 2. Spotify vs SoundCloud: Pros and Cons
In this part, we list the Pros & Cons for Spotify and SoundCloud so that you have a clearer overview of each platform's advantages and disadvantages.
Spotify
Pros:
• Spotify free users can have access to most tracks in the library.
• A collaborative playlist allows users to add songs to a playlist together by sharing links.
• The larger number of users makes it easy to share music with friends and social.
• The user-friendly Spotify Connect can let users switch music between devices easily.
Cons:
• One account is allowed to stream on 3 devices only.
• Spotify Premium users are allowed to download 10000 songs for offline listening only, and the downloaded Spotify music can only play within the Spotify app due to format restriction. When the subscription expires, users can no longer listen to any Spotify music even they have downloaded them before.
To help you save money and keep your Spotify music forever, we'd like to recommend AudFree Spotify Music Downloader, a professional software designed to download Spotify music to the computer at 5X speed and convert them into common audio formats. It's now offering a free trial for users to fully experience its various functions.
SoundCloud
Pros:
• Independent artists have a large platform to upload their original music.
• Vice versa, users can discover great music not available elsewhere and talented musicians here.
• SoundCloud free version can satisfy most users' needs.
Cons:
• Free users only get 15 million tracks.
• Mediocre sound quality is a defect for some audiophiles.
• Artists have to pay for SoundCloud Pro Unlimited to stream their music onto the platform without limitation., and musicians are not getting paid very well.
Part 3. Finals Thoughts
Returning to the topic of this article: SoundCloud vs. Spotify, which music streaming service to choose in 2020? Putting all the facts together, Spotify is the better choice between the two for the vast majority of users. From high-quality audio or popularity, Spotify is a platform that rolls everything that most casual music listeners would want into a streaming music platform. What is your opinion on it? Let us know by commenting below!