Both Tidal and SoundCloud take up big portions in the streaming music service industry, but they each focus on different aspects. As it might be known to many music lovers, Tidal is famous for its high-quality music, while SoundCloud is a great platform for Indie music.
For those who can't decide which platform to choose in 2020, don't worry. We have made a thorough and most up-to-date comparison for you, with 10 major factors concluded. After reading this, I believe you will know your answer right away.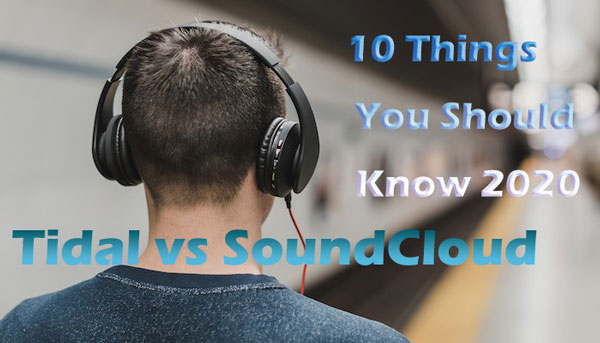 1. General Introduction to Tidal and SoundCloud
Tidal is the first subscription-based global music streaming service that offers high fidelity music and high-definition music videos with exclusive content. It was launched in 2014, currently owned by Jay-Z.
SoundCloud is a music and podcast streaming platform that enables its users to listen to millions of songs from around the world, or upload, promote their original music. It was started in 2007 by Alexander Ljung and Eric Wahlforss and now has over 175 million monthly users globally.
2. Price
Tidal does not offer free listening, but it offers a 30-day free trial for each subscription plan. Everyone can get Tidal for free in the permitted period. Tidal Premium costs USD 9.99 a month while Tidal HiFi costs $19.99/month. After verification, students can get a discount at $4.99 and $9.99 per month, and are required to reverify every 12 months. For US Military and First Responder including EMT, EMS, firefighters, and police officers, they can enjoy a discount at $5.99 and $11.99/month, after confirming eligibility. Family plan for Premium costs $14.99/ month available for 6 accounts in total and Family HiFi charges for $29.99/month.
SoundCloud has a free version which users can access a great amount of music. Visiting from their official website, you can even enjoy SoundCloud music with advertisements but without logging in or signing up for a new account, which can be quite convenient for people at work who just want some random music sometimes. SoundCloud's two subscription plans respectively cost $4.99/month for SoundCloud Go and $9.99/month for SoundCloud Go+. New users can have a 7-day free trial for SoundCloud Go and 30 days for SoundCloud Go+.
3. Subscription Plan: Tidal vs SoundCloud Go
Tidal offers two tiers of subscription plans. With Tidal Premium, users get to enjoy Tidal music with standard sound quality, HD music videos, and expertly curated editorial. Upgrading to Tidal HiFi, users have access to lossless high-fidelity sound quality, Sony 360 Reality Audio, Dolby Atmos Music.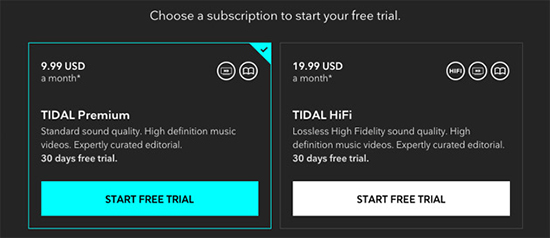 Then SoundCloud offers two tiers of subscription plans: SoundCloud Go for $4.99/month and SoundCloud Go+ for $9.99/month. Both subscription plans support offline playback and ad-free listening, But SoundCloud Go+ allows users access to full catalog with no previews and high-quality audio.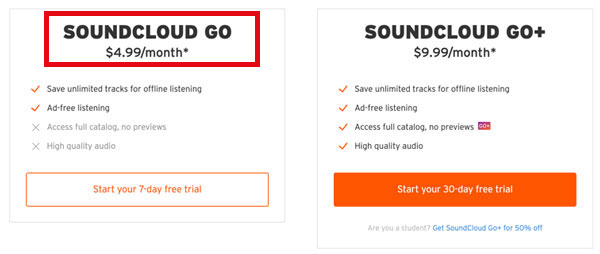 But it's worth mentioning that SoundCloud also has two plans for artists: SoundCloud Basic for free and SoundCloud Pro Unlimited for $16/month. With Pro Unlimited, artists get to upload any type of audio without time limit, and schedule releases, etc.
4. Library
Tidal is now available in 53 countries, with over 60 million songs and over 250,000 videos in their catalog by October 2019. They also offer podcasts, thousands of playlists curated by industry experts, music journalists, and artists themselves.
SoundCloud has a larger music library because this platform encourages many independent musicians to upload their original music here. They claim to possess over 200 million songs currently.
5. Streaming Quality: SoundCloud vs Tidal High Quality
Tidal's greatest attraction and advantage is its music streaming quality. A large number of High-fidelity or lossless tracks have a significant bitrate of 1,411 kbps with FLAC-formatted, so HiFi subscribers can have the audio experience as the artists intended to deliver. Tidal Premium members can have access to music with 320 kbps AAC.
Comparing to Tidal, SoundCloud's audio quality is a great defect. Most SoundCloud tracks stream at 128kbit/s and tracks in 256kbit/s AAC format are available for SoundCloud Go+ subscribers only.
6. Music Discovery
Tidal owns much exclusive music as well, for example, Beyoncé's 2019 album Lemonade debuted on Tidal exclusively for quite a long time. Many users also comment that Tidal does a good job in curating playlists for users according to their listening habits. Just give it a few weeks, and Tidal's algorithm is able to serve you something that will excite you. Tidal also recommend popular playlists, mood-based playlist, and Tidal Rising section for users to discover new talent.
Nonetheless, some users sense that Tidal is somewhat leaning towards Hip-Hop and Rap music.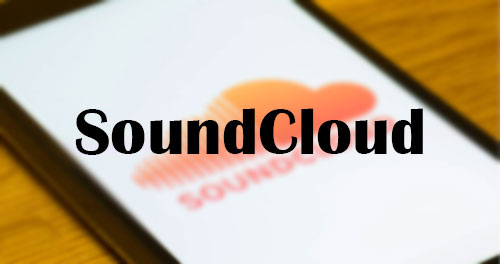 SoundCloud relies greatly on its creative users to upload no matter cover or original tracks on it, so you can definitely discover many talented musicians here.
7. Music Sharing
Tidal and SoundCloud share some similarities when it comes to music sharing. Both platforms have embedded with Facebook and Twitter so you can share music with your friends easily. Moreover, on SoundCloud, you can share music on Pinterest or Tumblr directly. Alternatively, you can copy the URL of the Tidal or SoundCloud track, playlist you like, and send them to your friends via Messages or any social media.
8. Availability
SoundCloud: Web Player, iOS and Android devices, Windows(beta), MacOS, Sonos, Windows Phone
Tidal: Web Player (HiFi supported in Chrome and Firefox only), Windows 7 or above, MacOS, iOS devices from iOS 11, Android devices from Android 5, some speakers, TVs, and Cars.
However, both platforms share some limitations, just like other music streaming services. Though you can download music for offline listening after subscription, you may not find the local audio files, which means you may not able to play Tidal music in the car which is an old model. It's also because Tidal and SoundCloud have not yet great integrations with most devices.
Fortunately, there are tools on the market that can solve the problem for you. With the help of AudFree Tidal Music Converter, you can download Tidal music onto the computer and keep them forever. It is also capable of converting Tidal music into other common audio formats such as MP3, WAV, FLAC, so that you can play them on any devices.
For users who want to download SoundCloud music and keep them forever, it is also possible via SoundCloud Music Downloader.
9. Highlight Features
Tidal
Offering the best streaming music quality in the industry.
Fully integrated with numerous platforms.
Tidal X brings artists and audiences close by hosting Livestream festivals, concerts, or exclusive live events.
SoundCloud
SoundCloud free version can satisfy many users' needs.
Great platform for talented independent artists. The catalog continues to update rapidly.
Great place for Indie music fans to discover new music.
10. Tidal vs. SoundCloud: Which One to Choose in 2020?
After comparing side by side, I am sure you know have a clearer look at both music streaming platforms. Looking back at the question we brought up in the very beginning: which one to choose? The answer actually varies on what you need, considering what the Tidal and SoundCloud offer are quite different. If you are looking for a free music streaming service with a great amount of music, then SoundCloud is clearly a better choice for you. If you are an audiophile, Tidal is your best option.