Music visualization refers to the process of turning an audio track into some kind of video. It displays animations based on the frequency and volume of the track being played. In today's world where music videos rule, it feels a bit awkward to listen to music on a computer or mobile device without visuals.
As we all know, the default setting for the songs is not visual. Spotify streaming music service is no exception. Fortunately, there are a number of Spotify visualizers available. But the sheer number of Spotify music visualizer can cause you a lot of problems in deciding on the right visualizer for Spotify.
Please don't worry. We have compiled the top 15 Spotify visualizer for Mac, Windows, Android, iPhone and online in this article for your reference. Please check them out in detail.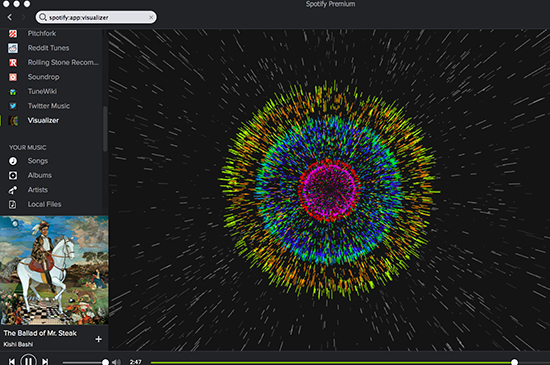 Part 1. Does Spotify Have a Visualizer
In the past, you could get a built-in music visualizer on Spotify desktop app. But now, it doesn't work anymore to type the phrase "Spotify:app:visualizer" in the app's search bar to get a native one. Spotify has for some reason decided to remove its native visualizer for users. In other words, to play visuals for your Spotify music, you will need a third-party visualizer.
Due to the popularity of music visualization, there are numerous music visualizers for Spotify. But not all Spotify visualizer app is as good as it is made out to be. After detailed testing and comparison, we've picked out the 15 best third-party or online visualizer for Spotify.
Part 2. Top 3 Spotify Visualizer for Android/iPhone
For more powerful and functional tools to visualize Spotify music, third-party tools are your best bet. If you are looking for an excellent music visualizer for Spotify on Android or iOS mobile devices, then here's the answer you need.
No.1 AIMP
AIMP is a powerful Spotify visualizer for Android devices that supports to visualize audio tracks. It was originally developed by Artem Izmaylov, a Russian developer. So, the full name of this music visualizer is Artem Izmaylov Media Player (AIMP). It is also a powerful media player that can play video and audio tracks.
See also: How to Play Spotify Music on AIMP
This best visualizer for Spotify gives you three options for visualizing your music, such as CoR's Aorta 1.1, Analog Meter Night and Analog Meter Classic. All you need is to download, install and activate the application. Then choose your preferred mode to visualize your Spotify music and access Spotify screensaver on Android.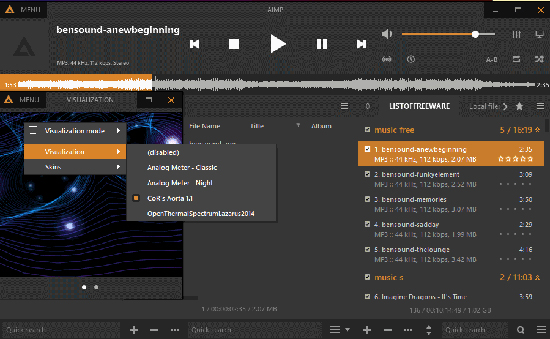 No.2 Spectrum
Spectrum Music Visualizer is available for Android and iOS. It generates visuals from your music app, music library or microphone input and plays them on your device screen. There is a free version and a paid version. The free version comes with watermarks, banner ads and only some of the content is available. While the paid version has more viewing options and doesn't show ads or a watermark of the program name on the image.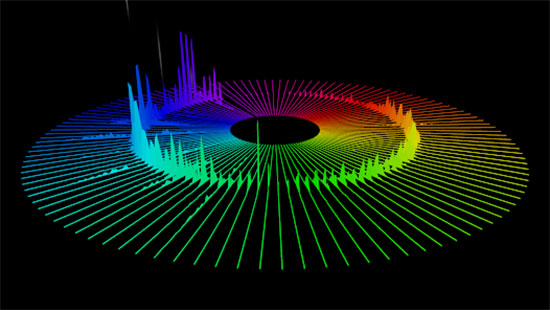 No. 3 AudioVision Music Player
AudioVision is the full-featured music visualizer and music player. It allows you to organize your music by album, artist, genre and much more. Plus, with a highly customizable music visualizer built in, it offers almost unlimited visualization possibilities. You can fine-tune the sensitivity, bar and border width or colour settings for a seamless Spotify music visualization experience.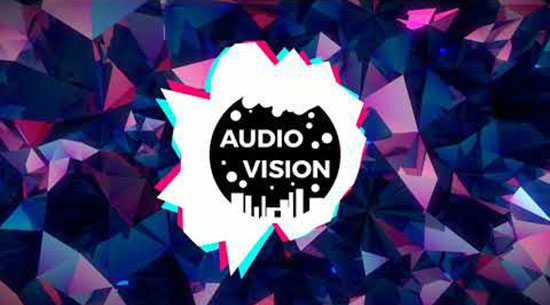 Part 3. Top 6 Spotify Music Visualizer for Mac/Windows
In this section, we've collected the 6 best Spotify music visualizers on the market for Mac and Windows desktop. You can check them out and choose your favorite assistant.
No.1 Resolume
Resolume lets you play all your Spotify tracks in a visual format. This Spotify visualizer comes with pre-installed instructions for use. It also allows for the inclusion of third party plugins. Then you can easily change the way you use the app to enhance the visual effects by adding more plugins.
Also, it is compatible with various plugins such as Spout, windows visualizer and Syphon. This way, it becomes easy to share music visuals and import visuals in real time. It also provides users with a number of unique visual and audio effects that resonate.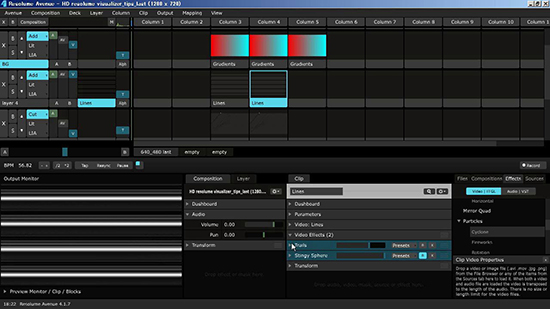 No.2 Bazik
Bazik Spotify audio visualizer prides itself on having a large collection of images and themes in perfect harmony. With them, it produces beautiful visuals based on the frequency and volume of the music you are playing. It has a user-friendly interface that allows you to customize and get the best out of your music visualization.
Bazik is often designed to produce music visuals in high definition and Ultra-high definition, which makes it quite popular among many users. With the colour controls, you are allowed to manage the colour of the visuals for a more enhanced experience. Besides, it accepts music from all sources, which makes it ideal for people with multiple music sources. Bazik is the perfect music visualizer for playing Spotify and other music on your computer.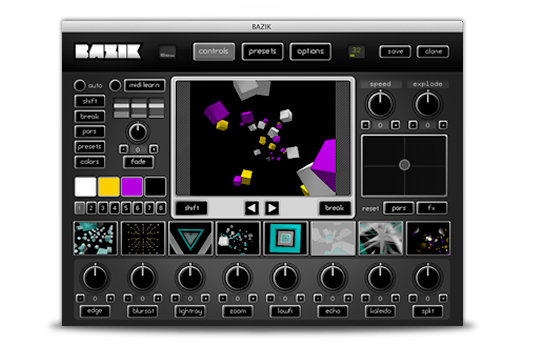 No.3 Synesthesia
Synesthesia is one of the most exciting Spotify music visualizers available in the world today. It has intelligent audio algorithms to ensure that the best visual effects are generated for any song you play. It is fast with a real-time visual output which makes sure that you get to the right visual on time.
In addition, it supports over 40 built-in scenes with high quality visual effects. It also gives you control over the video effects, which gives the power to manage the output and in turn creates a great user experience.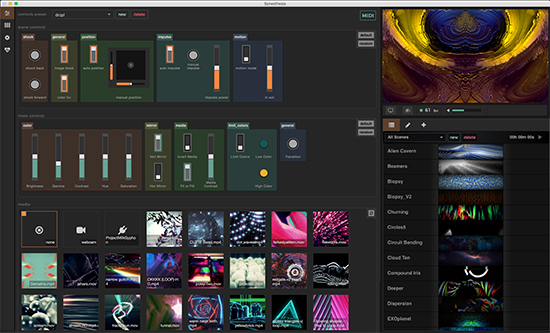 No.4 Potplayer
PotPlayer is another wonderful Spotify visualizer appthat you should consider using. It has powerful algorithms that produce real-time visuals based on the temperature and loudness of the music you are playing. It ensures that you can easily enjoy your Spotify tracks by generating some great visual effects. PotPlayer can produce different styles of video effects, such as WMP visualizations and Floating ball visualization.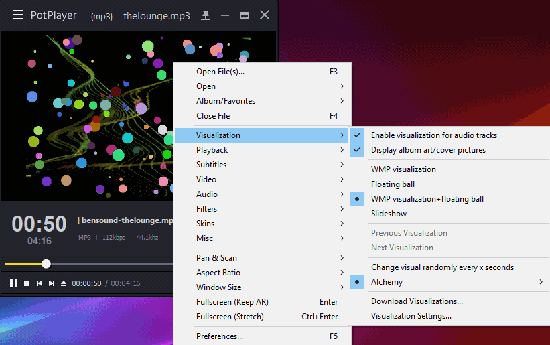 No.5 VLC Player
VLC Player is a well known media player that offers 6 available audio visualizations. The default visualizations are Spectometer, Scope, Spectrum, Vu Meter, Goom and ProjectM. Suppose you play a Spotify song and turn on the visuals, you will see that the screen has been filled with some really cool moving images.
See also: How to Play Spotify on VLC Player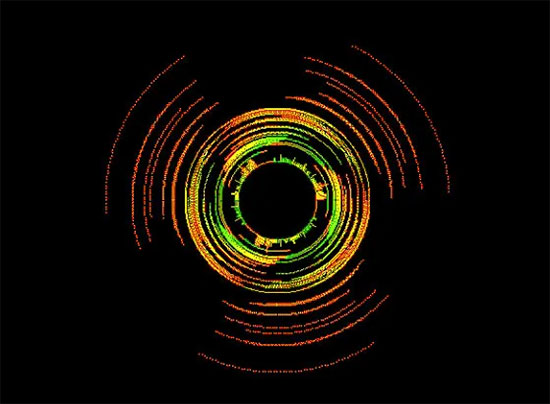 No.6 Kauna
Kauna is an audio visualizer for Spotify or other music services that you can get from the Windows Microsoft Store. You can download and install it on your Windows 10 computer or Xbox One. This program can render any sound from your system. It also can record audio from a microphone. Within the app, you can find lots of available visualizations like Wave, Bars, and so on. You can just pick up the visualization and start playing music from Spotify.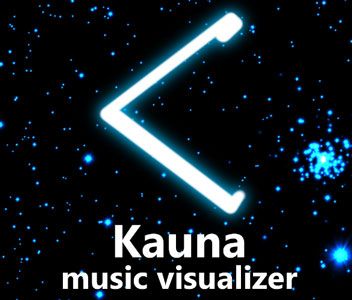 Part 4. Top 6 Spotify Visualizer Online
Don't want to download a third-party tool to enjoy Spotify music visualization? Don't worry. Here are the top 6 best online music visualizers for Spotify. You can use them to enjoy visual Spotify music without having to install any additional apps on your computer.
No.1 Jamescastells
Produced by Lostjames, Jamecasteels Spotify 3D Music Visualizer is a smart Spotify web visualizer. It's easy to use this Spotify visualizer online, you just need to sign in to your Spotify account and then all music and playlists will be synced to it. If you don't have a Spotify account, you can create a new one and get Spotify Premium for free for three months. Afterwards, you can see Spotify music with 3D effects.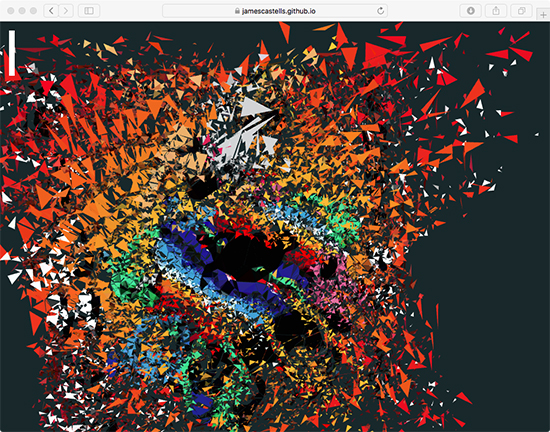 No.2 Echo Nest
Echo Nest Spotify 3D Visualizer has a 3D design and can be customized to enhance the Spotify visualization experience. Also, it offers cool themes to match your Spotify music selection. Yet, it is important to note that Echo Nest Spotify audio visualizer sometimes does not sync Spotify songs.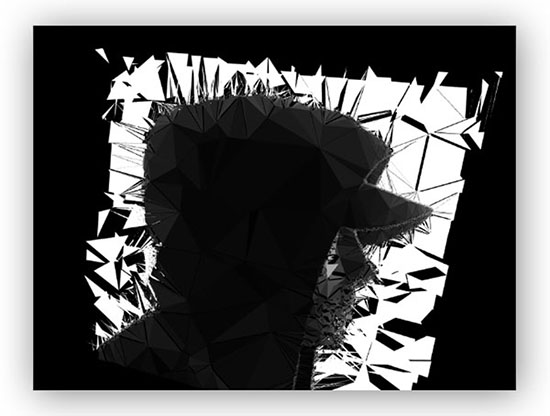 No.3 Kaleidosync
Released on Reddit, Kaleidosync is another professional online Spotify visualizer. It brings dynamic music visualization with good colour saturation and geometric design. Once you have navigated to the official page, the Kaleidosync Spotify Music Visualiser will require you to fill in your account details. Afterwards, please play your favorite Spotify song to visualize and it will begin with flower-shaped animated pictures.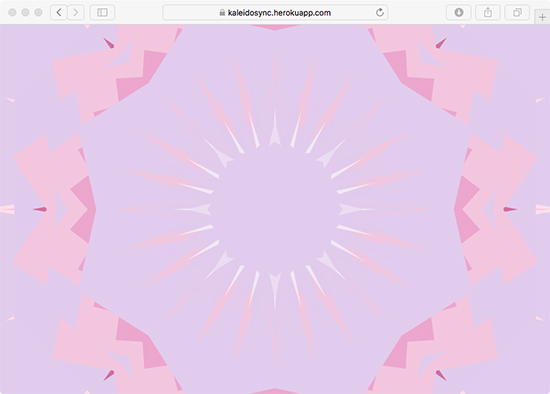 ✍Note: You need to enable JavaScript on your web browser to use Kaleidosync. Otherwise, it won't work well.
No.4 AudioVisualizer
AudioVisualizer is a Chrome extension for Spotify web player. You just need to add it to Chrome and press the shortcut Ctrl + Q to start and stop the Spotify visualization. This Spotify Visualizer Chrome displays various audio waveform effects based on the Spotify music playing and presets the visualization to suit your needs.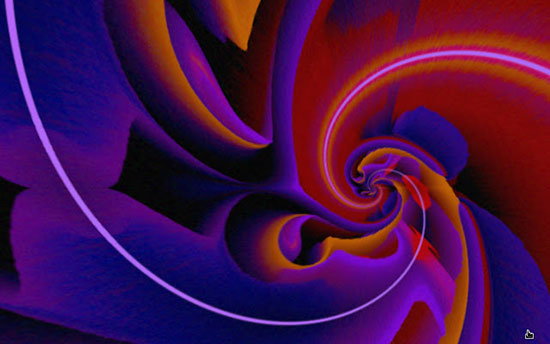 No.5 Tessellator
Tessellator offers free visualization of music streaming and can be used as a 3D interactive music visualizer for Spotify. During Spotify music playback, you can see various moving images with different shapes such as pyramids, cubes, mesh structures, wavy textures and more. Please note that you will need to open the Tessellator Spotify visualizer in a non-mobile browser for a better visual experience.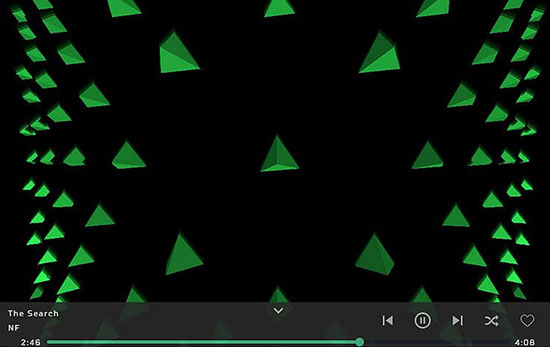 No.6 Wavesync
Wavesync is an HTML5 music visualizer for Spotify developed by Itsappleseason. Fresh, stylish animations make Wavesync another great option for Spotify visualizer lovers. Before using this visualizer, you will be asked to sign into your Spotify account. Then it will automatically create colorful audio waveform graphs and display track information and album art.
Part 5. How to Play Spotify Music on Any Visualizer for Spotify
Now, you know the top 15 Spotify music visualizers above. Here it's time to see how to add Spotify music to these top visualizers. It's worth noting that Spotify protects its music from copyright infringement by using the OGG Vorbis format. To put it simply, a few third-party visualizers support this format.
To play music on third-party visualizer for Spotify, you need to convert Spotify music to a format supported by the visualizer you are using first. Thanks to AudFree Spotify Music Converter, it can download and convert Spotify songs to MP3, AAC, WAV, FLAC and more. At the same time, it keeps Spotify output audio quality lossless and ID3 tags intact. Then you can import Spotify files to the visualizer you like and start playing.
Step 1. Download and install AudFree Spotify Music Converter on your desktop. After that, open it.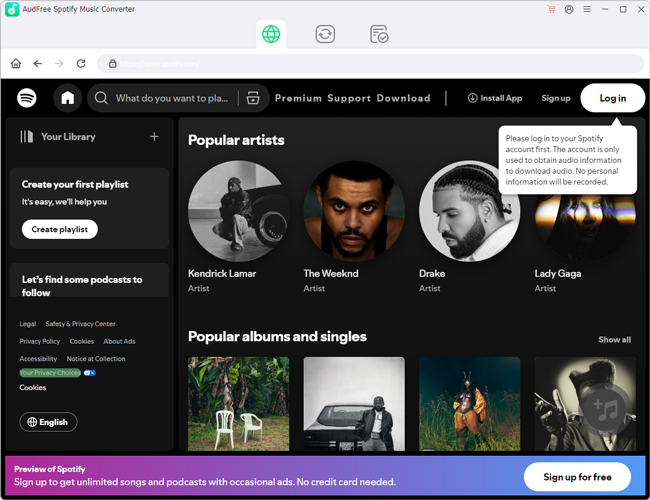 Step 2. Then go to the Spotify app, copy and paste the Spotify song links into the search bar on AudFree. And press the + button. Or, just drag the track of Spotify to the AudFree program.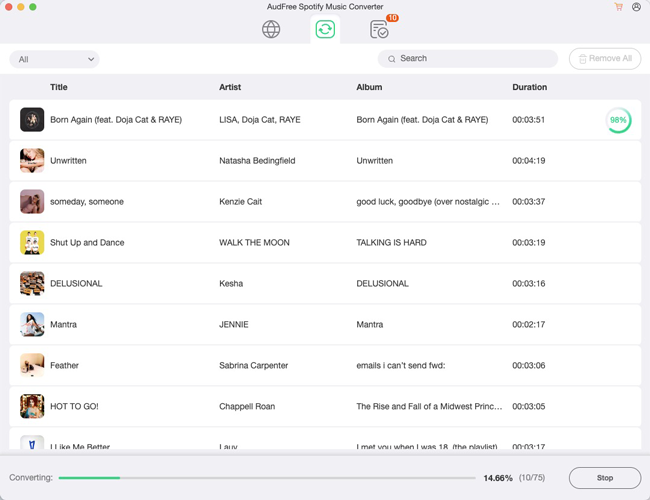 Step 3. Click on the Menu > Preferences and Convert section to select the output format and parameters for Spotify music.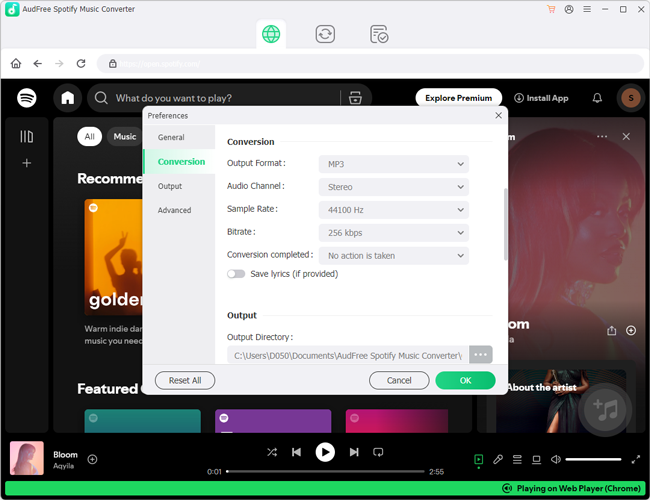 Step 4. Hit on the Convert icon to convert the Spotify song. Then go directly to the destination folder to view the downloaded Spotify music. At last, follow the specific tutorials for the Spotify visualizer you have to add Spotify music and enjoy the visuals.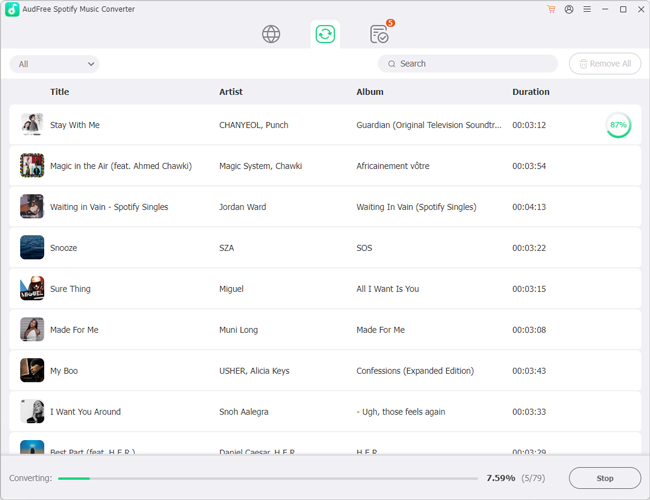 Part 6. In Conclusion
This article covers 15 best visualizers for Spotify for you to choose from. You can pick up the one you favor and use it on your Android, iOS, Windows, Mac or online. By the way, you get AudFree Spotify Music Converter to help add Spotify music to the visualizer. With this program, you can convert and keep Spotify music forever as local files on your device. Then you can put Spotify tracks on any visualizer to get visualizations with ease. Take action to enjoy the best Spotify visualizations and enhance your listening experience.