Many streaming music services are offering attractive family plans. Does Tidal have family plan? Yes! Tidal is of course no exception, introducing a family tier to its Premium and HiFi subscriptions. Especially considering that Tidal's subscription plans are a bit more expensive than its rivals, so many users turn to subscribe to Tidal Family Plan for a cheaper individual fee.
However, some people still have questions like: How to upgrade to a family plan on Tidal, or how do I add a family member to Tidal? Don't worry, this article will give you the answers on how to do it by providing step-by-step tutorials. You can't miss it if you happen to be having the same questions.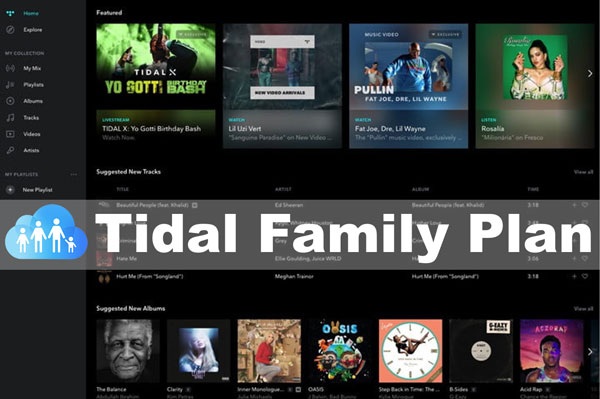 Part 1. Steps to Add Accounts to Tidal Family Plan
Upgrading to a Family Plan on Tidal
As is mentioned above, Tidal offers two tiers of subscription plans: Tidal Premium and Tidal HiFi. As for Tidal family plan cost, Family Premium is $14.99 per month for up to 6 members maximum, while Family HiFi requires $29.99 per month. If you are currently on one of the individual plans, you can upgrade to a family plan subscription and start a new family group following the steps below.

Step 1. Go to my.Tidal.com in a web browser and sign in with the account which you would like to set as the primary account to manage the family plan.
Step 2. Select Subscription, and you can choose to Upgrade to a family plan.
Step 3. Confirm your selection and choose a payment method to complete the change of subscription plan.
Upgrades will reduce half of the days in your current billing cycle, and the family plan subscription will be billed and administrated through the primary account.
In case you are wondering, if you are already on a family plan, you can also select to downgrade to individual plan from step 2 and confirm. On your bill date next month, the downgrade will take place.
How to Add Accounts to a Family Plan on Tidal
If you are on a Tidal Family Plan now, the primary account listed on the top can view, add, and manage members. You can add up to 5 additional family members to the family group.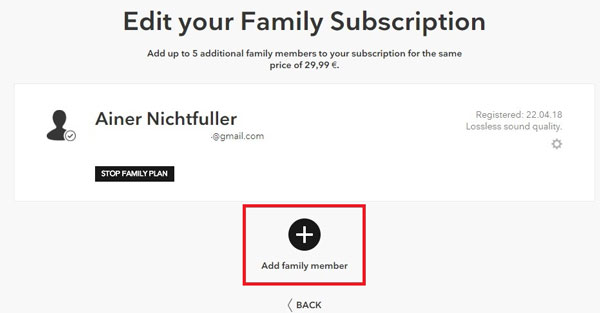 Step 1. Go to my.Tidal.com and sign in with the primary account.
Step 2. Select Edit your Family Subscription and click on Add Family Member.
Step 3. Submit your family member's email address.
Then the family member will receive an email notifying them of their account's creation. They can use the email to sign in and reset their individual password.
Please note that you can only add family members who were registered in the same country/region as you.
Part 2. Share Tidal Music with Family Members without Tidal Family Plan
Unlike Apple Music or Spotify, each Tidal account in the family plan remains individual and separate, which means there won't be any music sharing within the group or collaborative playlist. If you want to share Tidal music with your family or friends, you will have to share via Facebook, Twitter, or copy the link.
Luckily, we have found you a better way to share the high-quality Tidal music with your family and friends even if they haven't paid for the Tidal subscription plan. First, you will need to install a required tool - AudFree Tidal Music Downloader. It is an initiative and professional software designed to help Tidal users download original Tidal music to the computer so that they can share music with others easily or play them on any other devices.
After downloading and installing AudFree Tidal Music Downloader, you can download Tidal music and share it with your family and friends within 3 simple steps.
Step 1

Load Tidal songs to AudFree

Open the AudFree Tidal Music Downloader on your computer and the Tidal app launch at the same time. Find the Tidal music you want to download in the Tidal app. Then copy their links and paste them to the address bar on the AudFree interface. Hit the button "+" to add the songs to the software.
Step 2

Set output format of Tidal songs

The AudFree Tidal Music Downloader allows you to customize Tidal music to your personalized style. Click "Preference" from the top, and you will see a few options in the pop-up window, such as codec, channel, bit rate and sample rate. Normally, AudFree Tidal Music Downloader works at 5X speed.
Step 3

Download Tidal music to local

Press on the button "Convert" to start the downloading process. The title, genre, year, album cover and other data of Tidal music will all be kept during this process. Within minutes, you can find the downloaded in the output folder. Now, you can upload Tidal music to OneDrive or share them with your family in other ways.
Part 3. Conclusion
We have shown you how to start a Tidal Family Plan and add a Tidal family account to the group. Additionally, we have also introduced an easy way to share Tidal music with your family and friends via AudFree Tidal Music Converter. Do you think it is worth to upgrade to a family plan on Tidal? Let us know your thoughts on it by commenting below!