Q: "Can I link Tidal to Apple TV?" You may have received a positive response since Tidal launched its music app on Apple TV in 2017. Subscribers are allowed to listen to Tidal Hi-Fi streaming, better yet, access related video content such as music videos, and live streams on Apple TV.
Compare with sending music to Apple TV via AirPlay, the built-in Tidal app on Apple TV supports subscribers to access the entire music catalog and play any digital content directly. If you are looking for how to acquire Tidal resources on Apple TV, here you come to the right place. In this article, I will show you 2 ways to listen to Tidal on Apple TV, one for subscribers and one for free users. Read and find the suitable one for you.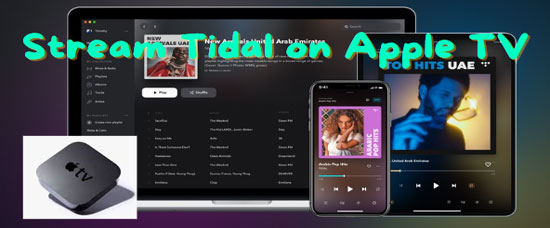 Part 1. How to Set Up Apple TV
If you are new to Apple TV, please never miss this step that teaches you how to get your Apple TV set up. Please have those preparaptory works done in advance:
✔️ Have a HIDI 2.1 cable
✔️ Prepare a high-definition or 4K TV with a HIDI port
✔️ 802.11 Wi-Fi networks or broadband Internet
Now, you can refer to the following how-to guide suppose you have an Apple TV 4K and a display:
Step 1. Plug one end of the HDMI 2.1 cable into the HDMI port on your Apple TV and the other end to the HDMI port on the display.
Step 2. Insert one end of the provided power cord into the power port on your Apple TV and the other end into the power outlet.
Step 3. Turn on your display and select the HDMI input that your Apple TV is connected to.
Step 4. Follow the on-screen instructions to connect your Apple TV to your Wi-Fi network.
Step 5. Sign in with your Apple ID and password.
Step 6. Set up your preferences, such as language, location, and Siri, and choose whether to enable automatic updates and usage data sharing. Then you can download apps or games you want to use on Apple TV.
Part 2. How to Connect Tidal to Apple TV with Tidal App [4th Gen]
The 4th generation of Apple TV has get the Tidal app on its Apple Store. So you can play Tidal on Apple TV directly by installing the music app from the store. This is the first method that suits Tidal subscribers, which is very simple to link Tidal to Apple TV by following the steps below.
Get Tidal App for Apple TV 4K/HD
Step 1. Open your Apple TV, and go to the App Store from the home screen.
Step 2. Search and install the Tidal app on Apple TV. Then launch the Tidal app.
Step 3. Go to link.tidal.com on your phone, tablet, or computer.
Step 4. Log in to your activated account, or register a new account to get a free trial of Tidal.
Step 5. Type in the code shown on the TV to connect it to your account. Then you can start to play Tidal HiFi on Apple TV.
Play Tidal Music on Apple TV
If you have set up VoiceOver on Apple TV, you can use the voice commands to control the Tidal music playback on your Apple TV 4K or HD. Alternatively, you can use the Apple TV Remote to control it.
Part 3. How to Link Tidal to Apple TV via AirPlay Mirroring[1st-3rd Gen]
Not all Apple TVs have a Tidal app such as the 1st, 2nd, and 3rd generation of Apple TV since they lack the App Store. Therefore, for those Apple TV users, please don't fret since you can use AirPlay Mirror feature to cast Tidal music on the Apple TV. Make sure that your Apple TV is turned on and that AirPlay is enabled on it. Also, please make sure you have an active Tidal HiFi or HiFi Plus account. Here are the detailed steps:
Step 1. Connect your Apple TV and iOS mobile device to the same Wi-Fi network.
Step 2. Launch the Tidal app on your iPhone/iPad and play a track you hope to cast.
Step 3. Swipe up from the bottom of your mobile device's screen to open the Control Center.
Step 4. Tap on the Screen Mirroring or AirPlay button.
Step 5. Select your Apple TV from the list of available devices and the music should now be playing on your Apple TV.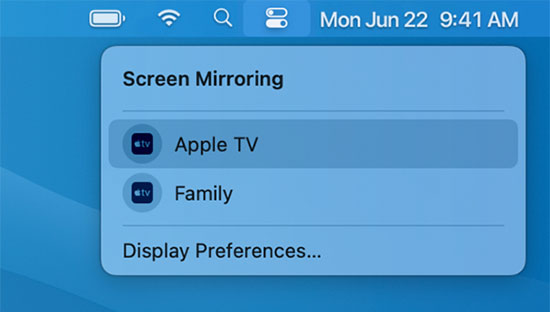 Part 4. Stream Tidal on All Apple TVs without Premium
In this part, we will introduce a free method that is customized for those who want to keep Tidal streams after canceling the Tidal subscription or uninstalling the Tidal app. Here, we need to use a third-party Tidal music converter to help to achieve our goal.
Best Tidal Music Converter for Apple TV
Particularly designed for Tidal music downloads and conversion, AudFree Tidal Music Converter becomes the pathfinder to download and convert Tidal to lossless FLAC, WAV, MP3, AAC, M4A, M4B, and such common formats. With 100% raw metadata saved, you can find complete ID3 tags like the title, artists, album and etc. in the converted files.
In addition, using the latest technology, this intelligent tool is capable of loading a batch of tracks, converting 100 songs in a stable situation at 5X or faster speed. If you are willing to keep all of the Tidal tracks after canceling the subscription or uninstalling the Tidal app, you can't miss AudFree Tidal Music Converter. 
How to Stream Tidal Hi-Fi to Apple TV
AudFree offers a free trial version for every new user. Please download it to get the free trial first. You can convert the first minute of each Tidal stream. When you are satisfied with this software, please sign up for the registered version. Now, please follow the detailed tutorials below to begin the full conversion.
Step 1

Add Tidal music to AudFree Tidable

Launch AudFree Tidal Music Converter on your computer. The Tidal app will automatically launch later. After logging in to your Tidal account, please browse and choose the song/playlist/album that you would like to convert. Next, copy and paste the URL of it to the search bar in AudFree. After that, click on the '+' icon to load it to AudFree.
Step 2

Set output parameters for Apple TV

After the files are imported successfully, you can go to modify the output settings. Windows users please hit the toolbar from the upper menu bar in AudFree. Mac users please find the AudFree Tidal Music Converter option from the system menu of Mac. In the new window, please choose 'Preferences' > 'Convert' to open another page. Then you can change the output settings. For the best output quality, please change the output format to FLAC or WAV.
Tips: For Tidal Hi-Fi streaming, choose the bit depth as 16 bit and the sample rate to 44100Hz. For Tidal Master streaming, select depth as 24 bit and the sample rate to 192000Hz.
Step 3

Convert and download Tidal songs locally for Apple TV

Directly click on the big lower-right Convert button in AudFree Tidable to start the conversion. When the converting process is finished, please follow the on-screen instructions to visit the target folder where all local Tidal tracks are saved.
Step 4

Import and play Tidal music on Apple TV

You need to transfer local Tidal tracks to iTunes library first. Please just drag and drop the downloaded Tidal file from your computer to the iTunes. Or find and click the menu bar tab > 'Files' > 'Add to Library' to import the local Tidal file to iTunes.
Step 5

Open Home Sharing and Set up Apple TV

Back to the 'File' > 'Home Sharing'. When logging in to your Apple account, turn to Apple TV and find 'Settings' > 'Accounts' > 'Home Sharing' to double-check if you enter the same account on iTunes. At last, go to Apple TV, find the Tidal files in a 'Computer' app, Now you can listen to Tidal HiFi or Master on Apple TV without Tidal subscription or Tidal app.
Part 5. FAQs about Tidal on Apple TV
Q1: Why is Tidal not working on Apple TV?
The issue may result from several factors. Please ensure that you have updated the Tidal app and your Apple TV to the latest version. Also, please check your Internet connection. Most importantly, you have to subscribe to Tidal HiFi or HiFi Plus. If it doesn't work as expected still, please contact Tidal customer support. Generally, speaking, we commend you use AudFree Tidal Music Converter to download Tidal tracks and transfer them to your Apple TV.
Q2: Is Tidal Apple TV app sound quality good?
It is a pity that you can only stream Tidal on Apple TV with Tidal HiFi quality (CD Quality) instead of Tidal Master. The streaming quality can only reach 16 bit/44.1 kHz. So, it is not so good as that on your phone.
Q3: Is Tidal on Apple TV uncompressed?
Yes. Tidal subscribers are given uncompressed CD Quality while streaming on Apple TV.
Part 6. Summary
There are 3 ways to stream Tidal on Apple TV 4K or HD. Using AudFree Tidal Music Converter is the best shot. Because you needn't have to purchase for Tidal subscriptions to get Tidal music on Apple TV and other devices for offline listening with this converter while the other two ways need. Besides, it can help you circumvent the Tidal playback error on Apple TV.