Early in 2018, Pioneer updates network players with MQA and Tidal Masters support. With the Tidal HiFi subscription, audiophiles can stream Tidal Master songs on MQA enabled Pioneer receivers.
Normally, the best way to connect Tidal to Pioneer AVR would be to hardwire the computer to Pioneer receiver. Another option would be stream Tidal music to your Pioneer devices via Airplay.
In this article, we are going to introduce a third approach with detailed steps on how to stream Tidal to Pioneer receiver with MQA quality. If you are interested, don't miss it!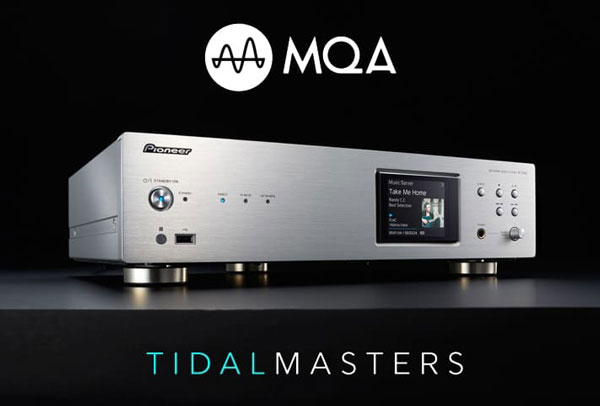 Part 1. Get Tidal on Pioneer Receiver - Tool Recommended
To play Tidal music on Pioneer receiver, of course a Tidal Premium or HiFi subscription is required. As is introduced above, you can either play music from the Tidal desktop app on your computer to Pioneer receiver with a wired connection, or stream Tidal to Pioneer AVR through Airplay. Both options require a stable Internet connection if you want to enjoy Tidal's high-quality music smoothly, not to mention that the Tidal desktop app does not allow offline downloads.
The third approach we are going to share will help you get Tidal on Pioneer receiver for offline playback. Firstly, you'll need the AudFree Tidal Music Converter, which can not only download Tidal MQA music but also save them to local music files in common audio formats such as FLAC, MP3, AAC, WAV, etc. All the original sound quality will be preserved along with the metadata of the music. You can also define other audio parameters like sample rate, bit rate, and bit depth to help you get the best listening experience of Tidal on Pioneer receiver.
Additionally, AudFree Tidal Music Converter can work at 5X speed on a PC, so it won't take you long to get Tidal music downloaded for the Pioneer A/V receiver. Another good thing about using this tool is that you get to keep the downloaded Tidal music forever even if you cancel your Tidal subscription. AudFree Tidal Music Converter for Windows or Mac offers a free trial for users to experience its various features before purchasing.
Part 2. How to Stream Tidal to Pioneer A/V Receiver - Detailed Steps
After you successfully install the AudFree Tidal Music Converter on Mac/Windows and the Tidal desktop app on your computer, you are ready to go through how to listen to high-quality music on Pirnner receiver using Tidal.
Step 1

Add Tidal tracks to AudFree

Launch AudFree Tidal Music Converter and you will see that the Tidal app opens itself shortly after. Now please find the Tidal tracks/albums/playlists you'd like to play on Pioneer receivers, right-click on it to copy the link, and paste it to the search box of AudFree software. Then hit the '+' button.
Step 2

Set output format for Tidal music

Go to Menu from the upper-right corner of AudFree software and select the 'Preferences' option to open a new setting window. Go to the 'Convert' section and here you are able to set the output format for Tidal music files. If you have a Tidal HiFi subscription, we suggest you select output format as FLAC and bit dept in 24 bit to get the best out of MQA music. You can also customize other audio parameters as you like.
Step 3

Download Tidal music for Pioneer AVR

When all settings are done, click 'OK' to save and you can click the 'Convert' button from the bottom-right to start the downloading process. After that, you can click the 'converted' icon and locate the downloaded Tidal files in the output folder.
Step 4

Transfer Tidal music to Pioneer receiver

The last step is to transfer Tidal music files to USB and plug in the Pioneer receiver to play. This way, no Internet connection is required and you can always have high-quality music playing in the house.
Part 3. More Tips About Pioneer Receiver Using Tidal
Currently, the Pioneer A/V Receivers for sale that support Dolby Atmos sound effect are Pioneer A/V Receiver VSX-934, VSX-933, Elite A/V Receiver VSX-LX104, VSX-LX304, and VSX-LX504. But you can also enjoy Tidal's hi-res music on older devices like Pioneer VSX-45.
Pioneer has also developed the Pioneer Remote App which lets you intuitively operate remote control functions on your Pioneer receivers such as volume control, input source selection, adjusting equalizer settings, etc. It allows you to play from music streaming services like Spotify, Deezer, and Tidal, play radio, stream music on your devices via Bluetooth, and play from USB.

In October this year, Tidal announced the Tidal Connect which allows users to control MQA and Dolby Atmo music streaming on compatible devices directly from the Tidal mobile app. The first wave of partners for Tidal Connect include Cambridge Audio, StreamUnlimited, Bluesound, KEF, Lyngdorf, iFi audio, DALI, NAD, and Naim Audio, and hopefully Pioneer will be added to the list in a near future. But for now, why not apply the practical way we introduce to help you stream Tidal to Pioneer AVR offline?