In the past few years, Apple has always tried to deal with the rise of Google products by emphasizing the multimedia potential of the iPad.
As we all know, the iPad is more portable and durable with a stylus and touch screen.However, if you need a keyboard and mouse, or don't have ample funds, a Chromebook wins.
Chromebooks are usually more affordable, lighter and have longer battery life. They are perfect for work, web browsing, checking email, watching videos, listening to music, etc.
For music enthusiasts who use Tidal app, you may want to know how to play Tidal on Chromebook. You can get the answer in this post.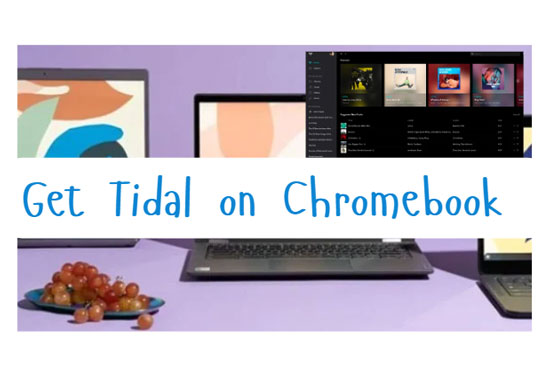 Part 1. Play Tidal on Chromebook via Offical Ways
Users can get two kinds of music streaming services in Tidal: Tidal Premium (high quality) and Tidal HiFi (lossless CD quality). Both of them provide a free trial mode. According to the different subscription modes, there are two official ways for you to access to Tidal music on your Chormebook.
Play Tidal on Chromebook with a 30-days Free Trial
The first way to make Tidal work on Chromebook is that you can get a 30-days free trial of the Tidal app. So you don't need to pay money forTidal tracks, exclusive videos, and Tidal playlists on the Chromebook. But you should know that when the days end, you have to subscribe to a premium plan to ensure that you are allowed to enjoy the music service in Tidal.
Get Tidal on Chromebook with a Premium Subscription
Yet if you want to unlock the limitation above, you can upgrade your account to a premium one and download Tidal songs for entertainment anytime. In this way, you are able to freely use Tidal on Chromebook with a payment of $9.99 USD for Premium and $19.99 USD for HiFi per month.
Hence, you are offered millions of Tidal tracks and you can save them for offline playback inside the Tidal app on your Chromebook. The high quality of Tidal music will give you an amazing experience in your daily life.
Part 2. Add Tidal Music to Chromebook - Best Way
Apart from the two official ways we've shown you, here's a third-party software you can use to play Tidal for free. AudFree Tidal Music Converter is what you need to get Tidal music without a subscription.
We know that Chromebook supports MP4, M4V, M4A, MP3, OGG, OGA, WAV, etc. The AudFree Tidal Playlist Converter lets you convert the format of Tidal tracks to MP3, WAV and M4A. Consequently, the converted Tidal songs won't be incompatible with Chromebook.
After you convert the songs to common audio files, you can own the local Tidal files so that you are able to save Tidal songs forever on Chromebook. That means you can add Tidal music to Chromebook with ease.
In addition, the AudFree Tidal Tracks Converter will give you back lossless Tidal music files and preserve the ID3 tags of the songs in the conversion process. The tool runs at 5X faster speed so you will get the converted Tidal tracks within a few minutes.
You may want to know the concrete steps of playing Tidal on a Chromebook. Just follow the tutorial we make below.
Step 1

Stream Tidal Tracks to AudFree

Run your computer of Windows or Mac system and download the AudFree Tidal Music Converter. Launch the AudFree software. The Tidal app will be open simultaneously. Make your decision on which songs you want to upload to Chromebook and drag them to the conversion window. Or you can copy their URL and paste it to the search bar of the interface. Then the Tidal playlists will show up in the window.
Step 2

Adjust Output Settings for Chromebook

Drop your mouse on the top right. Click 'Preference' > ' Convert'. Then you can set the output format as MP3, WAV or M4A. You are free to define the parameters including the channel, bit rate and sample rate for better quality.

To avoid unexpected error, it may occur during the conversion process, you can set the speed as 1X faster. What's more, the AudFree tool allows you to archive the output tracks by Artist/Album or Artist.
Step 3

Convert Tidal Playlists for Chromebook

Hit the 'Convert' button to start the conversion. All the information on the Tidal songs like genre, title, group and composing will be kept at the same time. The uploaded Tidal files will be converted in batch and finished within a coffee time.

Tips: You can only get a one-minute converted file of each Tidal track. If you plan to get a completely transferred file, you should buy the AudFree program.
Step 4

Load Tidal Playlists to Chromebook

Since you have got the converted Tidal tracks, it' time for sending the songs to Chromebook. You can use a USB drive to store the converted Tidal files. Then copy and load them to the Chromebook local drive. Finally, you can play Tidal music with ease on Chromebook.