Q: How to play Tidal music on Roku TV? I would like to play Tidal Master on Roku TV. But I only find that Tidal HiFi is usable. Is Tidal Master available on Roku? Please advise.
Tidal has integrated with more smart TVs this year. If you are living in the US, now you can listen to your favorite Tidal songs on Fire TV, Apple TV, Nvidia Shield TV, VIZIO TV and many more. Besides, more and more digital devices are compatible with Tidal, such as Apple CarPlay and Samsung Wearables. It seems that Tidal is trying to attract new users via adding supports for more digital devices.
Up to now, the Roku TV doesn't support Tidal master quality. The highest sound quality for the Tidal app on Roku TV is HiFi. But it doesn't mean that you can't listen to Tidal Master on Roku TV. In this article, I will introduce 2 useful solutions to help you play Tidal music on Roku TV, which is in HiFi and Master quality.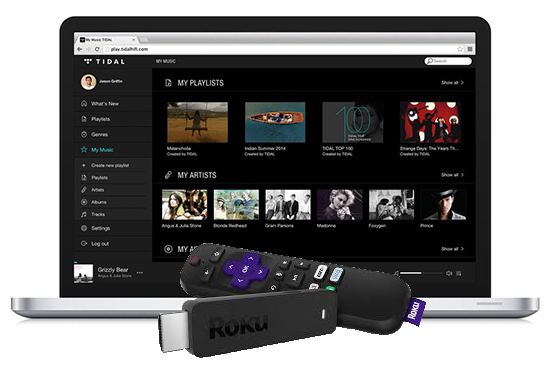 Part 1. How to Listen to Tidal HiFi on Roku TV
There are 3 ways for Tidal subscribers to add Tidal app to Roku for music playing. Here I will give you some brief instructions as guidance.
Streaming Tidal from Roku Device
You can use the remote of Roku device or the TV remote of Roku TV to add the Tidal app from the Roku Channel Store to your Roku TV.
Step 1. Choose "Streaming Channels" from the Roku home screen and search for "Tidal".
Step 2. Pick up the Tidal app > "Add Channel".
Step 3. Select the TIDAL app, then select Add Channel.
Step 4. Follow the on-screen tips to enter the password.
Step 5. Click "Add Channel" again.
Step 6. A Tidal icon will show on the bottom of the channel list. Done.
Import Tidal from the Roku App
The Roku mobile app is also available to add the Tidal app to Roku TV.
Step 1. Launch the Roku app and find "Channel Store" on your smartphone.
Step 2. Look for the Tidal app in the Channel Store or type in "Tidal" for searching.
Step 3. Repeat Step 3 and Step 4 from the former method.
Loading Tidal from Roku.com
Roku.com is another place for you to install the Tidal app on Roku TV.
Step 1. Visit Roku.com from here: https://channelstore.roku.com
Step 2. Find "My Account" > Enter your Roku ID and password.
Step 3. Type in "Tidal" on the Search Channel box from the top.
Step 4. Repeat the Step 3, Step 4 and Step 5 from the first method.
Part 2. How to Get Tidal Master on Roku TV
This paragraph introduces a simple trick to stream Tidal Master to Roku TV. As we all know, the offline Tidal audio files are cache files that can't be located, though we have downloaded them for offline listening.
That is why you need a specific well-designed tool named AudFree Tidal Converter for Tidal.This all-in-one software can help you download music, playlists, albums from Tidal and convert Tidal to MP3, FLAC, WAV or other Roku compatible audio files in high quality. It works at 5X faster speed when downloading Tidal songs with ID3 tags preserved.
With the support of AudFree, you can download Tidal music as local files on your computer. Then transfer these local Tidal audio files to Roku TV via a medium of a USB stick. a USB drive so that we can access to Tidal f a USB stick.
The following is a complete guide on how to transfer Tidal Master to Roku.
Note: You need to purchase the full version of AudFree Tidal Converter to unlock the conversion-time limitation. Otherwise, you will locate the 1-minute song of each track.
Step 1

Add Tidal Master to AudFree Tidal converter

To add Tidal music that you'd like to use on Tidal to AudFree Music Converter for Tidal, here is a simple yet effective way to do this. You just need to discover Tidal music on the opening Tidal app and tap the item to click 'three-dot' icon to choose 'Share' > 'Copy Playlist Link' to copy the Tidal link. After that, please paste it to the search box of AudFree's and simply press the '+' button to load them.
Step 2

Customize Tidal output settings for Roku TV

Roku officially supports a wide variety of audio formats, including AAC, MP3, WAV, WMA, AIFF, FLAC and ALAC. You can click the top menu on Windows. Or choose 'AudFree Tidal Music Converter' from Apple's menu on Mac and select 'Preferences' > 'Convert'. To save the best quality of Tidal master quality, please set the output format as FLAC, bit depth to 24 bit, sample rate to 96Khz.
Step 3

Download and convert Tidal for getting on Roku

Please simply press the 'Convert' button of AudFree Tidal Converter after all settings are ready. It will start to download and convert Tidal music and playlists to target audio files and all Tidal downloads will be saved on your computer. You can locate them by clicking the 'file' icon or 'history' > 'search' icon. After that, please pair your USB to your computer via USB port and transfer Tidal songs to USB drive via copying&pasting action.

Step 4

Stream Tidal to Roku TV for playback

Step 1. Plug in USB drive from your computer and then insert it to your smart TV.

Step 2. Just open Roku Media Player and click the 'Audio' button to access to audio files.

Step 3. Next, you can choose USB device from the menu and then locate Tidal music for playback on Roku.
Part 3. Bottom Line
Here, we are showing two effective ways on how to get Tidal on Roku TV. Now you can not only listen to Tidal HiFi but also Tidal Master on Roku TV. Just pick the method you need. By the way, the second method is recommended as no matter you are using which Roku device, it works well to cast Tidal on Roku.