How to listen to Tidal on Nvidia Shield TV? Is there a native Tidal app on Nvidia Shield TV? There's no doubt that Nvidia Shield TV is worth buying among so many choices of Android TVs.
Nvidia Shield TV Pro was launched on Oct 28, 2019. This new version not only updates its visual system to provide more details in 1080p content but also equips with Dolby Vision, HDR10, and Dolby Atmos audio, which supports you to enjoy any CD-quality music at home.
If you are a Hi-Fi music lover, I bet you know about Tidal music, which is featured as Hi-Fi and Masters streaming music. In this article, I am going to discuss the pros and cons of Tidal native app on Nvidia Shield TV, and more significantly, to introduce the best way to play Tidal Hi-Fi and Masters on Nvidia Shield TV.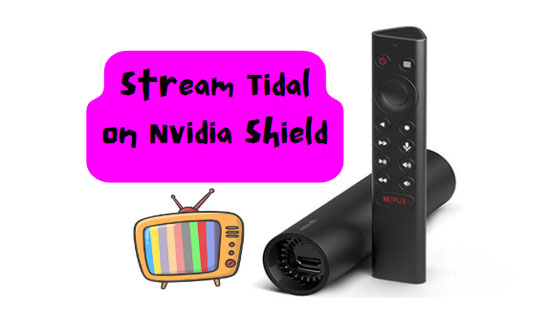 Part 1. Connect Tidal to Nvidia Shield TV: Pros and Cons
Pros: Direct and Easy
To link Tidal to Nvidia Shield TV via installing the Tidal native app is the most direct way.
Step 1. Just go to the Play Store from your TV's home screen, and search for Tidal then install it on your TV.
Step 2. Enter link.tidal.com on other smart devices such as a computer or a phone. Log into your Tidal premium account.
Step 3. A code will show on your Nvidia Shield TV. Simply type in the code on your smart device. Then the connection is done.
Cons: No Master quality and Low volume
When you start playing Tidal songs in the Tidal app for Nvidia Shield, you will find there is no Master option for you even having Tidal Master subscription. Besides, music volume may sound lower and music quality becomes poorer when using the native Tidal app on Nvidia Shield.
If you change to use Airplay from the iPhone, the situation may get better. But if you have high requirements for music quality, you are hardly satisfied with these two methods.
Part 2. Transfer Tidal Hi-Fi/Master to Nvidia Shield TV: What You Need
So how to play Tidal Master on Nvidia Shield TV? Here is the best tool to help you. It is a simple but powerful third-party software called AudFree Tidal Music Converter. Designed for downloading and converting Tidal to FLAC, WAV, MP3, AAC, M4A, M4B, and many other unprotected formats, this smart program can also keep 100% raw metadata, which means 100% lossless quality and 100% original ID3 tags will be saved in the converted files.
Taking full advantage of the latest converting technology, this intelligent tool can accommodate 100 tracks at once, unlocking the limitation in songs at a lightening 5X faster speed. With the help of AudFree Tidal Music Converter, it is simple to download Tidal tracks to real local files for manually uploading to Nvidia Shield TV.
Part 3. Listen to Tidal Hi-Fi/Master on Nvidia Shield TV: How to Do
You can install and try the free version of AudFree Tidal Music Converter. There is a one-minute conversion of each Tidal file. If you are satisfied with this software, please register to unlock the full version. Now let's see the detailed tutorials of the registered conversion.
Step 1

Add Tidal music to AudFree

Launch AudFree Tidal Music Converter on your computer. The Tidal app will automatically open later. After logging in your existing Tidal account, just search for any song or playlist or album that you would like to convert. Next, copy and paste the link of it to the search box in AudFree. Later, tap the '+' icon to import it to AudFree.
Step 2

Alter output settings for Nvidia Shield TV

After the files are imported, you can reset the output settings if you want to. On a Windows computer, please click on the menu icon on the top menu bar in AudFree. On the Mac computer, please find the AudFree Tidal Music Converter tab under the system menu of Mac. Next, please hit the Preferences > Convert tab to prompt to the Settings page. You can customize the output parameters according to your needs.
Tips of best settings: For Tidal Hi-Fi music, please choose bit depth to 16 bit and sample rate to 48000Hz. For Tidal Master music, please select bit depth to 24 bit and sample rate to 96000Hz.
Step 3

Convert and download Tidal for Nvidia Shield TV

Directly press the big Convert button to start the conversion. When the converting process is finished, please follow the pop-out instructions to browse the target folder where all converted Tidal songs kept.
Step 4

Stream Tidal to Nvidia Shield TV via USB

Now you can drag and drop the converted Tidal files to a USB. Just insert the USB to your Nvidia Shield TV. Don't forget to install an extra music player on the Nvidia Shield TV. For example, you can search and download Plex player from the Google Play Store. Then simply add Tidal to Plex for music playback on Nvidia Shield TV.
Video Demo: How to Play Tidal Music on Nvidia Shield TV
In this video, you will learn about how to play Tidal Master and HiFi music on Nvidia Shield TV without limits.