Q: I'd like to move Tidal download to SD card on my Android phone. However, there is no 'Memory card' but an internal storage option to choose only. It seems that the Tidal app couldn't recognize my SD card even though other apps, like Spotify, can. Could I confirm whether Tidal only allows to sync Tidal music to phone memory but not to an SD card?
Downloading Tidal music to SD card is a smart way to avoid devouring the phone's internal storage by music files. And there is a positive answer to this question. But there are some troubleshooting you need to do when making Tidal store in the SD Card.
Here, we will introduce the easy way to download Tidal music to an external SD card on the iOS app and Android app. Besides, we will also share an effective workaround to move Tidal download to an external SD card.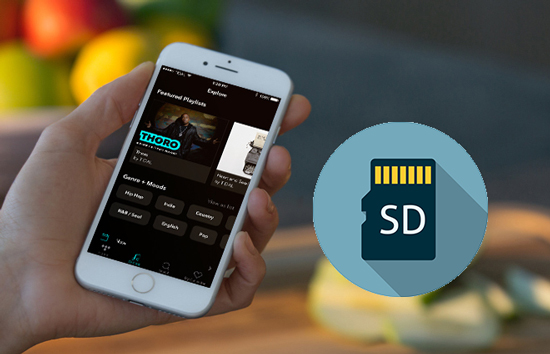 Part 1. How to Download Tidal Music to SD Card on iOS / Android
Where does Tidal store offline music on Android and iOS devices? It's important to be well noted that Tidal music is cache files but local files. That's to say, you can't find the Tidal download location but only millions of small files in the cache. They can readable by Tidal only with random names and no extension.
But it's still necessary to save your music on an SD card from Tidal. Fortunately, Tidal offers you a straightforward way to do that. Follow the detailed tutorial to download Tidal music to SD card on mobile devices.
Step 1. Open the Tidal app on your Android or iOS phone, and then navigate to the 'Settings' section.
Step 2. Please go to the 'Music Playback' > 'Download Destination' option to open the setting window.
Step 3. There are two options for your choice, respectively 'Internal' and 'Memory card'. Please check the mark before 'Memory card'.
Step 4. Now, you can start to download Tidal music offline and all Tidal downloads will be saved on an SD card well.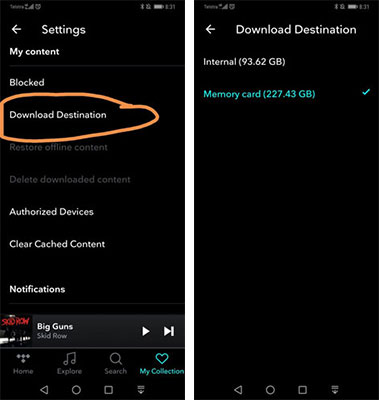 Troubleshooting of Downloading Tidal Music to SD Card
You have done the above steps, but met the issue of 'Tidal not saving all offline content to an SD card? Or, you even couldn't make Tidal download destination as SD card? No matter which situation you are in, there are three troubleshooting you can do to solve them below:
To save music to your SD card, your Android phone should be running 5.0 or higher versions. Otherwise, you will be limited to save Tidal music in internal memory.
Check whether your SD card is mounted well and check the Tidal app permissions. Sometimes SD card could be popped up randomly and automatically.
Check the memory of the SD card to make sure you have a lot of space to store Tidal downloads. If not, please change one.
Part 2. How to Move Tidal Download to External SD Card
By following the above way, Tidal music is also cache files stored in your SD card. When you cancel your Tidal subscription, all Tidal downloads will disappear automatically. Besides, you can't use an SD card reader to recognize Tidal songs. It's impossible to listen to Tidal music on other devices from an SD card.
So, in this section, you will get another way to save music to the SD card from Tidal. Here, you need to draw support from the professional AudFree Tidal Music Downloader. It is well-designed to download Tidal music to the local computer. Moreover, it has the ability to convert Tidal music to MP3, FLAC, WAV, and more.
Thanks to this tool, it's easy to move local Tidal downloads to an SD card. And you can play Tidal playlists on all devices via SD card.
How to Save Tidal Music to SD Card - Detailed Guide
Let's see how to use this tool to download Tidal music to SD card compatible audio files. After that, you can easily move local Tidal downloads to SD card. Please download and install AudFree Tidal Music Downloader on your computer.
Note: You can test the free trial version of this tool. It allows you to convert a 1-minute track of each music. You can purchase the full version to unlock it.
Step 1

Copy and paste Tidal songs for download

When you launch Tidal Music Downloader on your computer, you will see Tidal app will be opened at the same time. (This tool needs to work with the Tidal app. So please install the Tidal desktop app on your computer in advance). You can discover Tidal music that you'd like to save to the SD card on the Tidal app. And then, please click this item to choose the 'three-dot' icon > 'Share' > 'Copy Tidal Track' to copy the Tidal link. Paste it to AudFree's search box and click the '+' button, it will take a second to load Tidal songs.
Step 2

Adjust Tidal output audio parameters for SD Card

SD cards can support a wide variety of audio files except for protected tracks. Click the top menu icon on a Windows computer or the 'AudFree Tidal Music Converter for Mac' on a Mac computer. Choose the 'Preferences' > 'Convert' option, the setting window will be opened automatically. Now, you can start to define output format as MP3, FLAC, WAV, or others. You can also change the destination folder by clicking the 'file' icon to store Tidal downloads.
Step 3

Download Tidal music for saving to SD card

Once all settings have done, please click the 'Convert' button at the bottom-right corner. Tidal Music Downloader will download songs from Tidal onto computer. It also will convert protected Tidal music to common audio files that can be transferred to an SD card without a problem. All ID3 tags can be preserved in converted Tidal tracks.
Step 4

Move Tidal downloads to SD card for storage

You can locate all Tidal music and playlists by clicking the 'history' > 'search' icon. Alternatively, please click the 'file' icon to find the Tidal destination folder. And then, insert your SD card into your computer via a card reader. Once connected, please drag and drop Tidal music files to the SD card folder for saving.
Part 3. Play Tidal Offline Content on Devices that Support SD Card
Here are two ways to move Tidal downloads to an SD card. The first way is a direct way with no cost. The second way is a paid way but more professional and skillful.
In my opinion, I more recommend the latter solution. It also empowers you to play Tidal music on any device. The only prerequisite is that the device supports the insertion of an SD card. All Tidal downloads are local files. You can back up them on your SD card forever even without the Tidal plan anymore.
Which method do you prefer? Leave it in the comment area!