Tidal offers are featured with various HiFi quality music and allow its users to download Tidal music for offline playback with Tidal subscriptions. However, you may find that your phone has run out of storage space provided you get a lot of HiFi quality music offline. Therefore, saving Tidal music to an external drive, such as an SD card, can be taken priority.
Tidal allows users to save music directly to the SD card by changing the saving location in the settings window. However, some users have reported that the application does not recognize SD cards. Don't worry, in the following section, we will show you how to use the Tidal app to download and save Tidal Music to SD cards. Besides, we will introduce the best way to achieve that. After that, you will be able to play Tidal music in your car or on other SD card-supported devices. Let's get started now!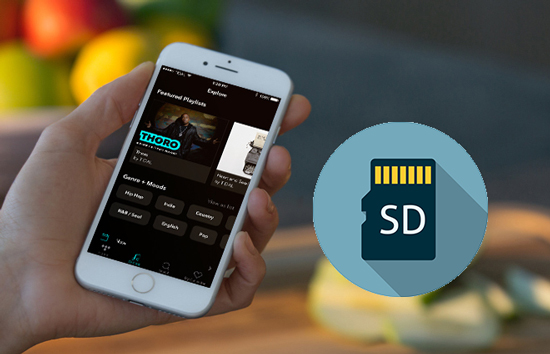 Part 1. Tidal Download Location on Android and iOS Devices
It is noted that Tidal users are not allowed to download and store Tidal music onto computers but only on mobile devices. Where does Tidal store the offline music on Android and iOS devices? To find out the Tidal download destination, please look through the following instruction:
Step 1. Launch Tidal on your mobile and tap the bottom 'My Collection' section.
Step 2. From the menu, select 'Downloaded' to find your Tidal Android download location.
Step 3. On 'My Collection', tap on the 'gear' icon and enable the Tidal offline mode. Under the 'Downloaded' column, you can start to play Tidal music in offline mode now.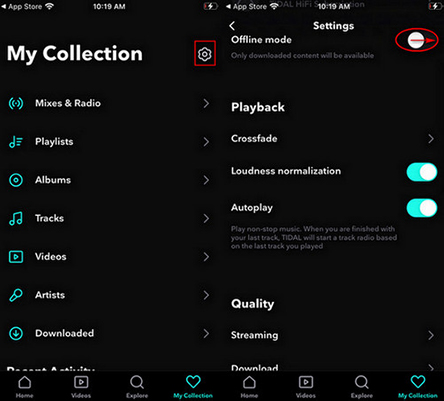 Part 2. Official Way to Download Music to SD Card from Tidal with Tidal Subscription
After figuring out the Tidal download location on Android or iOS devices, we will take you through how to save Tidal music to your SD card. It must be made clear that the offline Tidal tracks are all featured in a cached files instead of local files. You can only play music on Tidal offline in-app, not on other incompatible devices. Fortunately, Tidal allows you to change the Tidal storage destination from the original Tidal folder on Android to your SD Card as long as you have a Tidal HiFi or HiFi Plus account. Please make sure that your Android phone is running version 5.0 or higher and check the steps to get the Tidal download stored on SD Card below.
Step 1. Open the Tidal app on your Android or iOS phone, and then navigate to the 'Settings' section.
Step 2. Please go to the 'Music Playback' > 'Download Destination' option to open the setting window.
Step 3. There are two options for your choice, respectively 'Internal' and 'Memory card'. Please check the mark before 'Memory card'.
Step 4. Now, you can start to back up music from Tidal to SD Card.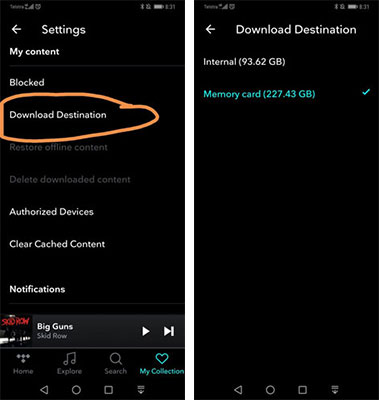 Part 3. Best Way to Save Tidal Music to SD Card without Tidal Subscriptions
By following the above way, Tidal songs are only cache files stored in your SD card. When you cancel your Tidal subscription, all Tidal downloads will disappear automatically. Besides, you can't use an SD card reader to recognize Tidal songs. It's impossible to listen to Tidal music on other devices from an SD card.
So, in this section, you will get the best way to save Tidal music to SD cards. Here, you need to draw support from the professional AudFree Tidal Music Converter, a well-designed to get Tidal music to the local computer for offline playback. It is capable to convert Tidal Tidal Dolby Atmos, 360 Reality Audio, and other types of music to lossless MP3, FLAC, WAV, and more. After converting, you can transfer the converted Tidal music to SD card and other devices or players.
Most importantly, you can use this converter regardless of whether you have a Tidal subscription or not. This means that you can listen to Tidal music offline forever even without Tidal subscriptions. So, why not install the AudFree Tidal Converter and enjoy Tidal music without restrictions? By clicking on the "Download" button below, you can get the free version of the AudFree Tidal Music Converter. It is 100% safe and legal for individual use.
AudFree Tidal Music Converter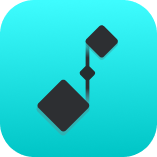 Store Tidal music to local drive without a subscription
Convert Tidal to MP3, FLAC, WAV, M4A, AAC, etc.
Keep original ID3 tags and 100% lossless audio quality
Save Tidal music to SD card, USB flash drive, etc.
How to Transfer Tidal MQA Music to SD Card - Detailed Guide
Let's see how to use this tool to sync Tidal music to SD card-compatible audio files. After that, you can easily move Tidal offline MQA of HiFi music to SD Cards.
Step 1

Copy and paste Tidal songs to AudFree Tidable

When you launch Tidal Music Converter on your computer, you will see the Tidal app will be opened at the same time. You can discover Tidal music that you'd like to save to the SD card on the Tidal app. And then, please click this item to choose the 'three-dot' icon > 'Share' > 'Copy Tidal Track' to copy the Tidal link. Paste it to AudFree's search box and click the '+' button, it will take a second to load Tidal songs. Alternatively, you can drag and drop the songs you want to back up.
Step 2

Adjust Tidal output format to MP3 for SD Card

Click the top menu icon on a Windows computer or the 'AudFree Tidal Music Converter for Mac' on a Mac computer. Choose the 'Preferences' > 'Convert' option, and the setting window will be opened automatically. Now, you can start to define the output format as MP3, FLAC, WAV, M4A, M4B, AAC, and more formats that are available to most portable devices and players. You can also change the destination folder by clicking the 'file' icon to store Tidal downloads and set the sample rate, bit depth/rate, audio channels, and other parameters for truly lossless listening.
Step 3

Download Tidal music for saving to SD card

Once all settings have been customized, please click the 'Convert' button at the bottom-right corner. This converter will download songs from Tidal onto the computer. It also will convert protected Tidal music to common audio files that can be transferred to an SD card without a problem. All ID3 tags can be preserved in converted Tidal tracks.
Step 4

Transfer Tidal music to SD cards for Tidal store

You can locate all Tidal music and playlists by clicking the 'history' > 'search' icon. Alternatively, please click the 'file' icon to find the Tidal destination folder. And then, insert your SD card into your computer via a card reader. Once connected, please drag and drop Tidal music files to the SD card folder for saving.
Part 4. More FAQs about Tidal Download to SD Card
Q1: Is there a Tidal offline download limit?
A1: Yes, Tidal only allows you to get up to 10,000 songs with 3 Android or iOS devices. To remove such Tidal offline download limits, we suggest using AudFree Tidal Music Converter. With this smart tool, you can get Tidal music offline as many as you want.
Q2: Why is Tidal not downloading to my SD Card?
A2: You have done the above steps, but met the issue of 'Tidal not saving all offline content to an SD card'? Or, you even couldn't set an SD card as Tidal back up destination? No matter which situation you are in, there are three troubleshooting you can do to solve them below:
To save music to your SD card, your Android phone should be running 5.0 or higher versions. Otherwise, you will be limited to saving Tidal music in internal memory card.
Check whether your SD card is mounted well and check the Tidal app permissions. Sometimes SD cards could be popped up randomly and automatically.
Check the memory of the SD card to make sure you have a lot of space to store Tidal downloads. If not, please change one.
Q3: Do you recommend uploading songs from my SD Card to Tidal?
A3: No. It is not recommended to move Tidal songs to SD Card since there is no direct way to achieve that.
Part 5. In Conclusion
Here are two ways to download Tidal music to SD cards. If you just want to save your phone storage, you can choose the first way. But if you want to save music to SD Card free from Tidal and keep the transferred Tidal songs on other devices, you need to use the AudFree Tidal Music Converter. With it, you can always back up your Tidal songs and listen to Tidal music on multiple devices including all SD card-enabled devices offline without a subscription. Just try it!