As a streaming music platform that has emerged and become popular in recent years, Apple Music has hundreds of millions of users around the world. Users have access to a large library of popular music, Apple Music exclusives, web radio shows, and more. However, your access to all of the above features is based on the subscription to Apple Music. Since Apple Music is essentially similar to other Apple services, it is still a streaming service that requires payment.
At the same time, most users who enjoy using Apple Music will then struggle with the high cost of Apple Music subscriptions. Under this circumstance, you might wonder whether you could get Apple Music for free? Fortunately, the answer is positive as you can actually hack Apple Music for free. And you've come to the right place. This article will introduce the official way to hack Apple Music for free and a perfect solution to get free Apple Music hack forever.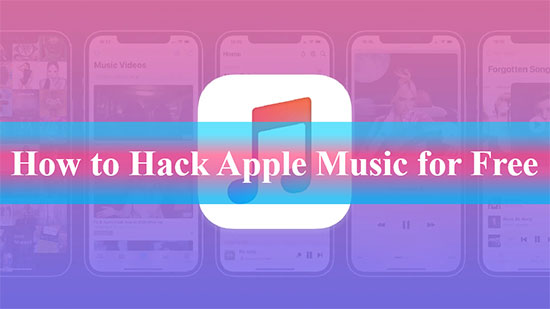 Part 1. Is Apple Music Free
One might ask "Some streaming services, such as Spotify, allows users to listen to music on their music platforms for free. Is there a free version of Apple Music?" Unfortunately, the answer is probably no. Apple Music is a subscription-based premium music streaming service and a free version will not be available. You must subscribe to Apple Music in order to enjoy and download music, playlists or albums on Apple Music.
There are three general types of Apple Music subscriptions available, including $9.99 per month for individuals, $4.99 per month for students, and $14.99 per month for families. Fortunately, almost every streaming service on the market today has some sort of free trial period, and Apple Music is no exception. Before subscribing to the Apple Music program, it offers an official Apple Music free trial to all new subscribers. During the trial period, you get access to all the premium features for free, and the free trial period is usually three months.
Part 2. Apple Music Free Hack via Official Way - 3-month Free Trial
Without a doubt, the most direct way to get Apple Music Free hack is to get a 3-month free trial of Apple Music. During this period, you can enjoy the full features of the paid service and listen to all the high-quality content of Apple Music without any restrictions.
It's worth noting that at the end of the trial period, if you don't cancel your subscription, your Apple Music free account will automatically switch into a paid account, and you will be charged for Apple Music membership. This situation is worse, so remember to set an alarm to remind you to cancel your subscription before the Apple Music trial period ends. Now you can follow the steps mentioned below to get a free 3-month trial of Apple Music.
How to Make Apple Music Free Trial Available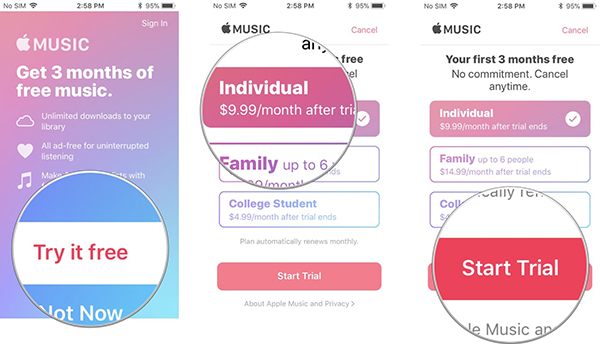 Step 1. Open the Apple Music app on your phone or iTunes on your PC, click on the Music category in the top window, and select the For You option. Then the prompt of free trial will appear, just click on it.
Step 2. Click on the trial offer option. You can see three target types, individual subscription, student subscription and family subscription. Click on the trial type you need. In turn, enter your Apple ID account and password in the new window to log in to Apple Music. If you do not have an Apple account right now, just create a new Apple ID.
Step 3. Confirm your billing information and add a valid payment method, such as a credit card, etc. Then click the Join button and you will start enjoying your free Apple Music for 3 months. Please remember to cancel your subscription before the end of the 3-month free trial period. Otherwise, it will automatically renew your subscription.
Part 3. Best Method to Hack Apple Music for Free Forever
The three months free trial of Apple Music seems to be convenient, but once the three months are over, the problem is that you will not be able to use Apple Music again unless you subscribe to it. If only you could get Apple Music for free forever, AudFree Apple Music Converter is the great third-party tool you're looking for. It's dedicated to helping you hack Apple Music for free forever.
Moreover, it can convert protected Apple Music to unprotected files, then download and save Apple Music on your local computer. In this way you don't have to worry about the end of Apple Music free trial period. You can always listen to Apple Music offline on all your devices. Wouldn't this perfect solution to get free Apple Music hack forever be appealing?
AudFree Apple Music Converter
How to Get Free Apple Music Hack with AudFree Auditior
Step 1

Install and Run AudFree Auditior

Click on the menu icon at the top right, tap to Register, fill in your relevant email and code to complete the registration, then open the full version of AudFree Auditior.
Step 2

Import Apple Music Tracks to AudFree Auditior

Click the Add button at the bottom left corner to import any Apple Music tracks you want to convert. Or drag and drop Apple Music files directly to the main interface of AudFree Auditior. Also, you can add multiple Apple Music files for batch conversion.
Step 3

Adjust Apple Music Output Format and Parameters

After you finish adding Apple Music, click Format Settings to convert Apple Music to MP3, FLAC and other common output formats. Then customize the audio codec, bit rate, channels, etc. For example, you can set the bit rate to 320kpbs to retain the super high audio quality of Apple Music. Finally click OK button to finish the setting.
Step 4

Get Free Apple Music Hack

After finishing the Apple Music import and output settings, click the Convert button. After the conversion is done, you can find the converted Apple Music files on your local computer. Then you can have free Apple Music forever without a subscription.
Part 4. How to Get Free Apple Music Hack on iOS/Android
Tips: By the above method you already have the downloaded and converted Apple Music files completely on your computer. If you want to get free Apple Music hack on iOS or Android devices, you can directly sync Apple Music from your computer to your mobile device., after that, you can play Apple Music on your iOS and Andriod smartphones for free.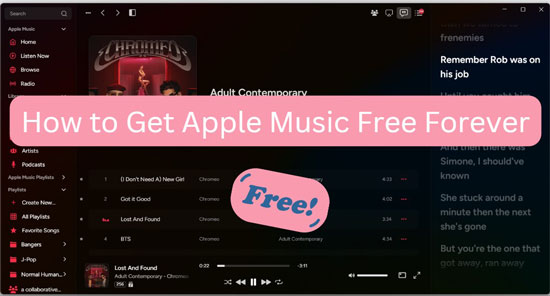 Step 1. Connect your Android or iOS phone to your personal computer using a USB cable or Bluetooth.
Step 2. If you have previously successfully downloaded Apple Music to your computer via AudFree Auditior, locate the converted Apple Music folder on your computer.
Step 3. You can drag and drop the downloaded Apple Music to your Android phone's folder. Or you should transfer them to your iPhone's iTunes app. In this way, you transfer the music from computer to phone smoothly. After that, you can enjoy Apple Music on your Android or iPhone device for free.
Part 5. In Conclusion
Don't wait any longer, it's time to hack Apple Music for free. Whether it's a three-month trial of Apple Music or the perfect solution to download Apple Music with AudFree Apple Music Converter, just choose the way you like. You can make getting free Apple Music hack a reality from now on.