"How to use Virtual DJ with Apple Music? I am an Apple Music subscriber and have downloaded many Apple Music songs to the Apple Music library on my computer. But when I try to import those tracks to my virtual DJ software, I could not find any music files on my local computer. What is going on?"
Some DJ beginners or someone new to streaming music may come across similar problems when using Apple Music and Virtual DJ software. But it doesn't matter. In this post, I am going to list and analyze the key points that why can't add Apple Music to Virtual DJ directly. And give the most practical instructions on how to use Apple Music with Virtual DJ.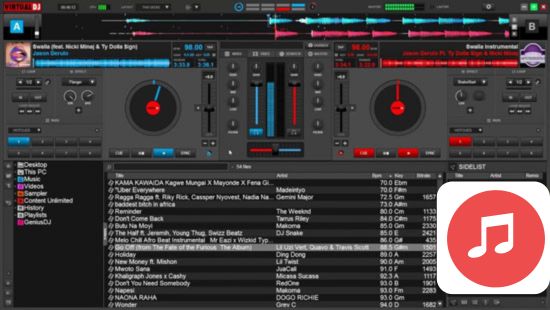 Part 1. Can You Use Apple Music on Virtual DJ Directly
Nope. Apple Music is not compatible with Virtual DJ 8 and other Virtual DJ versions. Thus, you won't access its songs on Virtual DJ directly even though you downloaded them due to Apple Music's copyright protection. Generally speaking, Apple Music tracks are encrypted with special M4P (protected AAC) and ALAC formats. However, Virtual DJ supports common MP3, WAV, M4A, and other formats. All in all, you cannot use Apple Music with Virtual DJ for incompatibility of their formats. But you can add purchased Apple Music (unprotected AAC files) to Virtual DJ and other top best DJ apps for mixing Apple Music
Part 2. How to Connect Apple Music to Virtual DJ
The first thing that you need to make clear is the meaning of "download songs" in Apple Music. It presents that you can listen to your favorite Apple Music tracks offline in your Apple Music library. But it doesn't mean that you can use and edit those songs in other applications or transfer Apple playlists to unauthorized players and devices for offline playback. As we stated above, there is no official support between Apple Music and Virtual DJ. And that is why Apple Music subscribers can't play Apple Music on Virtual DJ.
There are two solutions to handle this problem. One, buy Apple Music tracks from the Apple Music store directly. Different from the downloaded tracks, all purchased Apple Music tracks are unprotected. So, you can move them to any editors and players. The only downside to this approach is the pricy charge for every single song.
If you want to save some money, you can check the second method. This method requires a third-party tool named AudFree Apple Music Converter. This tool is designed for all Apple Music users. It serves to convert Apple Music to unprotected formats that are supported by Virtual DJ and other platforms. The converted Apple Music files are saved as unprotected files on your local computer without needing to purchase them. Amid such situations, you can play Apple Music songs on Virtual DJ and other platforms without restriction.
| | |
| --- | --- |
| Virtual DJ Compatible Formats | MP3, WAV, M4A, AAC, WMA, OGG, FLAC, etc. |
| Apple Music Format | M4P(encrypted AAC), ALAC |
| AudFree Auditior Can Convert To | MP3, WAV, M4A, AAC, FLAC, M4B |
Besides, with the latest converting technology, AudFree Apple Music Converter can save lossless streaming quality. And it can identify 100% raw metadata like ID3 tags in the converting process, such as titles, albums, artists, track numbers and etc. In other words, the converted Apple Music files are exactly the same as the purchased ones.
AudFree Apple Music Converter
How to Download Apple Music Playlists for Virtual DJ
AudFree Apple Music Converter is available for Windows and Mac computers. It is totally safe and legal for individual and educational use. You can install it by clicking the above green 'Download' button. Before using this converter, please download the Apple Music songs you want to mix on Virtual with your existing Apple Music account. Then please follow the user guide as follows.
Step 1

Add Apple Music playlists to AudFree Auditior

Launch AudFree Apple Music Converter on your computer. Then the iTunes app will automatically launch. Then on the AudFree software's interface, hit the first 'Load iTunes Library' icon from the bottom left corner. In the pop-out window, choose and add the Apple Music tracks you downloaded before to AudFree Auditior. Or, drag and drop those Apple Music tracks from iTunes or Apple Music to this Apple Music converter. Please note, you can edit Apple Music song's ID3 tags by touching the right 'Edit' icon on the item.
Step 2

Customize output settings for Virtual DJ

For compatibility between Apple Music and Virtual DJ, please proceed to customize the output formats for Apple Music songs. If you are running macOS, please move your cursor to the top left corner of the whole computer screen. Enter to Mac's menu bar and then click 'AudFree Apple Music Converter'. If you are running Windows, just direct to the bottom right corner of AudFree Auditior's main screen. Find and tap on the first 'Format' button which is like a speaker icon. In the newly opened Format Setting windows, you can opt to convert Apple Music tracks to MP3, FLAC, and other Virtual DJ-enabled formats. Then press 'OK' to commit the results.
Step 3

Covert and download Apple music for mixing with Virtual DJ

Now just click the big 'Convert' button to commence the converting. This one of the best Apple Music downloaders will work at a 30X faster speed. Once finished, a red spot will show on the 'Converted' icon. You can click it to navigate to the target folder where all converted Apple Music tracks are located.
Part 3. How to Play Apple Music on Virtual DJ 8 for Mixing Offline
After conversion, you can start to transfer the converted Apple Music audios into Virtual DJ for mixing now. We will cite Apple Music with Virtual DJ 8 as a case. Please refer to the following steps to import Apple Music to Virtual DJ.
Step 1. Fire up the Virtual DJ 8 software on your computer.
Step 2. Head over to the navigation panel on the left side of the DJ software.
Step 3. Choose 'Local Music' > 'Hard Drives' from the panel's 'Folder' tab to open a new window.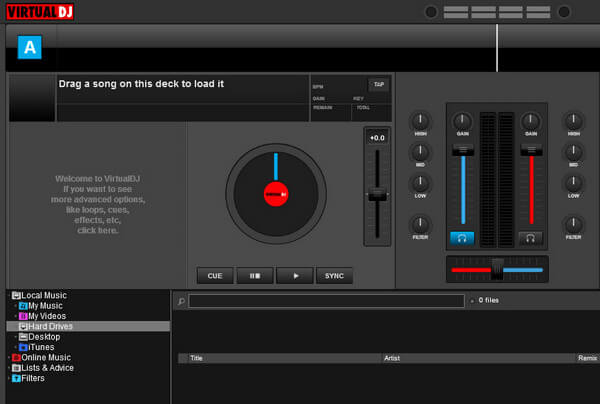 Step 4. Browse and select the stored Apple Music conversions from the target folder to add Virtual DJ's database. Then drag them into the above DJ's deck directly.
Step 5. Wait for Virtual DJ to analyze those Apple Music files. Then you can use Apple Music in your mixes.
Part 4. More Tips: How to Add iTunes Music to Virtual DJ
As we mentioned in Part 2, if you buy Apple Music tracks from the Apple Music store or iTunes directly, the purchased Apple Music songs are stored as unprotected AAC files in your iTunes library. In other words, you can play those Apple Music songs on any device or player including Virtual DJ. But it requires you to pay several dollars for each single track, which is a large expenditure. Here, we will guide you on how to transfer music from iTunes to Virtual DJ. Please make sure your purchased Apple Music tracks have synced in iTunes.
Step 1. From the left navigation panel of the Browse Section, choose 'Local Music' from the 'Folder' tab.
Step 2. Click on 'iTunes' > 'Purchased' to find the Apple Music songs you bought before. And Virtual DJ will add those songs to its search database.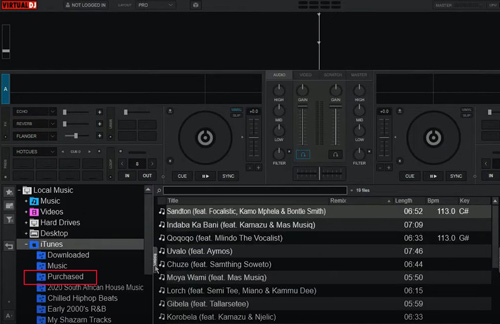 Step 3. Drag and drop the Apple Music AAC-format items to the above Virtual DJ's deck to load and analyze them.
Part 5. How to Mix Apple Music Songs with Virtual DJ
To mix and play Apple Music on Virtual DJ, please figure out several sections on Virtual DJ's start screen: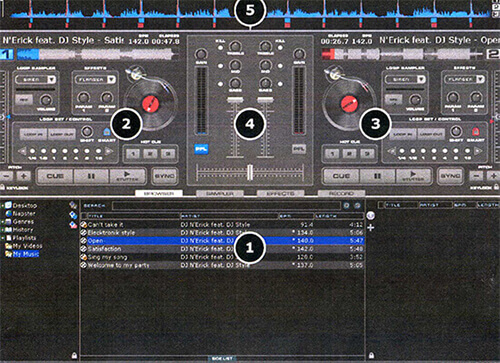 Browse Section
Left Decks Section
Right Decks Section
Mixer Section
Rhythm Waveform Section
Then you can follow these basic steps:
Step 1. Once upload Apple Music songs to Virtual DJ, proceed to click on the 'Decks' tab to view the two virtual decks in Virtual DJ.
Step 2. Drag a track from the central files list window of the below Browse Section onto one of the DJ's two Decks Sections on the top left part to load it.
Step 3. You can click the 'Cue' button from the two decks sections to set a starting point for each track.
Step 4. Use the 'BPM(beats per minute)' or 'Sync' features on the decks to match the beats of the two tracks that are playing on the two decks.
Step 5. Proceed to use the crossfader in the middle mixer section to easily fade and equalize the two Apple Music tracks from one deck to another deck. You can also use effects and loops to enhance your mixes and save your mixes as new files for future playback.
Part 6. More FAQs about Virtual DJ and Apple Music
Q1: What DJ software works with Apple Music except for Virtual DJ?
A: In general, you cannot play Apple Music songs on any DJ app directly as they are copyright-protected. Yet, there are some workarounds that allow you to use Apple Music with certain DJ software. For example, you can try mixing Apple Music with the DJay Pro AI app, which has built-in integration with Apple Music. Or, to get Apple Music and all DJ apps working together, you have to download Apple Music tracks to unprotected files with reliable tools such as AudFree Apple Music Converter mentioned above.
Q2: What music apps work with Virtual DJ except for Apple Music?
A: Virtual DJ is compatible with a variety of music apps. Currently, Virtual DJ works with Tidal, Deezer, iTunes, SoundCloud, Beatsource, and Beatport Streaming. You can also use local files from your computer or external hard drive.
Q3: How to fix the Virtual DJ not showing iTunes playlists/Apple Music songs issue?
A: Please check if you have synced your iTunes playlists with Virtual DJ properly. Go to the Virtual DJ Settings, select the "Browser" tab, and then click on the "iTunes" folder. This way, you can view all your iTunes playlists and tracks. If they're not showing up, you may need to try syncing your iTunes library again.
Part 7. In Conclusion
We have taken you through how to use and play Apple Music with Virtual DJ in this post. All in all, there are two workarounds to do that. On the one hand, subscribe to Apple Music Premium plans and then purchase the songs you want to mix on Virtual DJ from Apple Music or iTunes. This method is much more costly. On the other hand, install and use the powerful AudFree Apple Music Converter to convert protected Apple Music ALAC or M4P files to MP3 or other unprotected Virtual DJ-enabled formats. With this converter, you can save your money and play Apple Music on all kinds of DJ apps.