Is there an integration of Tidal Hi-Fi and Traktor DJ? Unfortunately, the fact is very frustrating. But no need to worry, in this article, you will get an ultimate guide on how to mix Tidal music in Traktor DJ.
Since streaming music has taken part in the music market competition, it was highly controversial in the DJ groups. The discussion is something more than the shift of the way that people listen to music. It also contains the change of the place where DJ source music from.
In the past, DJs need to focus on audio accumulation for lifetime long by pressing it on every imaginable shade of vinyl. Now It's easy to get started on DJing, just with a DJ software and a smartphone or other smart device. Then they can get music directly from the cloud to their device.
Sounds simple, right? But this rule isn't used to streaming music service. There is no exception for Tidal music service. As for adding Tidal music to Traktor, you can follow the solution as below.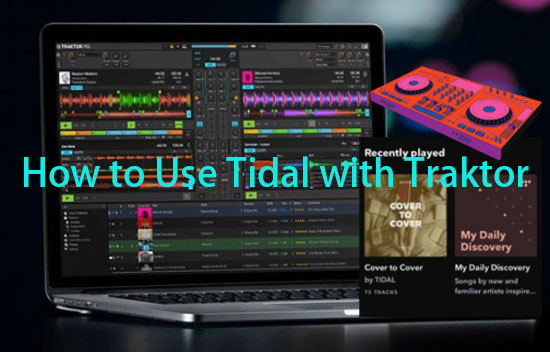 Part 1. Can't Sync Tidal Music to Traktor DJ: Best Solution
As everyone knows, streaming music is protected so that listeners can't really possess it. And Tidal streaming music is in the same way. Except for the official integration, there is only one feasible way to use Tidal with Traktor DJ. What you need is a professional Tidal music downloader, which can download Tidal songs as unprotected files. Here, AudFree Tidal Music Downloader is the best choice because of its expertise in the audio converting area. Customized for Tidal Music, this smart tool can erase the protection info and convert Tidal tracks to Traktor supported formats like MP3 and other common-used audio files.
Adopting the most cutting-edge techniques, this software can not only preserve 100% quality from Tidal Hi-Fi and Master, but can also keep all raw metadata in the converted files. Title, artists, album, album art, etc. are identical to the original one. With the help of AudFree Tidal Music Downloader, any DJ beginners or hobbyists can freely enjoy themselves in mixing any Tidal songs.
Part 2. Stream Tidal Music to Traktor DJ: Concrete Measures
Step 1

Import Tidal music to AudFree

Launch AudFree Tidal Music Downloader on your computer. The Tidal app will auto-open later. Enter in Tidal app and select which songs that you want to mix in Traktor DJ. Then copy the link of it and paste it to the search bar in AudFree. At last, tap on the '+' icon to add it to AudFree.
Step 2

Edit Tidal output parameters for Traktor DJ

On the Windows computer, find the menu icon from the top in AudFree. Then click the "Preferences" tab, and select "Convert" tab. On the Mac computer, please open Mac's menu and choose the "AudFree Tidal Music Downloader" and turn to "Settings". In there, you can reset the output settings as you like.
Tips: Best settings for Tidal HiFi: FLAC, 16 bit, 44100Hz. Best settings for Tidal Master: FLAC, 24 bit, 96000Hz.
Step 3

Convert and download Tidal for Traktor DJ

Press the big "Convert" button to get an actual start. Wait until the conversion finishes, hit the red spot. It will guide you to the local "Converted" folder where saves all converted Tidal tracks.
Step 4

Stream Tidal music to Traktor DJ

Now you can open Traktor DJ software and begin to import music from Tidal to Traktor.

Step 1. Open "Setting" tab >"File Management". In the new dialog box, please choose "Import Music-Folders at Startup". Then find "Music Folders". Click the "Add" button to locate the local "Converted" folder.

Step 2. Close the dialog box and select "Track Collection" > "Import Music Folders" to add the local Tidal music files.
Think More: What Is the Effect of Streaming Music to the DJ Industry?
If you are in a place where WiFi or Mobile Signal is pretty good, it better for you to use Tidal with Serato online. Just follow the easy steps below.
The pros of streaming music service are obvious:
Lower the cost of music access.
Reduce the barriers to being a DJ.
Help DJ hobbyist to create music at home.
The cons of streaming music service concentrate on these aspects:
Audio quality is usually worse.
No ownership of tracks. This may let you be limited by those music giant companies
Cater to the large DJ beginners market. This may lead to inadequate investment in professional software.
Conclusion:
From my perspective, there is more good than bad in the effects that streaming music brings to the DJ industry. The first point of cons can be figured out by Tidal Hi-Fi and Master music quality. And the second point of cons can be perfectly solved by the professional AudFree Tidal Music Downloader. You can check Part 2 to review.