Many people prefer to listen to music with AirPods for better sound quality. It is easy to put your Apple Music tracks on AirPods. But do you know how to listen to Tidal on AirPods? Tidal stands out from most music services for its incredible and innovative HiFi and Master music, which goes viral among audiophiles. When you combine Tidal and AirPods, you will get awesome audio quality.
If you wonder how to do that, you come to the right place. This post has displayed detailed steps to guide you to hear Tidal's high-resolution and spatial audio on your AirPods with/without Tidal subscriptions. Let's get started!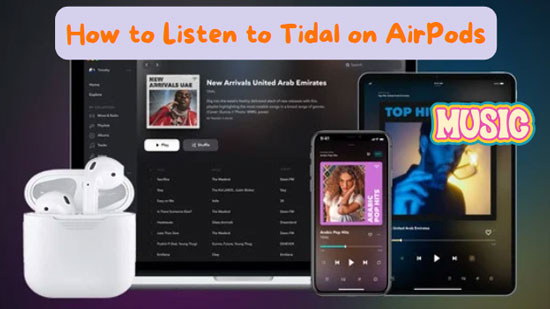 Part 1. Listen to Tidal on AirPods Through Multiple Devices
Tidal works with AirPods on both Apple and non-Apple devices, so you can listen to Tidal music directly on AirPods Pro or Max. But it requires a Tidal HiFi or HiFi Plus account. To play Tidal HiFi or MQA music on AirPods, you need to connect your earbuds to those devices beforehand. Here are step-by-step instructions as follows.
On iPhone/iPad
Step 1. Go to the Settings app on your iPhone and iPad, and enable the Bluetooth feature.
Step 2. Keep your iOS device unlocked and go back to the Home screen.
Step 3. Put both AirPods inside the charging case and keep the case open. Then place the case near your iOS device.
Step 4. A prompt will pull up like the picture displays. Click the 'Connect' button to pair them. Afterward, you can cast Tidal music on your earbuds.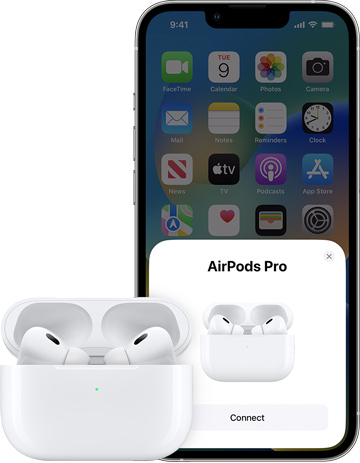 On Mac
🏷 Note: To ensure the compatibility of AirPods and Mac, here are some system-related requirements:
1) AirPods (2nd generation): macOS Mojave 10.14.4 or later
2) AirPods Pro (1st generation): macOS Catalina 10.15.1 or later
3) AirPods (3rd generation): macOS Monterey or later
4) AirPods Pro (2nd generation): the latest version of macOS
Then you can link the earbuds and Mac according to the below steps:
Step 1. On Mac, go to System Preferences by clicking the top Apple menu.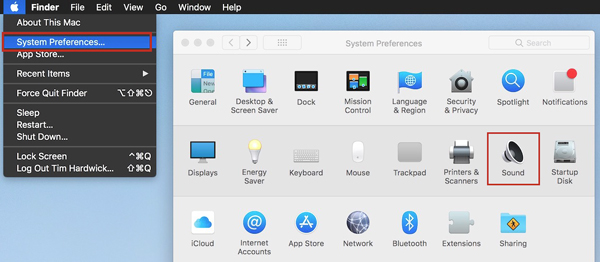 Step 2. Choose Bluetooth from the right sidebar and turn on it.
Step 3. Keep both earbuds in the case. Then open the lid.
Step 4. Hold the setup button located on the charging case's back. Then loosen it if the status light turns white.
Step 5. Then your earphone model will show on the device list. Choose it and tap on 'Connect' to pair them and start to play Tidal on Mac from the app and listen to Tidal music with your earphones.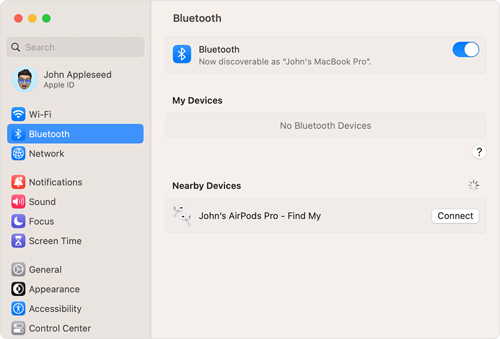 On Non-Apple Devices
Also, some non-Apple Bluetooth devices are compatible with AirPods. To pair them with your AirPods, you can refer to the following steps:
Step 1. Go to Settings on your device, and turn on the Bluetooth. Then go to 'Connected Devices' > 'Pair new device'.
Step 2. For AirPods Pro, please place them into the charging case and open the lid. Then press and hold the setup button on the case's back till the lights become white. For AirPods Max. Please keep them out of the case, press and hold the noise control button for 5 seconds till the lights become white.
Step 3. Once your AirPods display on the device list, please choose it and click the 'Pair' button. Now, you can stream Tidal music via Bluetooth on those devices.
🏷 Notice: To pair AirPods and your device with the above steps successfully, please remember the below notice.
1) If you connect AirPods to your iPhone while signing iCloud on your Mac with the same Apple ID, you can switch your AirPods from iPhone to Mac directly. Just click the volume control or Bluetooth menu from the Mac's menu bar, and then choose your AirPods from the list.
2) For AirPods Max users, please keep both AirPods out of the charging case. Then hold the noise button on AirPods Max until the status light turns white.
Part 2. Hear Tidal HiFi/Master/Spatial Audio on AirPods Losslessly
It is known that Apple Music receives music audio via wireless Bluetooth. Since that, the streaming quality may vary with different audio files after transmitting through Bluetooth. Generally speaking, the AAC format is the best choice if you want to get higher music quality from Tidal. Because all AirPods including AirPods Pro 2 also use AAC format while streaming. In other words, different from other formats, AAC files won't be compressed when you listen to AAC audio on both AirPods Pro and Max.
Therefore, you can download Tidal lossless protected FLAC or WAV audio (also called HiFi and Master in-app) to the AAC format with a professional tool. When it comes to this, AudFree Tidal Music Converter can be taken priority. It is designed specifically for both Tidal Free users and subscribers. This sought-after gadget works to download and convert all content from Tidal into local files in various formats. Apart from AAC format, it also supports MP3, FLAC, WAV, M4A, and M4B, which allows you to play Tidal on all AirPods-enabled devices and other platforms forever.
It is worth mentioning that, with expert conversion technology, AudFree Tidal Converter is capable of keeping lossless audio quality and original metadata info, including ID3 tags after conversion. Thus, you needn't worry about the music quality when you put the converted Tidal music on AirPods.
AudFree Tidal Music Converter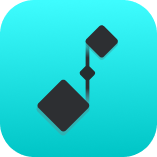 Download Tidal HiFi, Master, and spatial audio as local files at 5X faster speed
Convert Tidal music to MP3, AAC, or other AirPods-supported formats
Keep original audio quality and full ID3 tags
Support playing Tidal music on AirPods via without Tidal subscriptions
How to Download Tidal Music to AAC for AirPods
AudFree Tidal Music Converter is available on both Windows and Mac. You can install it on your computer and then look into the following steps to download your favorite HiFi or Master Tidal songs to AAC format for playing on AirPods losslessly.
Step 1

Drag and Drop Tidal Playlists to AudFree Tidable

Launch AudFree Tidable on your computer and the Tidal app will open simultaneously. To add Tidal songs to this all-in-one converter quickly, you can drag Tidal playlists or songs from the Tidal app or web player and drop them into the converter's window directly. Or, copy and paste the URL links or Tidal music into the search box of AudFree Tidable, and then tap the '+' tab.
Step 2

Customize Tidal Music Output Settings as AirPods-supported Format

Once added, please head over to the top-right toolbar looking like three horizontal lines on the Tidal downloader. From the pull-down menu, choose 'Preferences' > 'Convert' where you can select the output format of Tidal tracks as AAC. Moreover, you can opt to convert Tidal music to MP3 which is also compatible with AirPods. It also empowers you to personalize the bitrate and sample rate to keep the original audio quality for converted Tidal music. It supports up to 32-bit music quality. And you can select a stereo audio channel to enjoy Tidal Dolby Atmos and Tidal 360 Reality Audio on AirPods Pro or Max even after converting.
Step 3

Export Tidal Music to AAC Files for AirPods Losslessly

Just hit the large 'Convert' button in the lower right corner of the feature-rich tool to kick off the conversion process. Then this excellent Tidal downloader will export added Tidal playlists to AAC in batches and save them to your computer's local folder. By touching the bottom 'Converted' icon labeled with a red spot, you can locate your Tidal downloads. After that, you can listen to the downloaded Tidal AAC audio or your AirPods for a better sound experience.
Part 3. More FAQs about AirPods Tidal Integration
Q1: Does Tidal Dolby Atmos work with AirPods?
Yes. You can absolutely listen to spatial Dolby Atmos music from Tidal on AirPods Pro and Max. Besides, you can also stream Dolby Atmos audio from Apple Music and Amazon Music.
Q2: Does Tidal sound better than Spotify on AirPods?
Of course, yes. Tidal is well-known for its innovative music quality. And on AirPods, you can stream Spotify at up to 320 kbps while streaming Tidal at up to 1141 kbps.
Q3: Does AirPods Max support lossless audio from Tidal?
Nope. AirPods doesn't support completely lossless audio with any model since it's a wireless connection.
Part 4. Verdict
With a Tidal subscription, you can listen to Tidal HiFi, Master, and 3D-surrounded audio on your AirPods via different devices. However, AudFree Tidal Music Converter provides a free and best solution that allows you to those Tidal songs on AirPods on all AirPods-enabled devices and other players anytime without restrictions. This professional tool endows you with the ability to download Tidal MQA or HiFi music to MP3, AAC, and other compatible formats for better sound on AirPods.