Marantz is a company that develops high-end audio products. With durability and fantastic design, the Marantz receiver is popular all over the world. If you are looking for the best home sound experience, then the Marantz receiver has you covered.
All Marantz receivers come with many streaming music services including Spotify, Amazon Music, Tidal, and so on. If you want to listen to Tidal seamlessly, keep reading. We will show you two effective ways to play Tidal on Marantz receiver.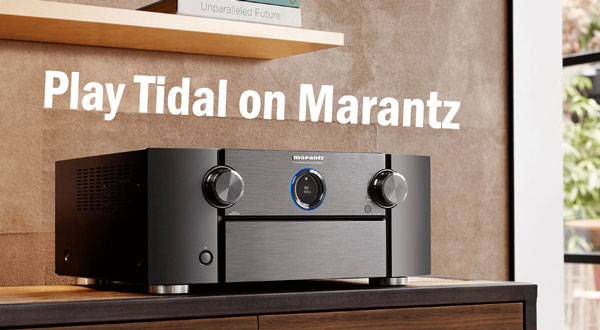 Part 1. How Does Tidal Connect Marantz Receiver via HEOS App
With the built-in HEOS system, Marantz receivers allow you to stream music, podcasts, webcasts, and much more. You can use the HEOS app to play different songs in different rooms or the same song in multiple rooms. It's easy to set up and use. Now follow the steps below to use the HEOS app to unlock the best Marantz MQA support, which makes the Marantz NA7004 Tidal possible.
1.1 How to Setup Marantz on HEOS App
Step 1. Open the HEOS app and go to the 'Music' tab. Then tap on 'Settings' at the top-left corner, and choose 'Add Device'.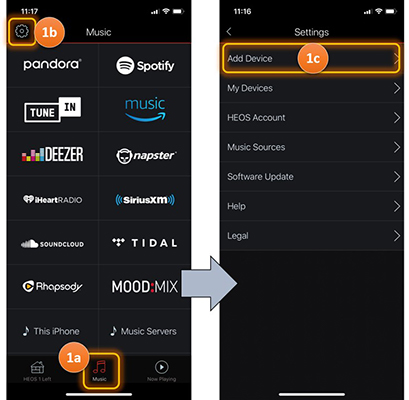 Step 2. Plug in your Marantz receiver to ensure the front light is solid amber. Then click on 'Next'.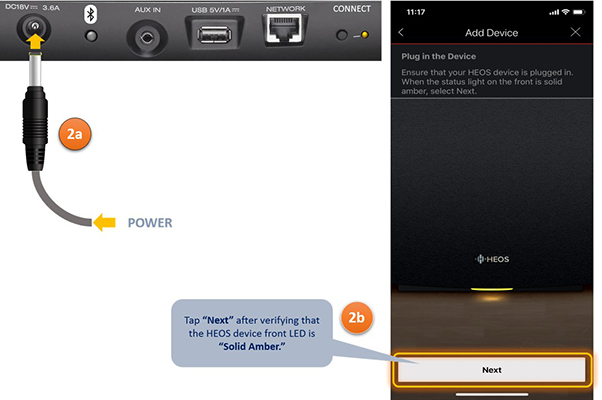 Step 3. Release the 'CONNECT' button on your Marantz and then choose 'Next' on your phone.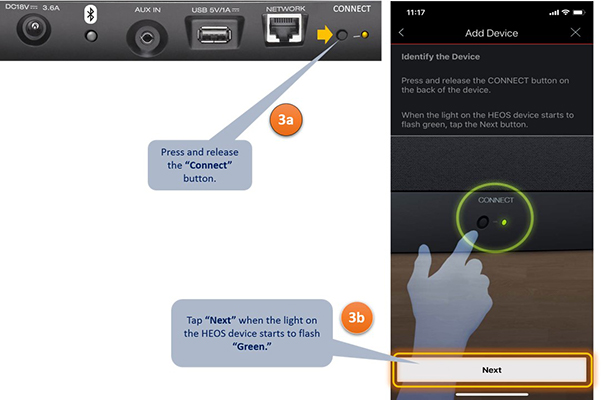 Step 4. Now the HEOS app will recognize your Marantz receiver. Once the front light turns solid green, click on 'Next'.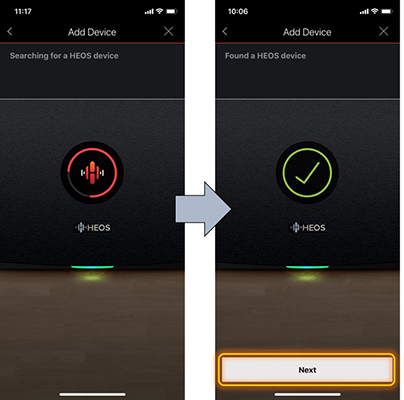 Step 5. Connect to your Wi-Fi network by entering the Wi-Fi password. Then choose 'Join'. You can select a name for your receiver and tap on 'Next'.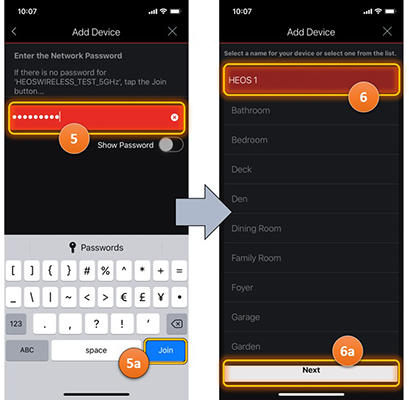 Step 6. Now your Marantz receiver is connected to the network.
1.2 How to Access Tidal on Marantz Receiver
Step 1. Open the HEOS app, after which click on the 'Music' > 'Settings' option to create a HEOS account.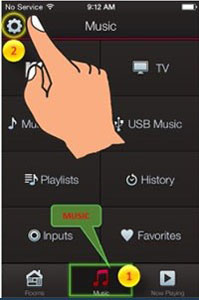 Step 2. Now back to 'Settings' and then choose 'Music Sources' > 'Online Music' section.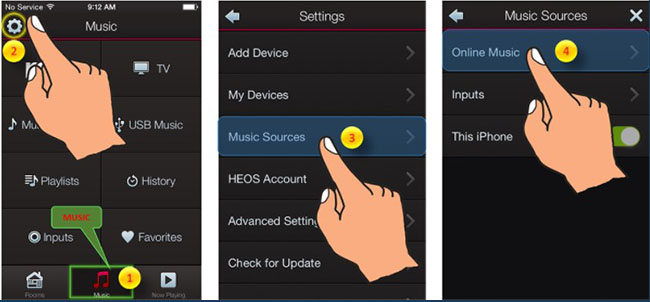 Step 3. please select Tidal as the target online music source. And you need to sign in to your Tidal account. If you don't have one, simply get Tidal for free via its 30 days free trial. Now you are well on your way to making Tidal connect Marantz NA7004 to play songs automatically.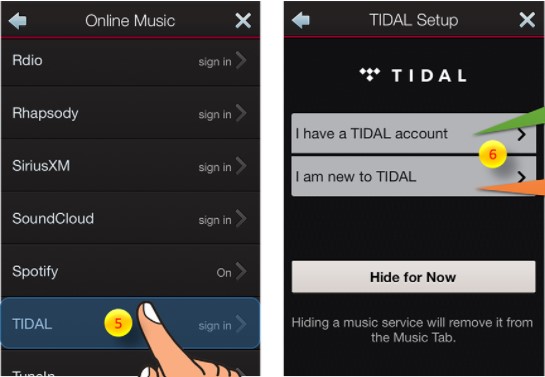 Part 2. How to Stream Tidal on Marantz Receiver Offline
To make Marantz Tidal connect a reality, it is necessary to be a Tidal subscriber. Here we will present a perfect way to help free subscribers to connect Tidal to Marantz receiver. All you need is AudFree Tidal Music Converter, which can download Tidal songs to your computer while converting Tidal to FLAC, MP3, AAC, WAV, etc. Worth mentioning, the download speed is up to 5 times faster.
All the original audio quality will be preserved during the download process without any loss, even those MQA tracks. With the built-in editor, you can choose to customize the output parameters for your favorite Tidal music. Once finished, you can transfer Tidal music to Marantz receiver for offline listening and keep Tidal songs forever even after your Tidal subscription has expired.
AudFree Tidal Music Converter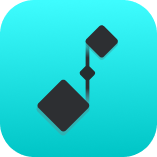 Download Tidal Music at 5X faster speed with original quality
Convert Tidal Music to MP3, FLAC, AAC, W4A, WAC, and W4B
Preserve ID3 tag information such as title, artist, album, genre, etc.
Play Tidal on Marantz receiver offline, such as Marantz NA7004
How to Connect Tidal to Marantz Offline
Please install the AudFree Tidal Converter by clicking the 'Download' button above. Then we will guide you on how to convert Tidal music and listen to it on Marantz offline without Tidal HiFi/HiFi Plus.
Step 1

Add Tidal Music to AudFree Tidable

Firstly, double click to launch AudFree Tidal Music Converter and you will see the Tidal app launch at the same time. Go to the Tidal app and find the track/album/playlist you want to play on your Marantz PM7000N device. Copy and paste the link of Tidal Music into the search box on the tool's main screen. Then click the "+" button to import Tidal songs.
Step 2

Define Tidal Format for Marantz Receiver

Hit on the "menu" icon in the top right corner and select the "Preferences" option to open a new settings window. Go to the "Convert" section where you can set the output audio format for the Tidal Music files. For your information, Marantz receivers support audio in FLAC, MP3, WAV, WMA and ALAC formats. In addition, you can personalize the bit rate, channel and sample rate settings for a better listening experience.
Step 3

Download Tidal Music for Marantz Receiver

When all the settings have been saved, press the "Convert" button in the bottom right corner to activate the download process. AudFree Tidal Converter will start converting and downloading the Tidal songs. After a few minutes, you can find and check the converted Tidal file on your computer by clicking on the "Converted" icon.
Step 4

Transfer Tidal Music to Marantz Receiver

Finally, you can transfer the Tidal music files to USB or iPod and plug them into the Marantz receiver. After that, you can get Marantz PM7000N Tidal connected and enjoy high-quality Tidal music on Marantz offline.
Part 3. FAQs about Tidal Marantz
Q1: Does Marantz Support Tidal?
A: Yes. You can stream Tidal music to Marantz receivers via the HEOS app. Besides Tidal, the HEOS app also supports Spotify, Deezer, Napster, SoundCloud, Amazon Music and many more.
Q2: Can Marantz Play MQA?
A: No. Marantz doesn't support the MQA music directly. But you can use a model that supports a Type B USB as a DAC and be Roon Tested certified to stream MQA music. If you want to listen to Tidal MQA music on Marantz, you can use AudFree Tidal Converter. The detailed steps are shown above.
Q3: Can I Use Tidal Connect to Play Music on Marantz?
A: No. While many receivers offer Tidal Connect, Marantz is not on the list. You can view supported devices for Tidal Connect here.
Part 4. Final Thoughts
Above are two effective ways to play Tidal on Marantz receiver online or offline. To use the HEOS app, you need to set up your Marantz receiver to connect to a Wi-Fi network. However, if you use AudFree Tidal Converter, you can listen to Tidal music offline on your Marantz receiver without a Tidal subscription. Choose a suitable way to fill your room with Tidal music and enjoy an authentic music experience.