Q: I've been a Spotify user for a while and have started a Tidal free trial to see if their Master tracks are worth an upgrade. What would be the optimal way of getting the Tidal music to play on my Marantz PM6006?
In the past, only the Tidal desktop app allows for the Master quality tracks to be played, so the best way to access Tidal on Marantz receiver was to hardwire the computer to the Marantz. Since the Tidal iOS and Android app support Master quality streaming now, you are no longer tied to a computer to output to a Marantz receiver. Using the Tidal mobile app to stream music to your Marantz device via Airplay is a good option too.
In this article, we will introduce a third approach with detailed steps on how to play Tidal on Marantz receiver offline. If you are interested, just keep on reading to find out.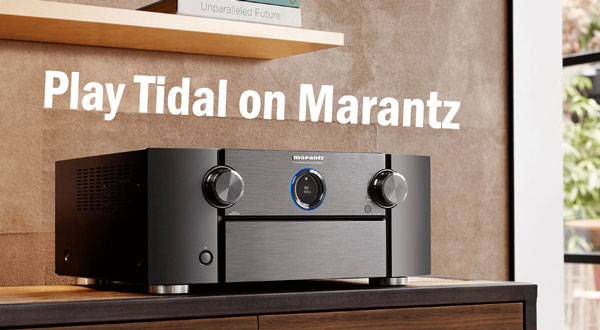 Part 1. How to Play Tidal on Marantz Receiver - Tool Needed
Founded in New York now based in Japan, Marantz is a company that sells high-end audio products. Marantz has always been a popular option among audiophiles when it comes to AV receivers. Many receivers now work with Amazon Alexa, Google Assistant, and Apple Airplay such as the Marantz SR8015, SR7015, NR1711, etc. These integrations have definitely helped in creating a better experience in streaming music.
To get Tidal music on Marantz receiver, you will firstly need a Tidal subscription: Tidal Premium or Tidal HiFi. You can either play music from PC on Marantz using the desktop Tidal app with a wired connection, or stream Tidal on Marantz receiver through Airplay. Both options require a stable Internet connection if you want to enjoy high-quality music from Tidal smoothly. Therefore, we would like to introduce a third way to help you get Tidal on Marantz receiver for offline playback.
Here we meet the AudFree Tidal Music Converter, which can download Tidal songs onto computer and meanwhile convert Tidal to FLAC, MP3, AAC, WAV, etc. All the original audio quality will be preserved during the downloading process with zero loss, even for those MQA tracks. With a built-in editor, you are also given the option to customize the output parameters for your favorite Tidal music.
In addition, the AudFree Tidal Music Converter can run at 5X speed on Windows so it won't take long for you to get the Tidal music downloaded for the Marantz receiver. Once finished, then you can transfer Tidal music to Marantz receiver for offline listening anytime, and keep the Tidal music even after your Tidal subscription expires.
AudFree Tidal Music Converter
Part 2. Access Tidal on Marantz Receiver - Detailed Tutorial
In this part, we will walk you through every step on how to download Tidal music and play them on the Marantz receiver. Please install the AudFree Tidal Music Converter on Mac/Windows for a free trial and the Tidal desktop app as well. Now follow the tutorial below, and you will be able to play Tidal on Marantz receiver offline.
Step 1

Add Tidal music tracks to AudFree

To begin with, please double click to launch the Tidal Music Converter and you will see that the Tidal app launches itself at the same time. Go to the Tidal app and find the tracks/albums/playlists you want to play on your Marantz devices. Copy and paste the link of the Tidal music to the search box on AudFree main screen. Then hit the '+' button to import the Tidal music to AudFree.
Step 2

Set output format for Tidal music

Click on the Menu icon on the top-right corner of AudFree software and select the 'Preferences' option to open a new setting window. Go to the 'Convert' section and here you could set the output audio format for Tidal music files. For your reference, Marantz receivers support to play audio in FLAC, MP3, WAV, WMA, and ALAC formats. Moreover, you could also personalize the bit rate, channel, sample rate for a better listening experience.
Step 3

Download Tidal music for Marantz receiver

When all settings are saved, press the 'Convert' button from the bottom-right corner to activate the downloading process. AudFree Tidal Converter will start to convert Tidal songs for you. After a few minutes, you can locate and check the converted Tidal files on your computer by clicking the 'Converted' icon.
Step 4

Transfer Tidal music to Marantz receiver

Finally, you can transfer the Tidal music files to USB or iPod and plug in the Marantz receiver to play. Now enjoy the offline playback of the high-quality music from Tidal on Marantz.
Part 3. Conclusion
Apart from streaming Tidal on Marantz receiver via Airplay or playing music from PC on Marantz, we have specifically included a third way to play Tidal on Marantz devices offline in details using the AudFree Tidal Music Converter. Which is the best way that works for you? Let us know by commenting below.