Since Tidal encrypts the entire file of downloaded tracks, Tidal Music can only be played on specific devices. In order to meet the demand for Tidal to be available on more devices, people are looking for the traditional ripping way to achieve this goal.
In this case, Tidal rippers springs up like mushrooms to solve this problem in time. But at the same time, with the arrival of numerous Tidal Music rippers in the market, another tricky question arose, which Tidal ripper to choose among them?
To solve users' problem once and for all, we have tested a wide variety of tools in the top list. Here, we have summarized the top 4 best software. Besides the distinguished Athame Tidal Downloader, there are 3 other professional Tidal rippers for Windows / Mac, free and online. Let's read on to unravel the mystery of these tools.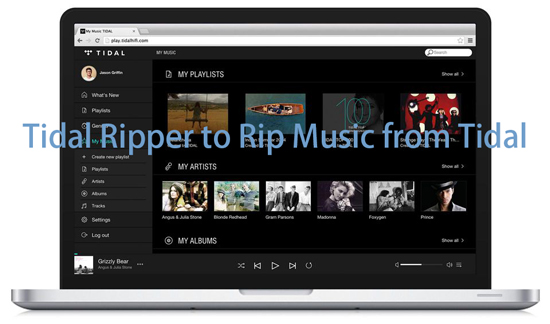 Top 1. Athame Tidal Downloader (Free/ Windows)
When it comes to the widely known Tidal ripper, Athame Tidal Downloader must be on the list. It is a free-source program released on GitHub dedicated to downloading music from streaming music services. Currently, it serves both Tidal and Google Play Music. It's worth noting that Athame Tidal Downloader is only available for Windows.
Moreover, as far as I know, it's a free software designed for educational and private use only. Please keep in mind that it is illegal to use download FLAC from Tidal with Athame for pirating and distributing music.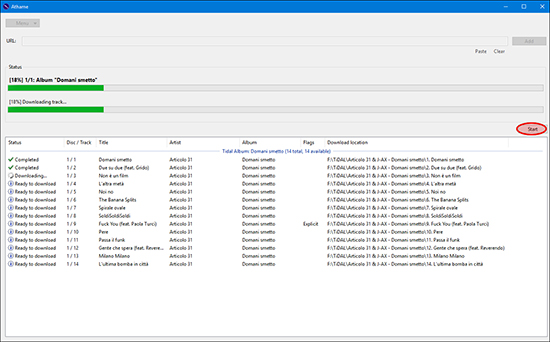 Pros:
* Reliable open source tool
* It doesn't charge anything
* It's also available for Google Play Music
* The downloaded Tidal Music can be played on multiple devices
Cons:
* It takes a long time to rip Tidal playlists
* The output quality is not ideal
* Only available for Windows users
How to Use Athame Tidal Downloader to Rip Tidal Music
Step 1. Launch Athame Tidal Downloader, click the Settings button and log in to your Tidal account.
Step 2. Copy the Tidal Music link and enter it into Athame's "URL" text box. Simply click "Add" to load the Tidal tracks in the download queue.
Step 3. All Tidal tracks will appear in the download queue, press the "Start" button to start ripping music from Tidal.
Top 2. AudFree Tidal Ripper (Mac / Windows)
When we searched for a professional Tidal HiFi ripper on Google, AudFree Tidal Ripper hits on No.1 place. When we downloaded this tool for a test, we find out that it's not only a Tidal ripper, but we can also call it a Tidal downloader. It even works better than stream ripper for Tidal.
In fact, AudFree Tidal Ripper is not only well-designed for Tidal HiFi and HiFi Plus users, but also for Tidal Free users. In the meantime, as a built-in Tidal converter, after importing Tidal Music to this tool, you can convert Tidal Music to MP3, FLAC, WAV, AAC, etc. with a few clicks.
Besides, the outstanding highlight of this Tidal ripper may be that it only takes one-minute in downloading a 5-minute Tidal song. It has the ability to download HiFi quality music as well as high quality songs without damaging the original audio files. After you download Tidal Music and playlists, you can even keep Tidal Music for free forever. What's more surprising is that it's able to transfer Tidal songs to all portable devices for playback.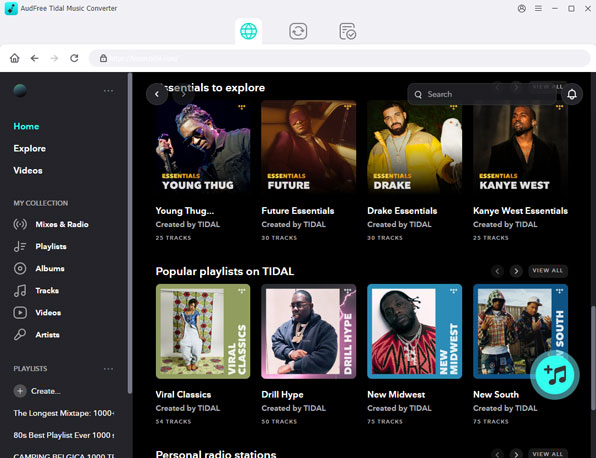 Pros:
* Convert Tidal songs as 5X faster conversion speed
* Keep 100% lossless Tidal audio quality
* Export Tidal files to FLAC, WAV, MP3, and other audio formats
* It's easy to operate
* Available for Mac and Windows
Cons:
* Need to download the third-party tool on your computer
* It's not free
How Does AudFree Tidal Ripper Work
Step 1. Download and install AudFree Tidable on your Windows or Mac computer.
Step 2. Select Preferences > Advanced section in the top menu bar to define the Tidal Music output format.
Step 3. Click the blue '+' icon to add the preferred Tidal Music to AudFree Tidable.
Step 4. Press the 'Convert' button to download and convert Tidal songs for offline listening.
Top 3. AudFree Tidal Streaming Music Capture (Windows / Mac)
AudFree Audio Capture is a professional Tidal streaming music capture that must be mentioned. It's a complete music ripper not only for Tidal but also for all streaming music services. Like a traditional Tidal music ripper, it can record Tidal Music in real-time.
In addition, there are still some different and powerful functions.For example, it can grab multi-track Tidal songs playing in your web browser via the built-in music grabber, and even divide audio ripping tracks into independent files based on the silence gap.
Surprisingly, it's available to rip music from video sharing sites, online radio stations, local media players, and others as much as you can. Furthermore, it supports you to convert Tidal Music to MP3, FLAC, WAV, etc. according to your needs. You can trim Tidal Music into small audio segments and customize ID3 tags like cover, year via the edit option.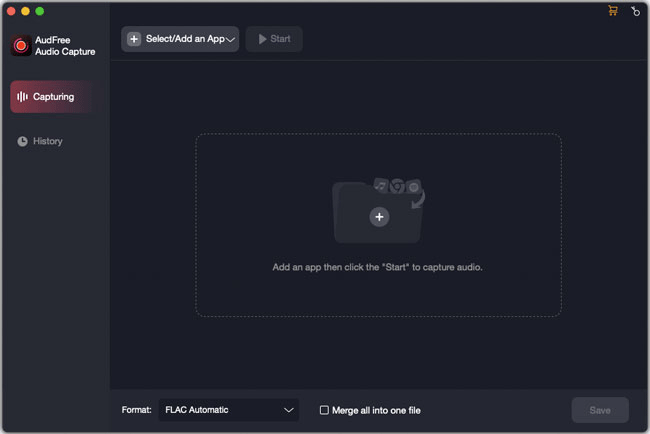 Pros:
* Trim / cut / merge Tidal Music in a desirable way
* Rip music from all kinds of music and video sources
* Customize ID3 tags for ripped Tidal songs
* Grab multi-track Tidal at the same time
Cons:
* There are some errors when using unpopular web browsers.
* There is a time limitation for the free trial version
How to Use AudFree Tidal Streaming Music Capture
Step 1. Launch AudFree Audio Capture, and select the Tidal Music icon to record the program's audio tracks.
Step 2. Click the "Format" button to customize the Tidal Music output format and other output parameters.
Step 3. Start playing the Tidal audio you want to capture and AudFree Audio Capture will automatically start the recording process.
Step 4. Close the track being played or simply exit the entire browser to stop the recording process. Touch the "Save" button to store Tidal Music to the destination folder.
Top 4. Apowersoft Online Tidal Music Ripper (Free / Online)
If you want to rip Tidal Music online, Apowersoft Online Tidal Music Ripper deserves to be your first choice. It can record all the sounds in your computer with one click in case you have a stable internet connection. Because of its convenience, people generally agree that it is the best online audio recording software.
Moreover, the recorded Tidal Music is available in common output formats such as MP3, WMA, etc., and thus you can play Tidal Music offline on more devices without any restrictions. If you want to manage your ripped Tidal Music better, don't miss the feature of editing ID3 tags and renaming files. Best of all, it is a completely free software and worth a try.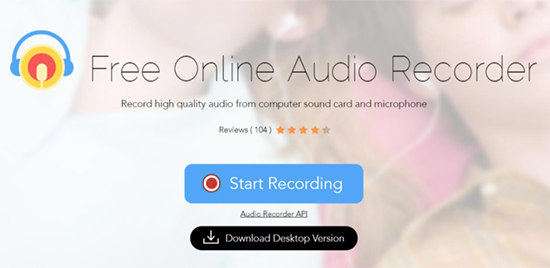 Pros:
* Ability to record Tidal Music for free
* Record any Tidal Music you want with one click
* Recorded Tidal Music output formats are MP3, WMA, etc.
* Edit ID3 tags, including artwork cover, title, artist, etc.
Cons:
* Low quality of recorded audio
* Stable network status is required
How to Operate Apowersoft Online Tidal Music Ripper
Step 1. Download and launch Apowersoft Free Online Recorder.
Step 2. Click the Launcher button and select System Sound from the Sound button to start recording Tidal Music.
Step 3. Play Tidal Music and click the Start button to begin recording.
Step 4. Click the Stop icon to end the recording. The recorded Tidal Music will be saved to a local file on your computer.
Comparison: Which is the Best Tidal Ripper
Here, let's make a quick comparison among the above Tidal Music Ripper:
| Tidal Ripper | Athame Tidal Downloader | AudFree Tidal Ripper | AudFree Audio Capture | Apowersoft |
| --- | --- | --- | --- | --- |
| Price | Free | $14.95/Month $29.95/Year $79.95/Lifetime | $14.95/Month $29.95/Year $59.95/Lifetime | Free |
| Compatible OS | Windows | Windows/Mac | Windows/Mac | Online |
| Input Format | Tidal, Google Play Music | Tidal songs, playlists, albums | Any audio | Any sound |
| Output format | MP3, FLAC | MP3, FLAC, M4A, AAC, M4B, WAV | MP3, FLAC, M4A, AAC, M4B, WAV | MP3, WMA, AAC, FLAC, M4A, etc. |
| Bitrate | 163.675 kb/s | 320 kbps | 320 kbps | No |
| Conversion Speed | Medium | High | High | Medium |
| ID3 tags | Not Retain | Retain | Retain | Retain |
| Customize Quality | No | Yes | Yes | No |
In Conclusion
Here is the specific showcase of these Tidal Rippers available for different situations like Windows/Mac, free, online. Which Tidal Ripper to choose finally depends on your try and taste. If you have other options to rip music from Tidal, please feel free to share with us in the comment area of this post.