Most audiophiles may be familiar with Tidal and Audirvana. Tidal is well-known for its lossless high-fidelity quality alongside spatial audio and convenient access to an enormous catalog of online music, getting music lovers immersed in an awesome surround listening experience. Audirvana is designed as a high-quality audio player for audiophiles, like Roon and Volumio players. It allows you to play high-resolution audio files on your computer and provides advanced features including upsampling, custom filters, and integration with streaming services.
Have you imagined integrating Tidal and Audirvana? That will be stunning! When the wonderful music service Tidal meets the great audio player, it will be a carnival for music enthusiasts and audiophiles. And this post will guide you to achieve Audirvana Tidal MQA integration, turning your computer into a high-end audio source. Have a look!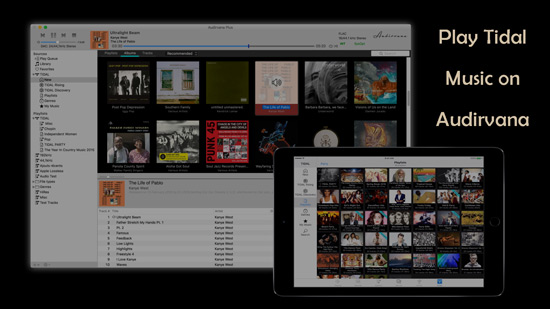 Part 1. Stream Tidal MQA on Audirvana Studio with Tidal Subscriptions
You may wonder "Does Audirvana support Tidal". The answer is 'Yes'. Tidal Music is officially compatible with Audirvana Studio and Audirvana Origin, two new versions of Audirvana with additional features such as integrated streaming services, uploading local files, and improved audio processing. But please note, if you want to connect your Tidal account to the streaming player, please install the Audirvana Studio instead of the Audirvana Origin app. Once you have subscribed to Tidal HiFi or HiFi Plus plan, you can stream Tidal HiFi and Master music on Audirvana Studio. Here are detailed steps to get it.
Step 1. Click here and install Audirvana Studio or Audirvana Origin app (Audirvana Plus version 2.5 or later) on your Windows or Mac by following the prompts.
Step 2. Once installed, click on the top-right 'three horizontal lines' tab to open its 'Preferences'.
Step 3. Then select the third 'Streaming' section.
Step 4. Hit the 'Connect' button on the Tidal section and enter your Tidal credentials to log into your Tidal account. Now, you can browse your Tidal tracks or playlists.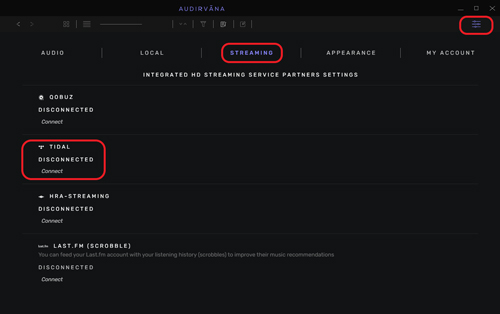 Note: If you have an Audirvana Remote, the Tidal tab will automatically show on the Remote after getting an Audirvana Tidal connection. And the people who own an Audirvana Plus purchased license can also enjoy Tidal music for free in 3 months.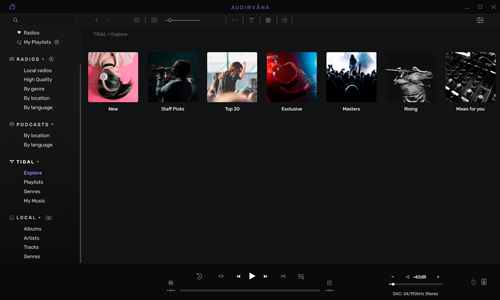 Part 2. Use Audirvana with Tidal MQA Offline Forever without Premium
Streaming Tidal through Audirvana on Mac or PC is feasible if you follow the instructions above. However, it needs a Tidal HiFi or HiFi Plus account. Besides, after a 30-day free trial of Audirvan, you have to upgrade to its premium version if you want to use it. Thankfully, there is an advanced way of playing Tidal through Audirvana offline without needing Tidal subscriptions. That is to get aid from a third-party tool: AudFree Tidal Music Downloader to download Tidal music for offline playback and transfer the downloads to the digital HD audio player.
AudFree Tidal Music Converter is designed for all Tidal users. Whether you have Tidal subscriptions or not, it allows you to download all types of Tidal music as local files and convert those files to Audirvana-supported formats including FLAC, WAV, and so on. Even if you cancel the HiFi Tidal subscription, the Tidal downloads won't disappear, which is more worthwhile than Tidal subscriptions.
You needn't worry about the sound quality after conversion. Because with excellent decode technology, AudFree Tidable can preserve the lossless quality of Tidal music and its full ID3 tags, like title, artist, year, album, etc. Amid its powerful features, you can play Tidal lossless MQA or HiFi music on Audirvana Player for offline listening without Tidal HiFi or HiFi Plus accounts in original track order.
How to Download Tidal MQA for Audirvana
Please install AudFree Tidal Music Converter on your desktop. It offers a free version that allows you to export 1-minute audio for each track. Also, you can upgrade to its full version if you want to unblock all features. Here is a user guide for you.
Step 1

Drag and Drop Tidal Music to AudFree Tidable

Once installed the converter, double-click on it, and the Tidal app will open simultaneously. Then put the cursor of your mouth on your favorite songs, drag the song or playlist directly, and drop them on the window of AudFree Tidable. This tool also offers the other way to add files: Copy and paste the share link of Tidal music into the tool and touch on the '+' tab to analyze the audio.
Step 2

Define Tidal Music Output Settings for Compatibility with Audirvana

Since Audirvana supports MP3, WAV, FLAC, etc. You can change the output format of Tidal audio into those codecs. To make it, please go to the settings window by clicking on the top-right toolbar and selecting 'Preferences' > 'Convert' where you are also enabled to customize the other parameters such as the bit depth and sample rate for lossless audio quality.
Step 3

Export Tidal Music Losslessly for Audirvana

Proceed to click on the bottom-right 'Convert' button to kick the conversion process off. After a while, the selected Tidal tracks will be converted to MP3, or other formats according to your demand and saved in the destination folder you set before. Just touch on the bottom 'Converted' option to open the conversion history. Now, you can import the local Tidao audio files to Audirvana.
Step 4

Add Local Tidal Audio to Audirvana Player

Open the Audirvana Studio or Audirvana Origin app and go to its settings. Then select the second 'Library' (Also called 'Local' on Audirvana Studio). Next, click on the italic 'Add Folder' option to open the target folder where the converted Tidal music is stored. Then choose the Tidal songs you want to transfer to the audio player and click 'OK'. Then you will find and play Tidal music from the left-hand panel.
Part 3. More FAQs About Audirvana Tidal Integration
Q1: Why Can't I get Audirvana Plus 3 Tidal 3 months free trial?
The free trial is only available to Tidal new users. And if the territory you live in is not supported by Tidal, you cannot use Tidal let alone get the Tidal 3-month free trial. To solve this problem, you can contact Tidal customer support or use AudFree Tidal Music Converter.
Q2: Cannot log into Tidal from Audirvana. Why?
Please check if you are using the latest version of Audirvana. Also, this issue may result from its issues of Audirvana with the authentication portal at Tidal. Just wait a minute to see if the problem gets resolved.
Q3: How to use Audirvana to remote Tidal?
Once you get your Tidal account logged in, the Tidal tab will appear on the Audirvana Remote automatically. Just press the tab, then you can remote Tidal music playback.
Part 4. Summary
The official and advanced workarounds to integrate Tidal MQA with Audirvana have been displayed above. Choose one method and start your Tidal music experience on the audio player. Generally, speaking, AudFree Tidal Music Converter is more practical and worthwhile since it can preserve the downloads forever with lossless audio quality and allows you to play Tidal on multiple devices simultaneously.